When you claim you're the best pizza on Antrim Road, are you really? Or are you telling fibs? Let's see as we venture to Fallone's Pizza.
The Antrim Road is like a big hungry snake. You can weave your way from that dreaded roundabout at Clifton Street all the way to Sandyknowes Roundabout and all your major food groups are covered.

Need a chippy? Boom, sorted.
Want a Boojum knock-off? The road will happily oblige.
Need a chinese/indian/KFC/Mickey D's? It's all here my friend.
Our usual pizza haunt on Antrim Road is the lovely folks at Pizza Works; one of the best in town in our opinion. So what do you to when you walk into a pizzeria and see this?
Quite a bold statement indeed.
Previous Impressions
This was are our first time trying Fallone's. We actually were trying to order from We Knead Pizza on the Falls Road, but couldn't get through on their phone. We drove over, went in, and then were told by staff we couldn't stand inside to order and had to phone an order in. We stood outside and looked in while trying to phone, but they weren't answering the phone. YOU CAN IMAGINE HOW FUCKING ANNOYING THAT WAS.
So, it was back in the car to scan through spots within driving distance, and hey, sure wasn't Fallone's Pizza just a few minutes away?
What did we order?
We ordered via their app and got the following: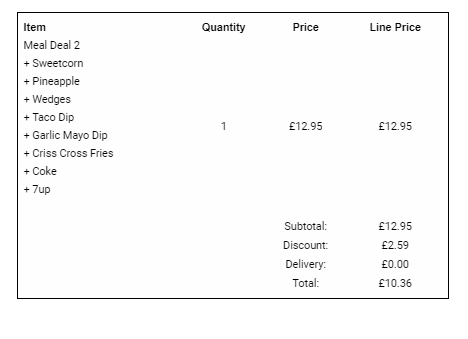 You can see that for a meal deal for two, and with an discount for collecting via their app, it is shockingly cheap. And this is what it looked like: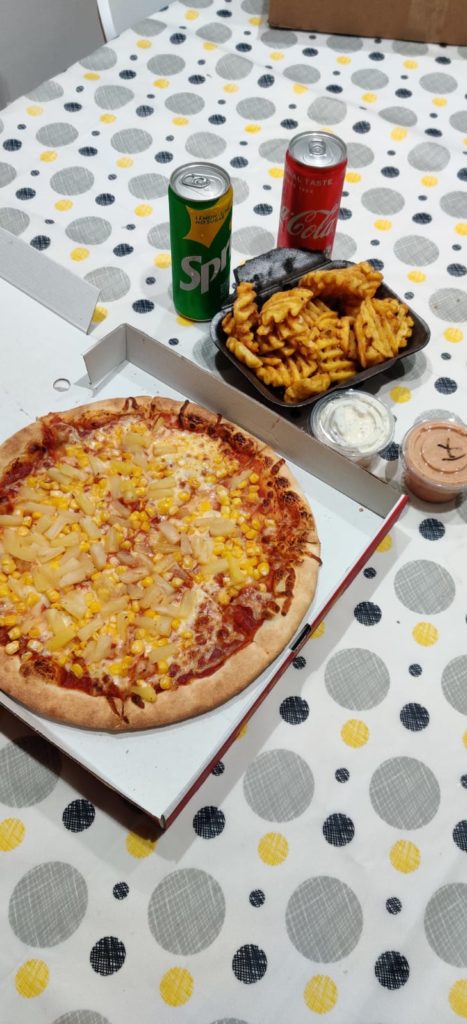 Collecting our order
This was the first time picking up an order in a while (late November/early December) and standing inside to wait helped give a few observations of what Fallone's is all about.
The first thing were the menus. They have these two huge menus, with one for a deli during the day and one for night. The latter was a menu for anything and everything. We forgot to grab a photo, but from their website, their sides are (in no particular order):
Wedges, Onion Rings, Criss Cross Fries, Garlic Criss Cross Fries, Chips, Cheesy Chips, Bolognese Chips, Adult Goujons, Adult Goujons Meal, Jalapeno Poppers, Fire Mozzarella Balls, Chilli Chicken Fries, 1/4 Beef Burger, Chicken Fillet Burger, Curly Fries, Fallones Messy Fried, Franks Boneless Bites + Side
That's ALOT of sides for a pizzeria, and having burgers there never instils confidence. Most of the calls for orders coming through where for more chippy style items than pizza, sort of establishing the notion this is somewhere people get food rather than just pizza (if you get what we mean).
The second off thing was how Fallone's was pronounced. I haven't cracked open The Soprano's boxset in a while, but the staff member answering the phone kept saying Fa-loans, not Fa-loan-ehs/ees. Is this a Belfast thing or something? Or are we no getting enough gabagool?
The third thing was the lack of masks. The staff member answering phones and talking to me wasn't wearing a mask, and even customers coming in weren't. Was everyone on the lower part of the Antrim road just Covid deniers, because we don't want no Covid pizza.
The fourth thing was being told the order might not have been paid. A tap of the contactless went through, but the staff member was doing a million things at once, and then didn't know if the order went through. They wanted to do it again, and there was no chance of us paying twice, so we said just check the POS, which they said they couldn't. A walk down the road to the car to grab a phone and check online banking, and showing the staff the payment did go through, unlocked the precious cargo.
First Bite Impressions
You know how vegetables and fruit taste from a tin? That's the first bite of this slice. Now this thing is LOADED with just two toppings.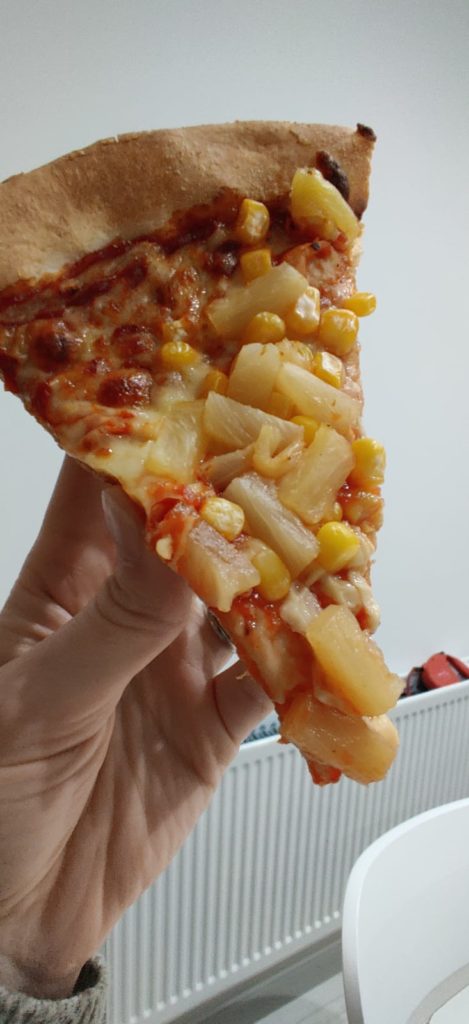 Just look at the flop as it tries to maintain structure. It is one of those "give them their moneys worth" type of slices.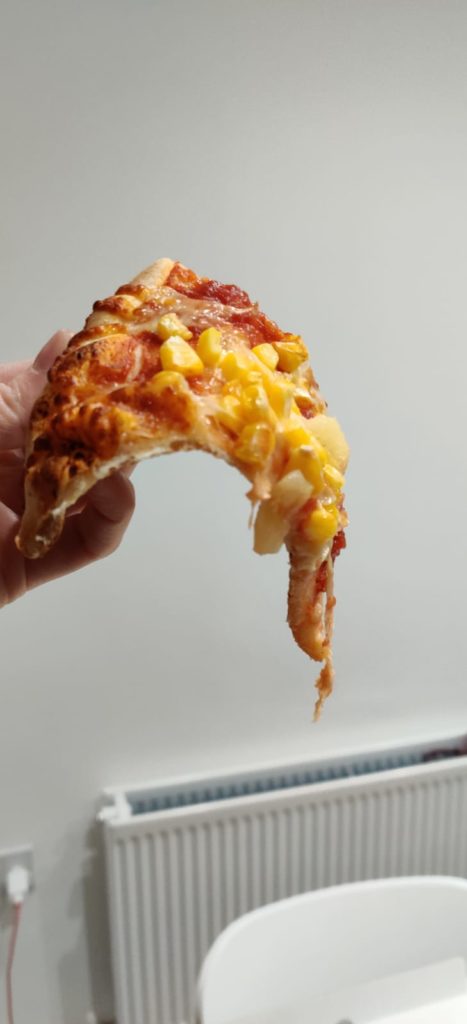 It did feel like when you have an oven pizza at home and you decide to jazz it up by throwing a few toppings from the fridge in there, only you over-do it a bit and are left with a bite where that residual water (juice?) from the fruit/veg comes through on every bite. If they wanted to make an immediate improvement, toppings need some form or marination or pre-cook. Just compare the pineapple there with this one from FLOUT (Formerly Petes' Hut):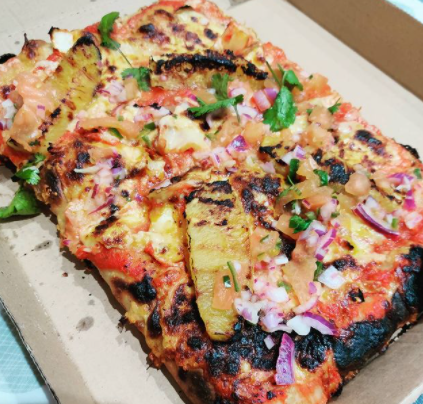 This backside has us thinking it is pan pizza, but we are quite sure if its just stretched out in one, or run through a belt? It looked like they had standard convection ovens in there, but with the biggest menus in Belfast hanging down, it was hard to see.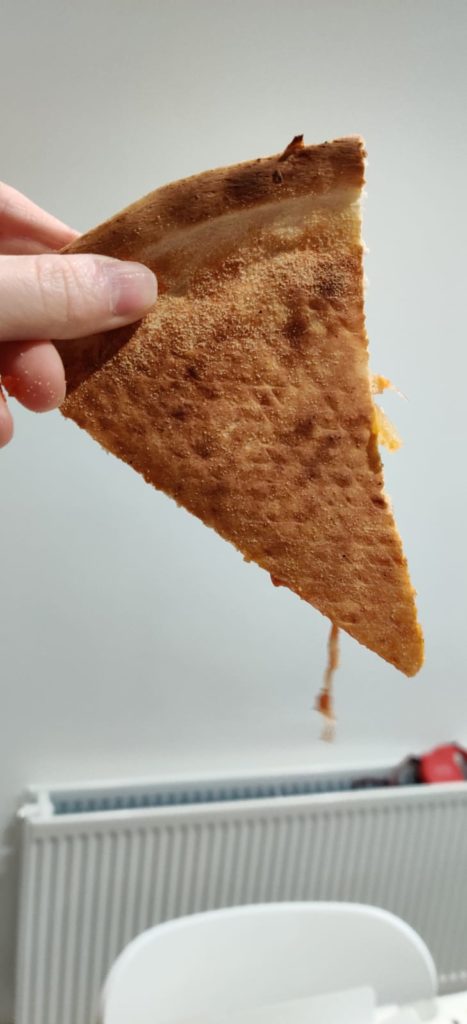 The slice tasted just fine. Nothing special. Just a regular pie you might see at a party while looking over someone's shoulder and nab a slice because you skipped dinner and don't want to get blocked too quick.
Actually, this is the kind of pizza you'd expect to eat when drinking and you're just looking to fill a void. Speaking of filling voids, we shifted focus from the pizza to these waffle fries: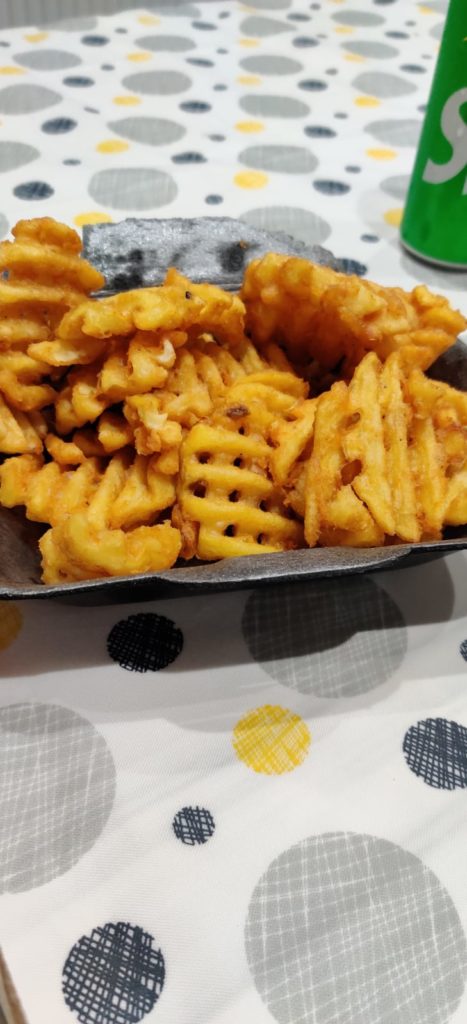 ATTENTION PIZZERIAS OF PIZZA: if you want to see profits SOAR, invest in waffle fries over curly fries. They retain crispy and heat longer. they hold sauce better. And they don't lose heat as fast. These waffle fries were the highlight for us.
Where is Fallone's Pizza Belfast located?
It's just a short jaunt up the Antrim Road coming from town at 127 Antrim Road (BT15 2BL).
How can I order from Fallone's Pizza Belfast?
We ordered via their app, which you can find on their website here. Try it out to see if you get a discount on your first order like we did. They're also available on Just-Eat.
Is Fallone's Pizza the best pizza in Belfast?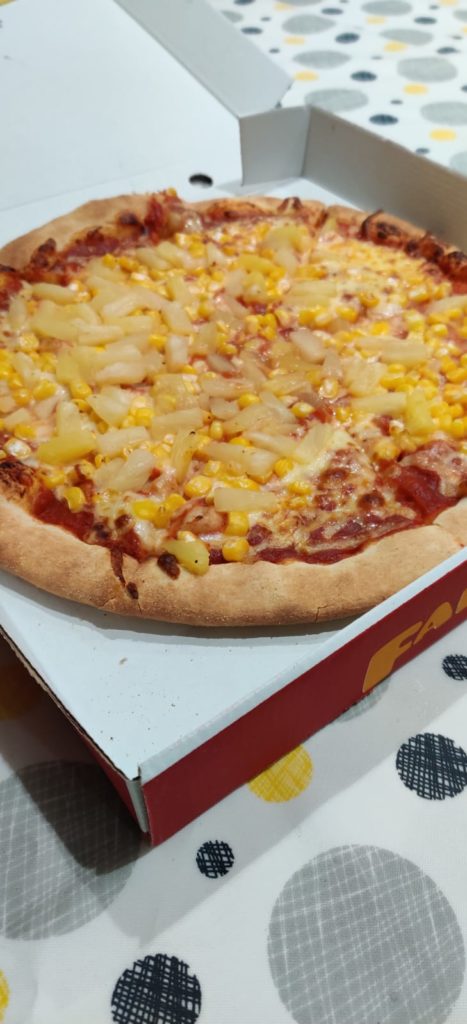 Nope. It isn't even the best on the Antrim road. It's the kind of food that you would get when everyone is round at your granny & granda's and they just order something so everyone is fed. While standing there waiting for the order, one thing that struck us was how fucking massive the menu was. It was literally a big chippy menu that happened to also have pizza.
We want to assume that they started as a pizzeria and it just sort of morphed over time to capture a wider customer base and compete with the dozens of other spots on the Antrim Road. If anyone knows the history, get in touch and let us know.
Even if you scroll back up to that short video, the fact it says "Deli" (and that's just one menu in there) gives you an idea of how much they're trying to cover. It was a bit busy taking orders, but it had a feeling of stress among staff, which you can argue was reflected in the food which feels like it is done as quickly as possible to get it (for lack of a better phrase) out the fucking door.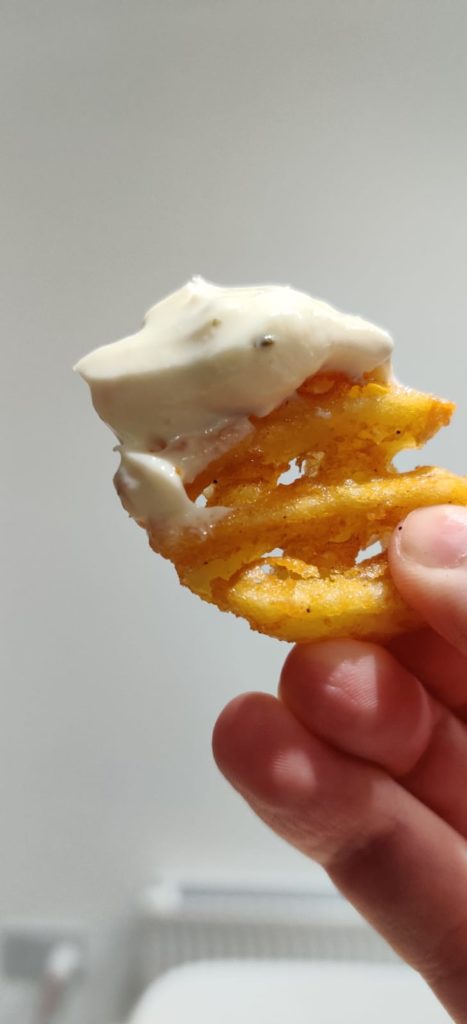 These wedge fries were the best part of the meal. When you're at a table and you ignore the pizza to have the side, it's a sign that maybe the accessories are better than the main thing.
And finally, what did Sam think?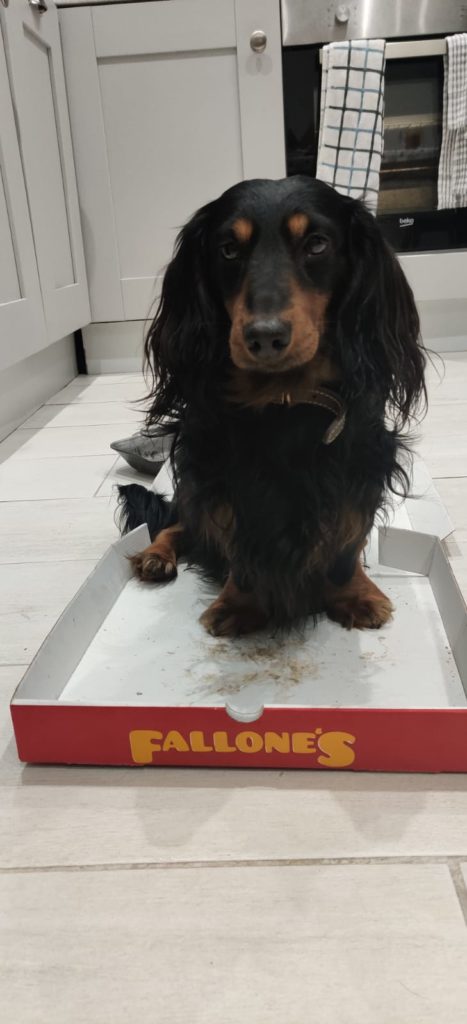 "If I stand in the box, am I tastier than the pizza?"
2 barks max for Fallone's. Or is it Fallowns? Or is it both?