If you say you're punk, are you really cool? And does that mean your food will be any good?
Homer: Wait, Marge. Maybe if you're truly cool, you don't need to be told you're cool.
Bart: Well, sure you do.
Lisa: How else would you know?
Pizza Punks sits in a weird position for us. We were living in Glasgow when they launched (what we believe) is their first store on St Vincent St, right beside Bread Meats Bread (we don't eat meat anymore, but walk in there and we'd easily be tempted back to it). At the time, we never made the journey to this location, mainly down to having so many other pizza spots in Glasgow, and the mixed reviews we got from friends.
When they opened in Belfast, we were even more trepidatious, as any small restaurant expanding in to a chain in different cities makes you worried you're going to have wildly varying signs of quality, or that it lacks something special; case in point, Taco Bell locations in the UK, and to some extent even Six By Nico.
Now, the fact that the world is still in such a weird position right now, and that restaurants are adjusting to becoming more like takeaways, makes Pizza Punks an ideal candidate for review. Before we get into it, we have to point out that this review isn't based off just one time we got their food. It is actually two separate occasions over the course of a few weeks where we ordered out of curiosity, and then ordered on a night when they had a special deal in place, so you'll see photos of both.
Let's see if these punks are up to much.
The Food
Previous Impressions
We honestly have to base this review off of the second time we ordered from their Belfast location, as we were so hungry we forgot to jot down what we ordered on the first occasion. Our first impressions must have been good though if they led us to order again. But alas, this is all in the name of pizza science!
What's on the Menu?
Honestly too much. Pizza Punk's gimmick is that you can have unlimited toppings on your pizza; an idea we absolutely hate. The world has gone beyond the mantra of more= better, unless you're a weirdo who is still watching Man V Food in this day and age.
If you pardon the horrific font they're using (punks, eh?) this is what you can expect on their menu: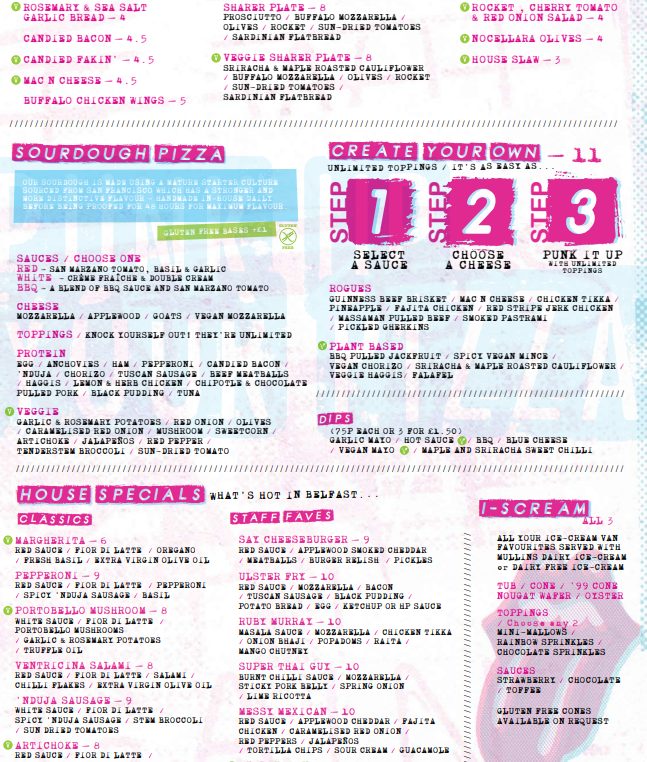 You can view their full menu here, and get ready to be annoyed by how tough the font is to read on your phone.
So what did we get?
We ordered on a Monday night, which is when they do their "Cheap Date" special.
Our order consisted of the following:
1x Sourdough pizza with: a San Marzano Tomato, Basil & Garlic base
—-Topped with: Mozzarella,Caramelised Red Onion,Red Pepper & Pineapple
1x Sourdough pizza with a BBQ Sauce & San Marzano Tomato base
—-Topped with: Mozzarella, Mushroom, Sweetcorn, Spicy Vegan Mince
Nocellara Olives
Mac & Chesse
Maple & Siracha Sweet Chill Sauce
1x Irn Bru
1x Pepsi
All in it was £28.25 (£24.75 for the food and £3.50 delivery)
The Waiting Game
Are you the type of person who will order food, and then periodically get up to the front door and look outside to check in the off chance it has miraculously appeared? Then Pizza Punks might be for you.
We thought that because it was a Monday and we were ordering ahead (you have to pick an estimated delivery time) that are pizza scheuduled for 18:55 would appear sometime between 18:50 and like 7:10 at the latest. This wasn't the case.

Our order was delayed twice. We only figured this out by checking our emails when making sure we definitely did ask for the pizza to come just before 7 pm. It did arrive around 7:50 pm. Being an hour late is never good because A, you're a bit effed off it took this long, and B, you're so hungry that you might overlook the quality of the food.
This is what the order looked like upon arrival: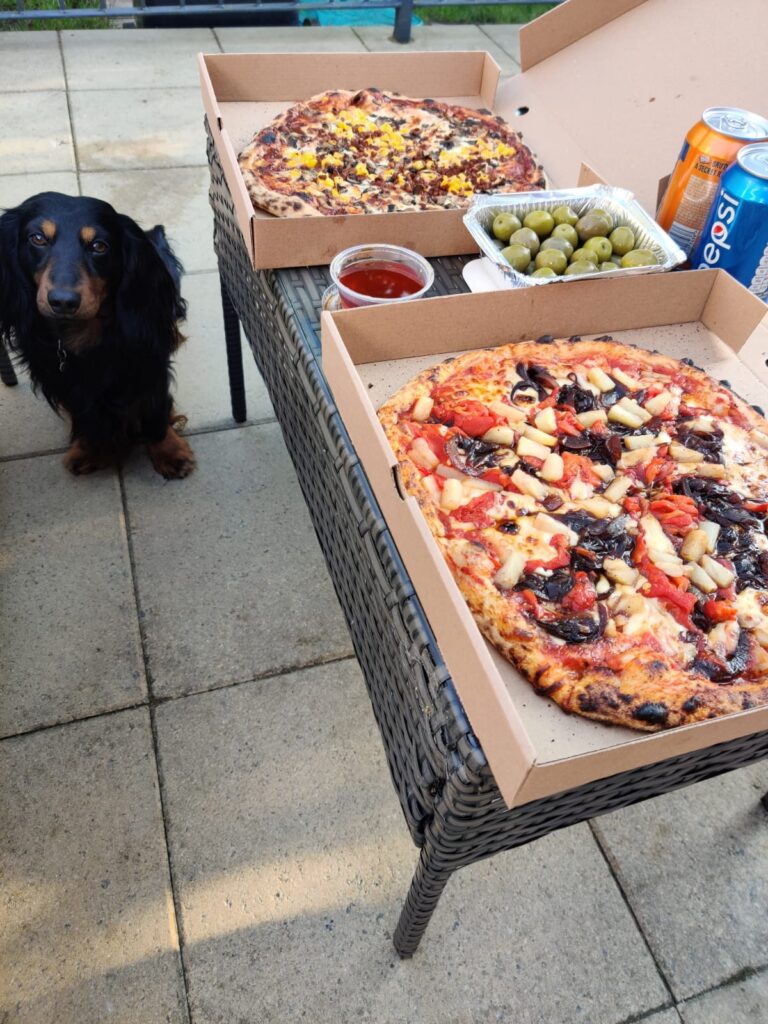 First Bite Impressions
You look at the mac and cheese and olives, which come in bog standard foil trays, and you worry things might be a bit too punk/amateur looking for your liking. And then you take that first bite…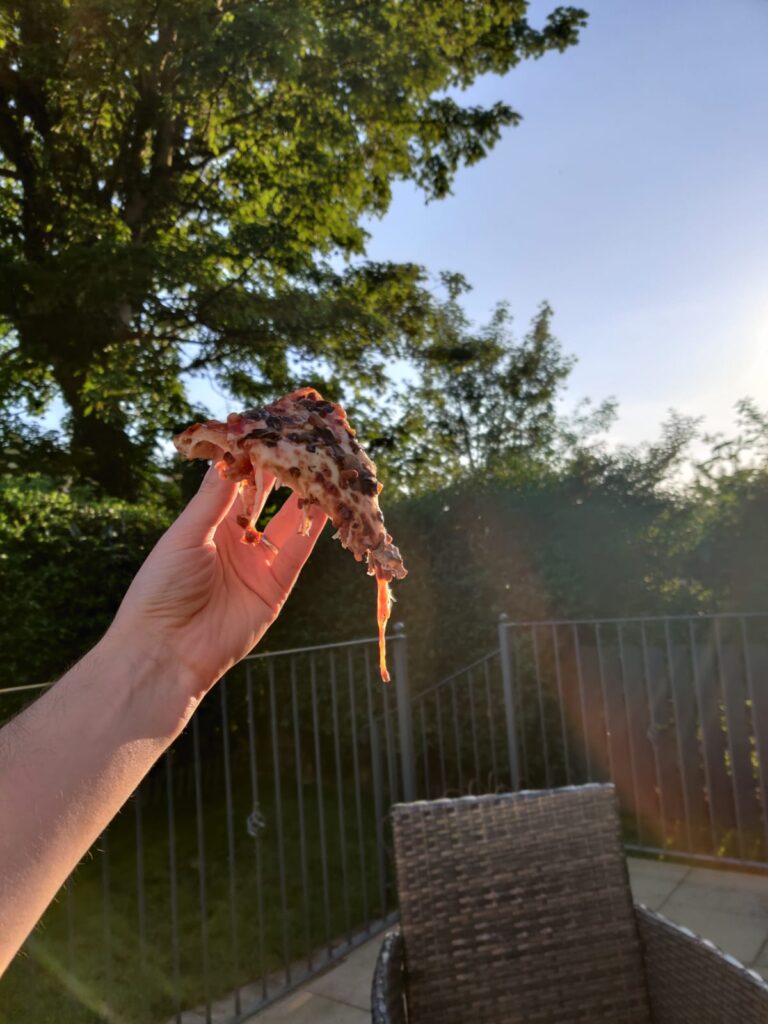 This is a bloody damn good slice, in large part due to the blistering on the crust being phenomenal. Everything holds itself well together, and you can see from it taking so long to get here that the cheese has firmed up again in parts.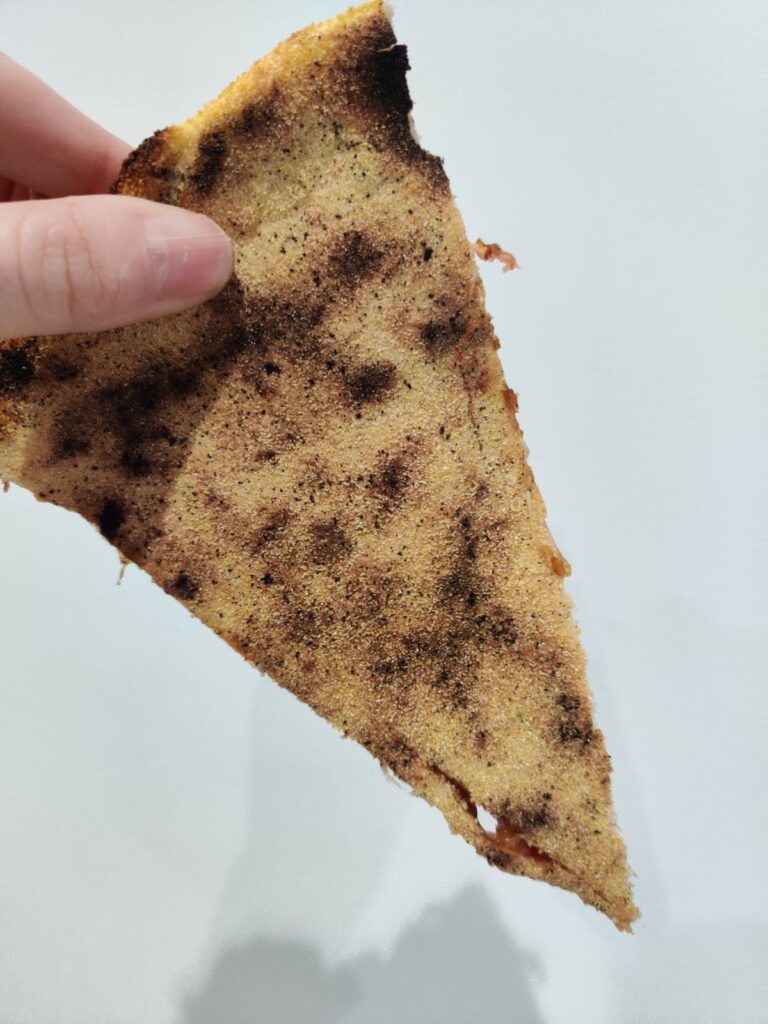 We had to have a few goes with sections in the oven to bring it back to temp and eat as we went along. Unlike pizzas which would be reliant on toppings galore *paging Goodfellas* these pizzas luckily weren't the kind where you sit picking the toppings off for a few minutes before actually beginning to figure out if the pizza itself has any taste.
We were intrigued by their BBQ base sauce, as they mix in some tomato so it has balance, unlike say a BBQ pizza from Dominos which feels like someone threw a full bottle of sauce on the base and tried to cover up the mistake with a bag of cheese.
The real star of the show though is the maple sriracha sweet chilli sauce. It's thick, sweet and full of Maple joy. If you've read our Toronto Pizza Guide, you'll know it is right up our alley. With us not knowing the olives came as is without being in oil or balsamic, this little tub of delight more than made up for it.
The Morning After Test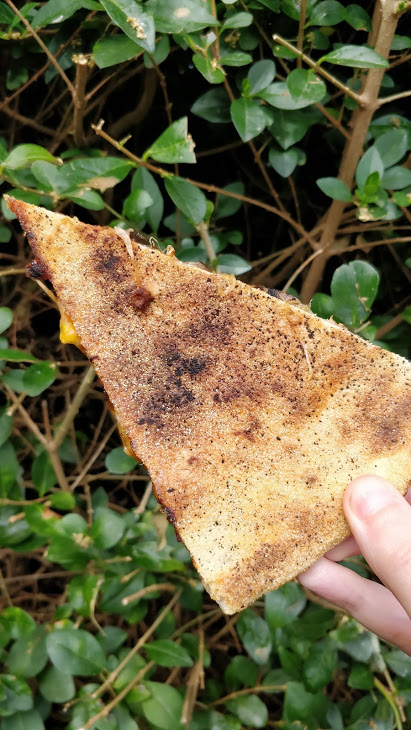 You'll notice we got two pizzas in the deal, and we're not the kind of people to devour the whole thing and then sit in a stupor cursing ourselves.
We saved two slices from each and had them for lunch the next day. Reheating involves using a frying pan, lid and water to get the top and bottom to keep evenly, which this did. And because the crust was done so well, you get a fantastic crisp the second time around. This has us thinking that anyone going to Pizza Punks or ordering out should specifically ask for their pizza to be "well done" to firm the base and show off the flavour of the dough.
The Experience
Was Pizza Punks Belfast quick?
LOL. Nope. Both times we've ordered the pizza has arrived later than expected, with no information from their end (unless you're a maniac who constantly checks their emails) as to when your pizza will arrive. If you're starving and want a pizza NOW, stick with the big names, or phone up Reggies and you know you're getting a pizza to collect in less than 7 minutes.
Pizza Punks Belfast Hygiene Rating
Someone call Sean, Richie, Jay, Scott and Abs because Pizza Punks Belfast has a hygiene rating of 5.
Where is Pizza Punks Belfast located?
20-22 Waring St Belfast BT1 2ES
How can I order food from Pizza Punks Belfast?
You can order food on their website here. We also recommend having a quick look on their socials in case they have deals and discount codes on the go.
Is Pizza Punks the best pizza in Belfast?
For all the waiting and previous mixed messages we've had over time about Pizza Punks, the pizzas we have had from them on two occasions now been surprisingly fantastic. Obviously pizza never travels well, and having to reheat the thing when you get it is bad craic, but their dough makes for a tremendous base and crust. In fact, if you forewent all the stupid unlimited topping gimmick shite and went for a plain pie, you could easily convince someone their pizza was from an extreme high-end or well versed pizza maker.
After the two times we've had their pizza , it definitely ranks up there with the likes of the The Marcus Ward and PizzaWorks as some of the best in Belfast. We are going to do a review in the restaurant when the world is back to normal to see if their pies are better straight from the oven, but as it stands, Pizza Punks are hitting it out of the park….. as long as you are someone who doesn't look at their gimmick and think unlimitied toppings = quality.
Just pick one or two and let the actual pizza do the talking.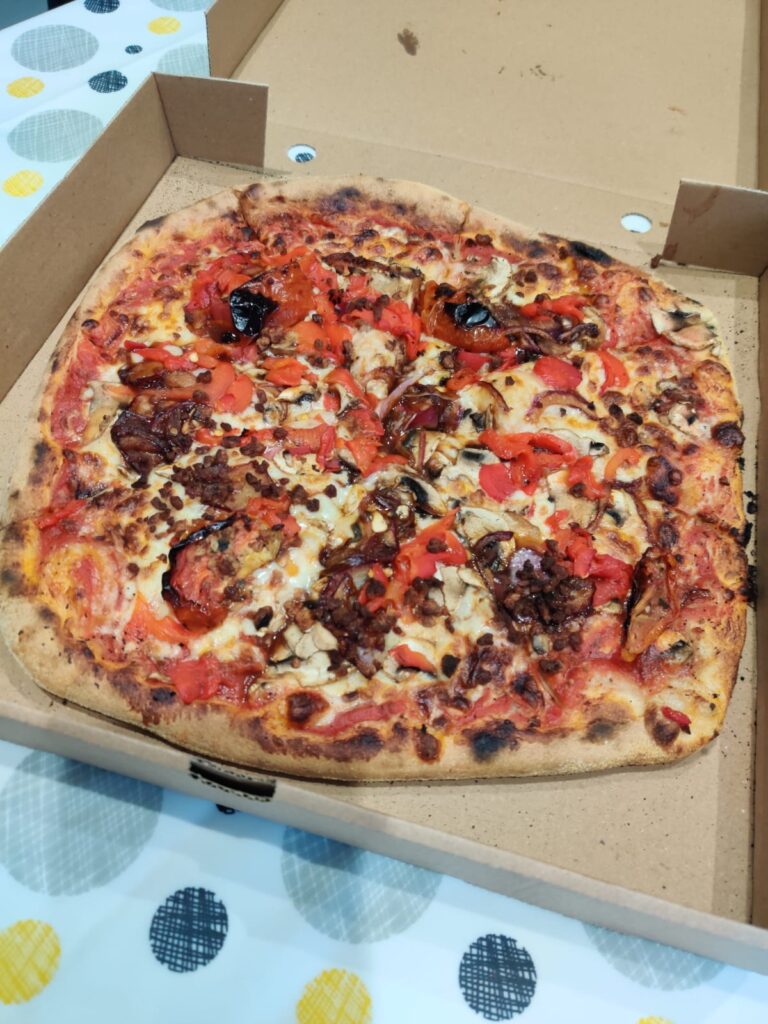 And of course…. What did Sam think?
Good chew on the crusts means I don't have to wolf if down in one bite.
That maple sauce is very lickable as well.
Four barks out of five.