Outside Belfast City Hall is home to buses, silly protests, and plenty of freaks & geeks. But does it have amazing pizza? We took it straight to city hall to try out Pizza on the Square.
(Quick note before we dig in: this piece is based off of two separate visits to Pizza on the Square)
Belfast City Centre is a funny old place when it comes to pizza. Bar recent additions like Pizza Punks in the Cathedral Quarter, and probably Pizza Hut in Victoria Square, it's hard to nail down spots in town you could easily take someone for a pie no bother. Sure there's Little Italy beside The Crown, but has anyone ever bought a pizza there while completely sober. And it is a takeaway, so you can't rock up and ask for a table monsieur.
So, what is more brazen than taking up prime real estate in the middle of town and having a name that says "Here is what we do, and here is exactly where we are"?
It's called Pizza On the Square, and oh boy, did it deliver…although we ordered for collection, but you catch our drift.
Previous Impressions
Ammmmmm….the location used to be a Sony Centre for a few years. Bar complimenting Sony on having some good consoles, we can't vouch on whether they make good pizzas.
Our honest first impression comes from their Instagram. They've recently started posting more images of the pies, but starting out every post was just "WE ARE OPEN BOOK TABLE PLEASE", which isn't really beneficial for foodie Instagram followers like ourselves.
But hey ho, let's get to ordering.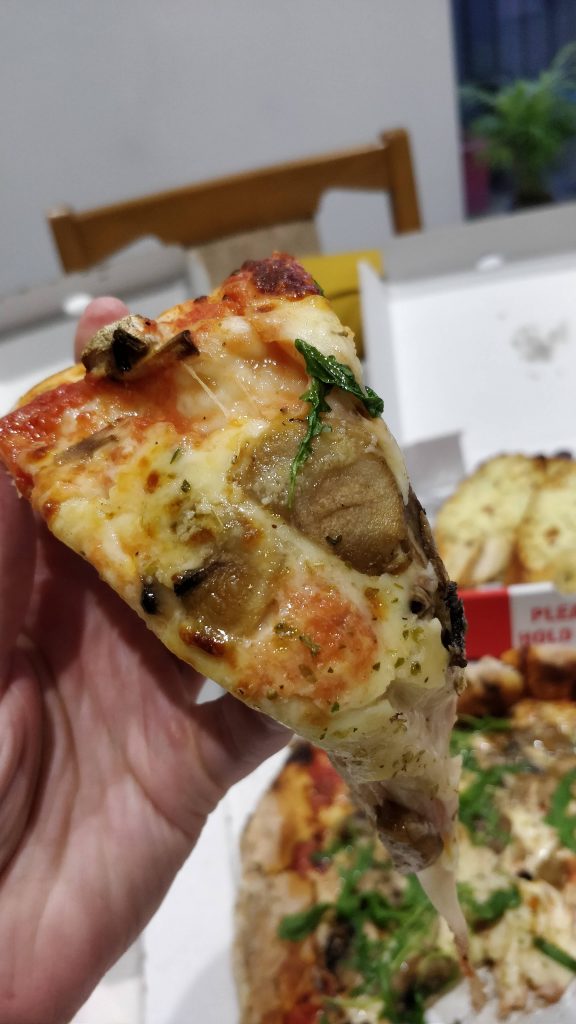 What's on the menu?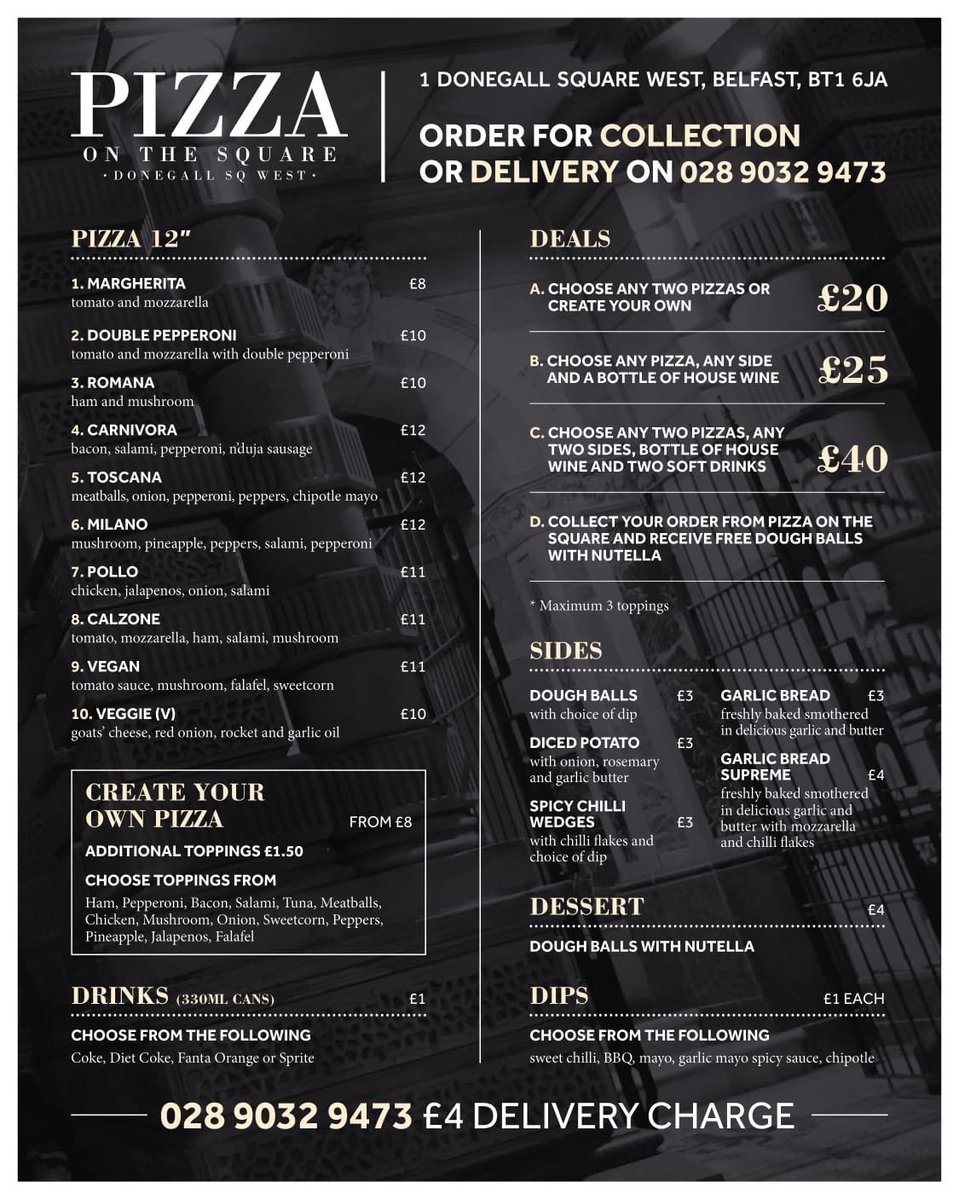 We've got a lovely simple menu which fits on one page and doesn't go too crazy on the toppings. With us opting to collect as well, we had the advantage of Option D on the deals (more on that soon) and getting to see the place.
What did we order?
On our first outing we ordered a plain pie with mushroom, garlic bread & wedges.
On our second outing we ordered the Veggie pizza with doughballs and diced potato.
Driving down and going in, it was a nice place but we felt really bad for the staff there. On the first occasion, we arrived about 10 minutes early just in case the food was cooked fast and doing that of sitting on top the oven. Pizza sitting there is the worst, as it heats the box but doesn't actually keep the pie warm. Luckily, everything was still to get made so we could watch them in action.
The oven/kitchen/service area is tiny, making for the kind of space where three people are having to work on top of each other constantly. To give them their credit, the staff did work together like clockwork and the pizzaiolo was working like pizza was going out of style, but if the owners are reading this, give the staff some more shelves or something to help make things look tidier.
The pizzaiolo was very apologetic. Even though we were early and the food was going to be bang on time, and it's nice to see someone who cares about the pizza they're making to get it right (reminder; these places don't know it's us coming to review)
This is what the orders looked like on both occasions: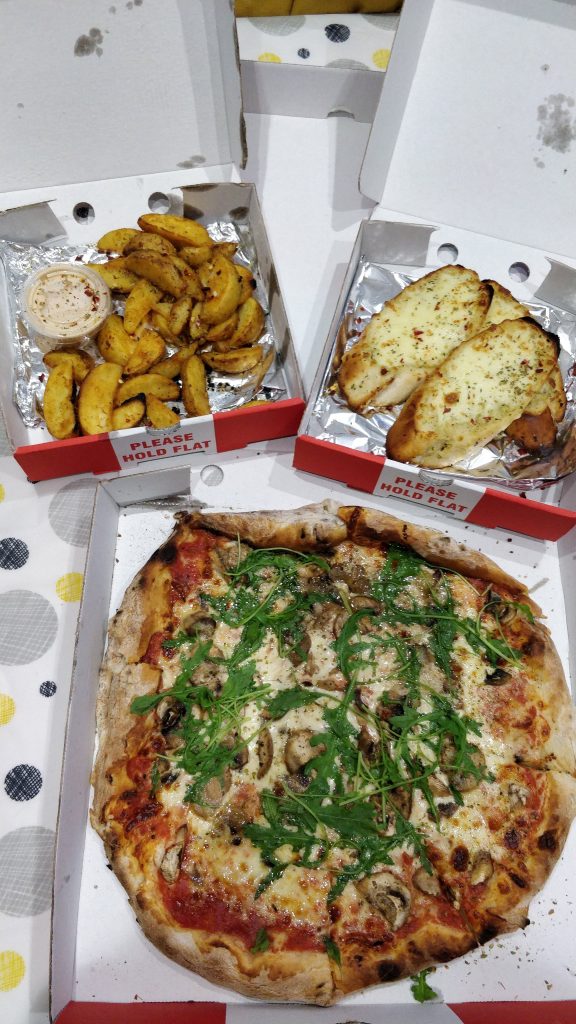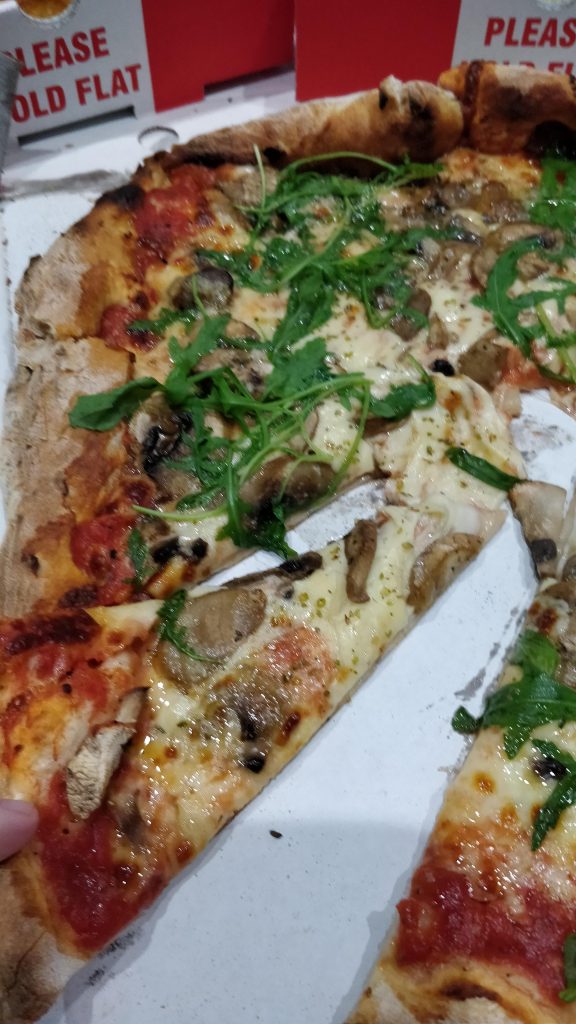 Let's take about sex sides baby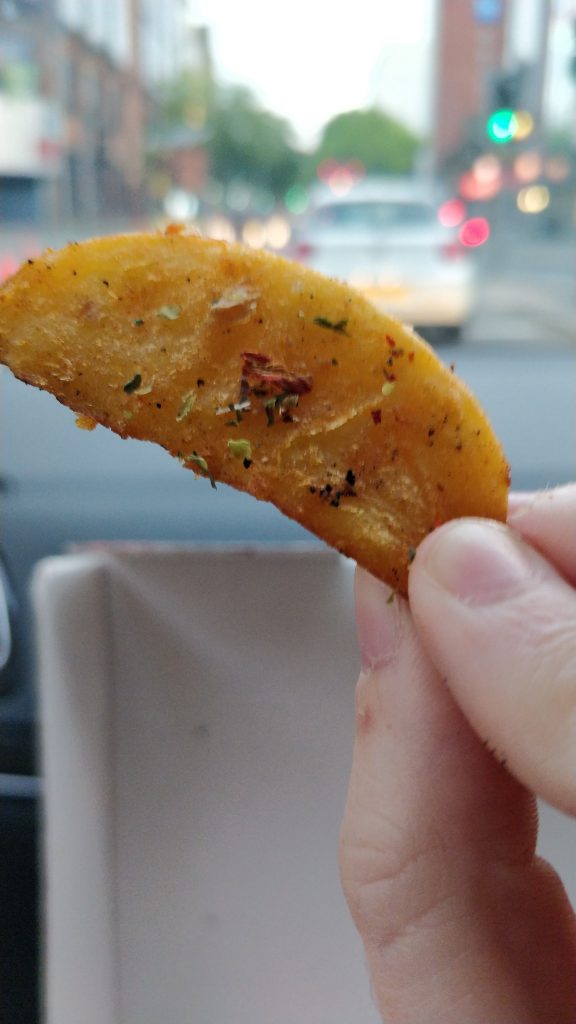 While taking the mantle of being the one to collect your pizza is an arduous and serious task, especially when trying to park in Belfast City Centre on a Friday evening, the one sneaky joy of being the collector is that little reach over in the bag to pull out a few chips or wedges as your drive back; although we can all agree that getting your hands on still warm and crispy prawn crackers beats all comers hands down.
The potato based sides were cooked and seasoned fantastically. This is in large part due to Pizza on the Square having a static oven, so food needs checked on as it cooks. If you've ever ordered wedges from Dominos and wondered why some are cooked and others taste a bit raw, it'll be because your wedges get fired in the same conveyer oven as the pizza, so it has a cooking time that benefits pizzas more than other foods.
These wedges and chunks(?) were very nice, but the garlic bead slices weren't anything to get impressed by. Let's see what the pizza is up to.
First Bite Impressions
Before we bite, LOOK AT THE CRUST ON THIS THING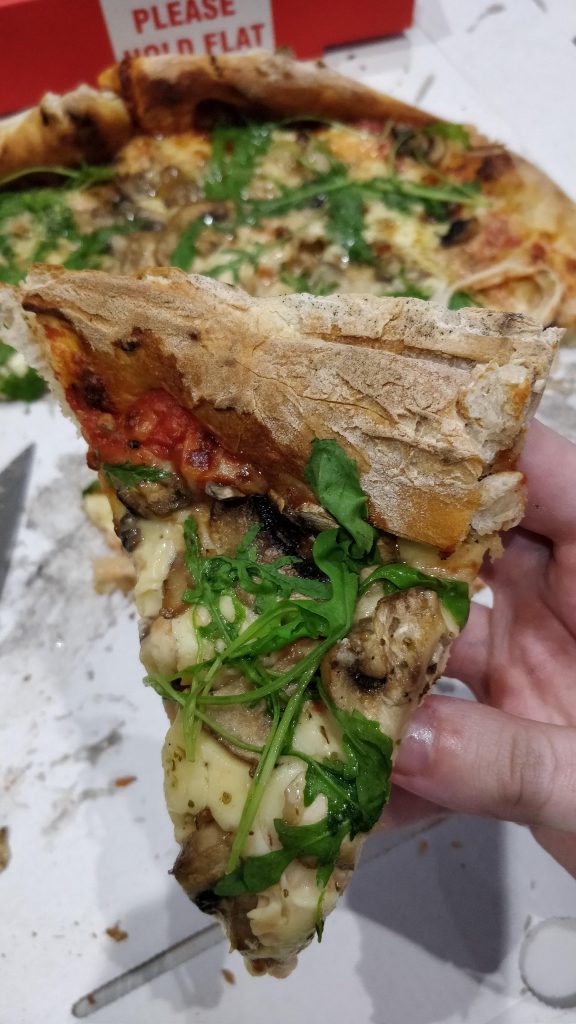 Oh, you seem to have scrolled by the picture already. Let's look at that crust again from another angle.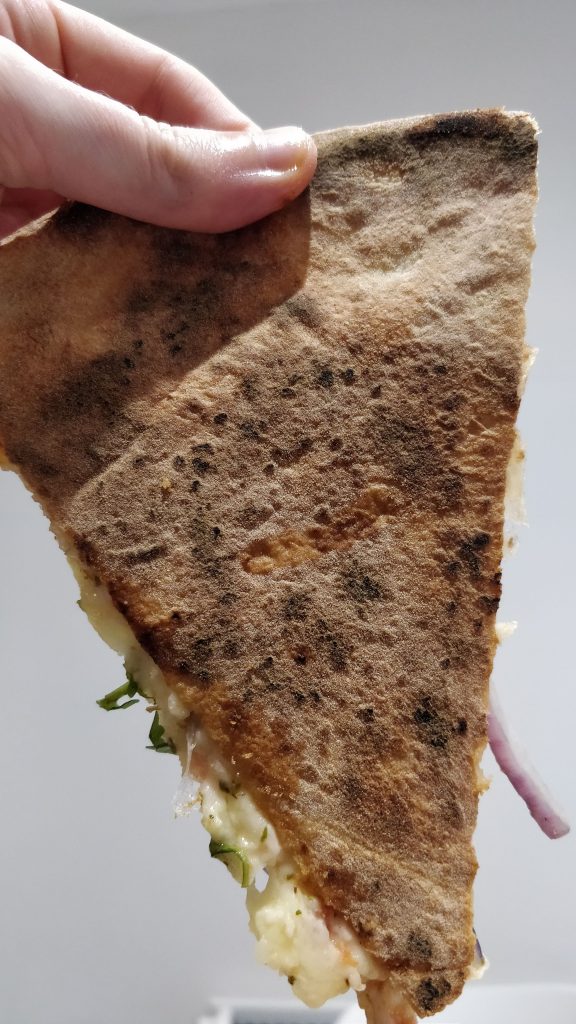 This pizza didn't come to fuck around at all. The texture and colour are spot on. SPOT ON. The first outing saw us tackling the mushroom pie. We specifically chose it to see if they would use raw chopped mushroom or something they've had infusing or cooked in herbs. And oh boy was their mushroom prepped already, as it had incredible taste from the get go.
It provided a tremendous first bite and had a great balance of cheese to sauce to crust. It is the kind of slice where you're doing grand as long as the slice is warm. If we had have got it cold, and the cheese has firmed up a bit, the first bite wouldn't have been so good, but it worked so well freshly baked.
Also, that little touch of rocket flung on top after the bake gives some nice peppery notes on the nose too.
Dessert Time (But Only Once)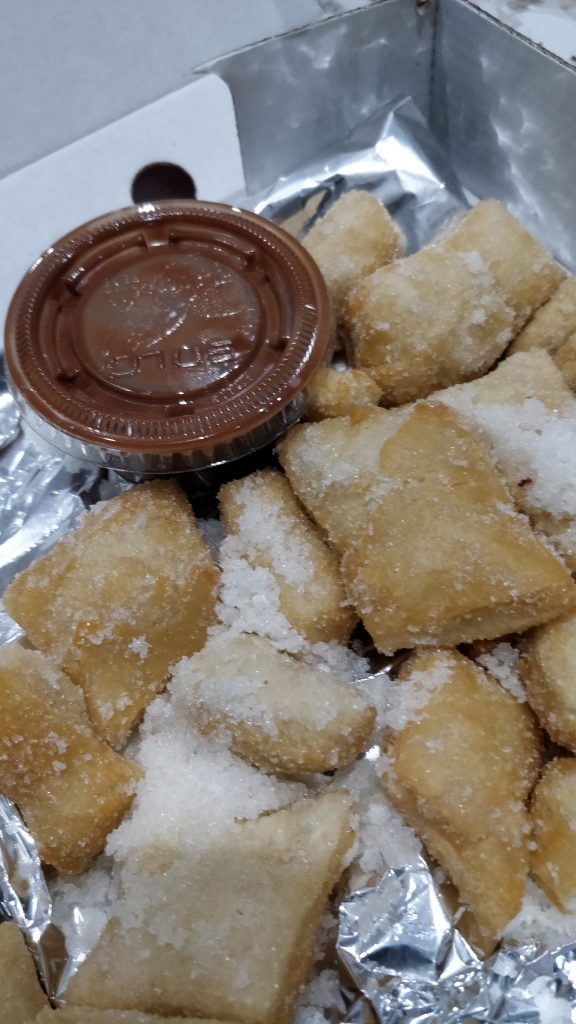 We had no idea why, but the first time we ordered, we also got this BEYOND dirty dessert of dough bits and Nutella dip. It was only when looking at the menu again did we realise that you get these when collecting. On our second journey to collect, we didn't get this dessert but didn't stop to ask why.
We're not ones to ever go for dessert, but with the sheer amount of castor sugar dumped on these things, one sniff and you'd think you were 8 years old again, standing at a dinky donuts van, begging your parents to get you those deep deep deep fried chunks of goodness.
If you were planning on buying a few pizzas when friends are around, and knew you were getting this as a dunkable dessert/ post pizza treat, you'd be in good company.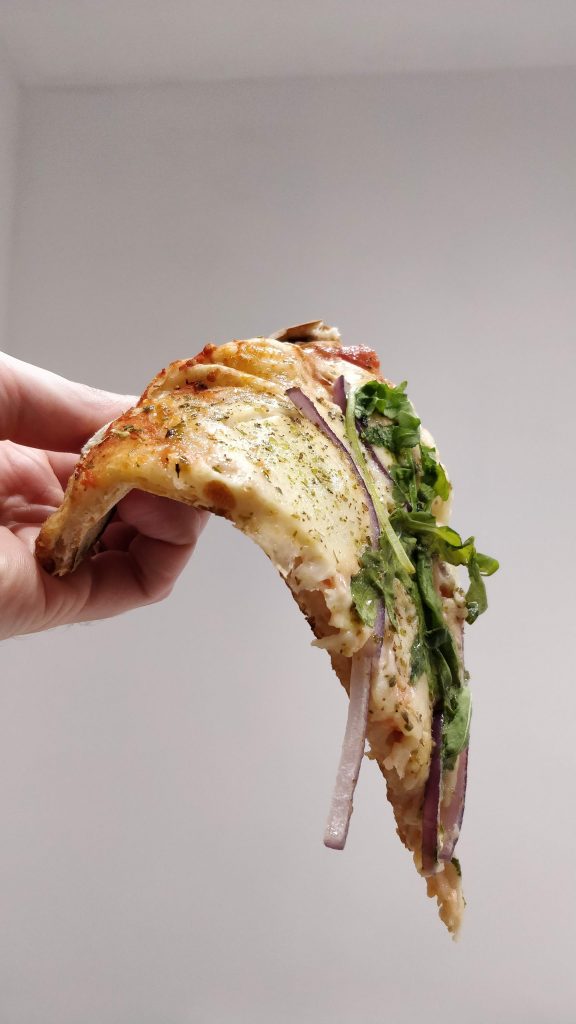 The Experience
Was Pizza on the Square quick?
The first time we went early and our order was ready on time. The second time we went bang on time and it was almost ready, so they definitely keep to their promised time and you don't have to phone ahead to get the kitchen oven warmed up.
Pizza on the Square Hygiene Rating
At the time of writing, it was awaiting inspection. We will add the score in if and when we find out (or the folks there let us know).
Where is Pizza on the Square located?
Pizza on the Square is located at 1 Donegall Square W, Belfast. You couldn't get anymore central if you tried.
How can I order from Pizza on the Square?
Both times we ordered over the phone to get a clear time for a pick up. They may be available on Just Eat if you live close enough to their delivery radius. Alternatively, it would make for a good pizza to sit and eat on the bus going home.
Is Pizza on the Square the best pizza in Belfast?
It is always the pizzas with low expectation that seem to be the ones which surprise us most. We really were expecting just average pizzas with not much in the way of flavour or mouth feel, but it is surprising just how good their flavour combinations are, and the crunchy soft 1-2 punch of that crust.
Let's just remind ourselves of how good it looks.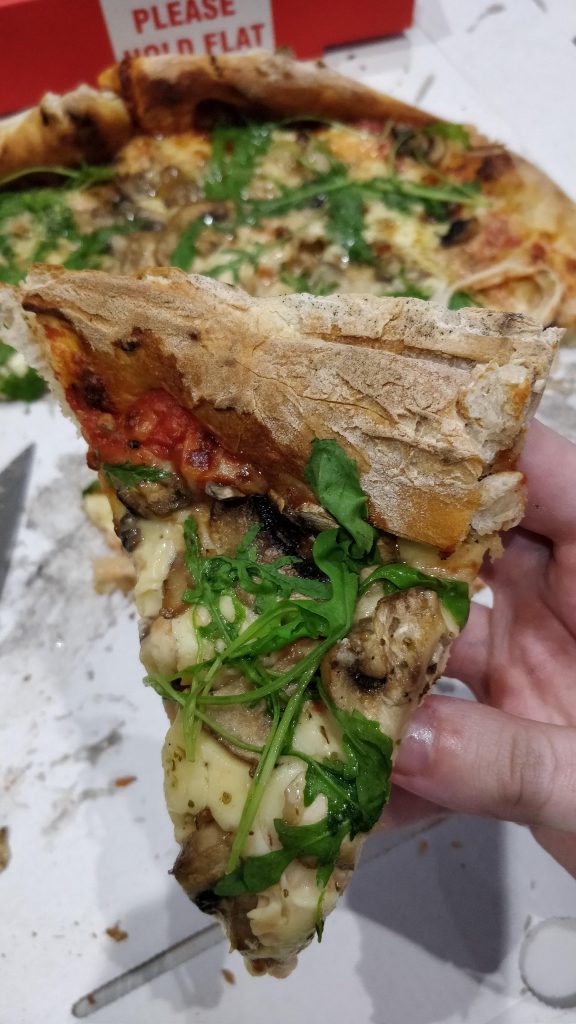 We don't take giving any recommendations lightly, but this is now up there with some of the best in Belfast. It is definitely, until told otherwise, for sure the best pizza in Belfast City Centre. If you were ever at a loss for somewhere to grab sit down pizza when in the literal centre of town, Pizza on the Square is the place to go.
Since having these pizzas we've tried Sour Bake twice (review soon) and had Pizza The Action on Ormeau Road (again, review soon) and said to ourselves that Pizza On The Square would've been better. But such is the life of a pizza reviewer.
As long as you avoid the garlic bread slices, and stick with a pizza that has as few toppings as possible, you're on the road to having one of the best pizzas in Belfast.
Most importantly, what did Sam think?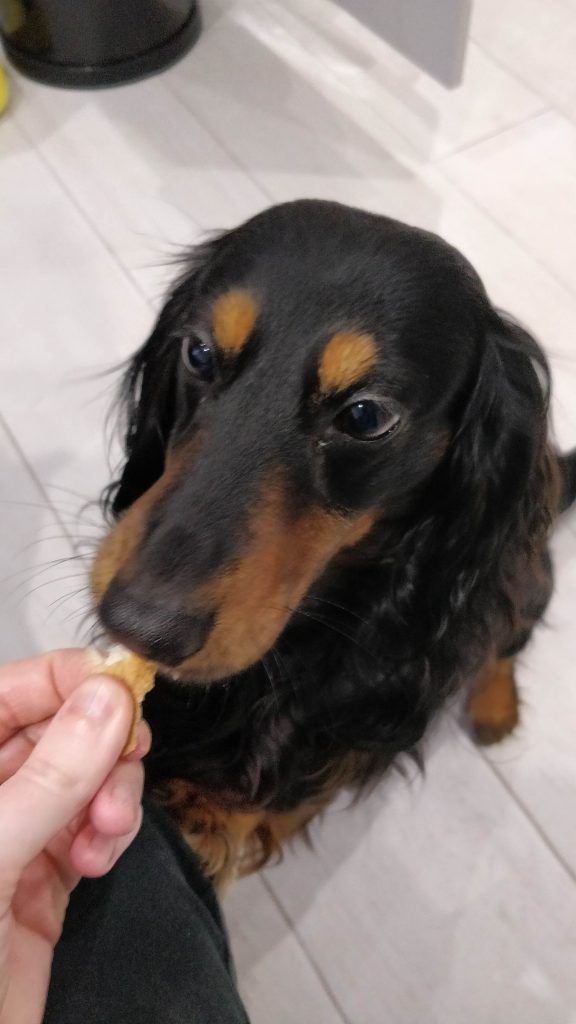 Any chance you can leave me some of that crust?
4.5 out of 5.