Deli by day, pizzeria by night.
We went to Hudson's Pizza & Deli.
Will it be all right?
We rarely do venture North of the city for pizza. After the not so good time we had with Pizzarella in Glengormley, we often think of North Belfast as a bit of a pizza black hole.
One Friday evening we found ourselves driving back from Antrim and the Sat Nav was taking us on the scenic route rather than simply say "look the M2 is over there".
While navigating lots of windy country roads, a little Googling was carried out to see if there was anywhere in North Belfast that should be on our radar for pizza. That's when Hudson's popped up. Neither of us had ever heard of it, even though it seems to have been on the Cliftonville Road for a good number of years now.
The pictures looked all right. The deals seemed too good to be true. The reviews were sending good signals.
After a quick call to phone in an order we were guaranteed would be ready by the time we got there, it was time to see if Hudson's could do the north proud.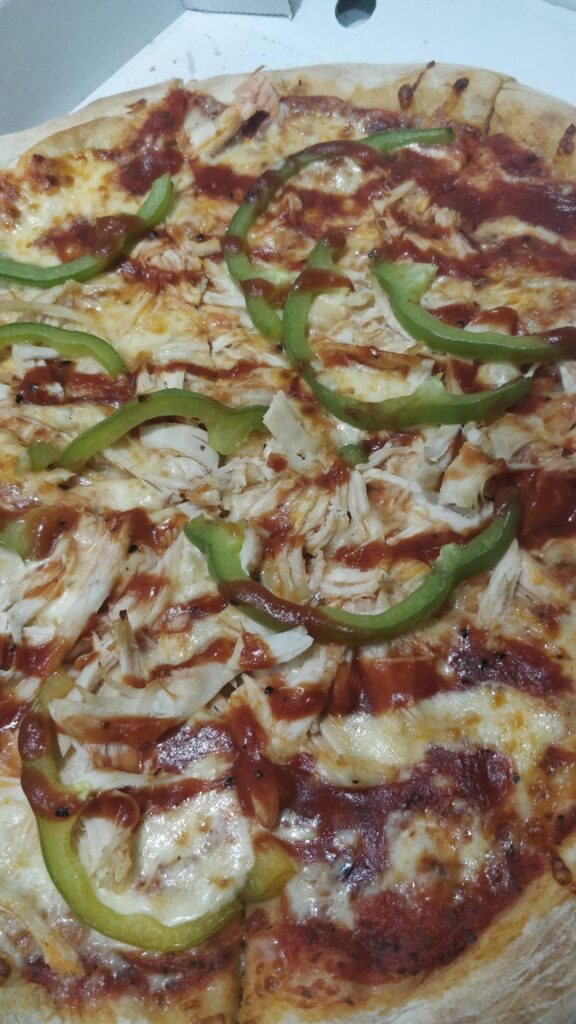 The Food
Previous Impressions
Absolutely none. Cliftonville Road, and most of North Belfast, is our least known part of town, so we had nowhere nearby to compare it to, or anyone we knew from the area who could vouch for it.
Truly uncharted territory.
What's on the menu?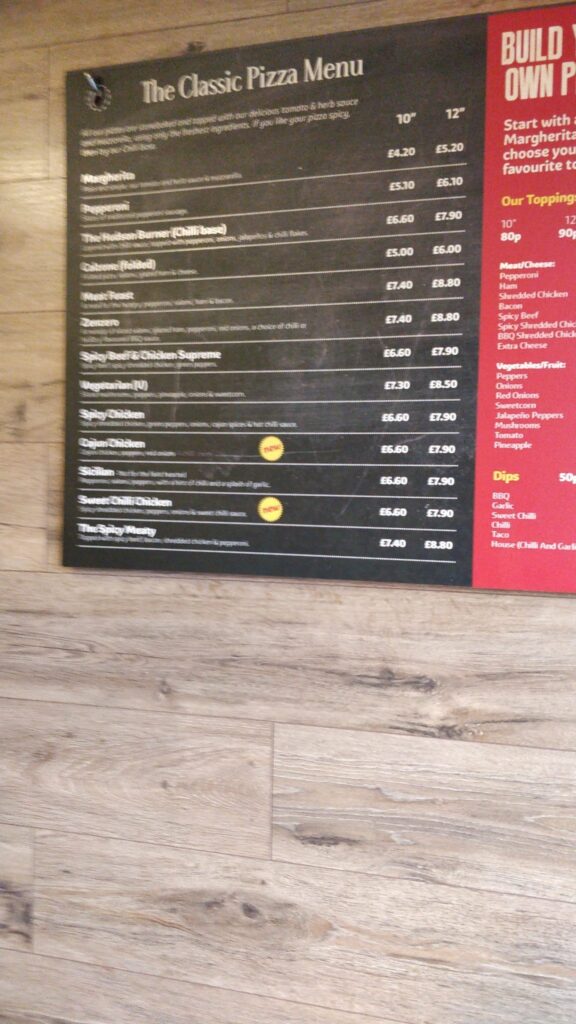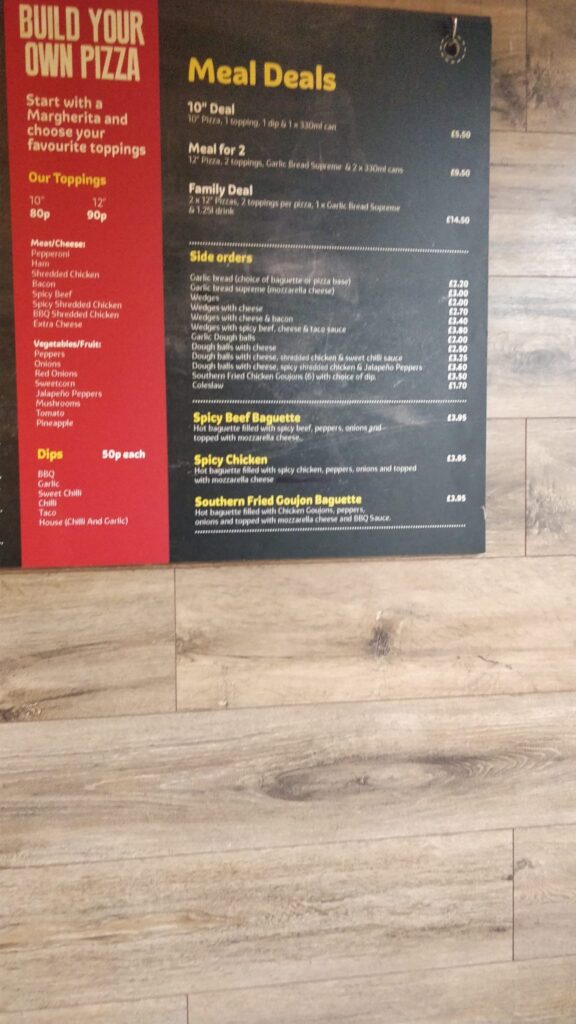 If you can't read my blurry photos of the menu, take a look on their Facebook page here.
What did we get?
We got the meal for two and those absolutely dirty chips you scrolled by back up the page. The meal deal consisted of:
12″ Pizza with pulled chicken, peppers and BBQ sauce
Garlic bread supreme
2 cans of premium Coca Cola (treat yourself)
Spicy wedges with cheese and taco sauce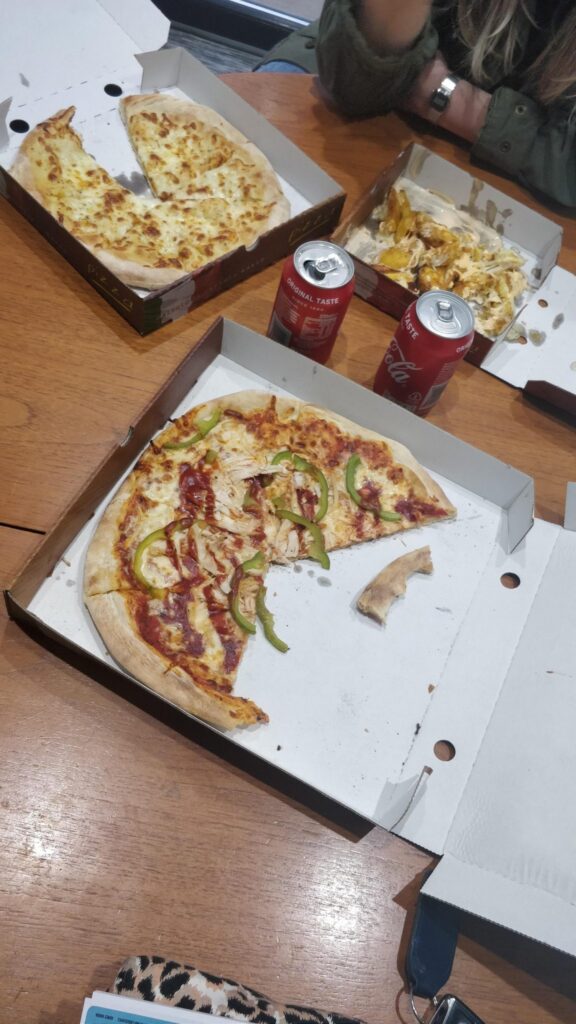 We love it when pizza places decide that their cheesy garlic bread is all pizza and not a baguette. it's like getting a mini pizza as a bonus.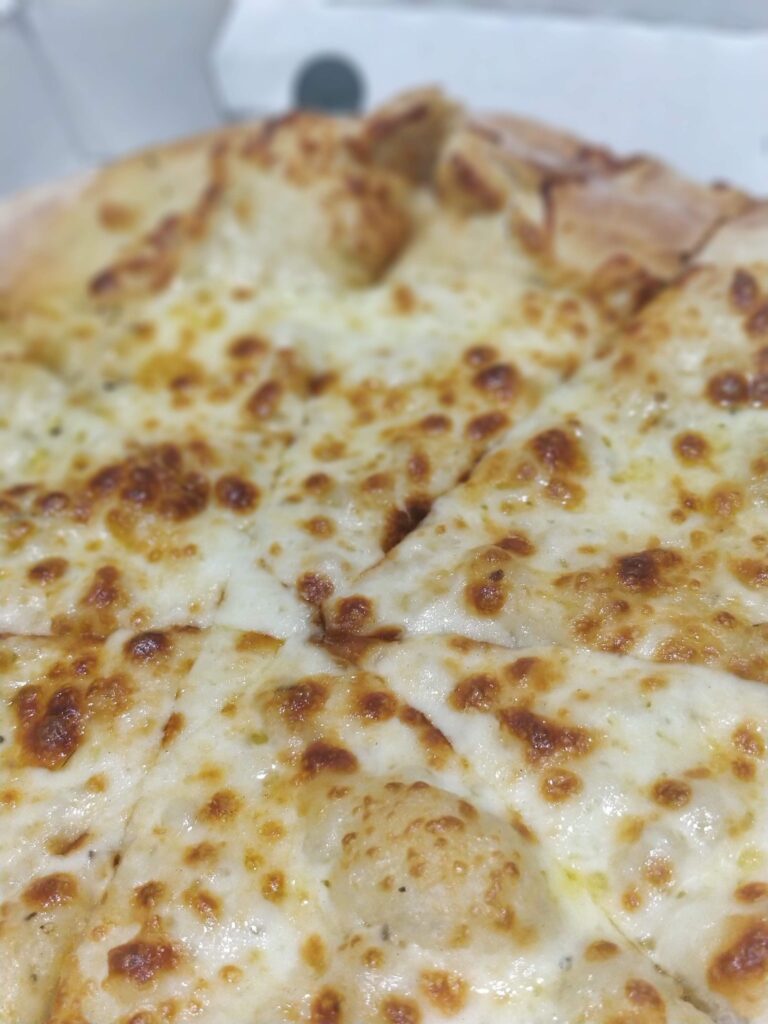 The browning on the cheese here was fantastic. There was a worry that a bite in was going to lead to a base of garlic mayo sauce (which should NEVER be cooked as hot mayo is stinking) but this got that mixture of cheese and mystery garlic sauce/ oil just right.
We want you to take a really good look at this photo of the wedges.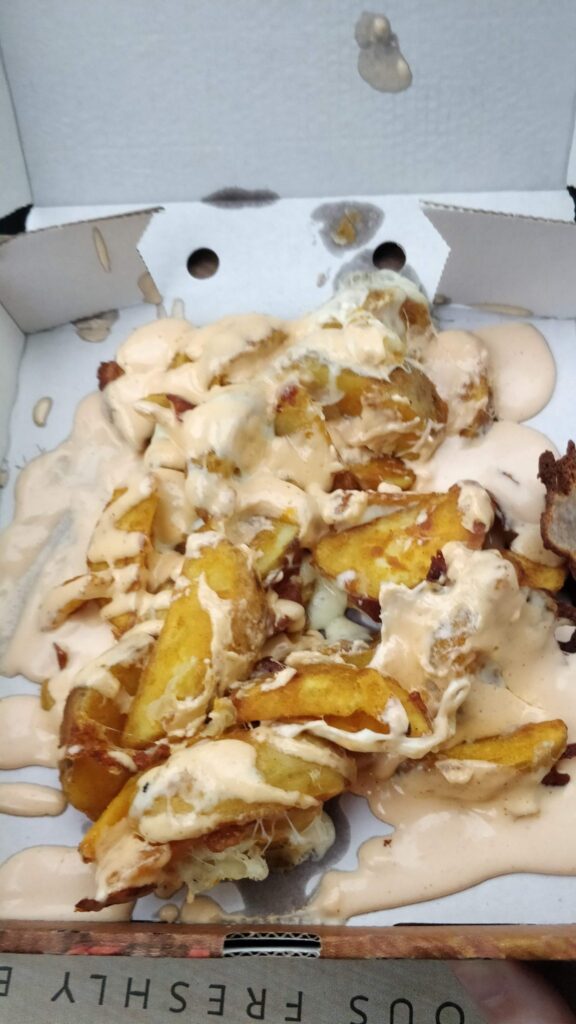 Notice that really brown crispy bit that almost resembles chicken skin on the middle right of the picture?
That, my friends, was just some of the oven roasted cheese that was lavished upon these wedges before being caked in sauce.
While waiting for the food, I watched as they piled wedges in a small deep dish pan, covered it in cheese and fired it in the pizza oven. Most places will sprinkle cheese on after, but oh no, Hudson's has other plans.
When the wedges came back out, some of the cheese had melted over the wedges and browned itself in to an almost crisp, which you would assume would not taste nice, but once someone dumps that much sauce over them, it actually saves the wedge from sogginess and provides this weird but delicious texture.
Wedge are usually the side dish you play about it and then regret not finishing when it gets cold Here they did not last long.
After digging in to the starters, it was pizza time
First bite impressions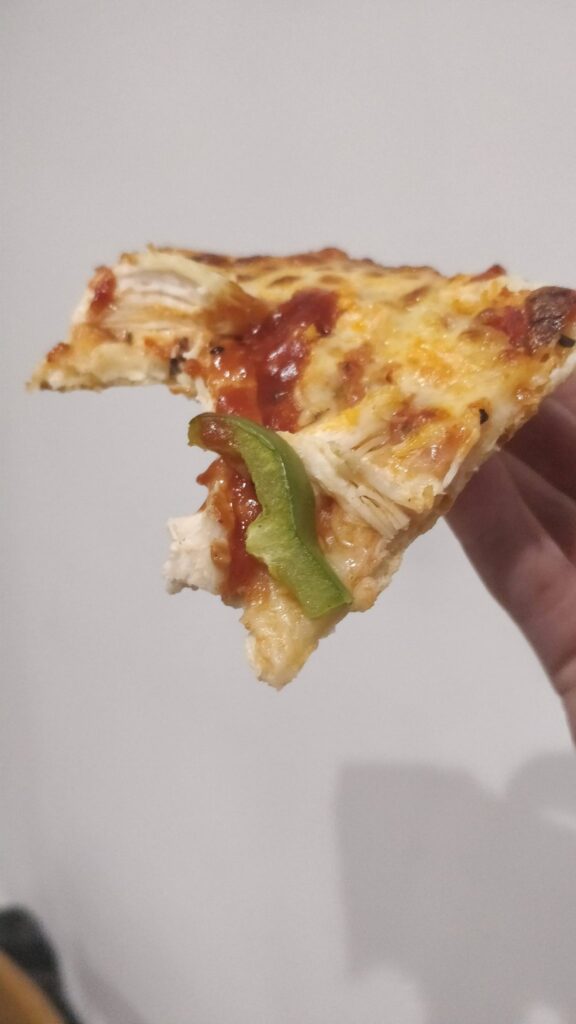 There is boilerplate pizza, and then there is boilerplate pizza.
We find there is absolutely nothing wrong with perfectly basic pizza. In the same way Neopolitan pizza has to be precise and stick to the basic in order to do things right, this pizza from Hudson's did just the same.
The pulled chicken really helped with the first bite to bring the right flavours across. Paolos Pizza in Derry uses the same technique, but usually has a wateriness (definitely a real word) to the bite. This thankfully did not.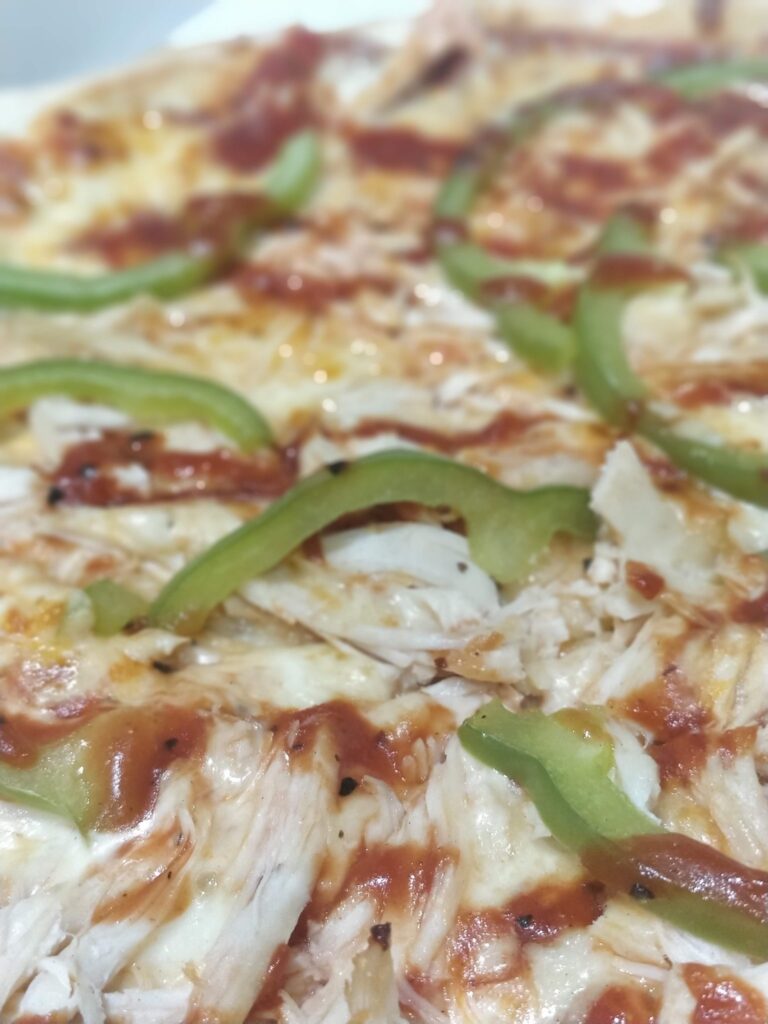 The crust was a little bit under cooked for our liking, but because it was in a deck style oven it still had a good crunch. Comparatively, if you were to do this pizza in a conveyor oven in the likes of your Dominos or Four Star, your base would be softer and not hold itself together as well.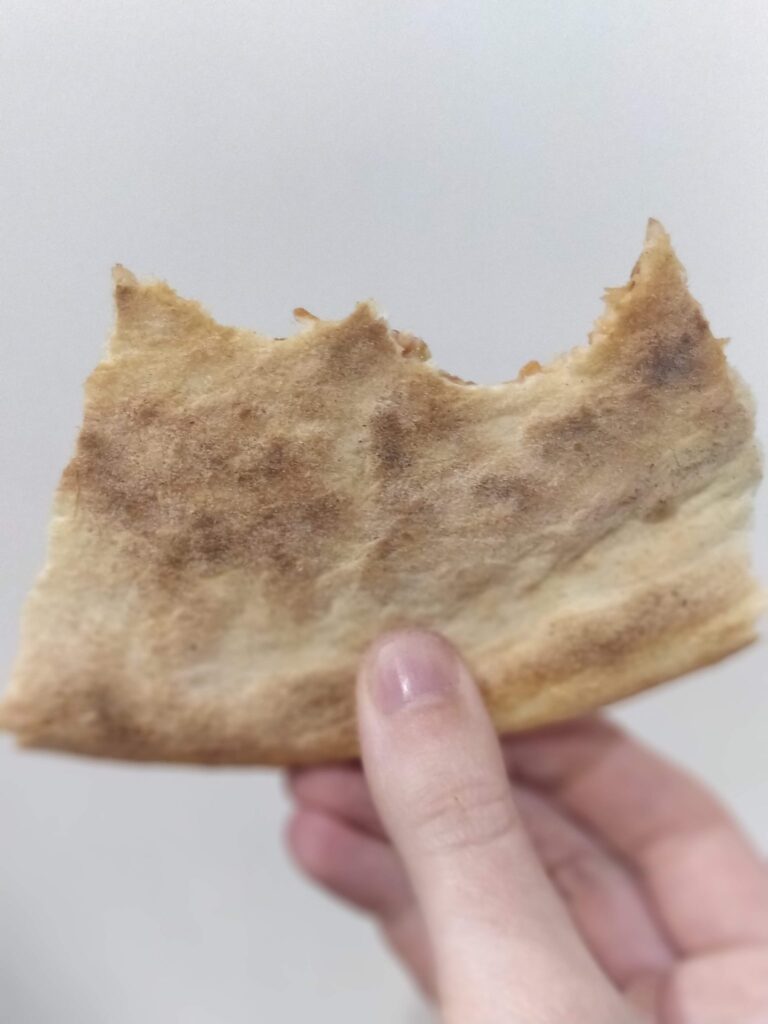 As first slices go, it was absolutely textbook.
Usually we leave a few slices leftover for pizza the next morning. Hudson's sadly, or amazingly, failed that taste and whole thing was gone in one sitting.
The Experience
Was it quick?
We phoned when about ten minutes out of the location and the food was cooked within another five of me paying and perusing the establishment, so very quick indeed…especially for a Friday evening.
I couldn't fault the staff at all either. The main guy serving was very nice and seemed to keep his cool under pressure as Just Eat had a mini meltdown and people were phoning in to blame Hudson's for the problem of not being order on the app, and not Just Eat.
Hygiene Rating
Scores On The Doors gives Hudson's Pizza and it seemed clean when I was in The only bit of dirt i picked up on, and actually ran a finger across to check my vision wasn't going, were the big menus on the wall.
Where is Hudson's Pizza?
Hudson's Pizza is located at 286 Cliftonville Road
If you're not familiar with the area at all, it'll sneak up on you so keep an eye out. Parking on the street is easy enough.
How can I order food Hudson's Pizza?
They have no website to diectly order off of, so Just Eat is your best bet making orders online.
You can phone in to order on 028 9074 0668
Because they're also a deli during the day, they have teo sets of opening hours.
Monday-Thursday: 8 am to 4 pm & 5 pm to 11:30
Friday & Saturday: 8 am to 4 pm & 5 pm to 12 am
Sunday: & 5 pm to 11:30 pm

Is Hudson's Pizza the best pizza in Belfast?.
In our opinion, for the ridiculous price point this meal had (excuding the wedges it was only £9.50) it provides incredible value and a decent piza in the process.
For that, we reckon this is the best CHEAP pizza you can get in Belfast. If you were having a group around for a party or can't be arsed cooking for the family, and you're based in North Belfast, keep Hudson's in your back pocket.
They're definitely a step above being lazy and just ordering Domino's just because you're hungry.
Whilst eating we noted down in our Whatsapp notes that:
V cheesy slice
Fuck me this sauce
Garlic pizza crust smells great
Pulled chicken ????????????
Peppers could be better
Probably prefer red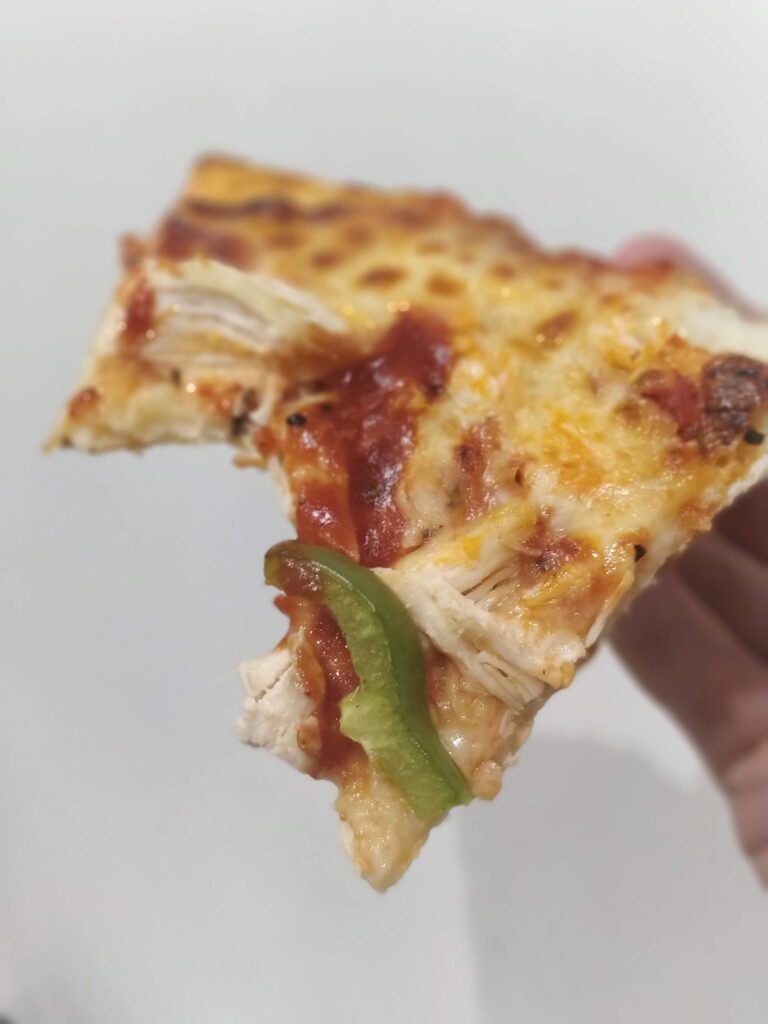 Most importantly, what did Sam think?
Gimme that garlic bread crust.
Four barks out of five.