We finally made a hop, skip and jump to one of the fanciest pizza spots in BT9……..and didn't have that good a time.
So this week we jumped at the chance to visit the Twilight Market at St.George's Market. You tell us there's going to be every so slightly dear food at stalls that know what they're doing. We'll pony up the dough.
While walking around and trying everything from mac&cheese to poutine (sensing a cheese theme here). We noticed some people walking around with small pizza boxes. Interest was piqued and we knew that pizza had to be next on the "eat everything in sight until you feel sore" list.
When we did see the pizza stall though, interest quickly dropped and we knew we were going to pass on it.
It was being run by Woodfired Pizza Co. We were finally able to try them out last week. Here's what happened and why we didn't bother at the market for more cheese.
The Food
Previous Impressions
Woodfired Pizza Co had been on our list for ages. We don't live too far away from it, but also found ourselves trying elsewhere for takeout mainly due to the price point.
We'd heard many great things about them and they generally pop up anytime we're talking Belfast pizza when out, but the elusion was finally to be struck down on another Friday where the cooker wasn't going to get a look in.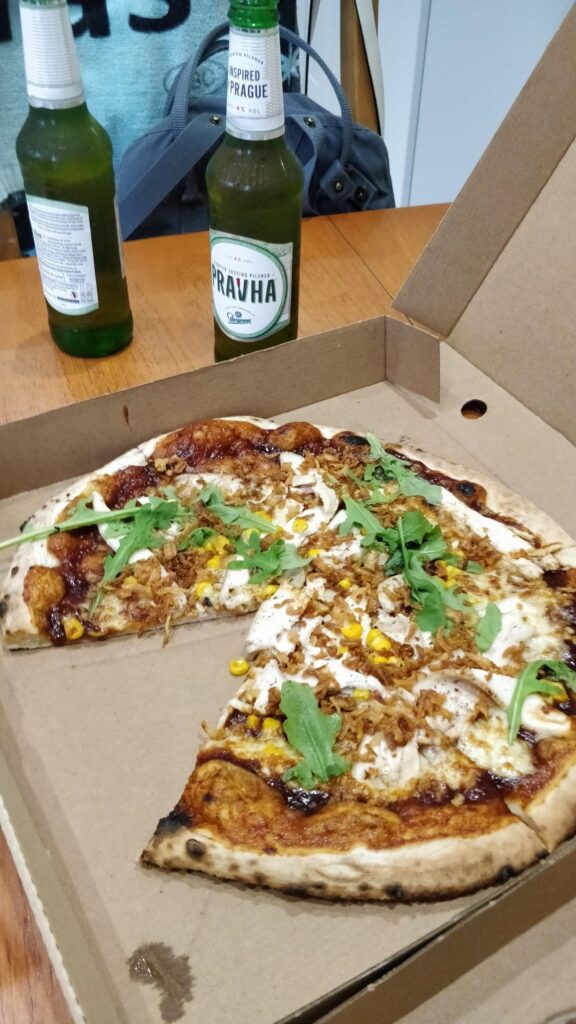 With one of us in the shower post-gym (got to get rid of those pizza Kcals beforehand), it was a gamble to pick from the menu.
What's on the menu?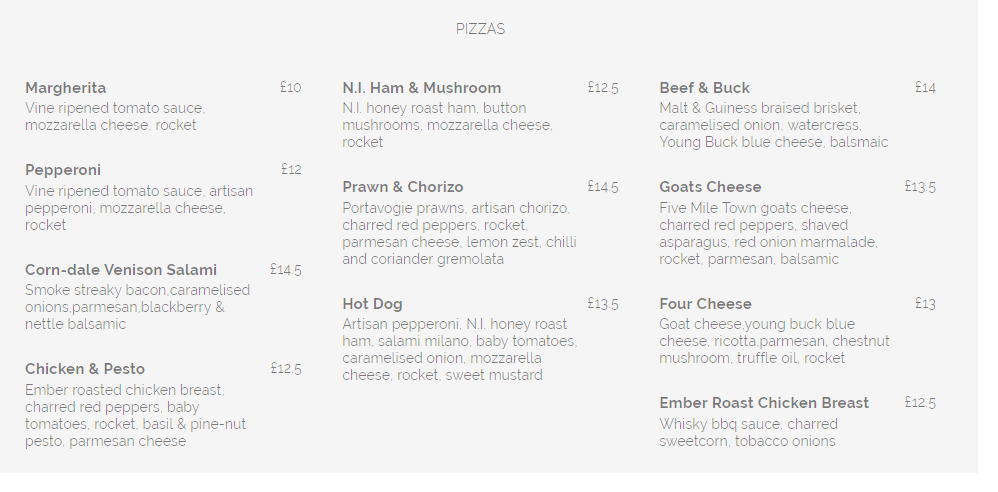 A diverse enough menu for pizza that's always nice to see. A few wildcards in there as well to raise eyebrows a little.
You can view the entire Belfast Woodfired Pizza Co menu here.
The Sauce is Boss
As much as we stow about the power of pizza with absolutely no sauce on it (as we did in The Marcus Ward review), we also like when somewhere can hit it out of the park with other sauces like barbecue.
The whisky barbecue sauce was calling us and that was the pizza we had to go with.
What did we get?
Because it's always just the two of us we ordered: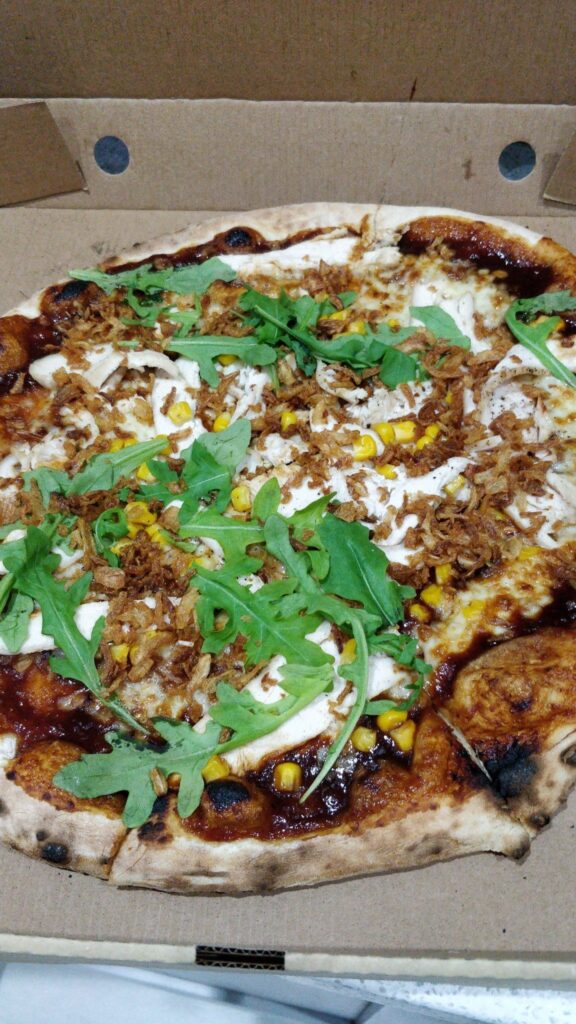 Ember Roast Chicken Breast

Whisky bbq sauce, charred sweetcorn, tobacco onion

Woodfired Boxbaked Camembert

Flat bread,sweet red onions & mulled wine jam
For these two thing it cost £21.50. This seemed a little steep but we assuming this was going to blow the socks of us for that price. We were ordering for collection and got told it'd be ready in no time at all. We jumped straight in the car and sped (within the limit of course) to the middle of BT9.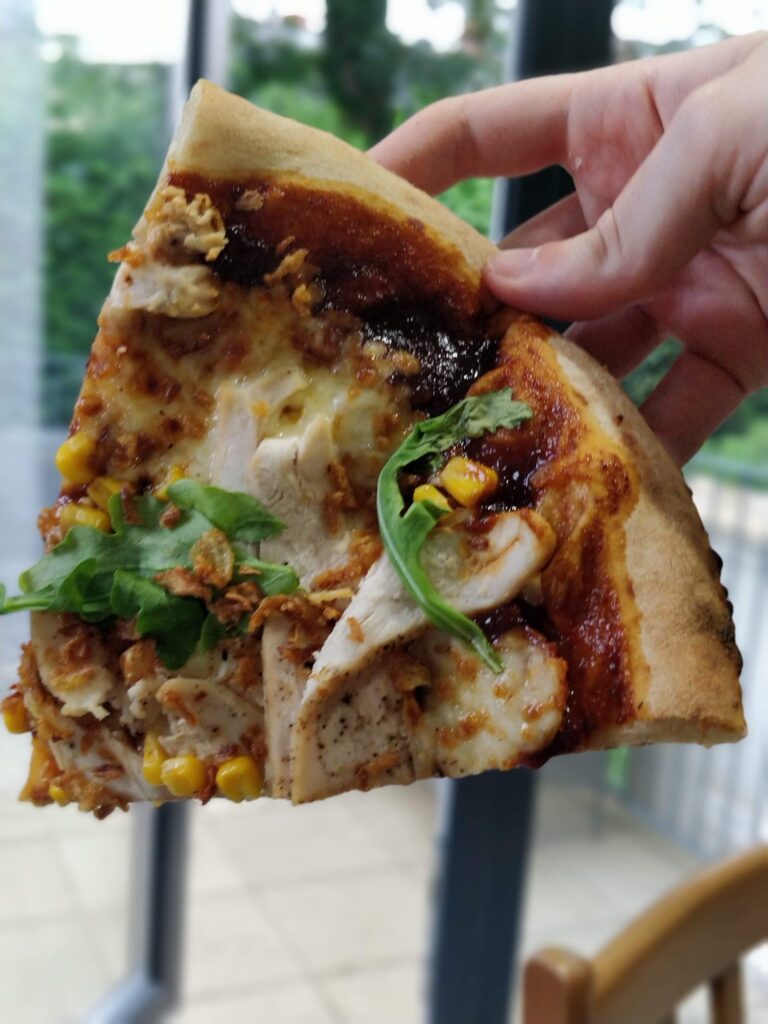 When we got there the food wasn't ready yet, so a little walk across the road to Russell's for some bevvies and back across to wait and pick it up.
We were grabbing the boxes and back home in less than five minutes (very important for what happens next).
When a starter lets you down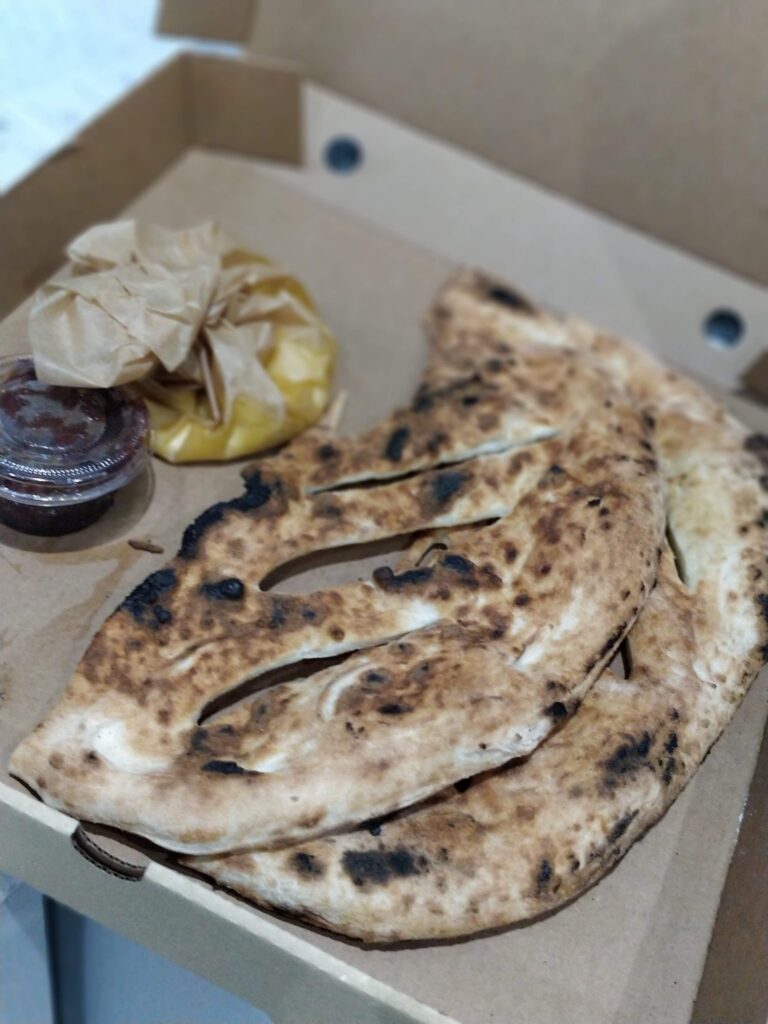 This is what the flat bread starter looks like. On opening the box there was much confusion as to what was going on.
Is this simply a base with slashes?
Why does it feel cold already?
Did we get the right thing?
We unwrapped the cheese but it was already starting to firm up again.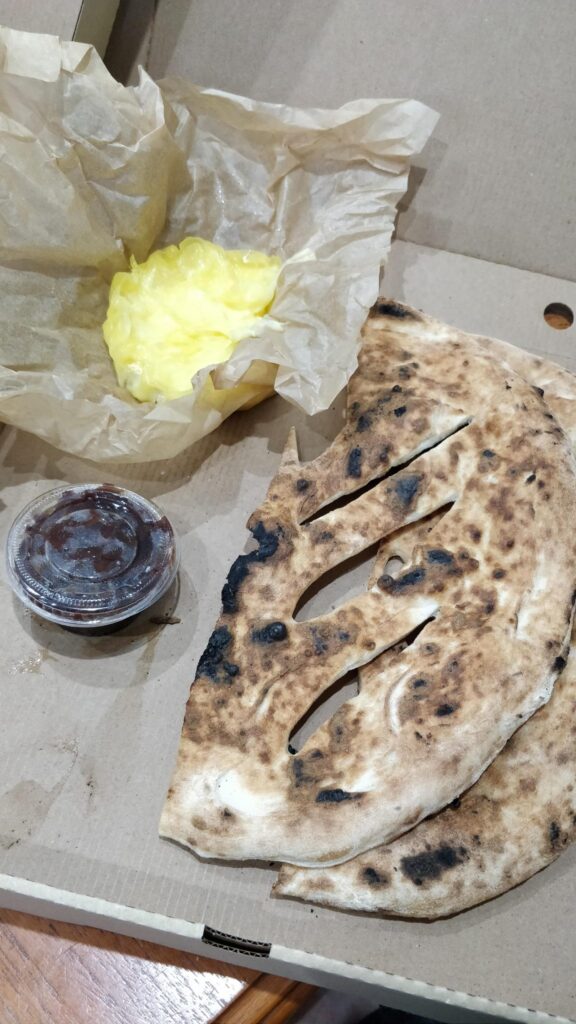 It felt more like a DIY project than an actual starter, especially for the price. It didn't travel well at all and felt more like work other than a big dirty cheesy starter to dig in to.
Obviously the cheese would make it dearer, but at £9 it isn't something to get for delivery or to collect. We're assuming that if you're getting it at the restaurant then it must come in some sort of ramekin or heated bowl with the "flatbread" cut up, but as a takeaway item it does not work.
We did hit them up in the DMs on Insta, but haven't got a reply how they serve at the time of writing.
First bite impressions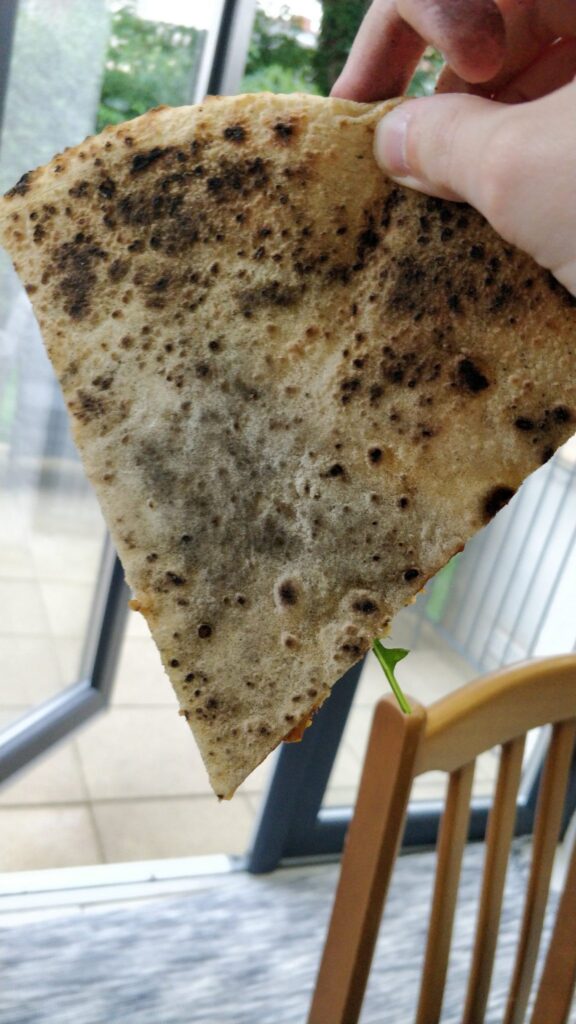 The pizza was swiftly pulled forward to get over the underwhelming starter, and when somewhere smacks "woodfired" in the title, we're expecting fantastic bubble on a crust that gives a little crisp, especially around the edges.
Sadly we think we chose the wrong thing again as the flavours did not hit the mark. The sweetcorn was the only prominent taste coming through, with the crispy onions being surprisingly too soft to the bite (we pondered if they were sprinkled on as the pizza was coming out of the oven).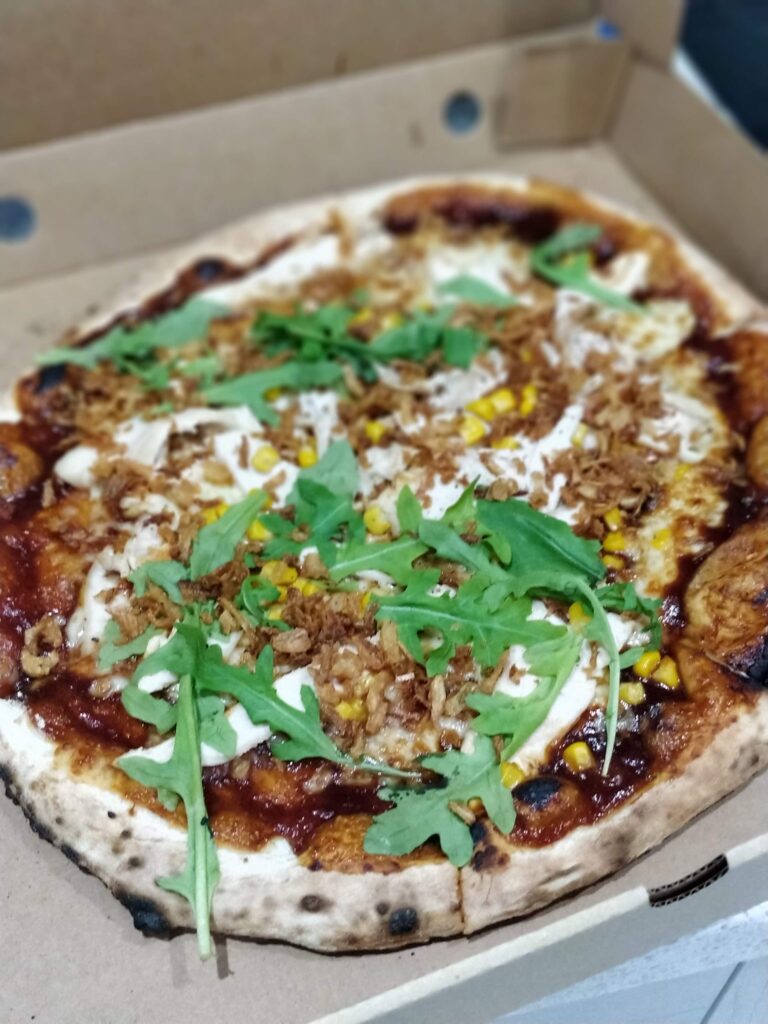 The pizza is advertised as having charred sweetcorn, but even looking at the slice, it didn't feel that way.The sauce was also very subtle, which again, made the whole slice fail to deliver a magic punch.
We'd love to know how long the dough has to rest as well. It felt like quite a young dough that possibly was made that day so didn't have much life in just yet. Again, we were expecting a much better taste for how it looked.
The Experience
Was it quick?
Quick enough. We drove straight there and it was still cooking so at least we knew we would not be met with pizzas steaming away in the box.
Hygiene Rating
Scores On The Doors gives Woodfired Pizza Co five stars, so you know they keep that kitchen in good nick.
Where is Woodfired Pizza Co?
Woodfired Pizza Co is located at 699 Lisburn Road on the fancy part of the road next to Miel & Moi and The Albany.
How can I order food from Woodfired Pizza Co?
Deliveroo is the only app we could see Woodfired Pizza Co on. Acting like it is the 20th century, we made our order by phone.
You can email to book a table by phoning them on (+44) 028 90 914903 or sliding in the DMs on Facebook.
When does Woodfired Pizza Co open?
Woodfired Pizza Company is open 5 pm to 10 pm every day except Monday.
Their website says you can call them 11 am to 10 pm every day, but obviously they ain't.
Is Woodfired Pizza Co the best pizza in Belfast?
We had really high hopes for this pizza, especially for the price point and ingredient choice, but it was a really big letdown for us. Usually we save the last two slices for breakfast, or just gorge the whole lot and end up feeling sorry for ourselves, but we had most of the flatbread and some slices left over without even putting up a fight over who could claim them in the morning.
Whilst eating we noted down in our WhatsApp notes that:
All I can taste in this slice is sweetcorn
The roast chicken is actually nice and doesn't have the processed "chunky" feel
We think a large part of the dissatisfaction was that we got it to takeaway. Maybe if we were sitting in and it was BOOM from the oven straight to the table it would be better, but we know it was only in the box for five minutes at most.
We'll give it another go maybe to sit in, but after the first experience it was really disappointing,
And finally, what did Sam think?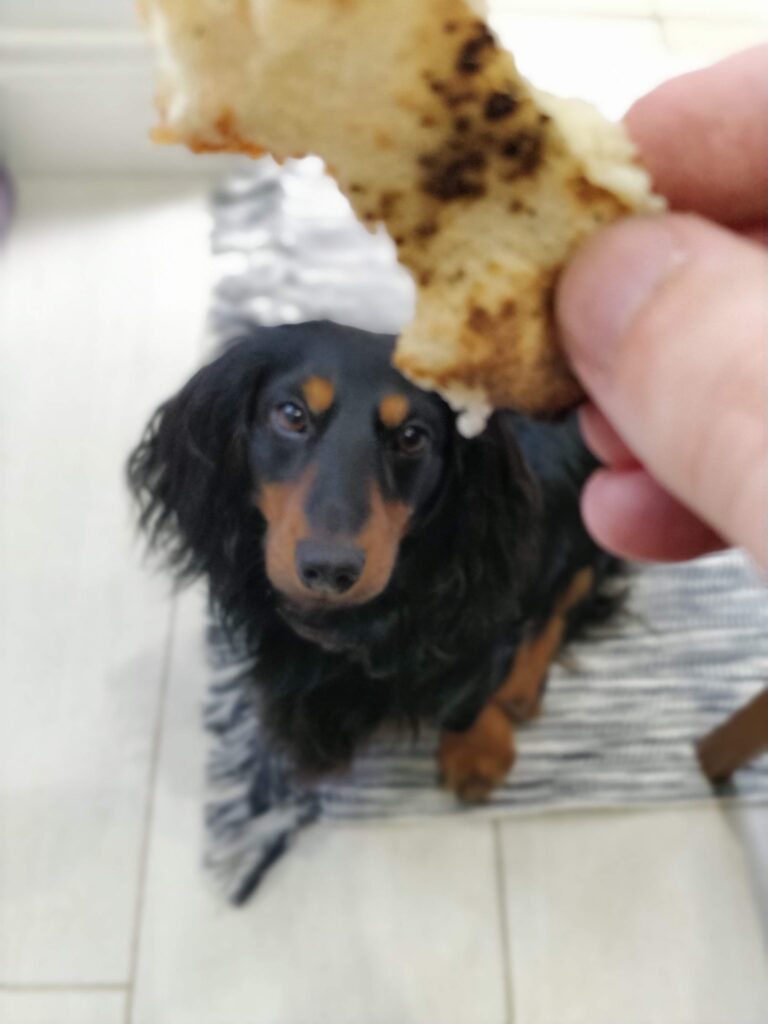 This is harder to chew than I imagine. Twoish barks out of five.