Does saying you're "artisan" make your pizza fancy? We wanted to find out by checking out Artisan Pizza Belfast on the Castlereagh Road.
Typically, whenever you place a strong descriptor to help describe a business or products, it's a good sign that it is anything but.
Ever see a stupid estate agent post on Facebook where a 2 bed terrace with a new lick of paint is "stunning". What about any piece of clothing, furniture etc referred to as "bespoke"? Oh, and if a company has to tell you their products are "handmade at source", time to run.
So, colour us intrigued when there's a big shot on the Belfast pizza scene that outrightly slaps ARTISAN front and centre on their name. The absolute brass of such a choice has to be tested, and that's exactly what we did by visiting Artisan Pizza Belfast on Castlereagh Road.
Previous Impressions
There's a few dotted around Belfast, but none we've ever encountered before this first jaunt. We did like the look of some the offerings on the menu. Wee hints of things like Young Buck cheese and the like give you the impression that, at the very least, this is somewhere that wants to offer something that just a pizza place doubling as a kebab shop.
What's on the menu?
A solid menu.
We got the Artisan Meal Deal, which consists of:
Veggie Deluxe Pizza

Roasted peppers, balsamic onions, tomatoes, rocket, sunblushed tomato, pesto

Jackfruit Nachos
Skinny Fries
Dos can de Coca Cola por favour
Because we ordered through their site/app, and it was the first time ordering, and we were collecting, the grand total of £16.50 got a nice little bump down to £13.50: quite the artisan (sigh) deal indeed.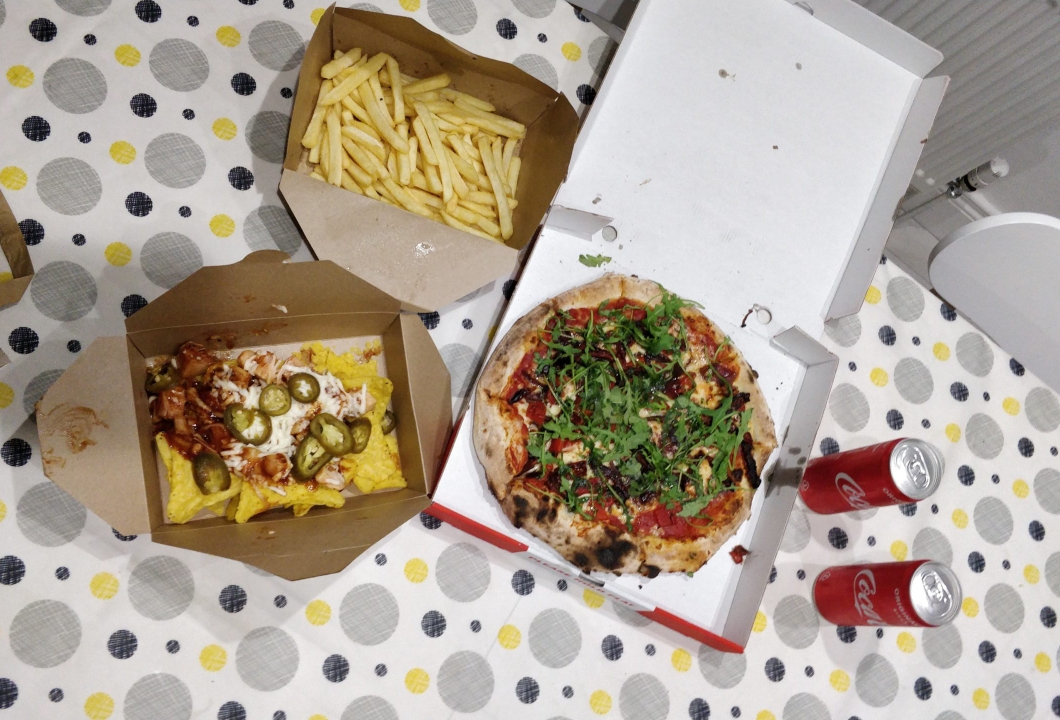 Quite a tidy number, wouldn't you think? Well, get ready for something truly bogging (at least after the first slice anyway)
First Slice Impressions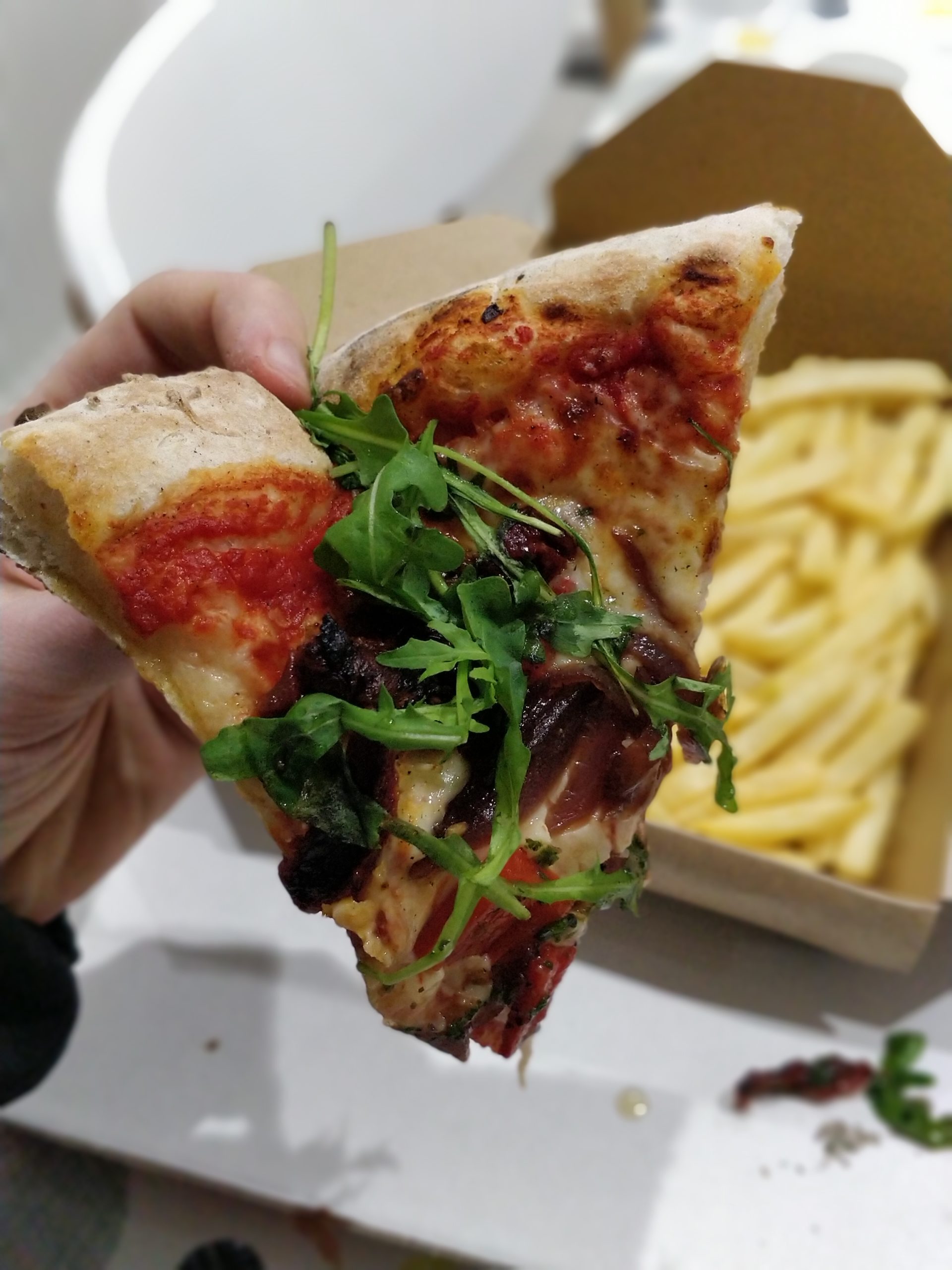 Look at the pinch on this? Like squeezing the chubby cheeks of a toddler. We are suitably impressed when you can hold a slice almost vertically out the box and not see the toppings slide away like it's allergic to the dough.
We love the notion that this Veggie Deluxe isn't just fucking every vegetable in sight on the pie and hoping you're satisfied with toppings overload.
The pepper actually isn't roasted and works well with the balsamic onion, which leans on sweetness in more of a chutney way: not that such is a bad idea.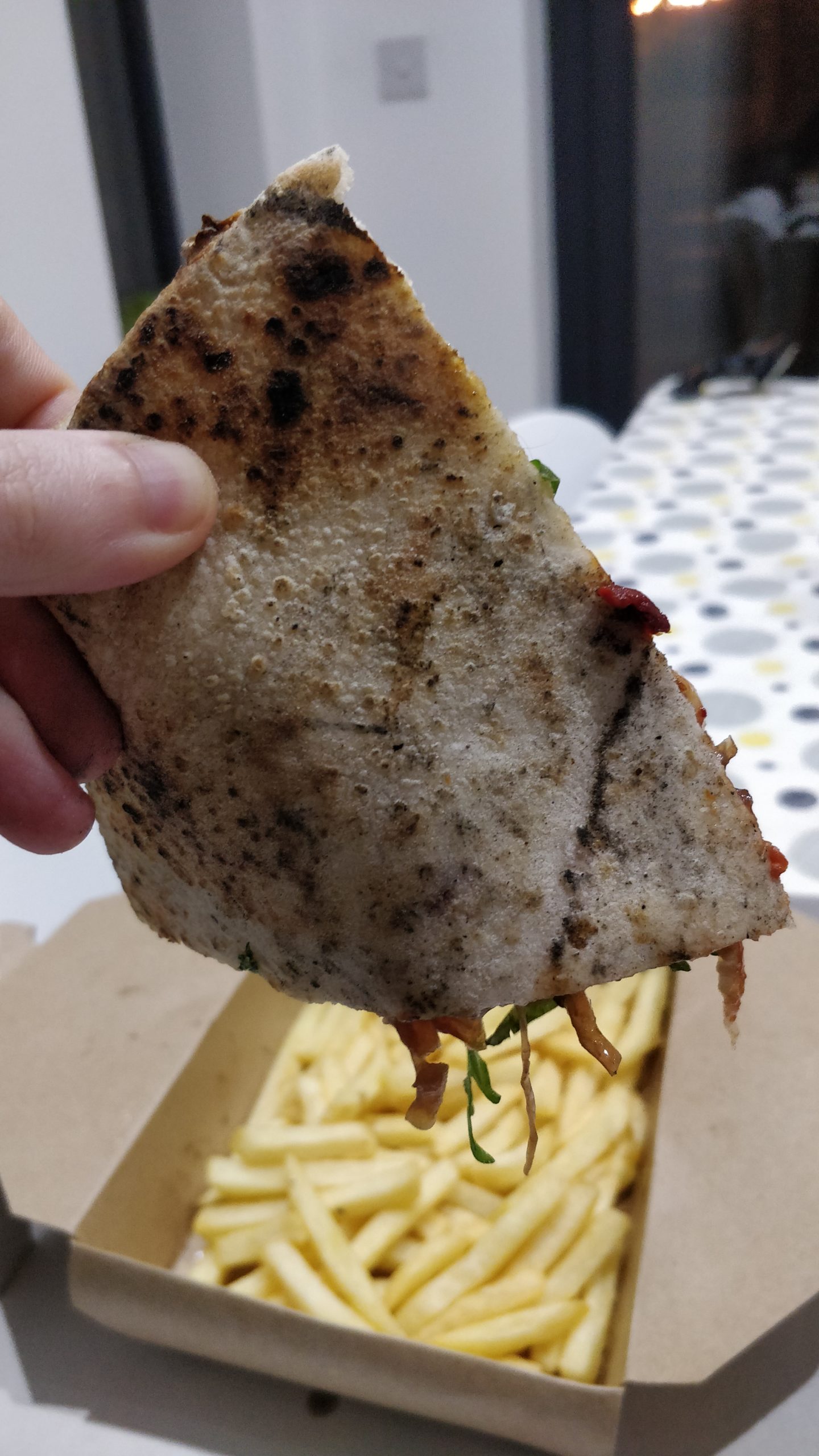 A lovely undercarriage (possibly even stunning?), giving the slice a nice lightness without verging into full on neopolitan. It is quite a heavy slice considering the lightness of the toppings.
As you get a few chews in, you do get quite a doughy feeling from the pie. And before you go saying, "DUH PIZZA IS DOUGH", you know what we mean. There's an added level of chewiness that a pizza that looks like this wouldn't usually have.
So what was bogging then?
If you read our reviews, you'll often find that we sometimes highlight pizza places where the sides are actually better than the pizza. Yeah, that isn't the case at Artisan Pizza Belfast. Take a look at these jackfruit Nachos.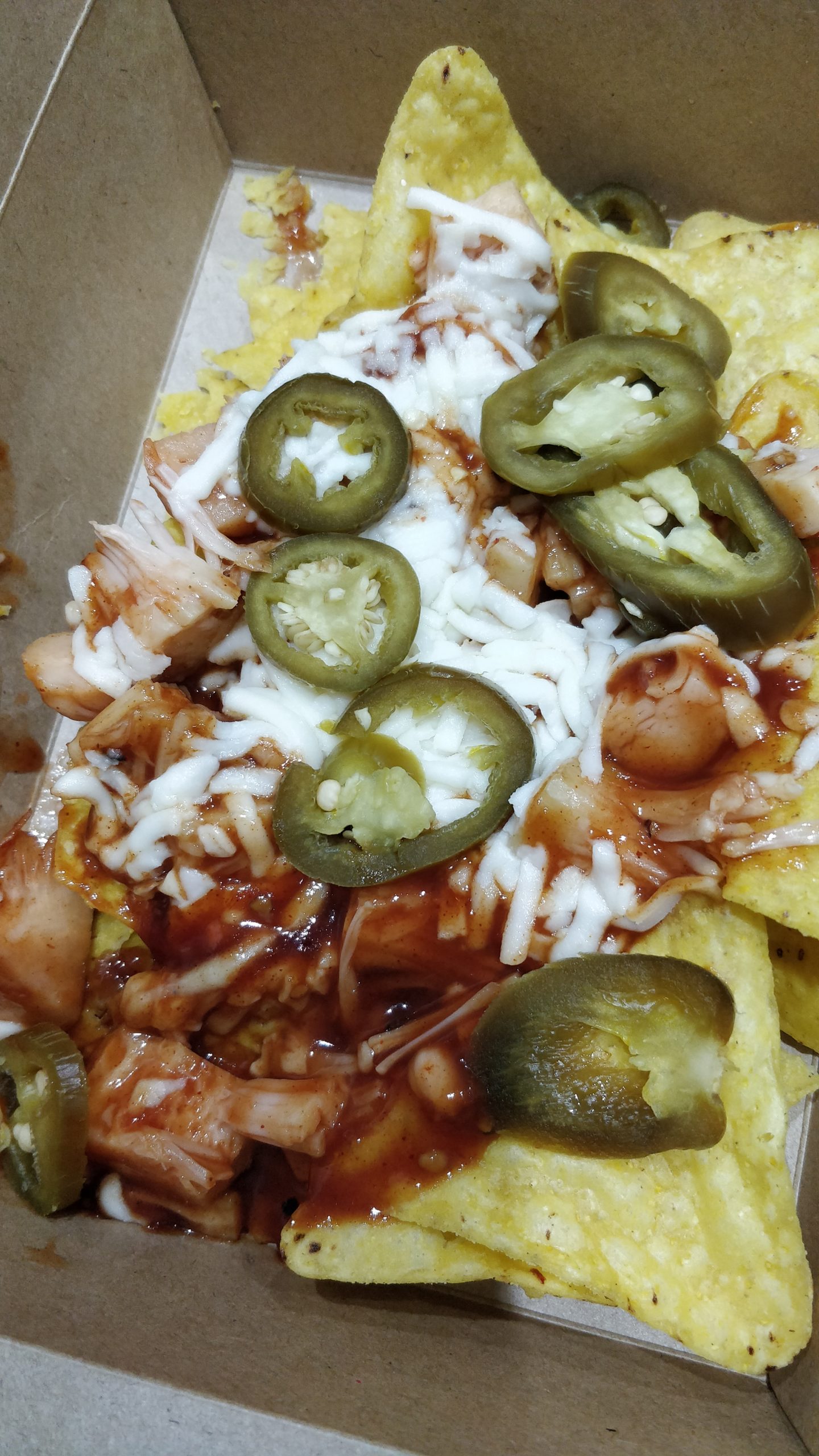 Can you see how the cheese is only a touch melted in the top corner? These nachos were like when you microwave a meal and forget the stir ,i.e. hot in one part and freezing around the edges.
It felt cheap compared to the pizza, as if the two things came from completely different places. Cinema nachos are better than these. The more you look at it, the colder the cheese looks. The sauce was also confusing as hell. In our notes, we wrote "What even is this sauce?"; A great note indeed.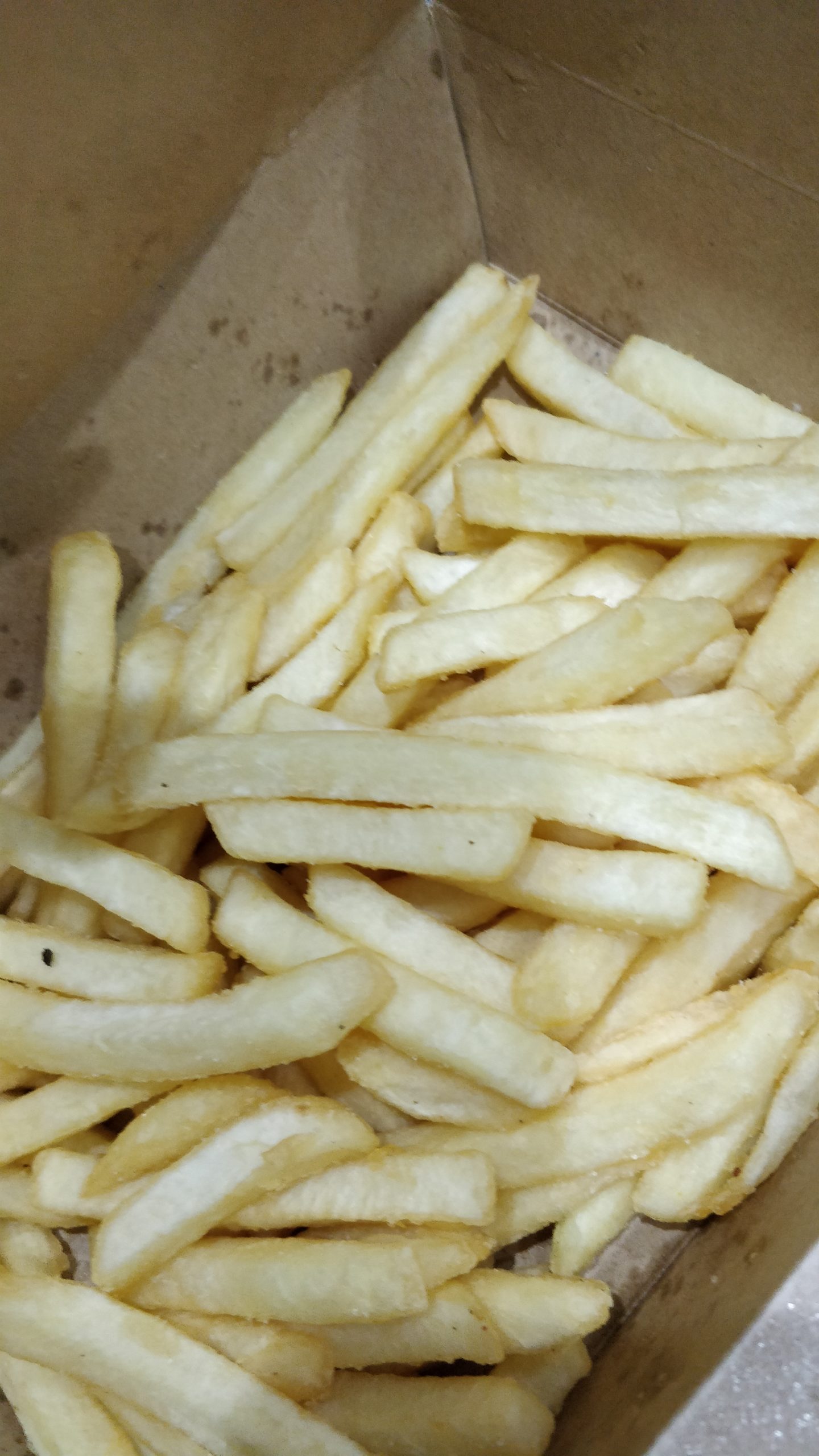 The chips were also odd, in that, we sat chowing on them trying to figure out what they tasted like. As former meet eaters it took a whole to realise they tasted like Burger King fries. We're assuming it's due to the oil they're cooked in. You can see they are a bit pale but completely serviceable.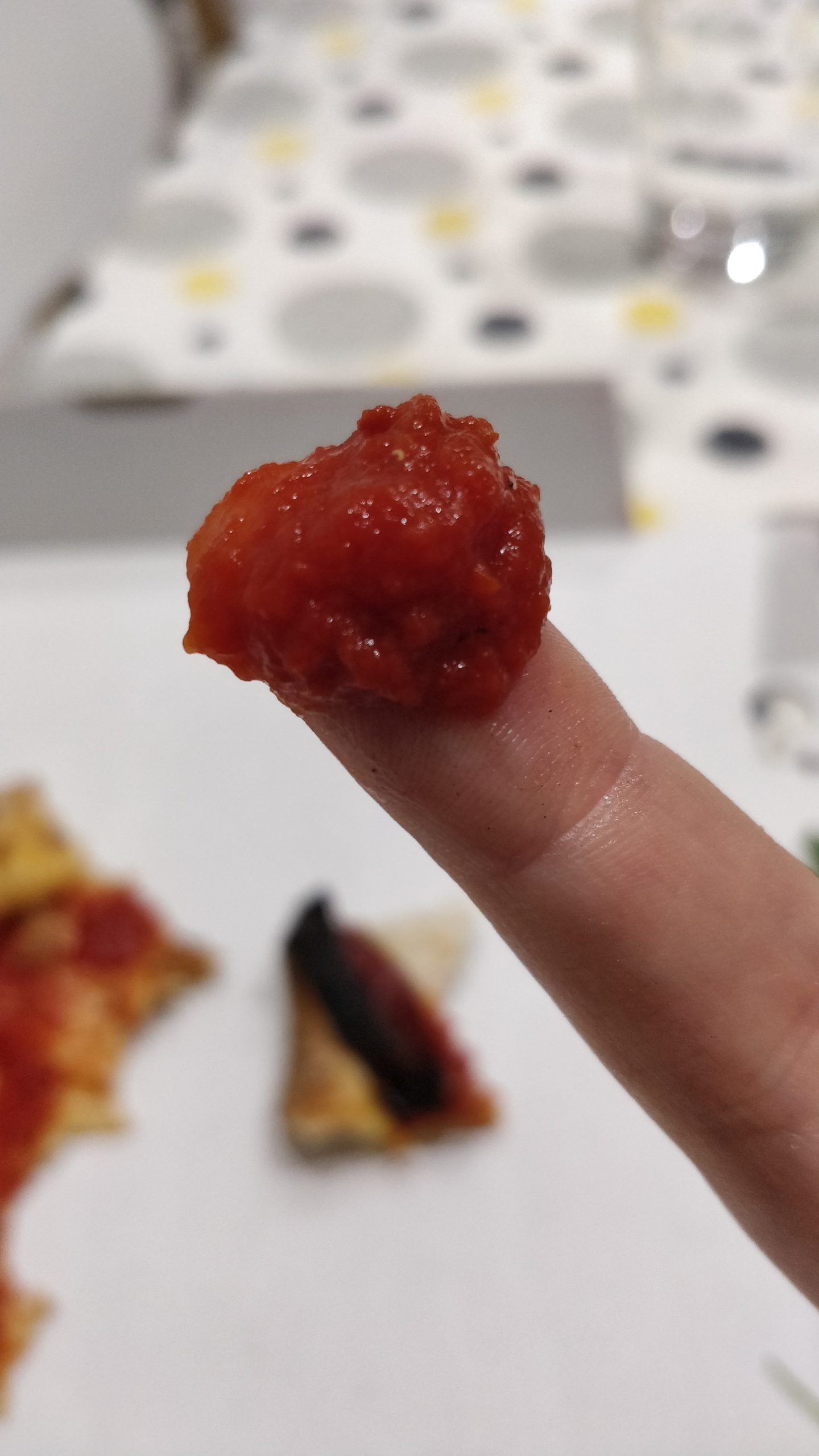 A wee finger in the pie to test the sauce redeems sauciness against whatever was on those nachos.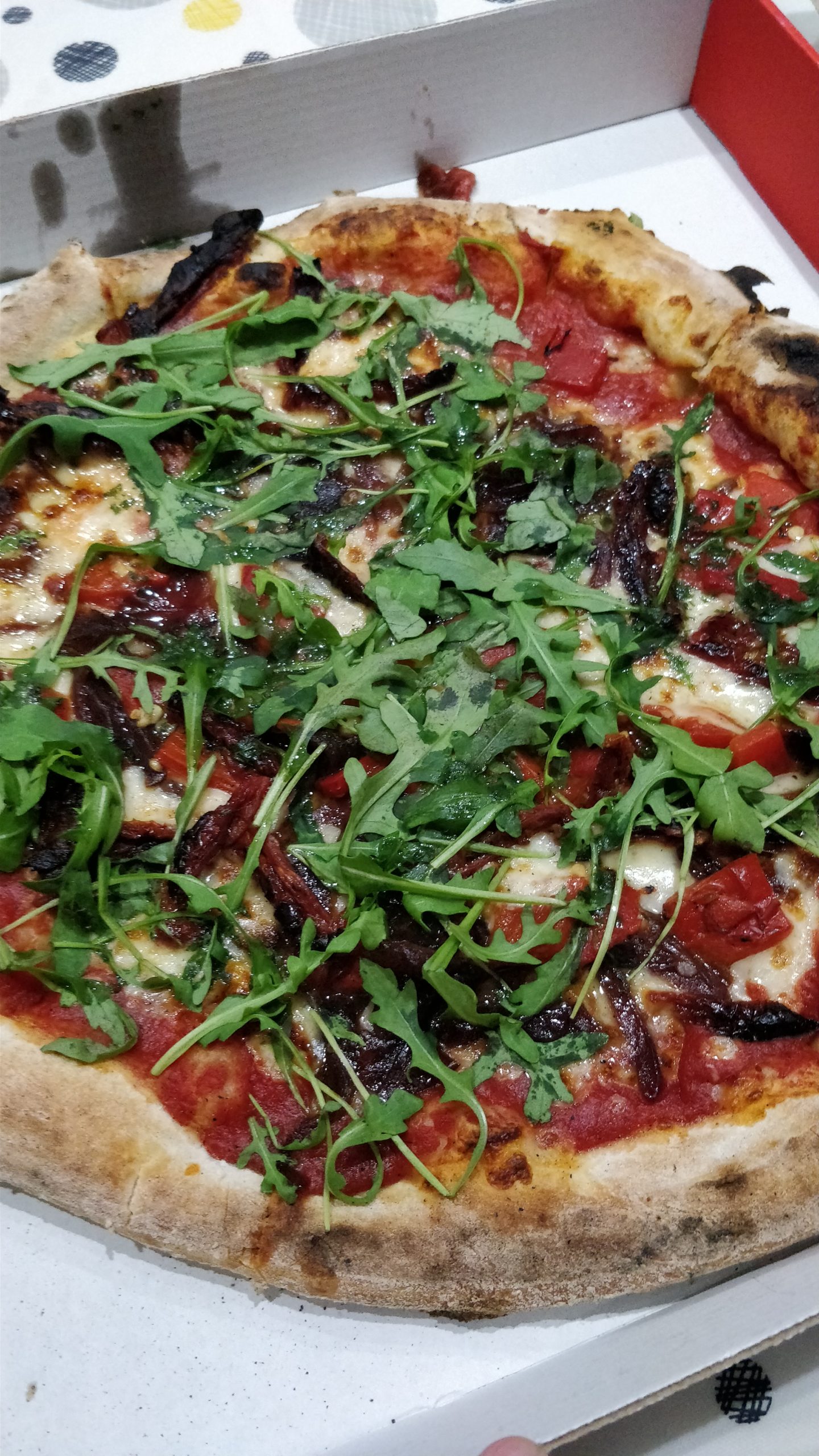 Is Artisan Pizza Belfast the best pizza in Belfast?
Compared to other local chains like Pizza Co, Pizza Boutique, or maybe even Greens, it is refreshing to see someone like Artisan Pizza Belfast offering exciting and unique choices; the kind of place your family could order from, and you know choosing your preferred pizza with toppings someone else will poo-poo, leaving nothing but pizza goodness all to you.
We did also love the pivot towards a standard veggie pizza that brings good flavours along with it (EVERY OTHER PIZZA PLACE TAKE NOTE).
So, is it the best pizza in Belfast? It's good aye, and it could hit it's stride improving the other elements. For an overall meal, we would suggest skipping any deals with sides and just getting another pizza to see how other toppings perform.
If their range across the board is as decent as the pie we had, we could brudgingly let them skip by saying they're Artisan. But then again, when the word has no meaning anymore when slapped across multiple locations, you can look at it with a little suspicion.
Give it a go if you're being threatened with Domino's or Pizza Hut. Just ensure you're not straying too far into stupid territory (i.e. their Mac and cheese pizza)
More importantly, what did Sam think?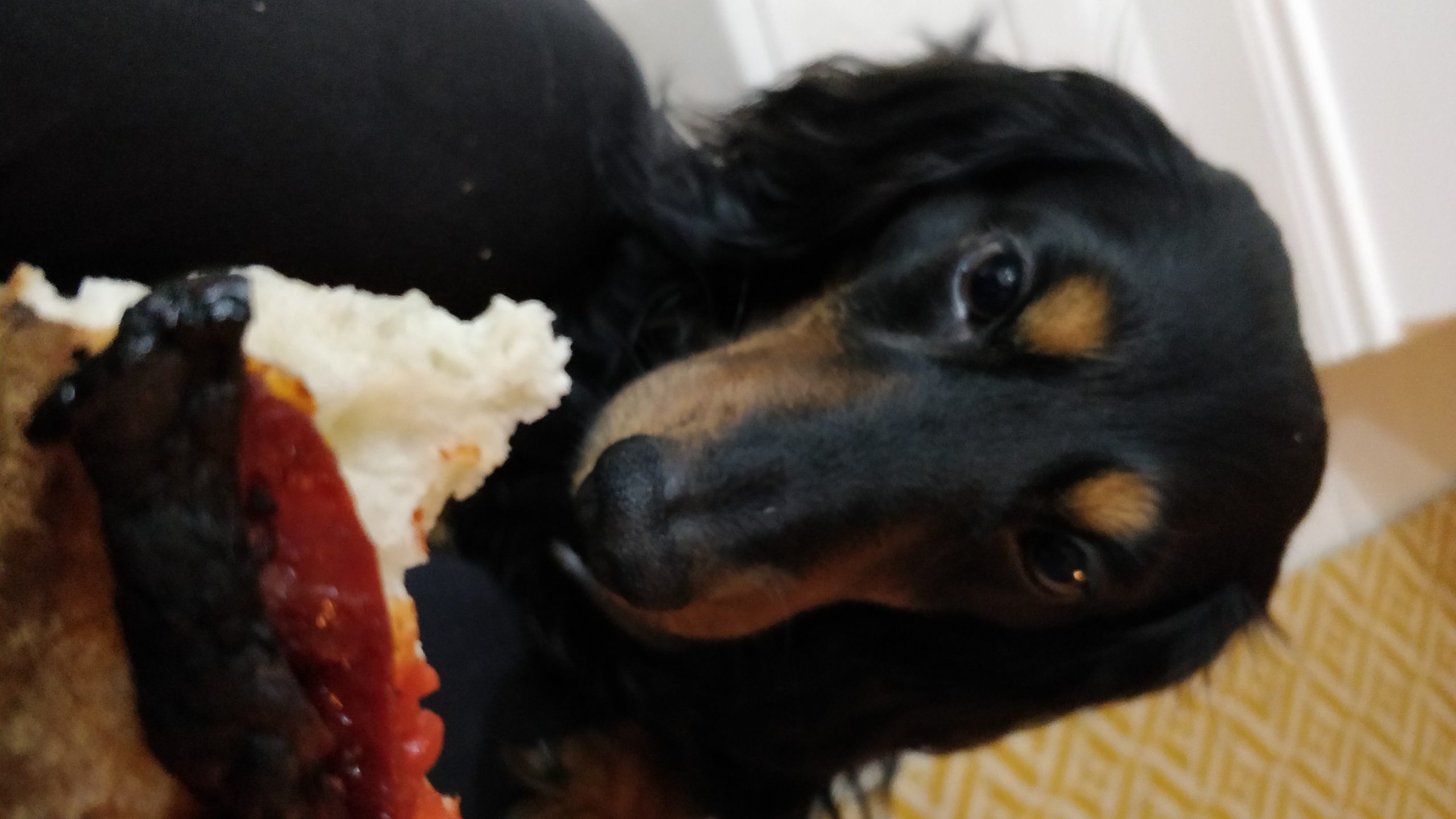 I like this chew toy. Got some bite to it.
3 barks out of 5 for the pizza
1 bark for those nachos I sniffed and walked away from.
Where is Artisan Pizza Belfast East located?
Their address is 142 Castlereagh Rd, Belfast BT6 9Tj
How can I order pizza from Artisan Pizza Belfast?
You can order via JustEat, or their website (link)