Hitting up the east side of town to see what the pizza game is like and if Sorellina Stone Baked is the best.
Whenever we get talking with people about the most important question in the world ("Where does the best pizza in Belfast?) the conversation generally revolves around picking parts of town and then breaking down the pizza in that area.
One part of town that always stumps the conversation, even for friends living there, is East Belfast. It may have a Pizza Co, Greenes and Little Wing, but bar maybe really Capers, are there any independent pizza spots that should be seen as the pride of East Belfast?
Sorellina was one we had on our radar for a while, and with delivery/collection the way pretty much everything works these days, we decided to give it a go (preheating the oven before leaving the house) to see if they can at least claim they're the best in EAST EAST EAST Belfast.
The Food
Previous Impressions
None to work off of, bar the occasional look at their food on Instagram. We also hadn't talked to anyone who has been there before, so it was a blind taste test going in.
What's on the menu?
A standard pizza menu with a few wee surprises here and here. Any time a pizzeria keeps their main menu under ten pizzas, it is usually a sign they care about the quality over quantity approach of the big names (looking at you Goodfellas).
So what did we get?
We ordered:
12″ thin base pizza with pineapple and roquito peppers
Garlic dipping board
The order came to £17 (£10.50 for the pizza, £6.50 for the garlic dipping board).
Right on Time
The ordered was booked in for 7pm and we raced across town to be in the door just before then. As we got in the door, the pizza was getting pulled out of the oven and boxed up.
This is what the order looked like when we got home (about an 8 minute drive):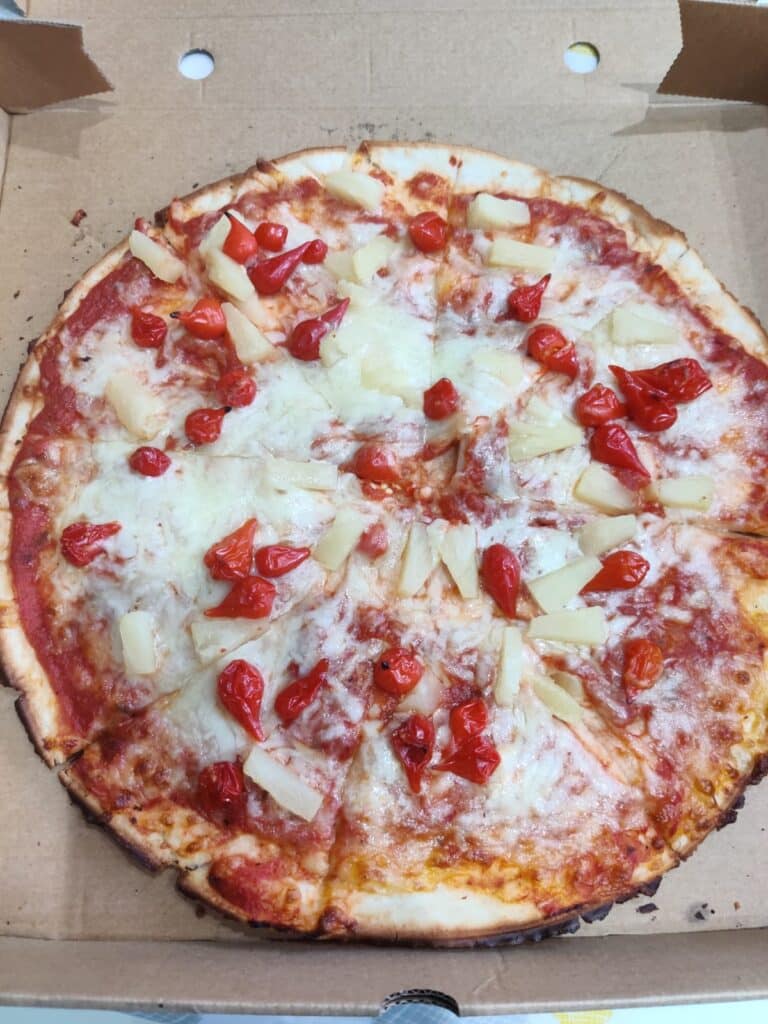 First Bite Impressions
We have to start off by talking about the garlic board. We didn't really know what to expect from some dough balls and sticks with dips, but for the price point of £6.50, it was really underwhelming. The biggest issue was that it didnt have have much garlic flavour at all.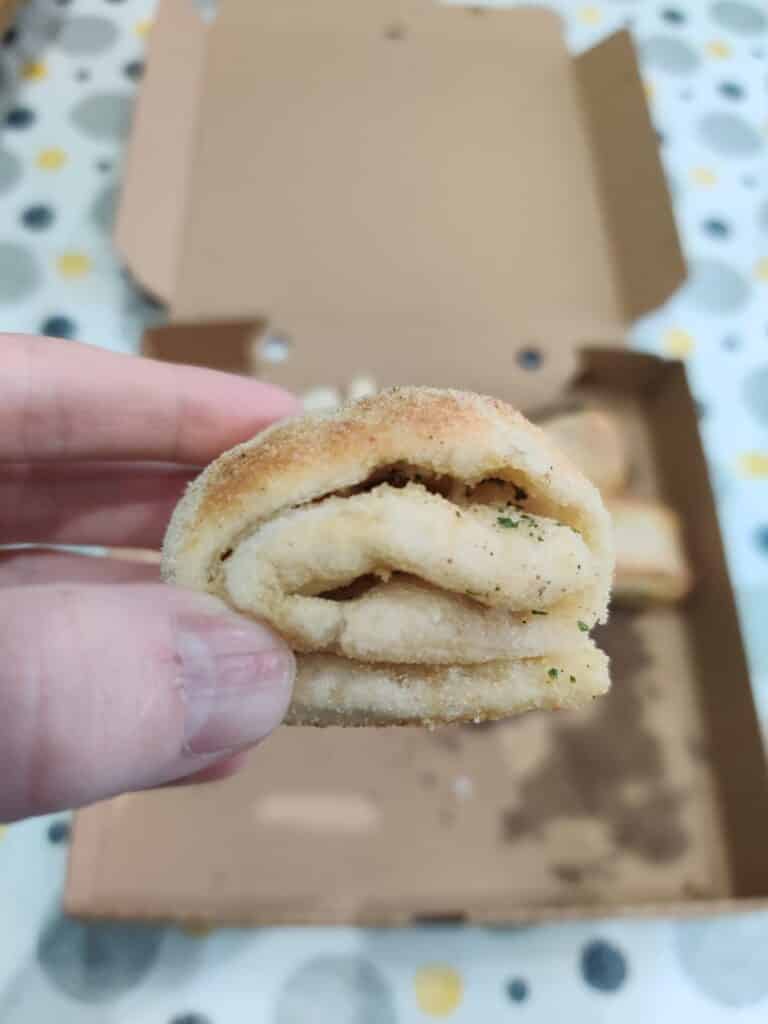 We pulled a few of the balls (which aren't balls if you look at the photos) apart to see if we could pick up on the flavour better, but there wasn't much there. And the sticks were just bread sticks that are the kind of things you throw in the oven when you've been making pizza with the kids in the kitchen and don't know what to do with the cutoffs.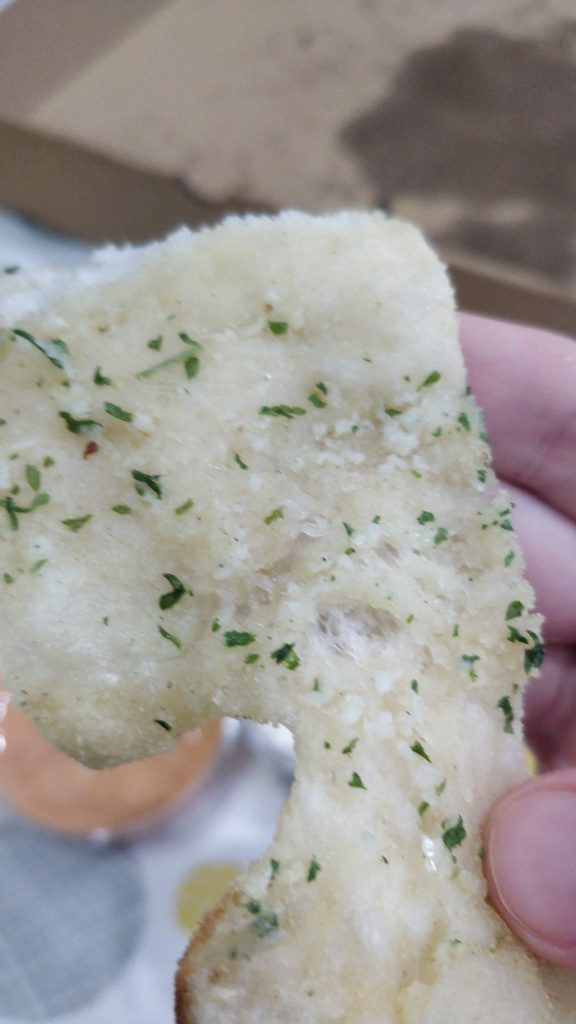 It was such an odd starter to have. As with any meal we get, we pondered if it would taste better if sitting in the pizzeria, but this is honestly something you'd send back.
And then it was time for the pizza, and the problems we had there.
"Is this cooked properly?"
A question one should never find themselves asking when trying a pizza, but take a look at this cross section of a slice: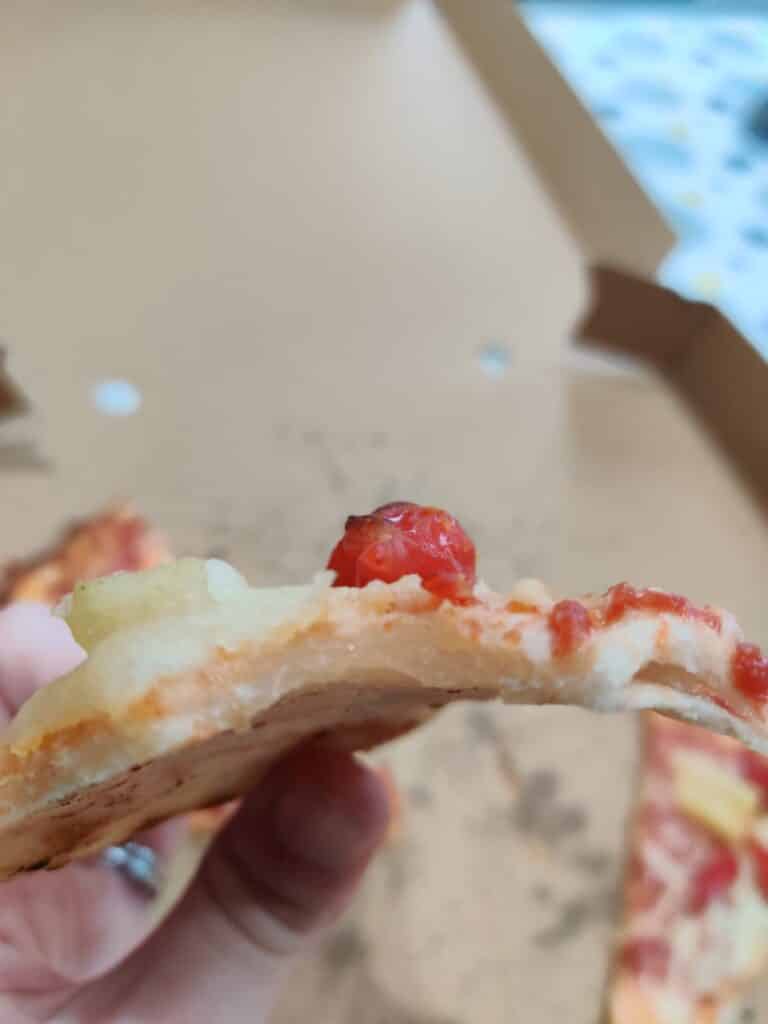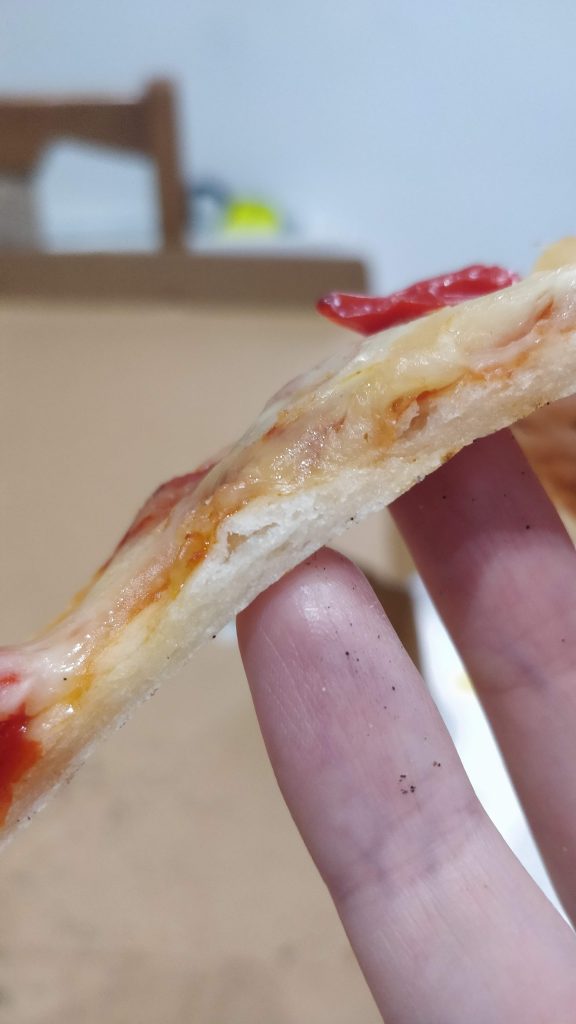 Notice how it looks almost grey and moist towards the bottom (like a damp patch on a piece of kitchen roll)? This usually happens when you attempt to cook something you want to be thin in a hot oven, and come out with it too quickly. It has the consistency of potato bread when it shouldn't.
That's what we were getting with the first slices. We had to open them up to get a proper look.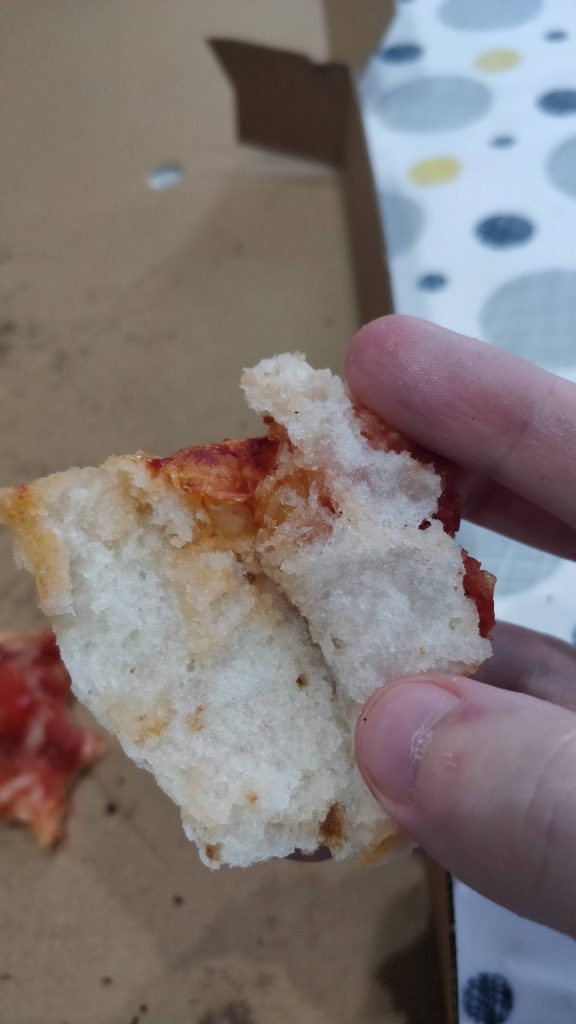 Again, the duller parts coming through are a worrying sign. You would bite in the find the slice to be cold and have a slight raw taste.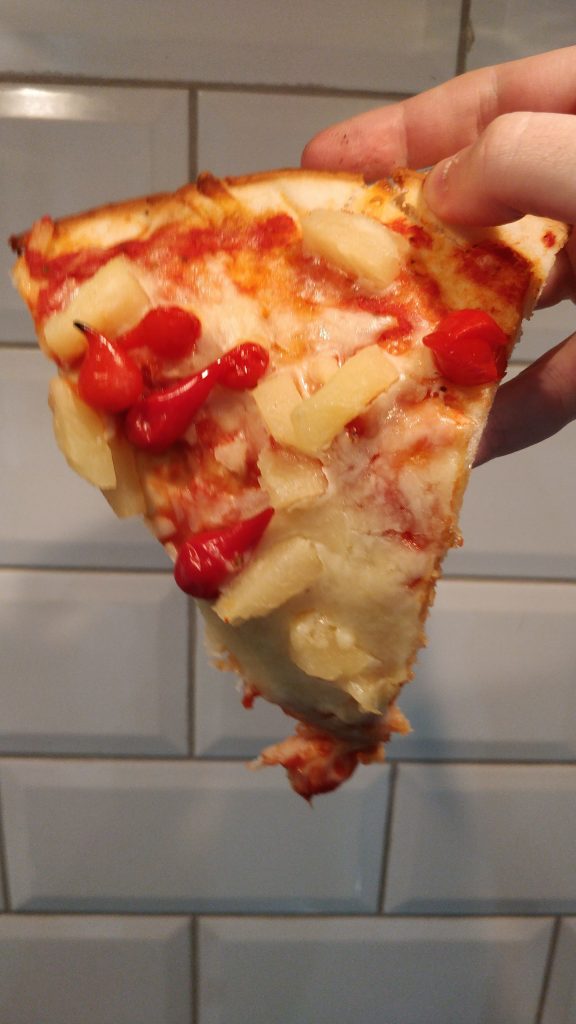 Around the crust was perfectly fine, but the further to the centre you got, you get the feeling it isn't ready yet. It's like taking an oven pizza out too early because the crust is roaring hot and turning dark brown, but the middle is still cold and you could put your finger in without feeling any heat.
Even on the under carriage things were looking undercooked as soon as you look beyond the crust.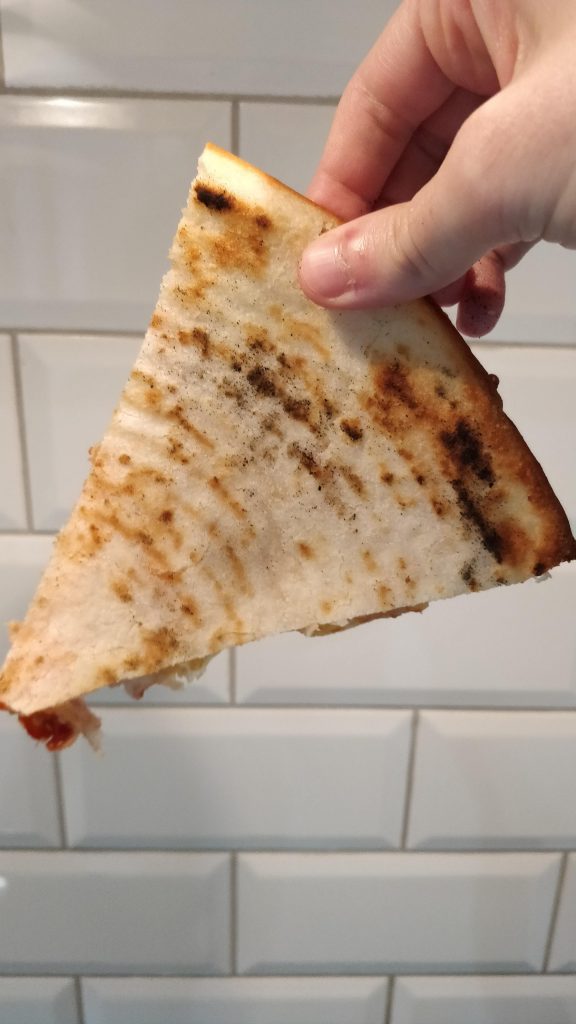 The roquitos on the pizza may also have come straight from the jar when flung on, as there was an overwhelming taste of vinegar anytime you bit in. Pizzerias tend to have them on the line to toss on. It's the reason why it's the only good topping at Pizza Express, as the skin gets to dry out a little and crisp in the oven like any other veg.
The Experience
Was Sorellina Stone Baked Pizza quick?
We arrived early and it was made on time. Was it cooked on time though? That's the problem we have to figure out.
Sorellina Stone Baked Pizza Hygiene Rating
At the time of writing, it was awaiting inspection. We will update if we have any updated information.
Where is Sorellina Stone Baked Pizza Belfast located?
61 Belmont Road, Belfast
How can I order food from Sorellina Stone Baked Pizza?
We ordered via Just Eat. You can order via their website here.
Is Sorellina Stone Baked Pizza the best pizza in Belfast?
As Brendon Urie was famously belted out "Had to have high, high hopes for a living" and that's what we had for Sorellina. Sadly, this was way off the mark in terms of expectations. We really thought it was going to be something special and it was a massive let down.
Every bite had us asking questions and wondering where things went wrong. If you're sitting to eat pizza and have to address if it's been cooked through, then there are problems that can't be looked over.
Usually we paste in the notes we write in our phones as a rough summary of what our immediate impressions were at the time, but the only question in there was "Thin dough but raw????".
We'll have to head back sometime and sit in to see what the craic is, but as it stands, it's been the most underwhelming pizza experience we've had so far.
Most importantly, what did Sam think?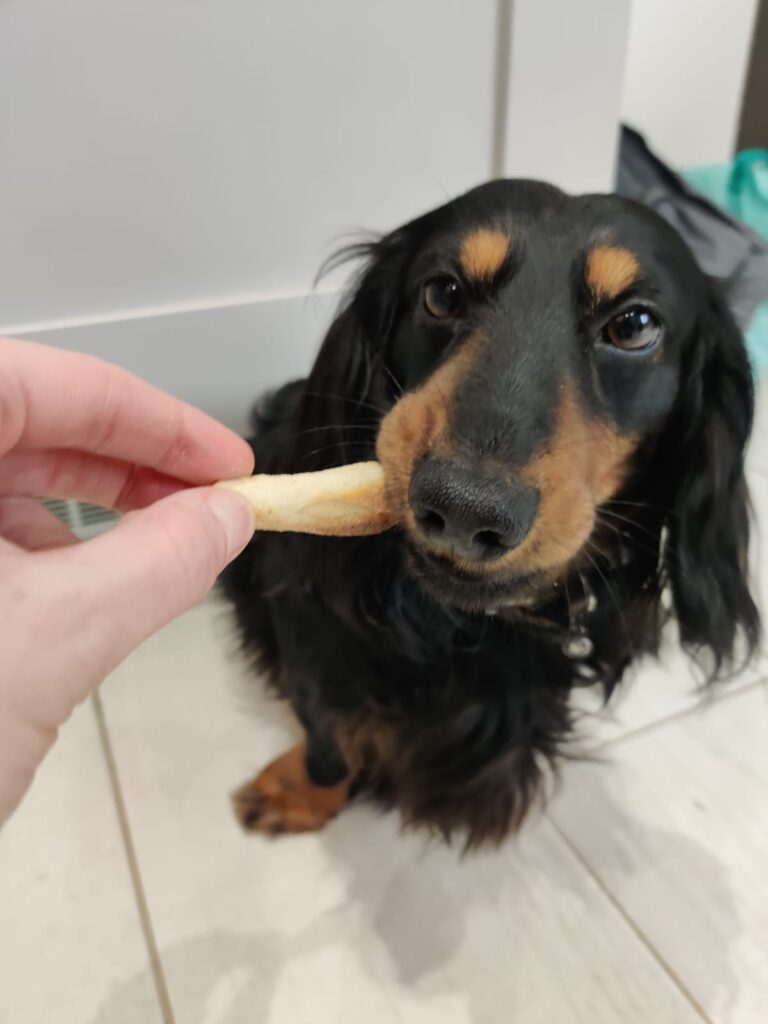 If you're not finishing it off, I will.
Just about 2 barks of out 5.