When you smack "best" on your name, you're leaving yourself open to ridicule. Guess what happened when we ordered from Best of the Best Pizzeria?
This review is a bit of a weird one, but not due to any crazy pizza story. It's simply down to the name of this pizzeria. Popping such a defiant word in there (not once but twice) means that when it comes to reviewing the joint, if it's not up to scratch, it's left open to any number of witty puns and such. We had Best of the Best Pizzeria pencilled in our list for ages, and we made it the first pizza we would be ordering and reviewing in 2020.
Spoiler alert: it's about to be a really depressing pizza experience
The Food
Previous Impressions
Our previous experience on the blog with pizza in the area was with Hudson's Pizza on Cliftonville Road and it was,to quote Larry David, "Pretty…Pretty…Good". We were expecting a pizza that would be heavy on the sauce and cheese (more on that below).
What's on the menu?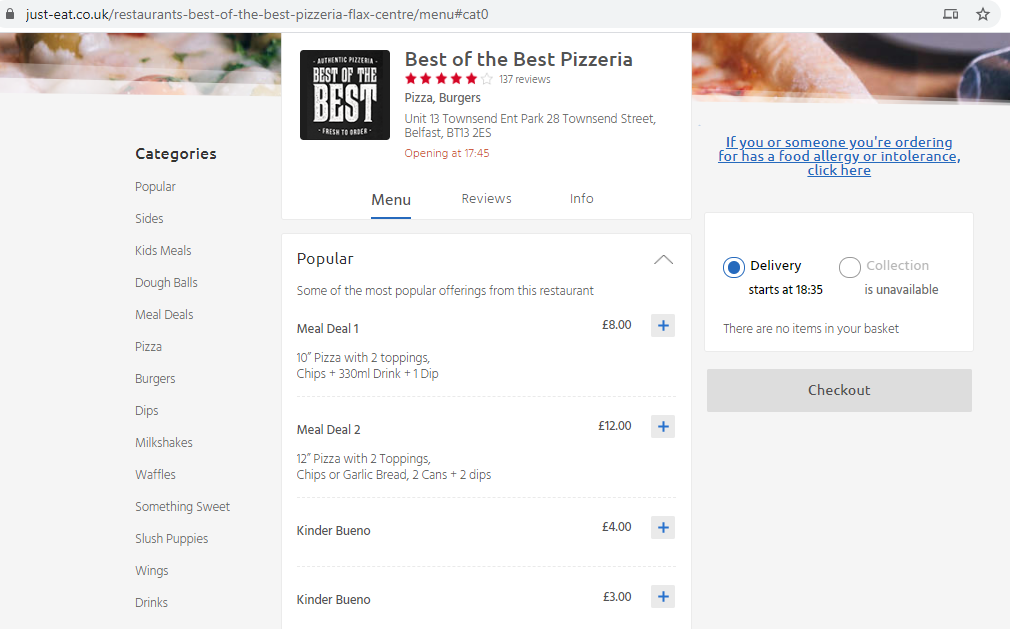 The have a big old menu indeed, which you can see here. The only reason alarm bells would ring is the amount of categories and the fact they have burgers on the menu. It gives off the same vibe as those pizza/chicken/burger/mexican/bbq restaurants you see on food apps that all seem to magically have the same address as Frankies & Bennys.
They may have amazing burgers (we'll never know) but we always side on the opinion that the less diverse a pizza menu is, the better your pizza should be.
What did we order from Best of the Best Pizzeria?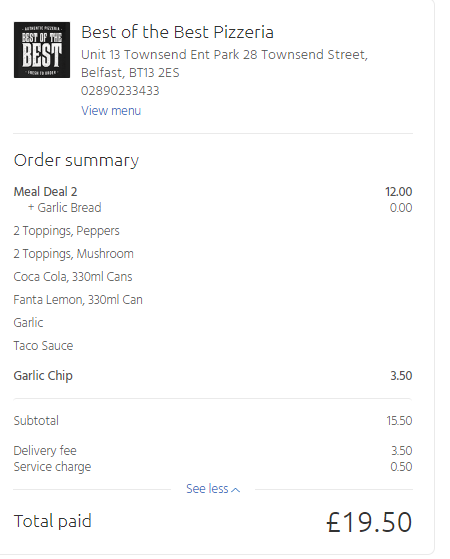 We ordered a meal deal for 2 as £12 is a pretty good place for what's included.
The meal deal includes:
A 12inch pizza with two toppings: we chose peppers and mushrooms
2 cans: we chose Coke (FULL FAT 4 LYF) and Fanta Lemon
2 sauces: we chose garlic and taco
And a side of garlic chips as it seemed to be what one would do with two dips
As you can see from the Just-Eat receipt, it came to £19.50 in total.
To put that in perspective, one of the winter meal deals (at time of writing) for Dominos is £19.99 and includes: Large pizza, garlic pizza bread, potato wedges, cookies and 3 x 330ml cans of drink.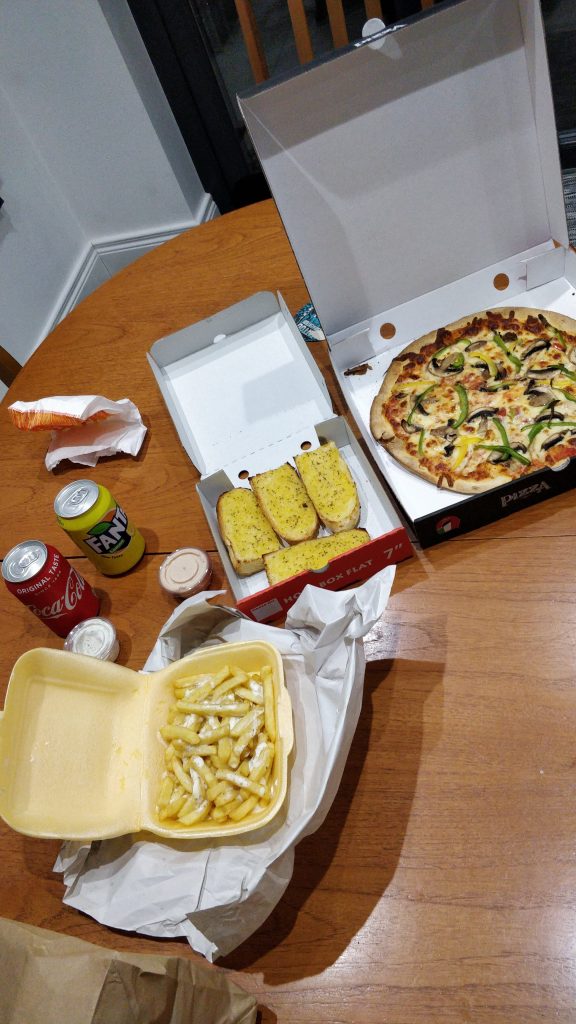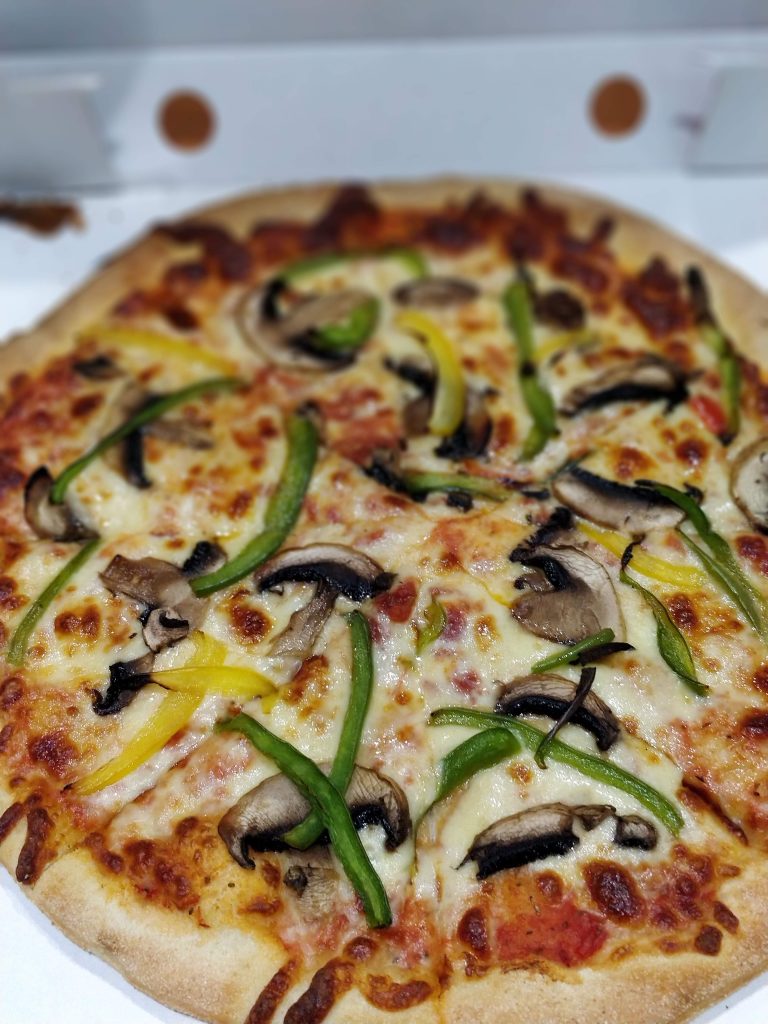 First bite impressions
Eyebrows were raised like The Rock on the first bite. Take a look at this slice: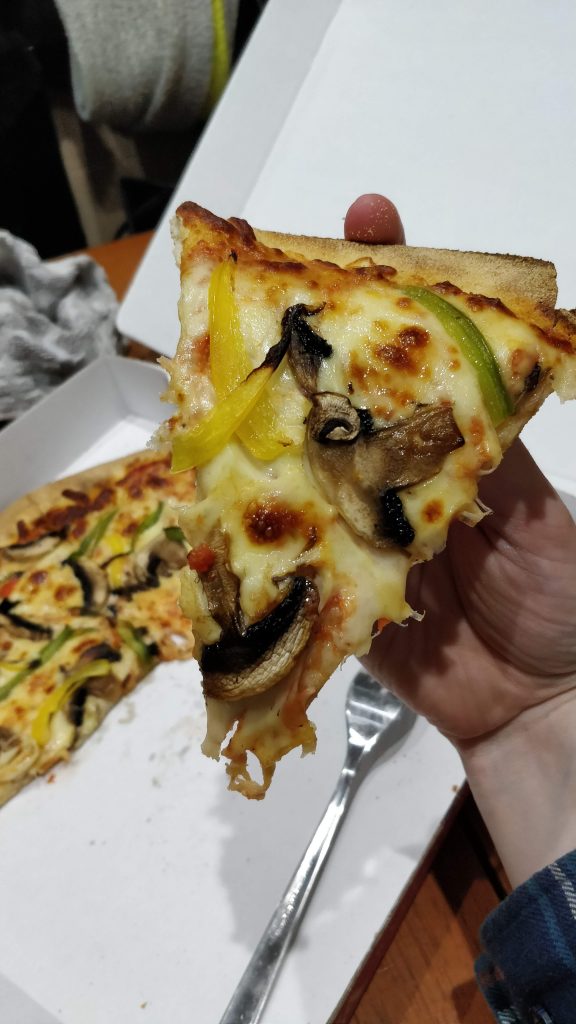 The cheese is browning and the veg (look at the yellow pepper) indicates it's well cooked, but it tasted like an oven pizza that you threw in when the temperature was cranked up but the oven isn't warm enough yet.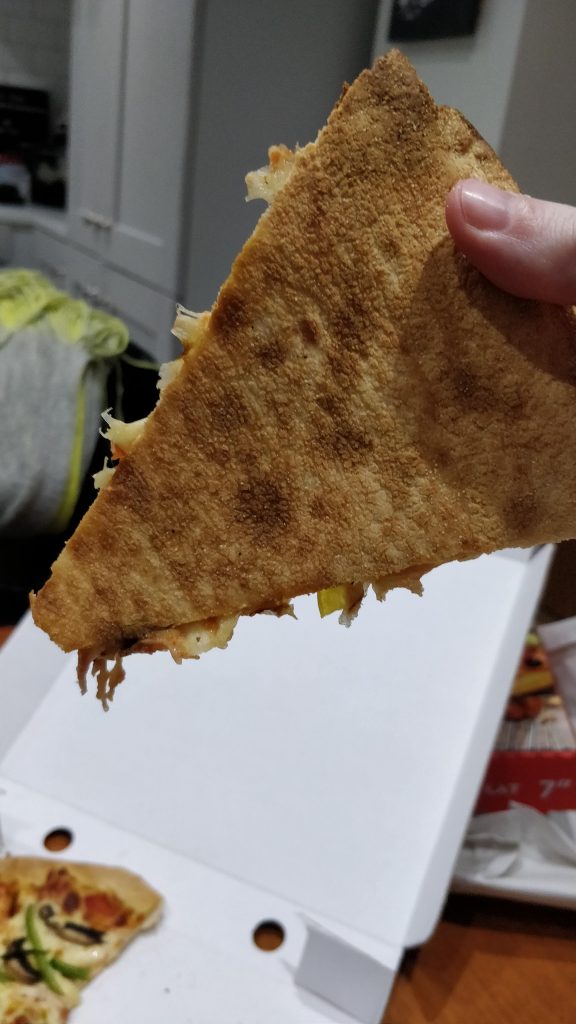 Investigation of the slice raised more questions than answers. The bottom (again) looks well cooked but has absolutely no structure to stop it from flopping. Even though the toppings weren't heavy. Just look at how it handles itself (rememebering we're not going for Neapolitan style here):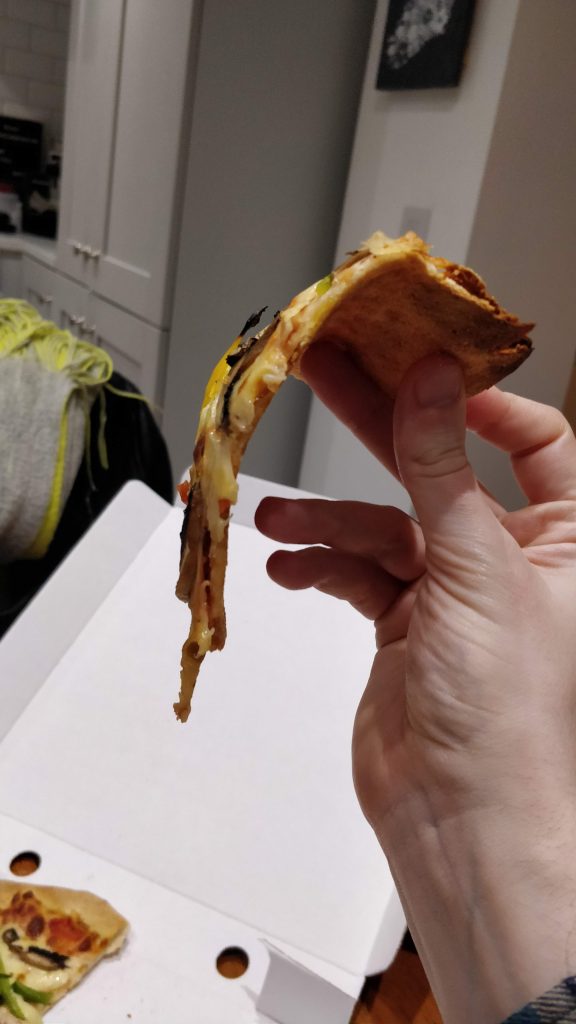 We started to get our answers when looking at the crust. The crust is where you find the answers!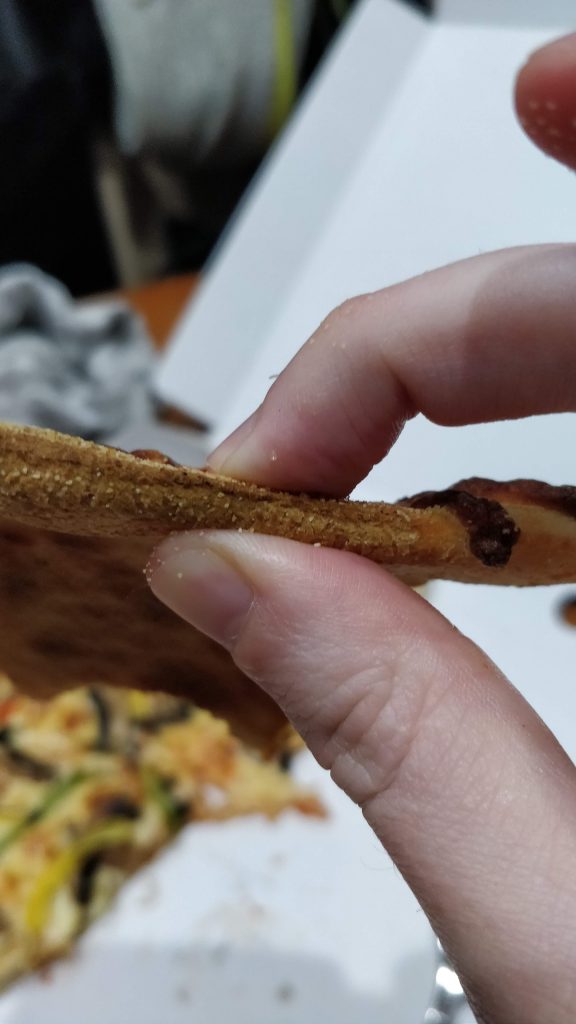 The crust was thinner than the rest of the base. Usually (and this is what we're presuming) it is either a very fresh dough given little time to proof, a dough that was frozen at some point and didn't hold its strength, or a pizza cooked at a low temp for longer.
You'll usually see this when you have an oven pizza at home and you throw it in before your oven is piping hot. The cheese cooks like this: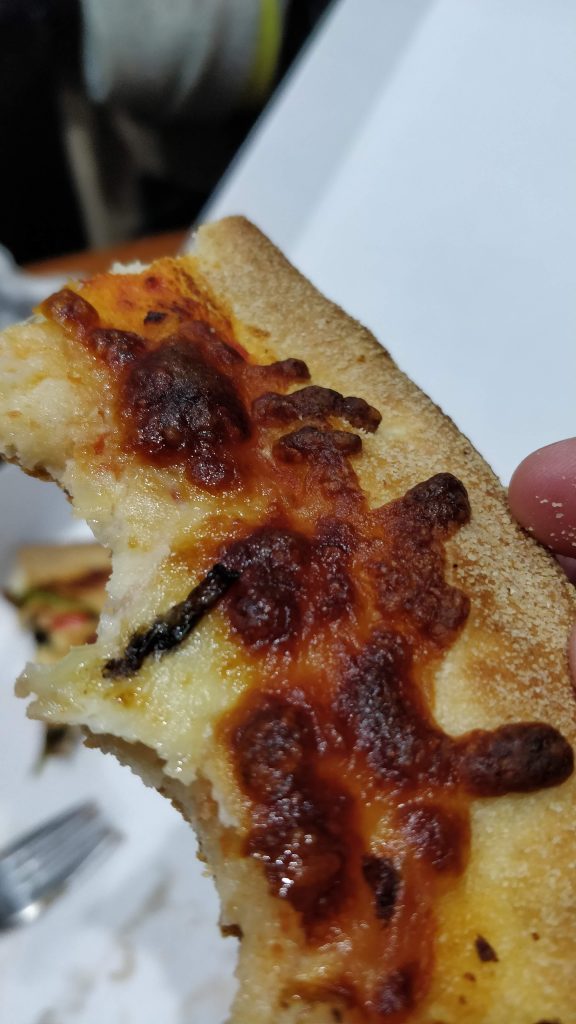 You could show someone this photo and convince them this is a slice of frozen pizza from a kid's birthday party. The slice was really underwhelming, really lacked flavour in the sauce department, and really let us down.
Sides stay on the sideline
We thought we would find solace in our sides. We didn't.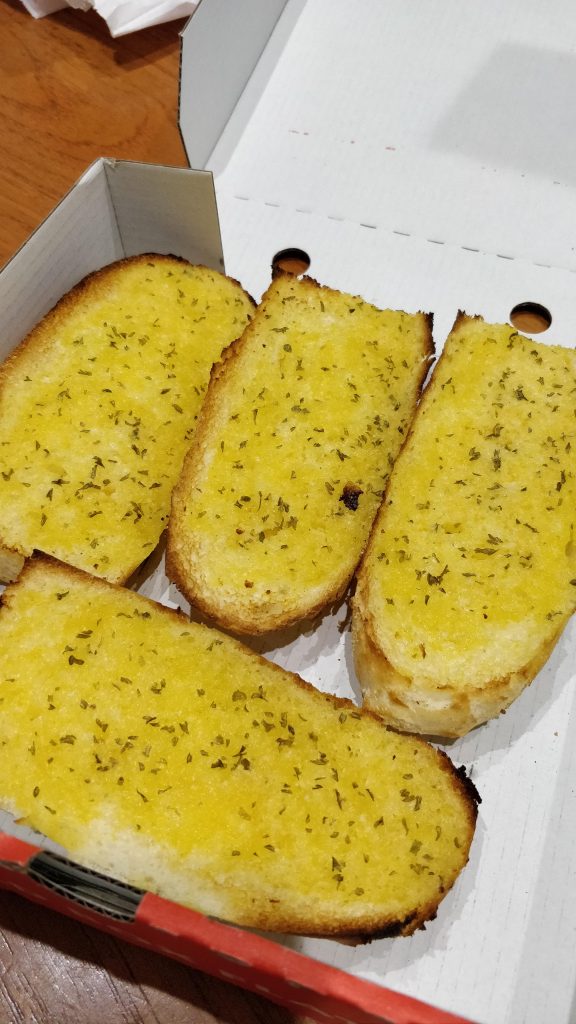 Again, you look at this think it's garlic bread slices from the freezer. Very underwhelming and needed the garlic dip and give it any real oomph on the tastebuds.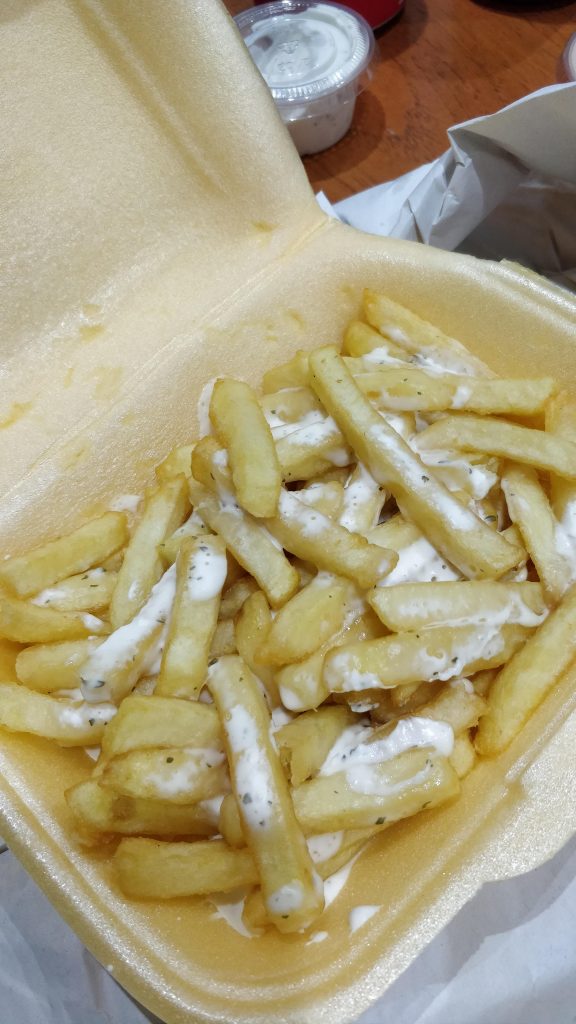 We devoured these in like three minutes because we were starving and neither of us could believe the pizza was as bland as it was. The chips tasted like a hastily thrown together garlic chip you munch on the way home after a night out when you dropped your plastic fork and have to tangle the chips over your mouth to stop sauce going everywhere.
(Originally we were going to order "Dirty Wedges" which had cheese, BBQ sauce and bacon, but there was no option to have it baconfree on the website, so these had to do.)
The Experience
Was it quick?
We made the order about 5:55 on a Friday evening and it came at 6:40, which is grand for a busy Friday night.
Hygiene Rating
At the time of writing, Best of the Best Pizzeria hasn't had an inspection from Scores on the Doors. We'll update it accordingly when inspected.
Where is Best of the Best Pizzeria Located?
Best of the Best Pizzeria is located at Unit 13 Townsend Ent Park 28 Townsend Street, Belfast, BT13 2ES
How can I order food from Best of the Best Pizzeria?
You can order via Just-Eat here.
When does Best of the Best Pizzeria Open?
According to Facebook, they are open every day from 17:40 – 03:00, except Tuesdays.
Is Best of the Best Pizzeria the best pizza in Belfast?
No. Not by a long shot.
When we order pizzas for review, we either end up eating the pizza in one sitting, or saving a few slices for a very tasty breakfast, and reaffirmation of our thoughts, the next morning. With this pizza, there was about half left and neither of us were putting up a fight for who gets the bigger slices.
While eating the meal, our notes included:
Very buttery (and not garlicky) Garlic Bread
Pizza has lost its heat (I've only remembering this looking at photos again that it was mainly cold)
Garlic chips are OK
Is the taco sauce actually taco? It's really thin
Bland sauce under the cheese
Without going into witty remarks revolving around the use of "best", this meal got worse the more we thought we about it. The next day we felt terrible for having eaten it, and two days after felt we had to rectify everything by going to The Marcus Ward again to restore our faith in pizza:
Nothing about the meal stood out or made us happy to be eating it. It feels like when you're not bothered at all to make dinner and fire a frozen pizza and garlic bread in the oven as a lazy dinner.
We're always open to giving places a second chance to see what things are like comparitively, but it's highly unlikely we'll order from there again.
No puns about "best of the best". Just below mediocre pizza.
Finally, What did Sam think?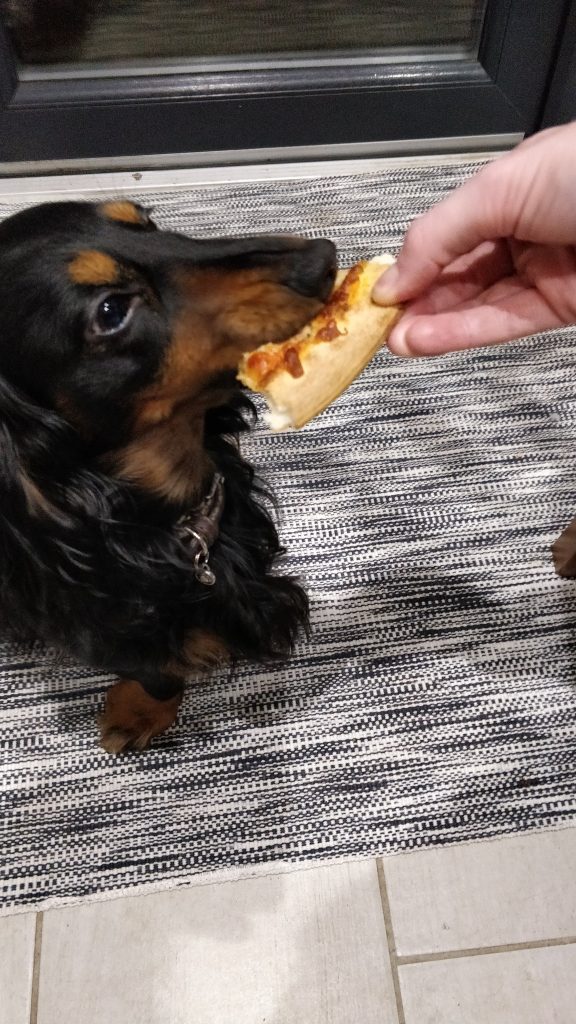 I'm being given all the crusts for once and then some. There's leftover pizza too, which is new.
One bark out of five.