Does Nico's South Belfast have the best pizza on this side of town? We tried out before their new restaurant opens.
Oh Nico's you've been evading us for a while now on the blog, and there's a very weird reason why. We usually leave getting pizzas for review until a Friday evening as a weekend treat kind of thing. Now, one half of the team from time to time will find themselves having to be in Glasgow for work, usually on Wednesdays.
On about a handful of those occasions, one half of the Slice team will rightfully not be arsed to cook a solo dinner and instead opt to get a pizza that's just right for one person. That means they order Nico's midweek. When we're both together and gearing up for Fridays, it'll usually be the case of "oh, I had Nico's there the other night. Let's try somewhere else"
This time though we assured ourselves this would not be the case. It was time to take the plunge and get a fresh pie from one of the most notable pizza names in town. It was time to order from Nico's South Belfast
The Food
Previous Impressions
As just mentioned, one of us was well versed in all things Nico's; the other was a big old Nico's virgin.
Whats on the menu?
Like most pizzerias, it's hard to find a clearly up to date menu, but this is the most recent example we could source from their Facebook page:
You can full the full menu for Nico's South Belfast here.
What did we order?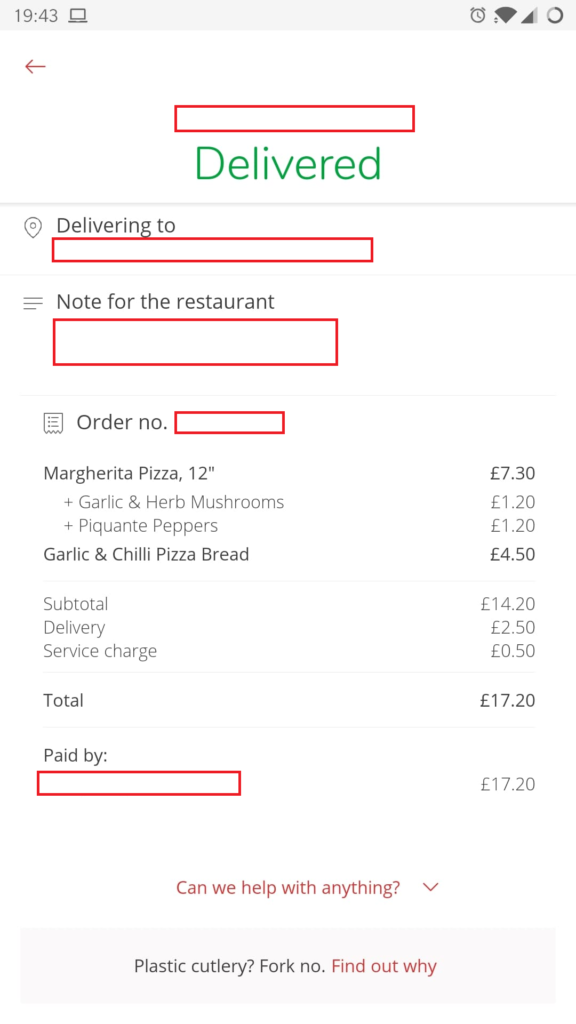 Obviously *NAME REDACTED* so no one knows exactly where SliceHQ is located, but we wanted to keep things simple this evening with our order from Nico's South Belfast. That meant no faffing around with meal deals or loading up on chips.
We ordered:
Margarita Pizza (w/ Garlic & Heb Mushrooms & Piquante Peppers)
Garlic Chilli Pizza Bread
The order came to £14.20 which rounded up to £17.20 when you add in delievery and the Just Eat service charge.
This is what just over £14 of pizza from Nico's South Belfast looks like:
First Bite Impressions
When does a slice of pizza look like a piece of art? When it looks like this:
In terms of looks, it's the kind of slice you'd want to frame and hang up in an art gallery. It looks the business and isn't saturated in toppings. Lots of brown pockets of cheese which is telling us the pizza was whacked in a very hot oven with only a few rotations, or we're possibly looking at pre-grated cheese*.
*If you didn't know, pre-grated cheese that many pizzerias use will have an anti-caking agent on them to help keep the grated bits stay separate by keeping moisture locked in. If you've ever bought a bag of grated cheese from the supermarket and wonder why it feels like someone's put talcum powder on your cheese, that's what you're feeling. It is harmless, but does result in brown bubbles.
What is cornmeal and why is it on my pizza?
You can see from the back here that there is more than plenty of cornmeal on the base.
It stops the pizza from sticking to the counter/ paddle when getting arranged and helps make it easier to move in and out of the oven. It also adds a bit of favour that flour can't.
Now there was a note we specifically placed in the order. We left it out above but thought it best to include it here:
We were looking for the pizza to be well fired so it would had a bit of char on the bottom. Looking at the photo of the back of the slice, you can see it wasn't greatly well fired (again, cornmeal can play a part), but the crust was still decent enough.
Look at dem toppings
One good thing about the toppings we noticed when making the order was the descriptions of the veg. The fact it said "garlic & herb" for the mushrooms and "piquante" for the peppers is an indication that the veg ingredients have (or should have) been previously cooked before being used as toppings.
You always want your veg toppings cooked. It helps stop a shitload of moisture from ruining the top of your pizza, and helps adds concentrated flavours in your bites.
The latter is exactly what that first slice afforded us.
A tale of two crusts
I know using a hand for scale is a bad idea (that's what bananas are for), but take a look at the middle of this crust. See how it looks slightly yellow, dense and not as white as the rest of the inside? This makes for a really stodgy crust. If you're the kind of person who loves getting to the crust so you can dip to to your heart's content, this is for you.
If you're one for consistency from top to tail on your slice's crust (notice the pocket from where I last bit to the inside of the crust), you'd want to opt for a plain pie, or maybe even just the garlic bread.
Sauce Investigation
A pizza is only as a good as the saucy sea it creates. The sauce on this pizza was very mild and sometimes unnoticeable when in the middle of the slice. If the pizza didn't have toppings, it could definitely require some chilli flakes for a bit of oomph or grated dry cheese for saltiness.
The same can't be said for the garlic bread…saying this in a nice way of course. We ordered a garlic & Chilli bread pizza and by Jove! it was exactly what we got. The chilli sauce on top really helped big up the temperature.
The Experience
Was it quick?
Yeah! Like really freaking quick. The order came 20 minutes earlier than expected, which is a lifetime in good pizza miles. It's also an indicator that the pizza went straight from the oven out the door and didn't have to spend time sogging itself up inside the box.
Hygiene rating
The Sunnyside St Location has a rating of 5 (or a Luniz as we call it)
Where is Nico's Pizza South Belfast located?
Nico's South Belfast is located on 61 Sunnyside Street, Belfast, BT7 3EG
How can I order food from Nico's South Belfast?
You can order from their website here, do the dirty on Just-Eat, or call them on 028 9030 0192
When is Nico's South Belfast open?
They're open every day from 5 pm – 11 pm , expect Friday & Saturday where they go until 12 am.
Is Nico's South Belfast the best pizza in Belfast?
It's a contender all right.
One of us vouched by Nico's for so long that it get a little notoriety that made it hard to live up to, but luckily the pizza was pretty good. Eating the pizza took barely half an hour, if even, with some assistance from Sam the Pizza Dog on crust duty.
It's the kind of pizza that was made for when one person is absolutely starving and knows they want something they won't share, but is just lacking the size for two to call a meal, which means getting some side action on – although that's never a bad thing either.
While eating the meals, WhatsApp notes we jotted down included:
Yasssss early
Stodgy crust
Crust tastes better after you let it rest (why??)
Mild sauce
We are BIG believers that pizza does not travel well no matter what the circumstances as you'll never get the chef's intentions of what they were making when it came fresh out of the oven. (If you want to see a prime example of that, read out review of Belfast Woodfired Pizza)
Luckily the pizza came quick and was serviceable for a (don't hate us for saying it) "cheeky" slice on a Friday night.
We're holding out out judgement just yet on saying it's the one of the best best in town until Nico's open their new sit-in on Lisburn Road and we can taste it straight from source in seconds.
Most importantly, what did Sam think?
Eyes on the prize. Good bit of chew on the crust.
3.75 barks out of five.