We ventured deep into the heart of BT9 to see if Slice Pizzeria Finaghy is top of the southside.
What's in a slice? Is it the ooey gooey cheese? Is it the sauciest of sauces tickling tastebuds? Or is is a crust that just won't quit?
Whatever your perfect slice is, you'll be hard to find "a slice" in Belfast. Bar Little Wing having a window here and there, you would be hard pressed to find someone in Belfast that does pizza by the slice.
And even though they sell full pies, you'd think we would be DELIGHTED to get pizza from a namesake, right? Just saying "slice at slice having a slice" has a great ring to it. So what happens when Slice of Belfast visits Slice just on the edge of Belfast?
Well, this our review of Slice Pizzeria Finaghy.
Previous Impressions
We'd never had pizza from Slice Pizzeria Finaghy, and there isn't much pizza action happening in the Finaghy area. Bar the Pizza Works on the corner of the crossroads, there isn't anything that comes to mind. (If there is, can you DM us on Instagram and let us know the craic!)
What's on the menu?
The usual fare. We usually go into detail about a menu, but honestly, if Slice Pizzeria can't be arsed making it easy to view their menu, neither will we. Seriously, go on their website here and show us where to quickly view the menu. Or what about Facebook?
Here's some free business advice to any pizzeria or takeaway in Belfast wondering why people phone up asking about menu stuff; go and find yours. Can't find it? Then neither can potential hungry customers. And you wouldn't like people when they're hungry.
Anyways…… want to know what we got?
What we ordered
We got a Meal for Two which consisted of:
Pizza w/ Pineapple & Red Pepper
Curly Fries
Garlic Mayo Dip
Slice Dip
Two Coke Zeros
It can to a grand total of £11.99 (£15.99 inc delivery through the old Just Eat) and it looked like this: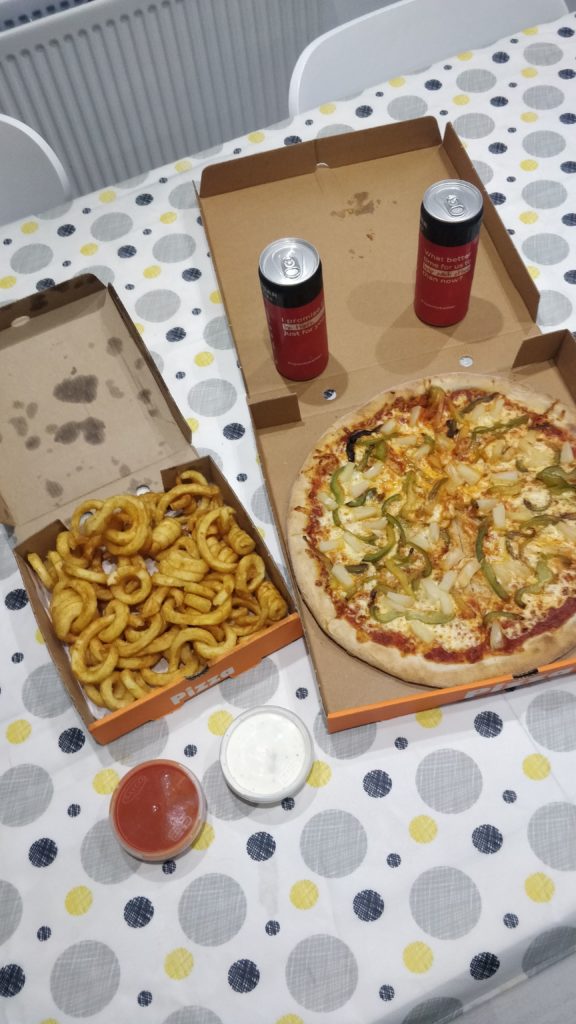 Did you notice how we bolded the red in peppers there. Can you see red peppers on this pizza? You might be saying "sure red and green peppers are the same, aren't they?" You'd be right in that, but green peppers are much less ripe – some chefs say green is pretty much unripe.
It's a minor thing, but it can massively impact and taste and texture of pepper on a pie. That, and it's always annoying if you order something red and it shows up looking green.
The only exception of this is when you ask someone to get you a bottle of BPM and they get green over red. If you don't agree, take your BPM comments to Bebo where they belong (although, please add us to your Top16).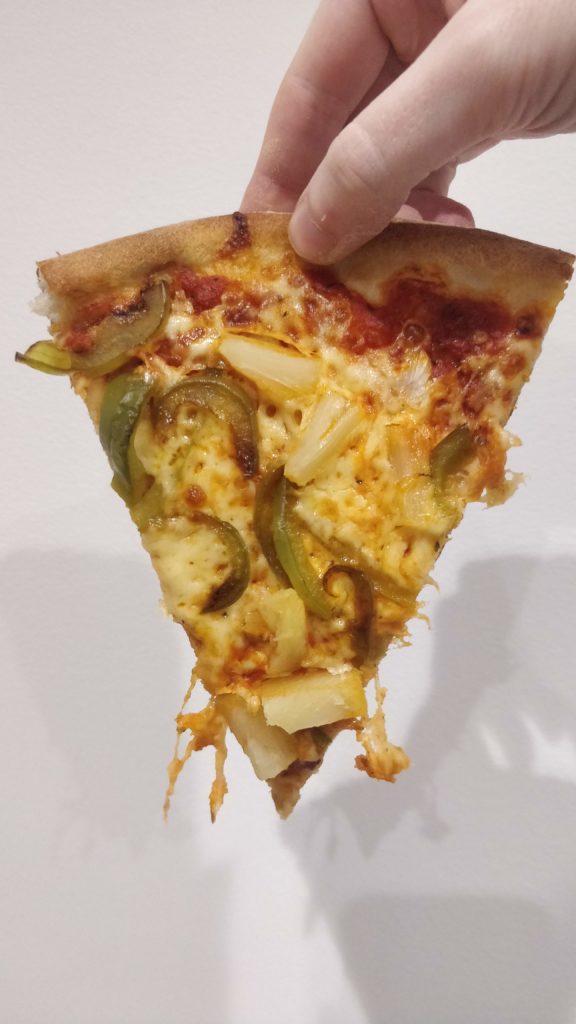 First Slice Impressions
Raising this first slice to our mouths, it smelled astonishingly good. Usually smell isn't the first thing you pick up on with your pizza, but this did weirdly enough.
Upon the initial chomp, we realised the dough had a surprisingly sweet tinge to it which was creating the smell. It wasn't quite the bread/cookie aroma of walking into a Subway, but it was noticeable.
Looking back at our notes, the first thing we wrote down was "quite soft and also firm", which doesn't really make us think "yeah, that's a premium first slice."
Looking at the rest of the order, it was a case of hits and misses.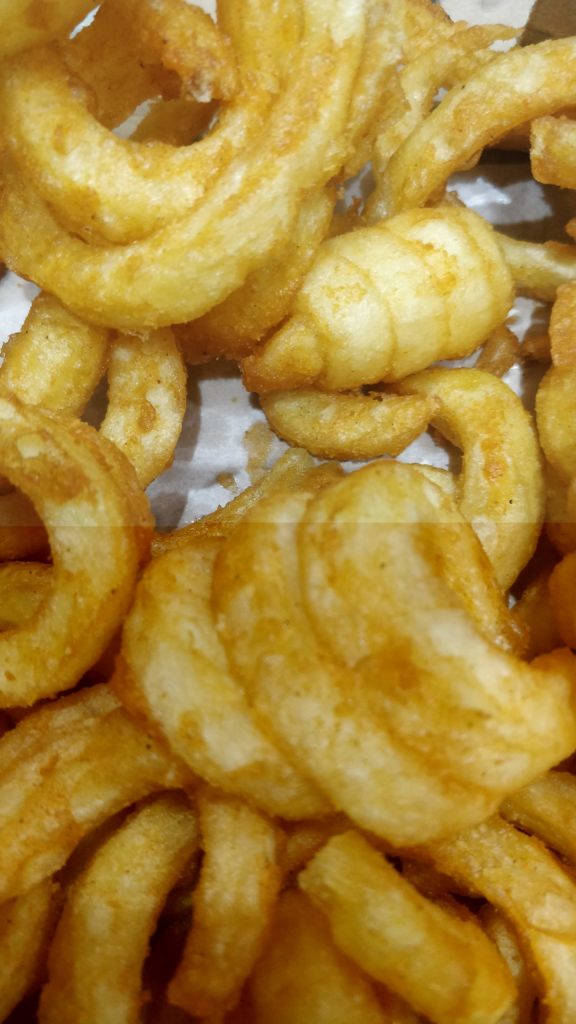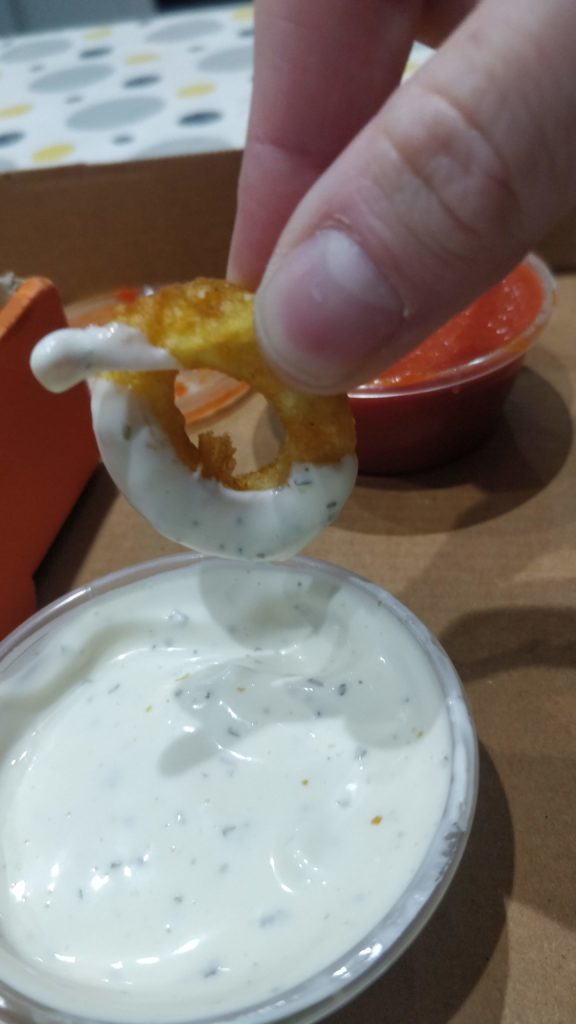 You know if you order curly fries or wedges from a pizza place, and by the time they arrive the moisture in the box has left them feeling soggy? This wasn't the case here AT ALL.
These curly fries held their own and stayed as they should; a big hit.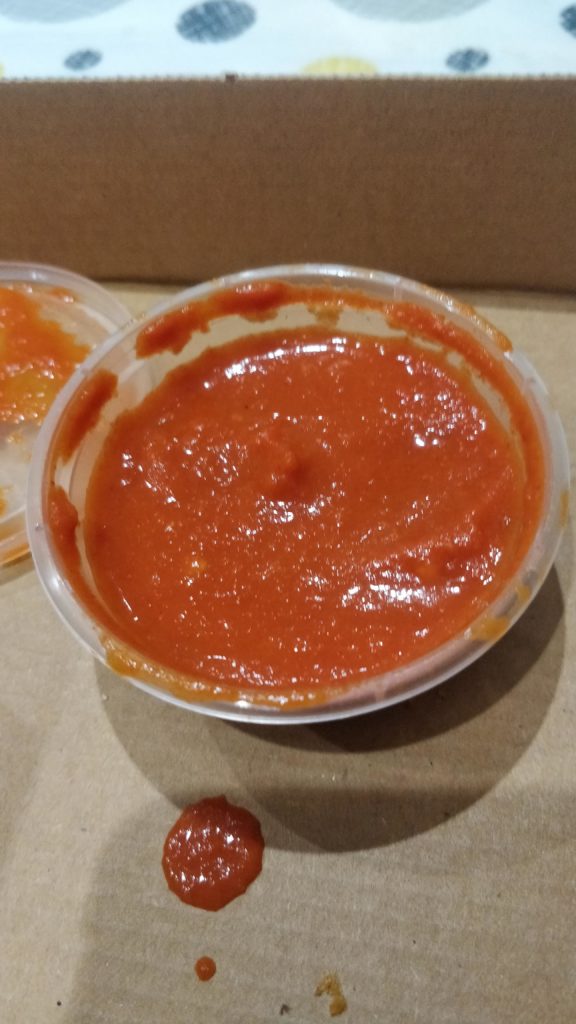 On the flip side, Slice sauce was a different story. Initially looking in, it seemed like a pizza sauce/marinara dip: something NO ONE does here, but would make ££££ if they did. This isn't what Slice sauce is. Our only brief note was that the sauce "tastes spicy and shite"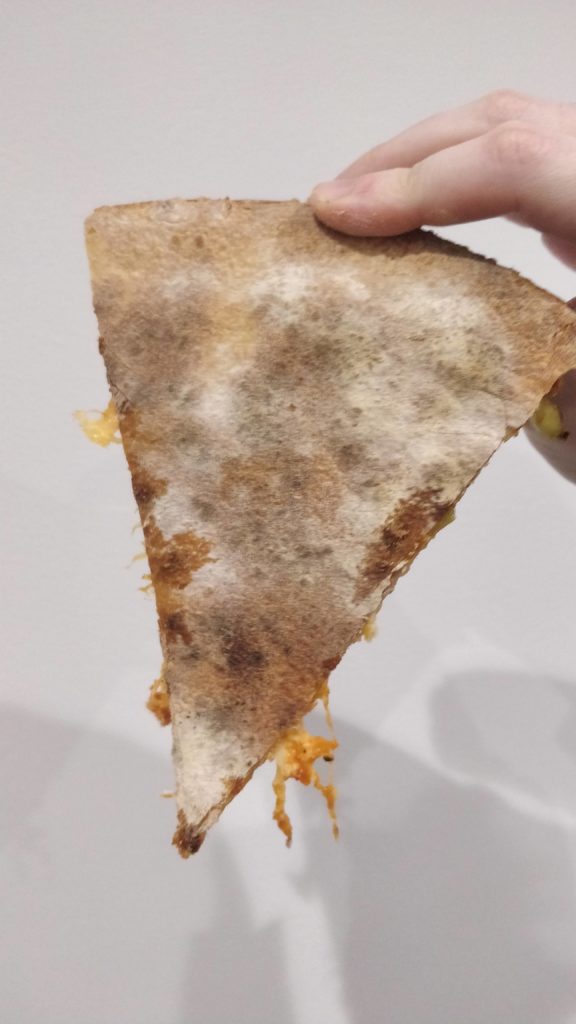 Is Slice Pizzeria Finaghy the best pizza in Belfast?
No. It's just grand. In a roundabout summation, it has a very similar feel to most Derry pizzas, where there is a tendency to have some overarching sweetness in there. (Those in BT47+48 will know what I mean from chomping on Paolo's or Romeo's). I suppose Dominos would be similar, but everyone knows that Dominos is Dominos and not necessarily lovingly made pizza.
If we had to frame it for you, Slice Pizzeria Finaghy is family pizza, i.e. you can get one and know it won't really offend anyone for having something unique going on.
Most importantly what did Sam think?
I'll take a sweet treat if you're not!
2 barks out of 5.