Hitting up a Belfast pizza titan to see if Green's Pizza is still the talk of the town (yes, even in BT9).
BIG REVIEW TIME FOLKS.
This is one the names people constantly ask us when we're getting round to, and while we haven't been avoiding it, we have been a little trepidatious that it might not live up to what we thought it from years gone by.
Green's goes back a long way for us, so let's take a trip down memory lane.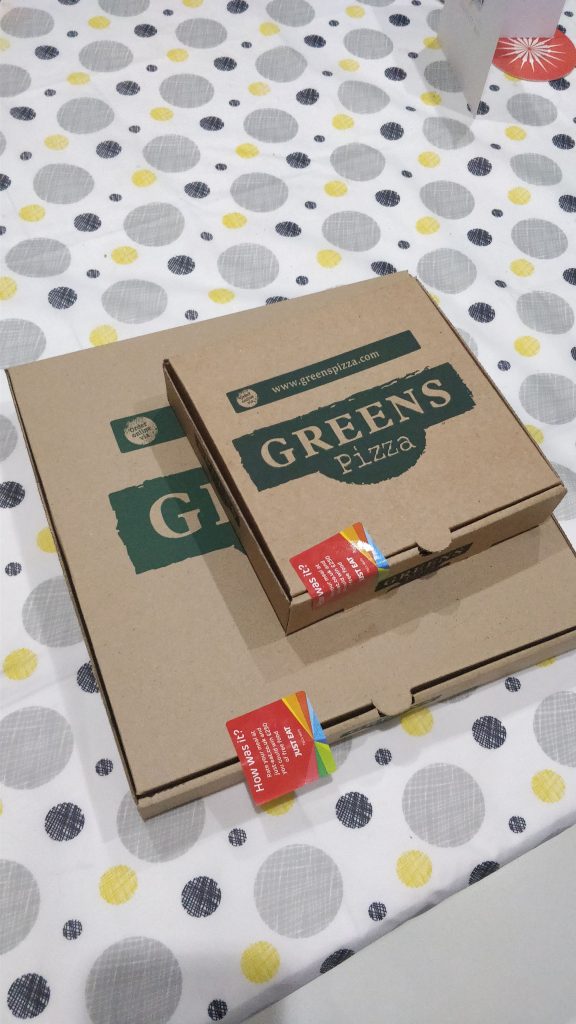 Previous Impressions
In a former life, Green's was always seen as the "fancy" pizza place when we were students, in large part due to being on that bit of the Lisburn Road where things just seem posher (this is back when there was a M&S directly opposite, LMFAO were on the radio & everyone couldn't wait for The Hangover 2 ((so so so bad)) ). Even now, with frozen yogurt shops across the road, a brand name pizza chain literally beside it, and Little Wing within spitting distance, it still has a sense of being the posh part of the road.
The real eye-opener for Green's, and the one thing which made it a reccomendation, was Dragon's Tongue. Many other spots replicate it, with arguably Bella Vita on Dublin Road doing just as good a job, but the Dragon's Tongue was the thing you'd always want to tout about when someone mentioned they were going.
This is both a good and bad thing. Good in the sense it gives someone a precise menu item to look out for, and bad for the sheer fact that everyone is talking about a starter and not the pizza itself.
There is also the factor or cost. You'll see prices on the menu below, but we've always seen Green's as having some of the priciest pizza in town. Back in the days when we were big meat eaters and would get a pie to chow on during ManVFood marathons, the idea of spending near £20 on a pizza you'd be walking over to collect always meant Green's was reserved as something special (i.e. dear).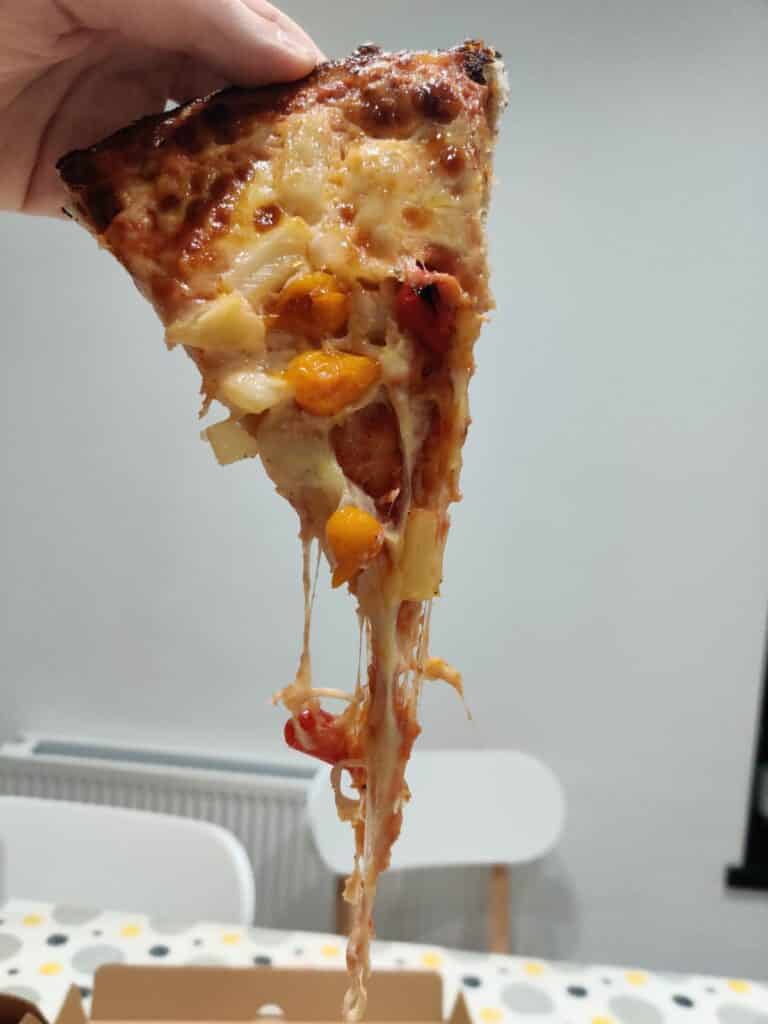 What's on the menu?
These are just the pizza options available on their menu. If you want to see sides, dips etc., you can view the Green's Pizza menu here.
What did we order?
We ordered a pizza with pineapple & roquito peppers, aong with wedges and a garlic dip.
And this is what it looks like: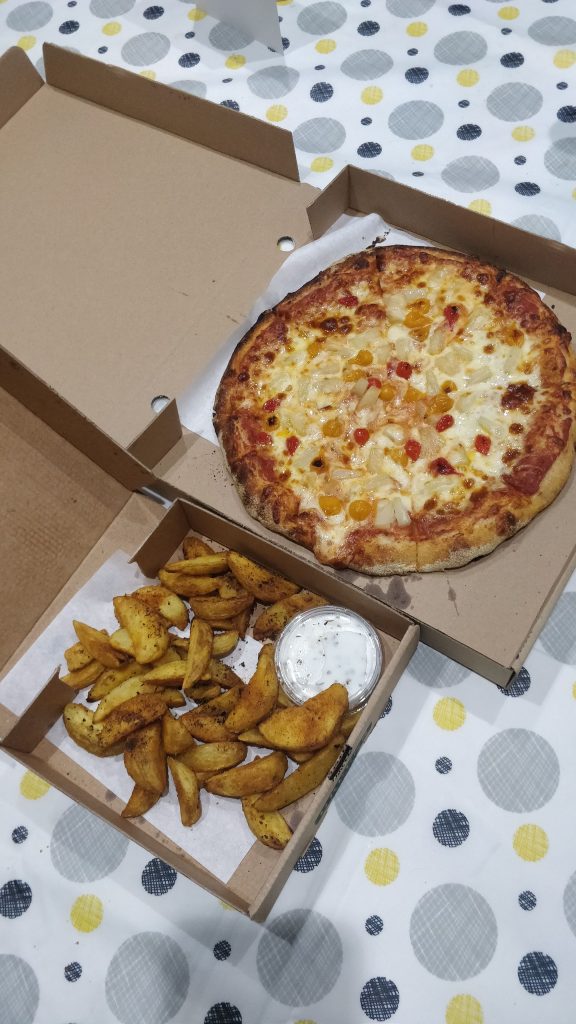 Opening the box, there was a slight worry as those reddish brown edges near the crust weren't the sauce, but rather cheese which browned more quickly, while the centre of the pie is a totally different shade. The toppings being mostly in the middle too were an instant sign that if the base wasn't crispy and sturdy, this thing was going to want to buckle the second it got lifted.
First Bite Impressions
Lots of browning on the edge would lead you to believe it's the same under the hood, but a quick flip says otherwise.
It did indeed need a pinch fold in to keep itself together and had a quite mild first bite. We liked that they were using full roquito and weren't simply chopping them up like some pizza places do to make you think there's more on the pie than there really is.
We also wish the pineapple had have had a little bit longer to cook, or at least a char on top to bring out the flavours, rather than sinking in to the slice.
A little saucy if you ask us (as in, where's the sauce?)
Take a look at this slice and tell me what you think is a little odd.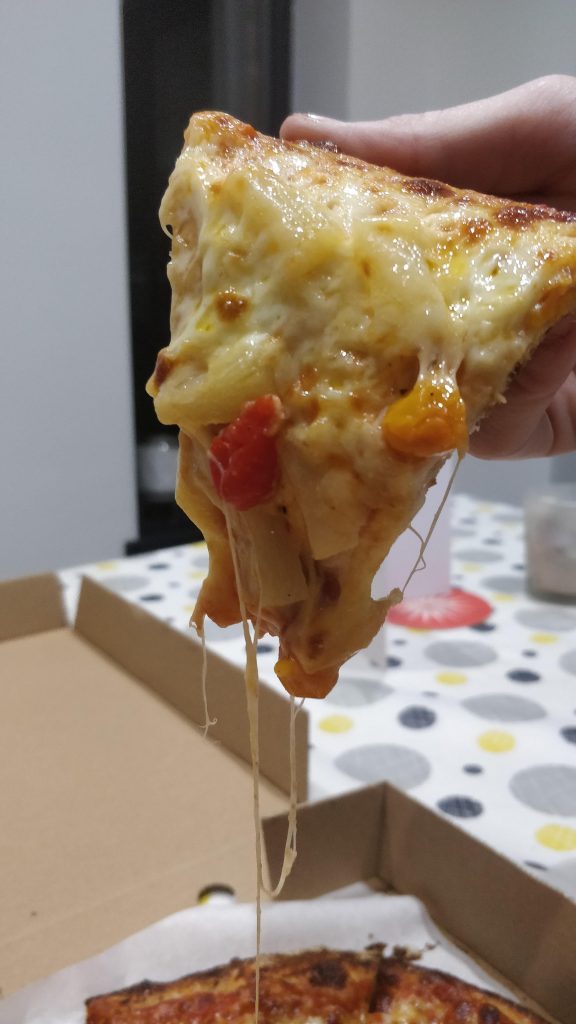 Have you noticed that there's a severe lack of red on the here in terms of sauce?
The whole pizza seemed to lack a good dollop of sauce. We've sat many times watching by those window stools and they ladle pizza after pizza, but never really noticed whether they go thin on sauce.
As we got further along with the pizza, the lack of sauce become apparent. You'd get a hit here and there and go "oh yeah, this is good sauce", but most of a slice wouldn't highlight at such, and at time it was more like cheesy toast with a pop of heat from the peppers here and there.
It was the only thing really stopping it from being a top tier Belfast pizza.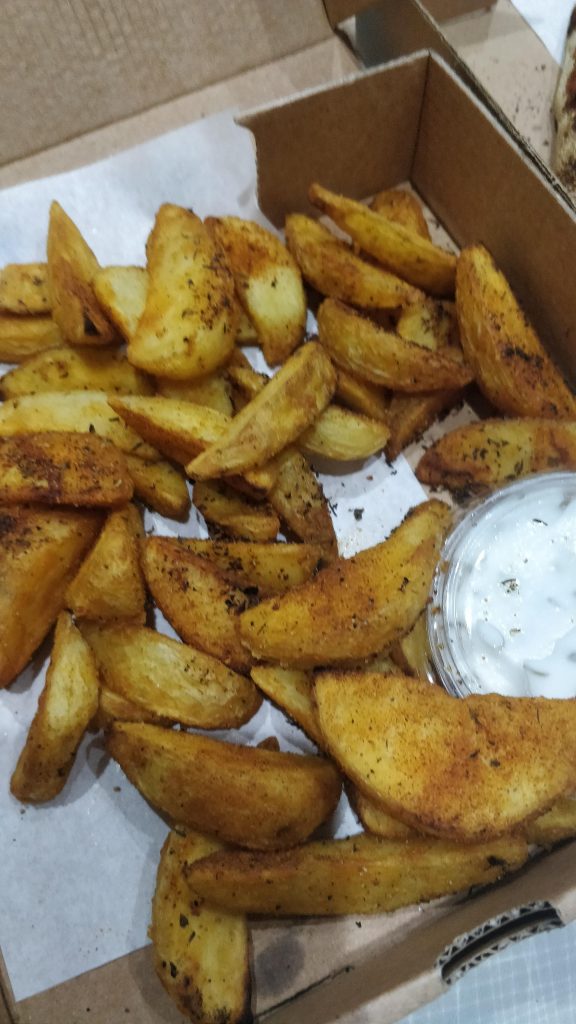 You could not fault these wedges. Seasoned just right and with a dip that ended up being used more on the crusts to reclaim flavour.
The Experience
Was Green's Pizza quick?
As we ordered through Just Eat, it was a case of refreshing the app to check on times. From the initial order time, it was only out by like 10 minutes, which is perfectly fine.
Green's Pizza Hygiene Rating
The FHA gives it a big fat five aka The Luniz.
Where's is Green's Pizza located?
We ordered from the Lisburn Road location, not to be confused with the Ormeau Road or Ballyhack locations.
They are located right between Maryville Ave and Marlborough Ave.
How can I order from Green's Pizza?
Hit up the old Just Eat, or give them a bell (for this location) on +442890666033.
Is Green's Pizza the best pizza in Belfast?
Back in our student days, Green's was seen as THE pizza spot. It was somewhere you'd try your luck too get a table in, blow your tastebuds on Dragon's Tongue, and then realise your poor student ass would be getting at least three cokes before sharing a pie or two.
If someone told us right now they were sitting in a booth and did we want to join them, we'd be in, but we'd have to have a really good think about what pizza to get, and ask for extra sauce on the pie to bring a little more flavour to the table.
While it may not be the best pizza in Belfast, it can still be the solid fancy(fancy as in price) pizza choice for a family pizza night. You're looking to pizzas which aren't too flavourful, making them suitable for everyone. And maybe that's why Green's is still so beloved. It's a safe bet and rarely steers you wrong.
Most importantly, what did Sam think?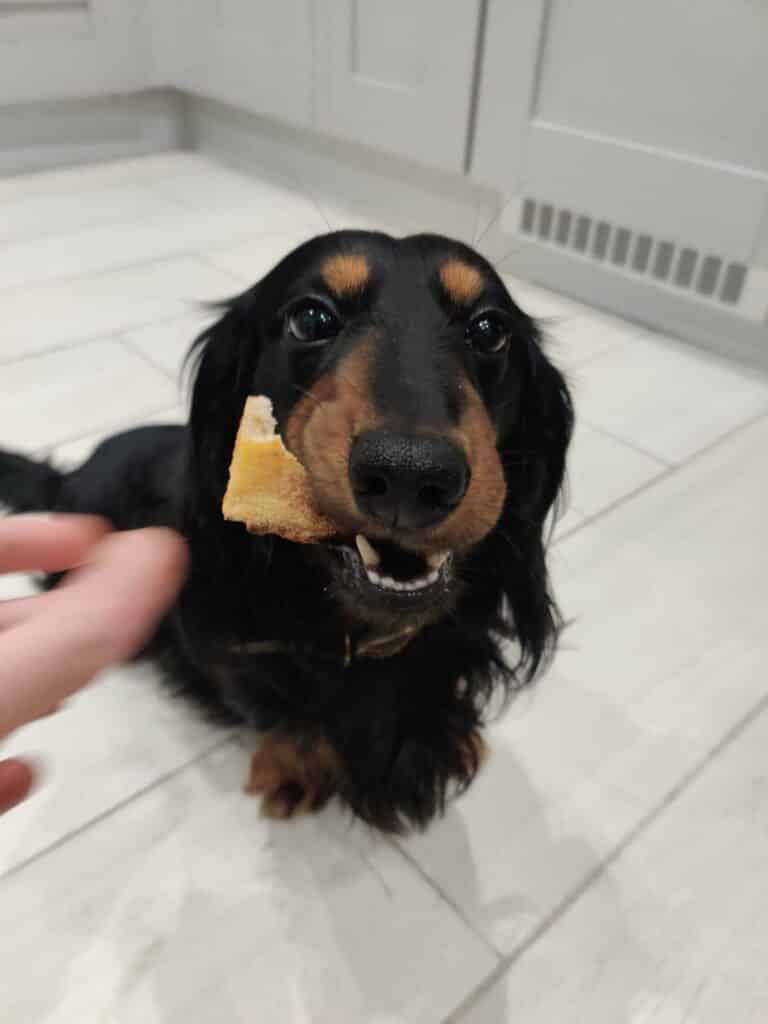 If you're leaving that crust, I'll have it.
3 out of 5 barks.