We're all fired up and ready to go (SUPER QUICK) to Reggie's Stonefired Pizza to see if they can whip up a good pie faster than it takes to earn a slice from doing 10 burpees.
Anytime pizza is ordered for the blog there is a little bit of stress involved, namely from trying to figure out timings so we can nail picking up the food, getting it home while it is still warm, and then enjoying it without having to throw it back in the oven.
So when you phone up a pizzeria and get told bluntly "yeah you better be here to pick this up in exactly five minutes" you know we're going to gun down the road at the local speed limit to get a pizza.
That's what happened when ordering at Reggies; an unintentional pizza thrill ride.
The Food
Previous Impressions
We cannot remember at all what the place was called before hand, but it had an incredibly generic name and did an OK pizza. (V sorry if you're the person who used to run that place while we blank on your name).
Because of where it's situated (they share a back lane with Dominos after all) at that weird junction between University avenue and Shaftesbury, it hovers in a void of craic,
With one of us coming in from work at an estimated time, and Reggie informing us that arriving late meant the pizza wouldn't be great, it was the swiftest we've ever gone from pizza thoughts (the best ) to pizza thots.
Let's dive in.
What's on the menu?
They don't have a full website you can peruse, so if you're looking to see what they have, you'll need to pop on old food apps and then phone up.
The menu shown above is the majority of pizza they have. I got the menu from Deliveroo which you can view here.
The clock is ticking
A little warning about your pizza being ready in no time at all is usually a good thing when taking about stone. It's quite a trend right now over the states to get pizza that is made super fast – Blaze being the best example of such, but there's a few little spots if you go out there searching.
We've experienced some good like Pi in Dublin, and some that hover on the average like Paesano in Glasgow (G once had a barber working beside it who described eating Paesano Pizzas as the only pizza where you need a straw to eat, it comes out that raw).
Because stonefired gets that base from raw to cooked in no time at all, we knew we had to collect immediately, especially after the poor base performance we had from Belfast Woodfired Pizza Co's takeaway efforts.
What did we get?
We wanted to keep things simple and not even think about getting fancy. It was all about carbs, carbs and more carbs.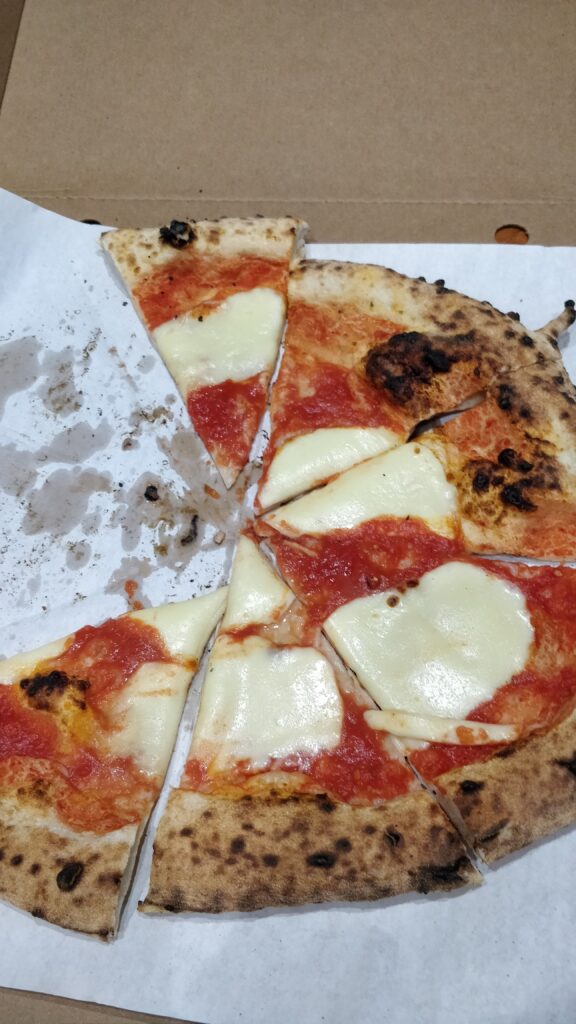 We ordered
Magherita'di Bufala'pizza

Crushed plum tomato, mozzarella, basil leaves

Garlic & Cheese Pizza Bread

Pizza base, garlic butter, mozzarella, oregano

Chips

Says it has garlic salt, possibly doesn't
It come to about £17ish.
We assumed it was going to be perfect for two people sharing and with keeping things simple with no fancy or crazy toppings, we wanted to see if they could nail the basics.
Without giving away our HQ, from hanging up the phone and grabbing the car keys, we were at Reggie's door in no more than five minutes. Walking in we expected the usual "oh just take a seat" but oh no no. As soon as the contactless was tapped the boxes were all handed over.
G believes it was Reggie himself who was giving over the food as he kind a backhanded kind of "you know when I say five minutes… I mean five minutes" even though we were there in five minutes.
When chips are moreish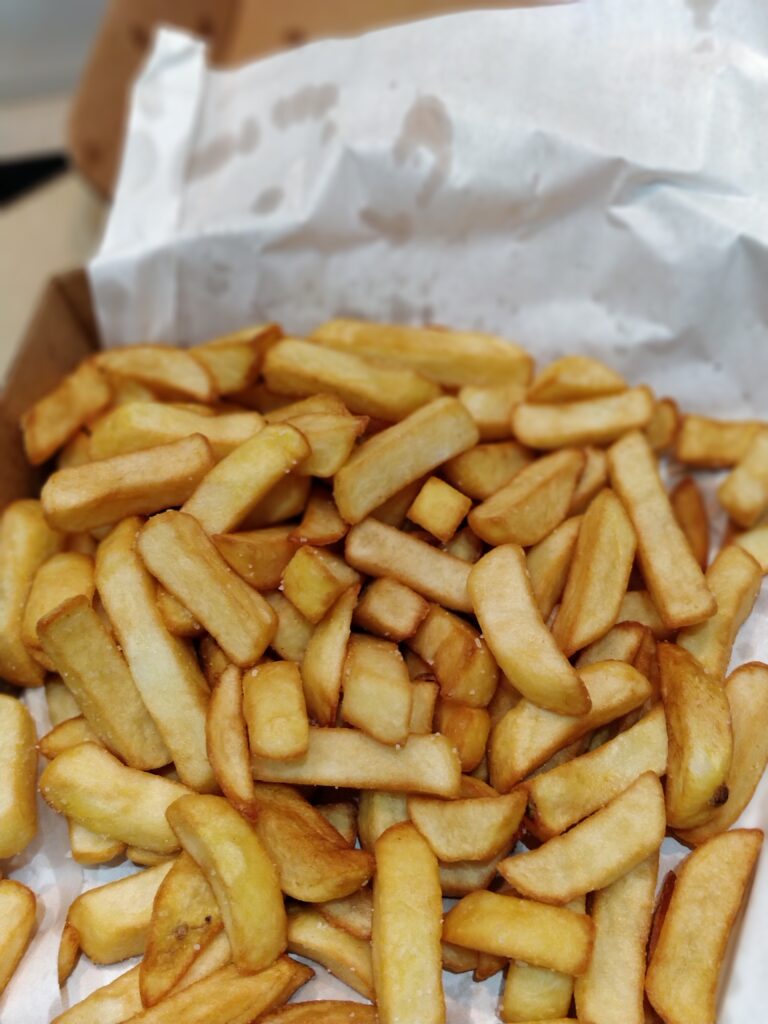 This just looks like a normal bag of chips you get from the pizzeria, right?
Have a little zoom in there and take in the wonder of those glorious big bits of salts all over the show.
The menu says it's garlic salt but we couldn't really tell at all if this was flavoured salt. Oh boy was it a lot of salt. And it was GREAT! As eaters who only use salt while cooking and never really throw it on when giving a dish, getting something super salty when you're starving is just great.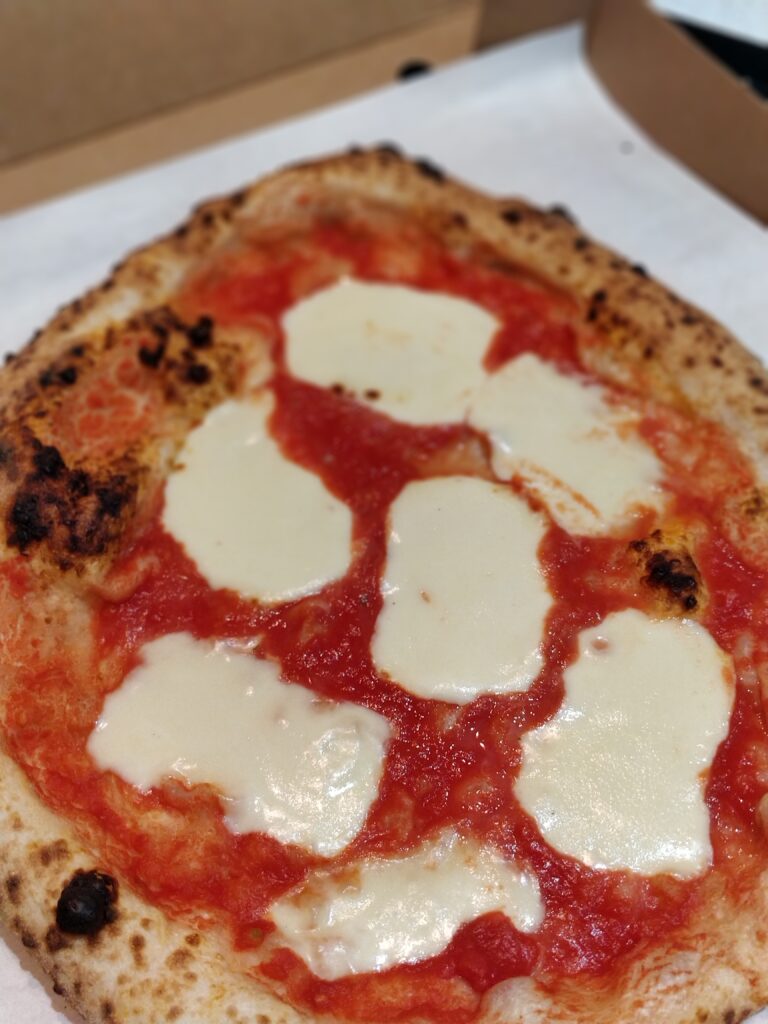 It was the kind of bag of chips/side where you have to stop yourself and go "oh fuck aye we ordered pizza. That's what the boxes underneath are".
Even though the oven was heated up, as is our mantra, the pizza was at just the right temperature. You an see there's no major bubbling from the cheese which means that first bite in wouldn't be met with the roof of the mouth feeling like it was eating lava cheese.
Notice too how this pizza hasn't even been cut. That's how bloody quick we got there. We don't know if all the pizzas come this way, but we have a good slicer already as any decent pizza blog should, so could cut it up as desired.
Which leads on to that first bite.
First bite impressions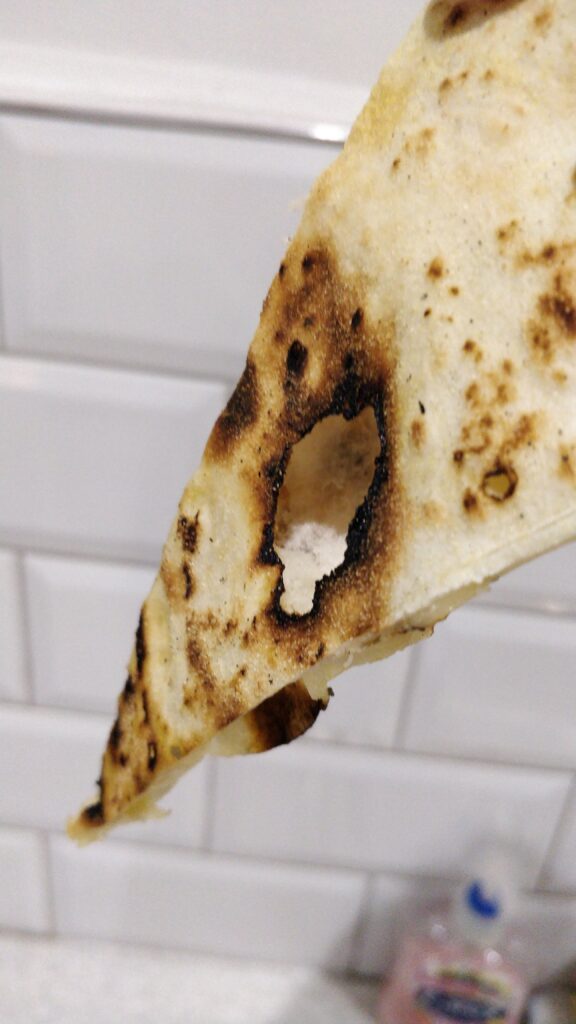 Would you take a look at the back of this slice. We have the bubbling. You can see the browning. There is even a gorgeously burnt hole in the middle (a sentence never typed before). Now look at this.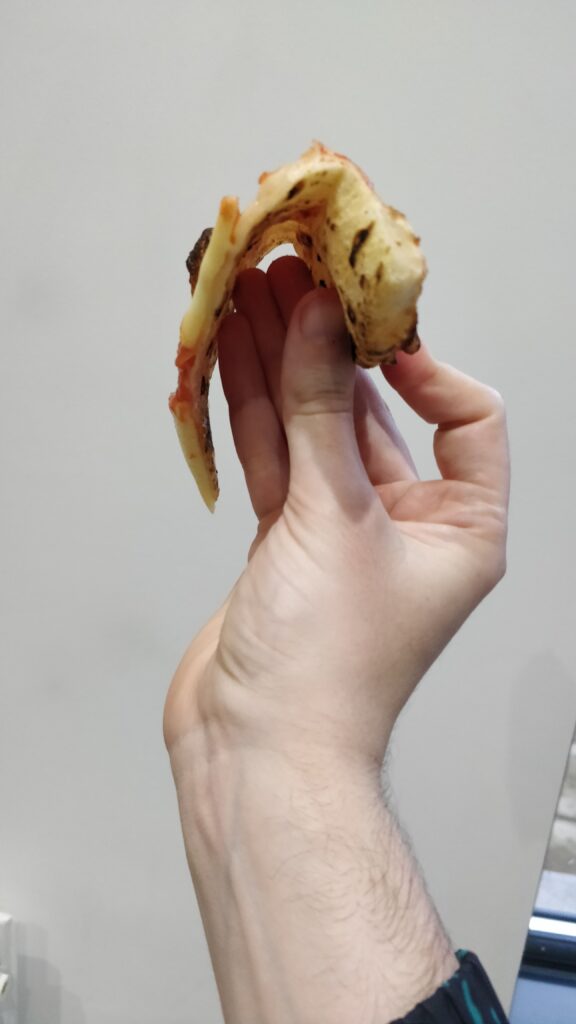 The flop on this is next level and honestly defying gravity. This is a dough that could be stretched out to catch someone from a burning building and still some back together to embrace a light sauce and be shoved in a very hot oven.
It is a good first on a warm pizza, as long as the cheese stays your way.
Once it starts to get colder and things firm up quite quickly, you'll see yourself lean more in to the sides and THIS garlic bread.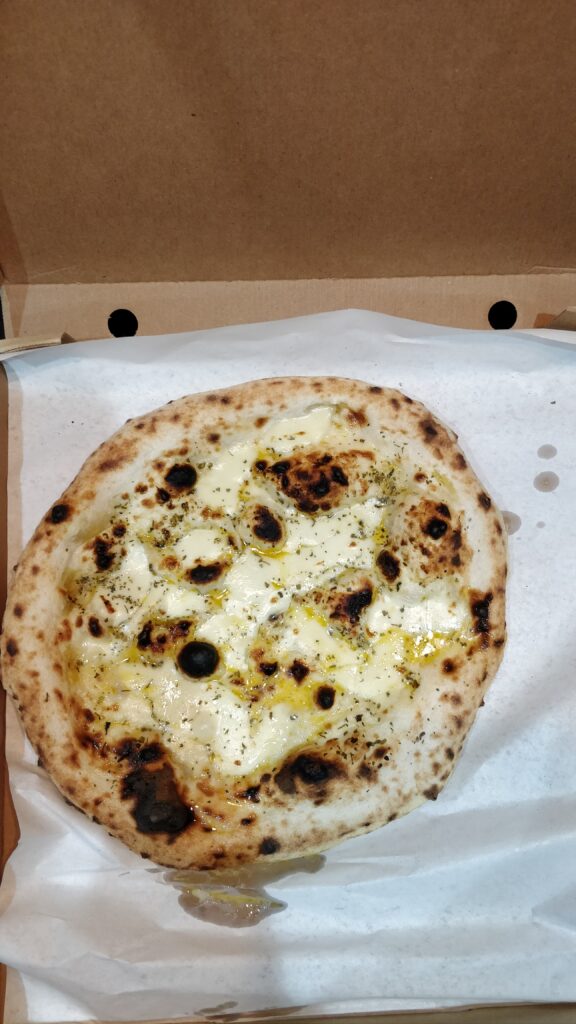 This damn garlic bread
Ever be having dinner with your family, at a party or any social event, and see yourself eyeing up that end nub of a frozen garlic bread that was cooked and now has been abandoned?
That is this garlic bread. As it was getting colder, we found ourselves pulling at it and really enjoying it. It was essentially the same size as the pizza and half the price (£4.95) and was actually finished before the pizza was given that post breather second go.
The experience
Was it quick?
YEAH! Bar throwing one of those mushy Chicago Town mini pizzas in a microwave, this was the fastest pizza experience we've had so far on our pizza journey.
Remember that if Reggie says five minutes we means five minutes.
Hygiene Rating
Scores On The Doors gives Reggie's Stone-fired Pizza a score of three out of five. We were in and out that fast we had no time to see how nice and clean and looked.
Where is Reggies Pizza Located?
Reggie's Stonefired Pizza is located at 1 University Avenue right the start of the road. You can park outside if you're nipping in and out to pick up pizza.
How can I order food from Reggie's Stonefired Pizza?
You can get it on Deliveroo and Uber Eats (not sure about Just Eat)
You can also phone them on 028 9543 3239.
When does Reggie's Stonefired Pizza open?
Hours are different depending on where you look.
Because Google knows all, their suggested hours are:
Mon-Fri 5–11pm
Sat 12–11pm
Sun 12–10pm
Is Reggie's Stonefired Pizza the best pizza in Belfast?
It's grand aye. A reliable slice and good if you're nearby and want a pizza before the thought has even left your brain.
Whilst eating we noted down in our WhatsApp notes that:
Chips are salty in the best way possible
Garlic bread good for price
Maybe missing that basil
Dece pizza
Time is a big factor, so if you were (let's say) outside of BT9 then the longer you have it sitting, the less chance it'll have to impress.
We applaud trying to go head to head with the big D at their literal back door, and would say someone wanting a simple pizza done right to go here rather than rely on the big chain.
And finally, what did Sam think?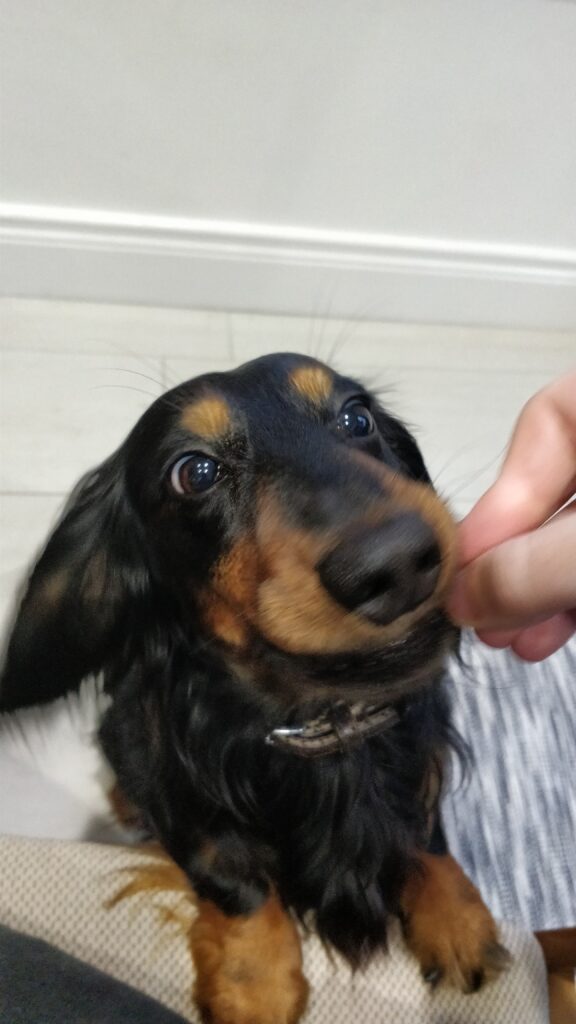 Absolutely starving. I'll leap for that crust. Three barks out of five.