What happens when you take a fancy looking meal deal and end up with something which won't come out of the box? Ambrosia Pizza has the answers.
You know that period just around New Years where time seemingly stands still for a few days? You can't really be arsed for doing anything, and you've pretty much exhausted your watchlist? In our opinion, that is ideal takeaway time. Sack going on stupid fad diets and doing HIIT before the sun is up. Give us a pizza any (and every) day.
Another odd aspect of this time of year is that many places aren't open yet for takeaway. Yes, you have your Dominos, Four Star etc., but all the wee local pizza joints aren't usually open. So as we sat on the sofa watching who knows what to pass the time, noticing that one spot on Ormeau Road we hadn't had before was open on that app gave us something to be be excited about.
What happened next was a one-two punch of disappoinment
Previous Impressions
Ormeau Road isn't somewhere you'd tend to think of when you want pizza. Yes, they have a Green's now. There is Pizza The Action too (which was shite enough that we didn't even bother taking photos for a review). Bar those and that random Pizza Hut that always seems to be dead, there are no stand outs. Unless of course, you love standing outside for the queue every weekend at Bread & Banjo.
So, Ambrosia it is. All we know from walking by a few times is that its an "Italian & Indian restaurant" which is typically a red flag, and their pizza menu is quite extensive (21 when we last checked Just Eat).
What's on the menu?
This is the most recent pizza menu photo we could find from their Facebook page:
What did we order?
Just somebody say Just show us your order? Being lazy and using the Snoop approved app, we ordered: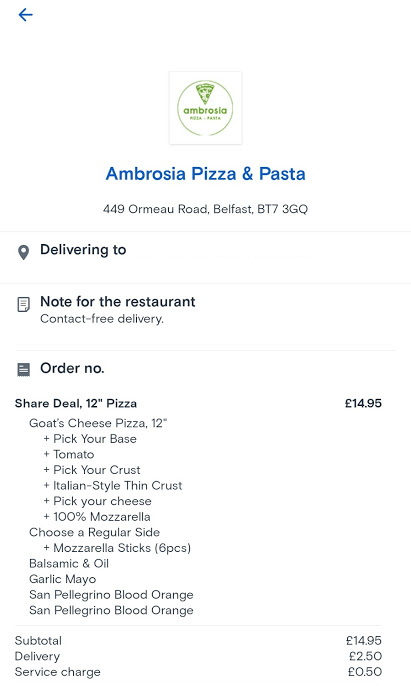 One important thing to note here: FANCY DRINKS!
We love it when a pizza place has something different on the meu than just a tin of coke or fanta. Slice in Finaghy (which we'll review soon) had Vitazade pineapple as an option, which is a laugh. And Pizza Works sometimes has the nectar that is Football Special in their fridge. Basically, if you're a pizzeria, think about having the kinds of drinks that people will notice say "oh, that's different". It will get the average basket order up.
Getting our Order
Obviously ordering through an app will you have acting like its the 90s again on a Saturday evening, i.e. you're looking between the blinds at any car driving down the street while Catchphrase is on.
We ordered the food at 5:19pm and the timestamp on the first photo for these mozzarella sticks is 6:09pm, so 50 minutes on a Saturday evening isn't bad.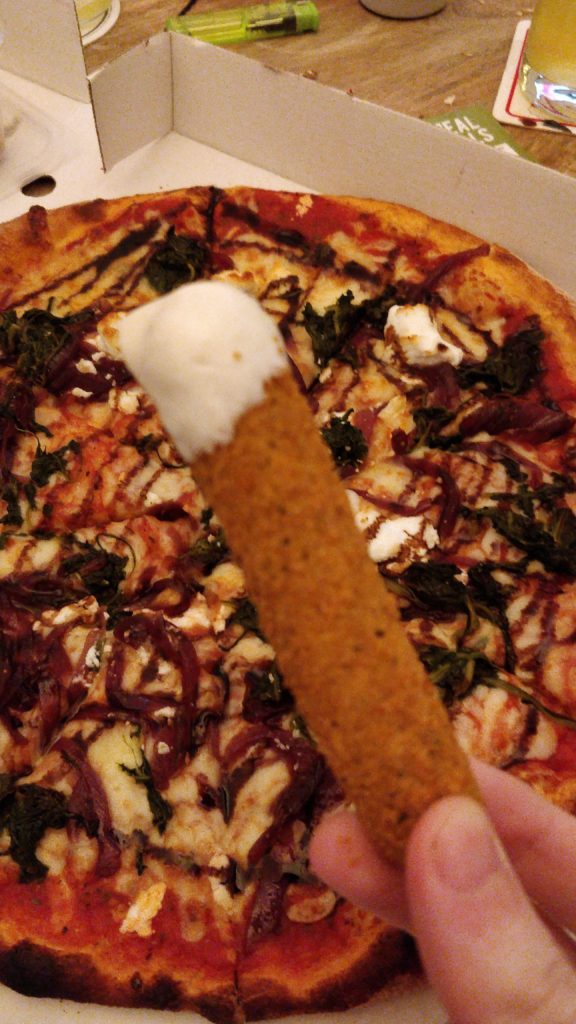 What is bad though is lifting the order from the doorstep and only seeing a pizza box and plastic tub? You could tell instantly the drinks weren't there. Shouting to the driver "ammm, where's the drinks?" is never not awkward. They pulled their phone out to check the order, said they'd be back with them, and never returned.
Sure, it's only two wee drinks, but don't lie to our faces buddy. Anyways, time to see what Ambrosia Pizza is all about.
First Bite Impressions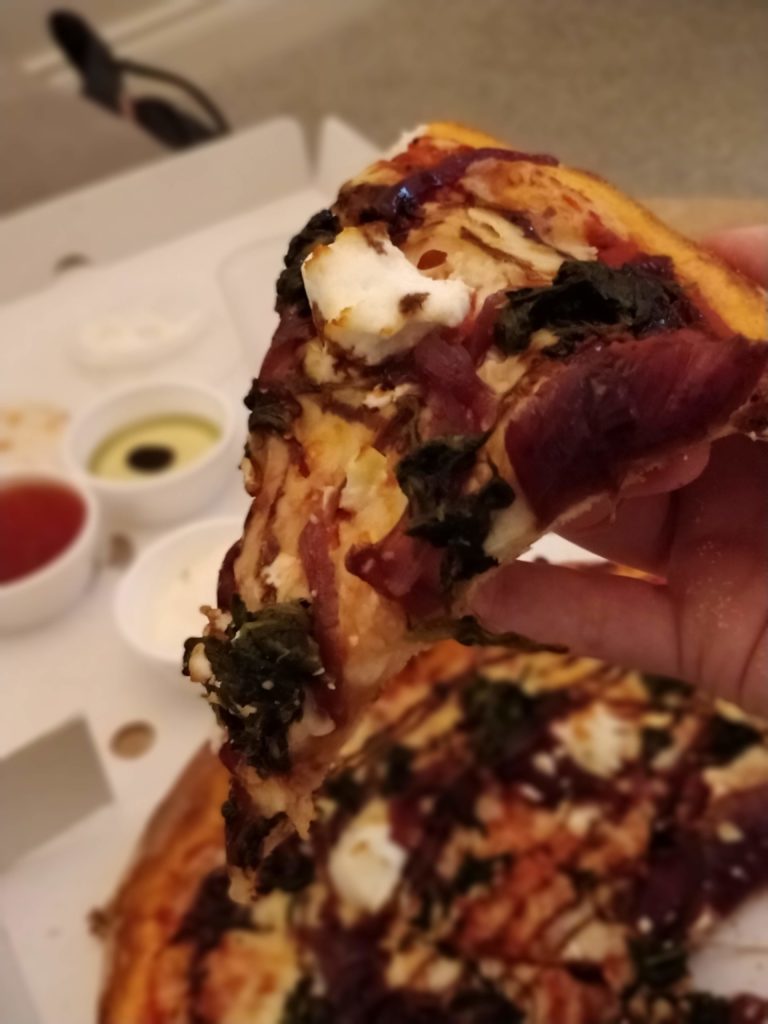 Oh, she's a floppy one. This is the Goat's Cheese pizza which has goat's cheese, caramelised onions, spinach & balsamic glaze (balsamic being the most underrated of all sauces for a pizza crust).
The excitement to bite from the smell was palpable, but the pizza was not. Even though it came in good time, the pizza was cold and had to go in the oven. For those keeping tabs, that's zero drinks and a cold pizza.
Obviously, because we always pre-heat the oven for any pizza we get, it was only a few minutes of inconvenience, right? Well, it would be, if the pizza was actually fit for going in the oven. Lifting the slices to pop on a tray, it just fell apart like this: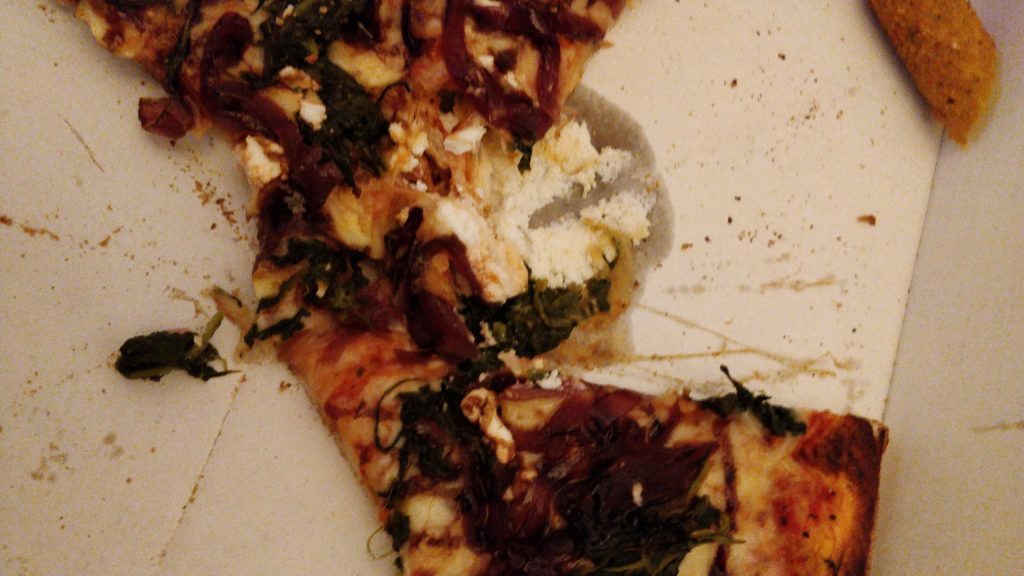 The entire middle was clinging to the box; a sign the pizza was taken out of the oven before being fully cooked. This must be due to the weight of the toppings leaning too heavy on the centre of the pie.
Trying to get it out slice by slice was like trying to re-peal a Panini sticker you didn't get in the corner quite right. After a successful removal from the box and a quick re-heat the real analysis could begin.
Actual First Bite Impressions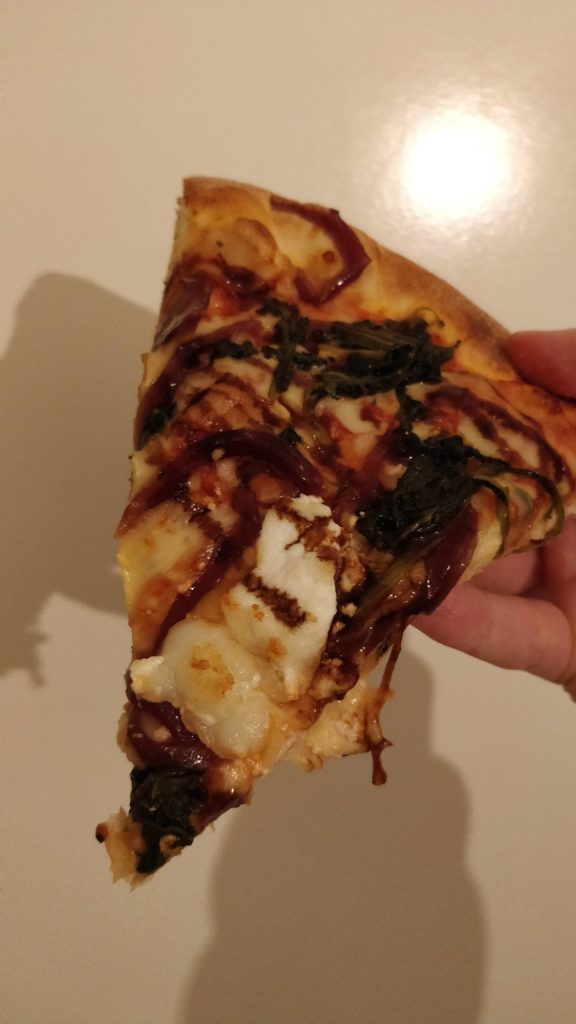 We like choosing different pizzas, rather than the One Bite approach of ordering a plain cheese, because we think it gives an idea of how pizzerias approach flavour combinations and also allows us to see how they work with ingredients (e.g. are they pre-cooked/ marinated/ have something special).
When you have to work with a soggy pizza and DIY it back to crispiness, you're already off to a bad start. The first slice was fighting with itself. We assumed it would be a goat's cheese pizza which was light on cheese, rather than a pizza with mozzarella and then goat's cheese on top. (To see it done to perfection, read our review of Nonna's in Derry)
This, combined with the sweetest onions completely hid the tomato sauce. Even lifting the lid and scooping a finger through to check the sauce, it was lacking flavour.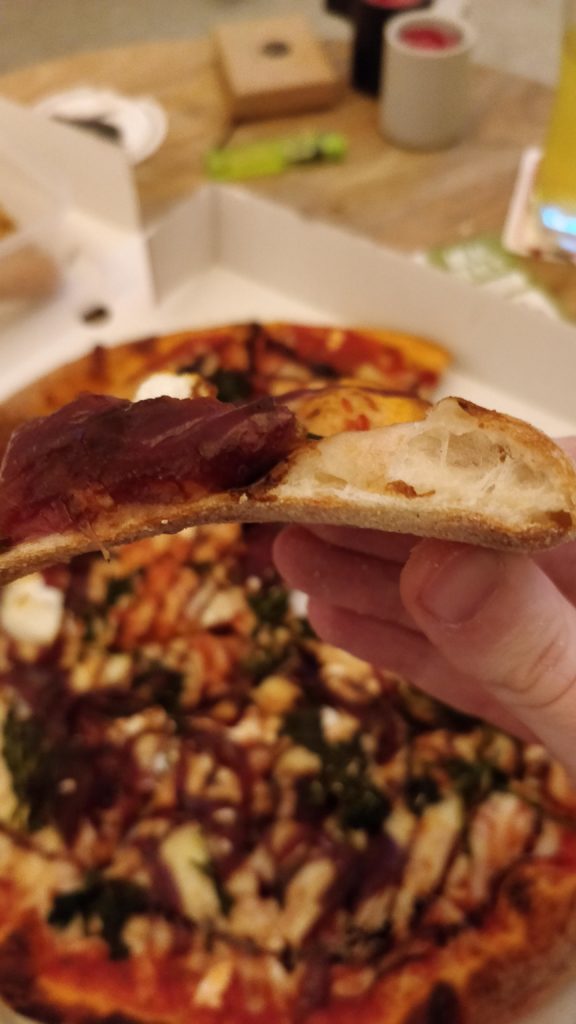 Although we opted for thin crust, pulling that crust open and giving a good sniff of the dough didn't give us back the smell or taste we were expecting.
It really was a case of a pizza looking phenomenal opening the box, and things quickly falling apart as soon as you went to lift a slice.
As for the mozzarella sticks, they were grand.
Getting the important deets
Where is Ambrosia Pizza located?
Ambrosia Pizza is located at 445-449 Ormeau Road, Belfast, BT7 3GQ.
How can I order from Ambrosia Pizza?
We used Just Eat, and their restaurant link is here. You can also order from their website here.
Is Ambrosia Pizza the best pizza in Belfast?
We had high hopes for this one, but then things fell apart quite quickly. Things just seems off, like getting mozzarella sticks in a plastic tub (anyone running a takeaway knows steamy tubs absolutely do one on fried items).
The pizza looked good, but you never want to have to feel like you're finishing the bake at home when it arrives. There was barely any sauce for a nice tomato punch to balance the ultra-sweet onions, and we were left with that "well, at least we're not hungry anymore" feeling afterwards.
We may give it a go in-person when dining in a restaurant becomes normal again, but we can't say we'll get takeaway anytime in the near future.
Most importantly, what did Sam think?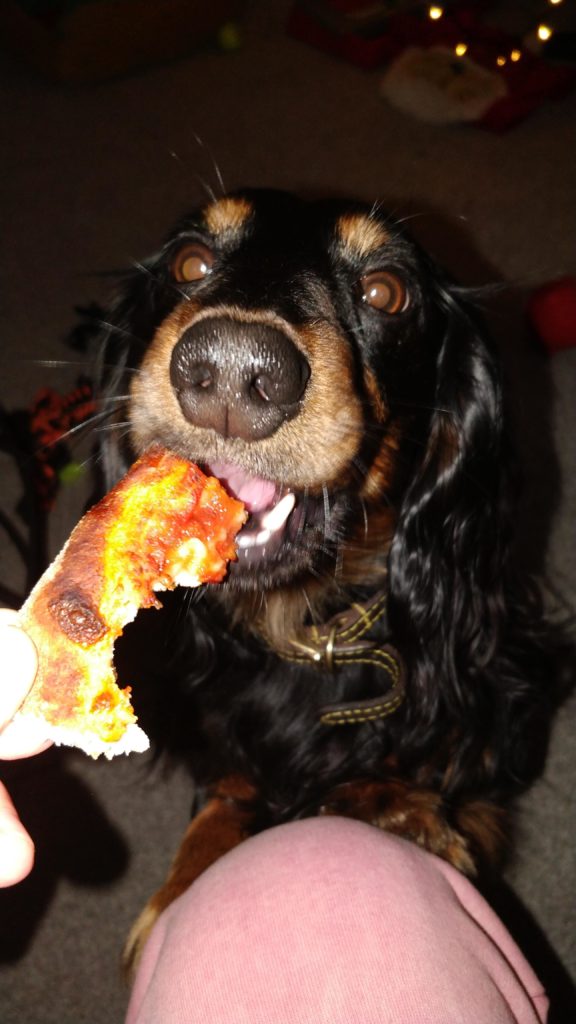 Is this a new chew toy?
2.5 barks for this one.