We head to BT48 to see if Derry can do quality over quantity (and oh boy is this gonna be good)
A weekend in Derry is always good for the soul. You can go for a jaunt around the walls. Take a quick trip across the border for proper Dairy Milk. Buy an ungodly amount of buns in Doherty's and not break the bank.
Oh and the food's good too.
A lot of the restaurants in Derry tend to have the same menu. I (G) think it's in part to not being bold enough to branch out of everyone's comfort zone. Every restaurant needs to have a chicken dish, offer pepper sauce and make sure that tobacco onions are always on the menu.
Luckily there's change brewing in the air. There's finally a Boojum in town (although Guapo a block over does it better), spots like Siam Thai are giving people more choice than a chicken ball special, and Pyke & Pommes have flipped the script after opening their first brick and mortar spot on the Strand Road.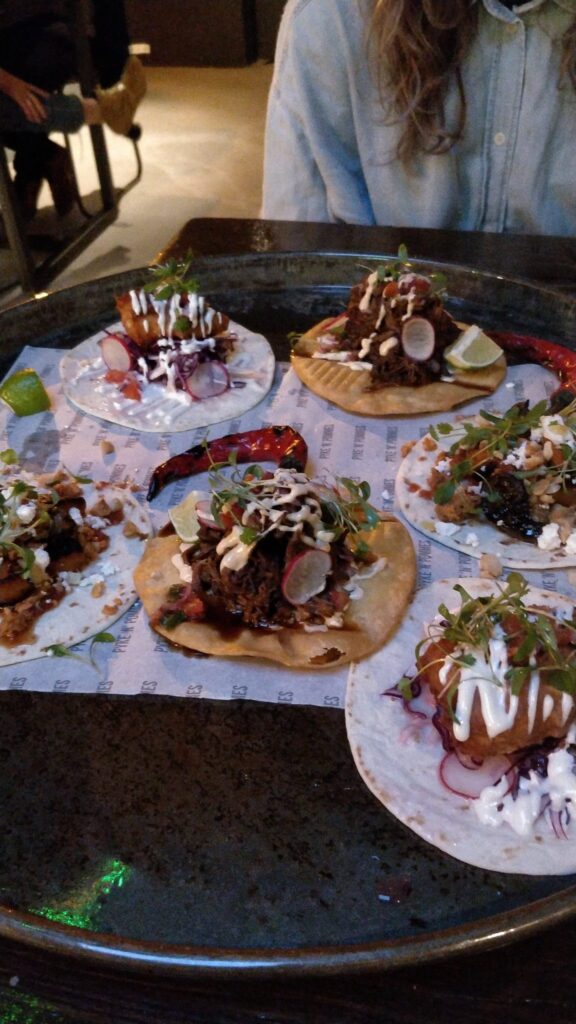 (Side note: we went there the night before this review took place. Their tacos are incredible and the restaurant in the best possible sense is nothing like a Derry restaurant. We hope they absolutely smash it this year.)
But enough about tacos. Let's talk pizza.
The Food
Previous Impressions
We were absolute Nonna's virgins. We'd never even ordered their pizza for takeaway before as we'd been told it didn't travel well.
Their location on Shipquay Street is smack bang in the middle of town. I (G) have fond memories of the location as I would go every Friday afternoon after school to spend too much browsing through the magazines to before picking up an overpriced copy of MAD magazine. It was a newsagent's back then, just in case you're wondering why a young boy is trying to buy magazines in a pizza place.
The interior looks bright, inviting and you can see right in the kitchen which is always nice.
What's on the menu?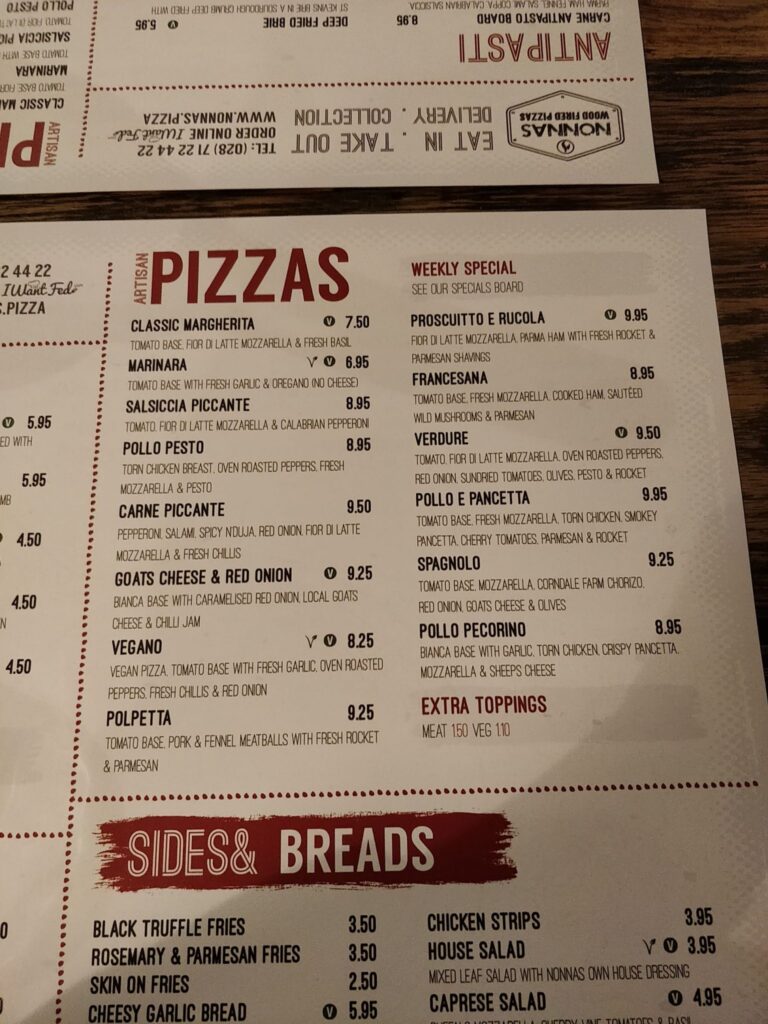 A solid menu with some good Cicchetti, Antipasti and sides on the go. We had to focus on the pizzas though. (You can view the full menu here)
Boiling it down from 15 options was a bit of a tricky one, especially since we were going to be sharing the pizza together. The pesto was a firm contender , until we noticed the Goat's Cheese & Red Onion had a bianca base.
The Bianca Gamble
If you didn't know, a bianca base is simply one with no sauce at all. That means the pizza will have its toppings and nothing else. You might be asking why someone would ever want such a pizza, but as major crust fans, you can get a LOT of flavour that a ladle of sauce would otherwise hide.
What did we get?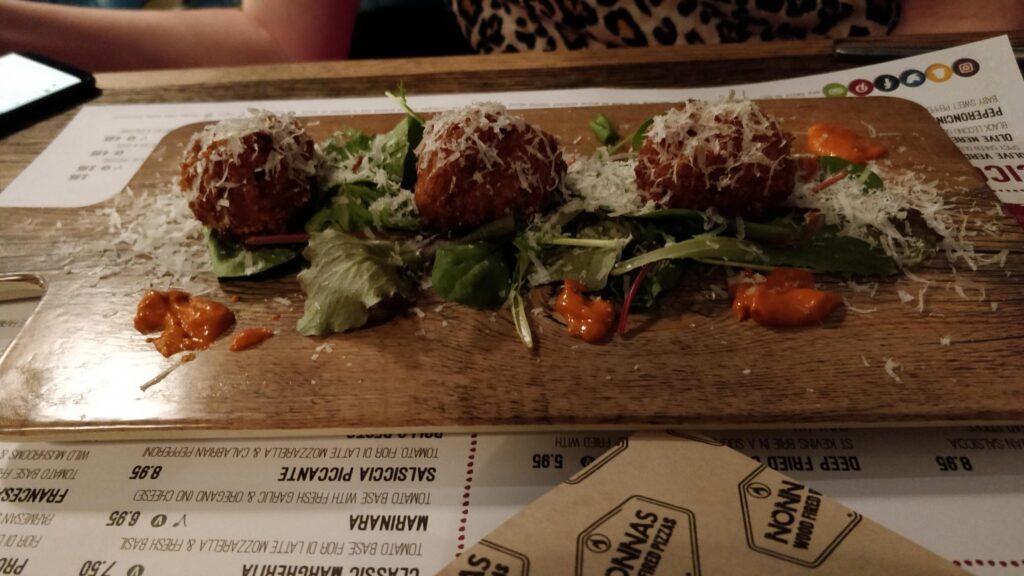 All we knew going in was that we were going to get a few things and split them rather than getting a pizza each and taking the risk of heading out after feeling beyond full.
We opted for:
Pepperoncini

Baby sweet peppers stuffed with cream cheese

Arancini

Stupidly delicious stuffed rice balls

Goats Cheese&Red Onion

Bianca base with caramelised red onions, Carrick Ban goats cheese and chilli jam (V)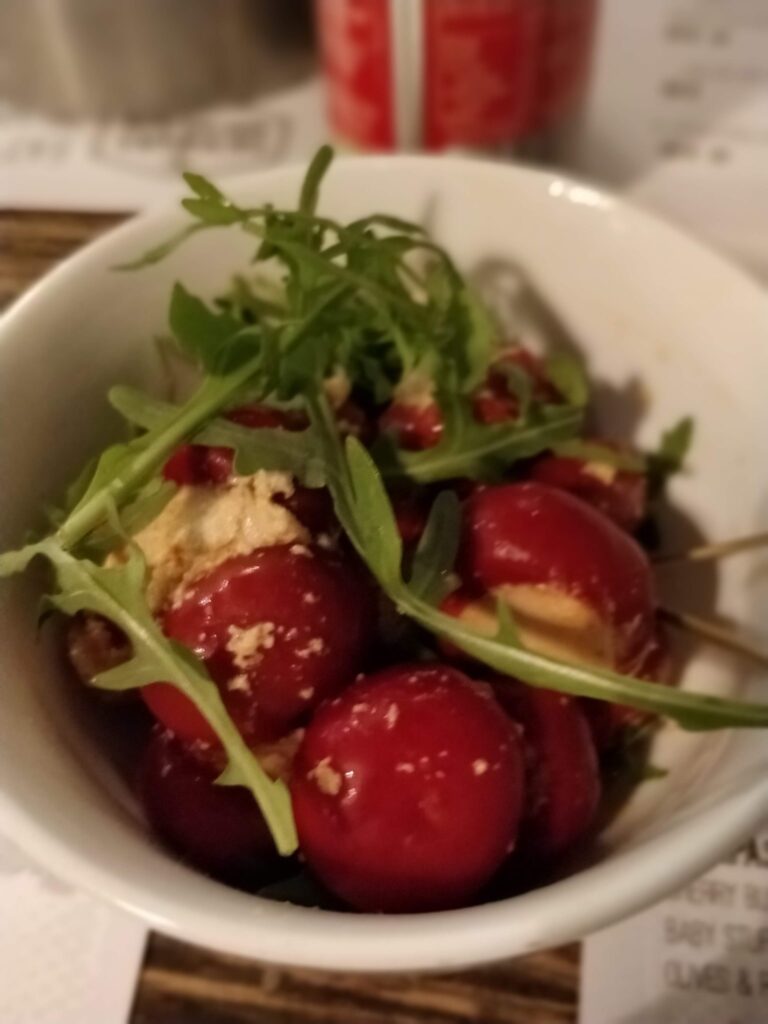 A masterclass in pizza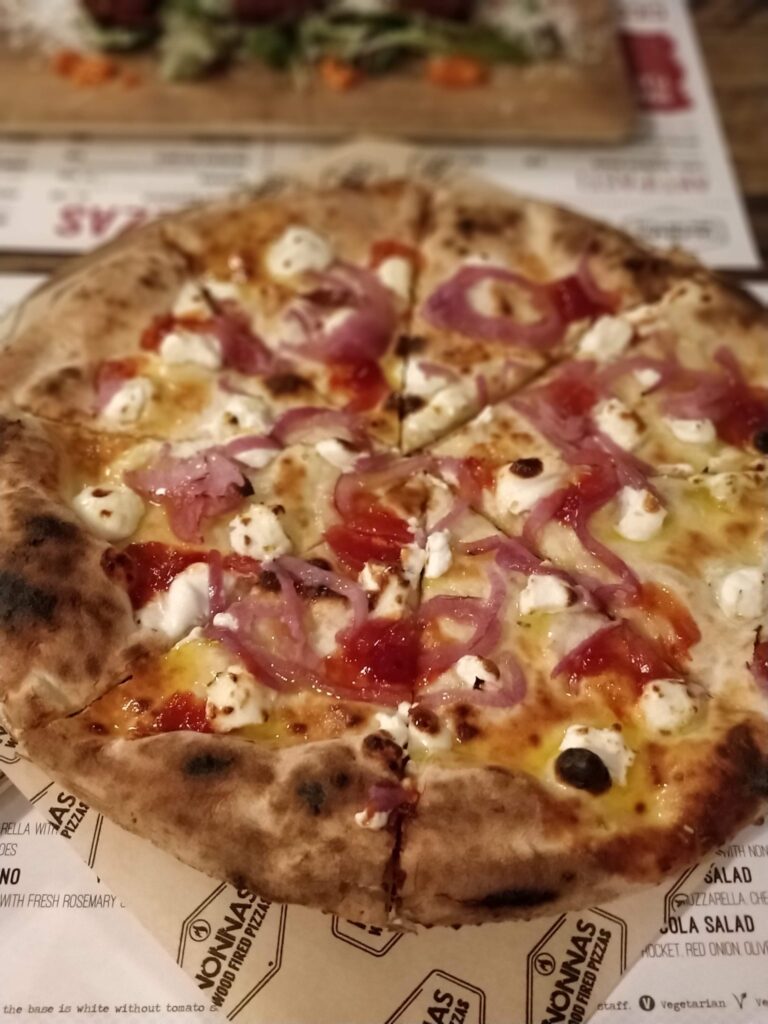 Just take a second to appreciate what we have going on here. It only took a few minutes for this pizza to go from a thought to (what looks like on the surface) near perfect execution.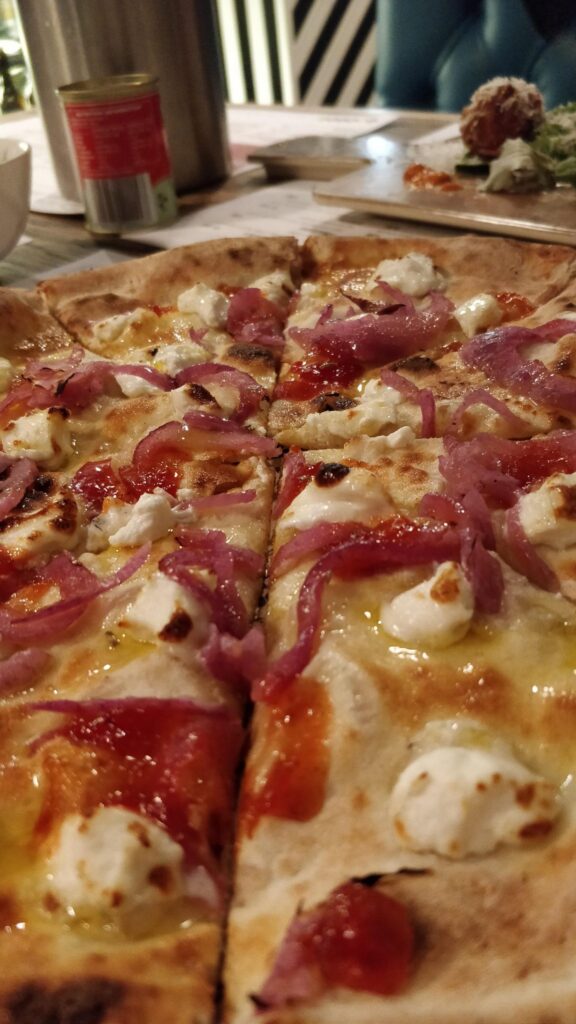 You can see nothing is just thrown on willy-nilly. Everything has its place and that place is going to be in our mouth holes in a few seconds.
The First Bite Impression
Lifting it up it was good to see structural integrity was doing it's job and weren't going to be met with a floppy boy slice.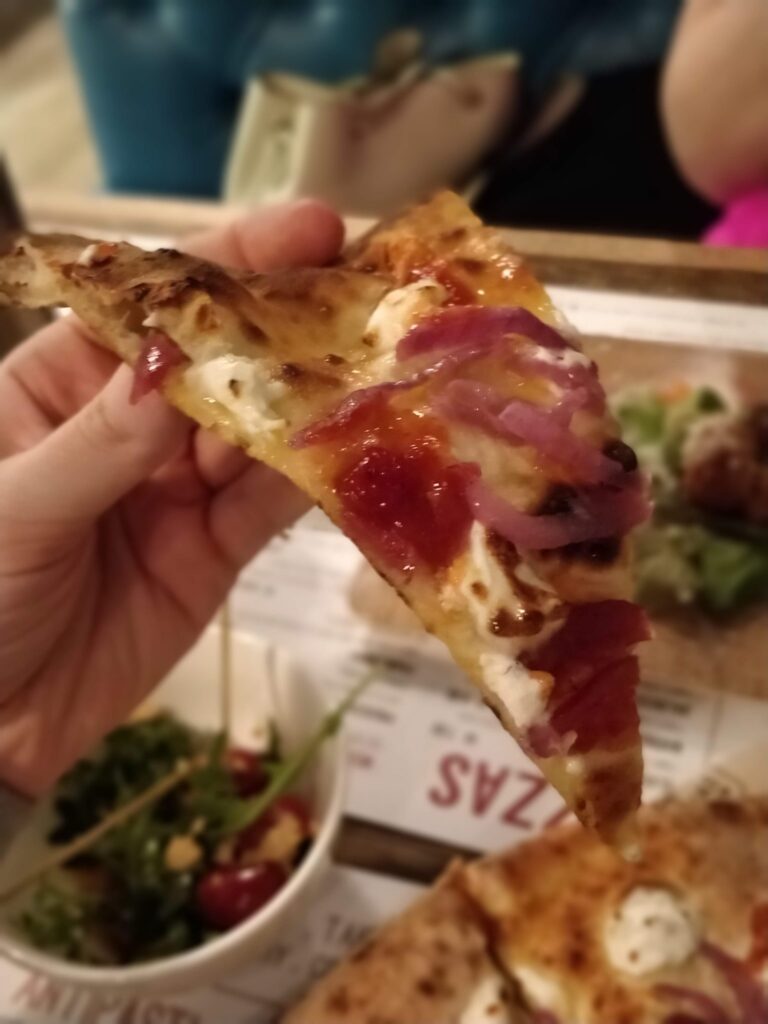 The combination of the Goat's cheese, onion and jam was a relish lovers dream. Even with three powerful toppings, everything had a nice balance and most importantly, the red onion wasn't raw. A cardinal sin many pizzerias have with onion is never caramelising or cooking it beforehand.
DAT CRUST THO
What's better than that first bite of a slice? Obviously getting to the end to get non-stop crust action. And oh my did this crust delivery. Just look at that bubbling.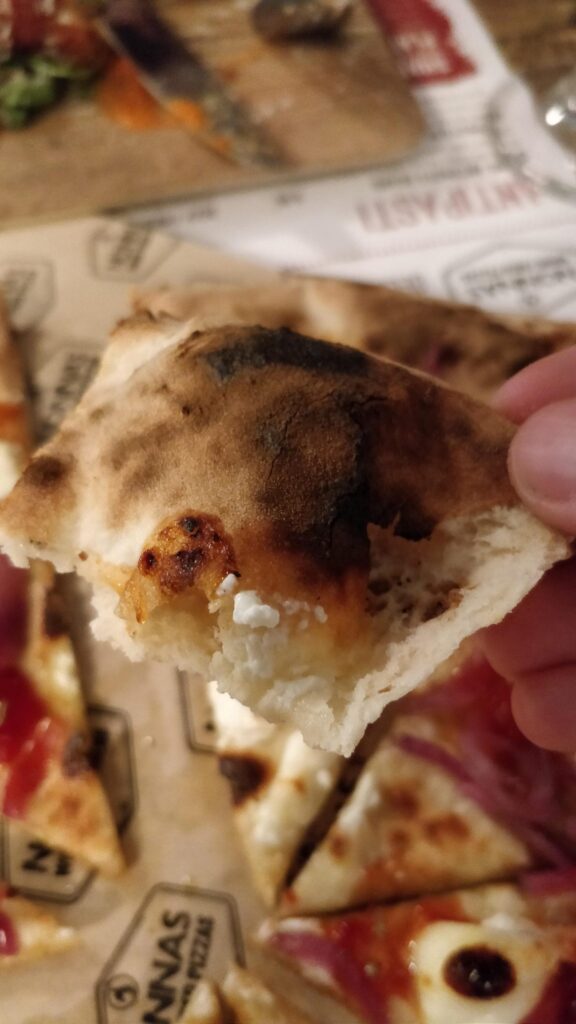 Even for not having any regular cheese on the go, the edge has nice bubbling and a good smoky after-smell.
We couldn't get enough and the whole thing didn't even last more than 10 minutes on the table.
The Experience
Was Nonna's quick?
Yes. We were in and out in about an hour. Many Derry restaurants have a tendency to make you feel like it's a race when you're out for a relaxing meal, and while the food was quick, the laid back atmosphere was a nice change of pace from spots like The Exchange or Quaywest where the dining experience can feel you're on a trading floor.
Nonna's Hygiene Rating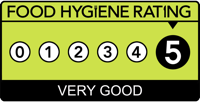 The Scores on the Doors site gives Nonna's an absolute Luniz (They got 5 on it). Everything was nice and clean while we were there.
Where is Nonna's?
There are two Nonna's in Derry (one on every side of the River Foyle for prosperity's sake).
We were at the restaurant on Shipquay Street.
How can I order food from Nonna's?
If you're not dining in don't worry!
Derry folk can order pizza anywhere they need in the Maiden City on the aptly named I Want Fed app, the local version of Just-eat. We can't imagine a poor Deliveroo cyclist having to go up and down the hills.
When is Nonna's Pizza open?
Nonnas's is open:
Monday – CLOSED
Tuesday – Saturday, 4pm-10pm
Sunday, 1pm-8pm
Is Nonna's the best pizza in Belfast?
Well obviously bloody not as it's in Derry.
Is Nonna's the best pizza in Derry?
Here's the thing you need to know; I (G) have been lifelong advocate of Paolo's Pizza. Anytime I'm home, I HAVE to make time to grab an NY style slice during day or make an order, even if I'm there for less than 24 hours. Their pepperoni slice used to be my phone background I was that serious about it.
Paolos though was running the roost in a one horse town where it was either that, Dominos, Four Star, Apache… or Romeo's if you have an enemy you want to make suffer.
Nonna's has made roots in town and, in our opinion, it's the best god damn pizza in Derry. Anytime someone now asks us where to go, it's going to be a namedrop for Nonna's for sure.
Whilst eating in Nonnas we said:
Pepperoncini is a game changing starter
If the Arrancini had a ragu stuffing it would be next level
They got the crust bubbling to a T
They've pulled off risks like a bianca base, especially in Derry were one would expect tobacco onions as a topping (please never do that)
Their beer menu is an ACTUAL BEER MENU
The staff was amazing from start to finish, especially Conor who made sure we were looked after well enough.
It was the kind of the pizza Derry deserves and shouldn't be passed by given the chance.
And of course…what did Sam think?
Sadly Sam wasn't with us as Nonna's Pizza was dinner before a night out on the town.
He did get some leftovers from a morning bun run to Doherty's and has been enjoying his new bed in the mean time.
Five barks out of five.