We masked up and hit the posh part of BT9 for fine dining at Pizza Express Lisburn Road.
Pizza chains will only ever go one of two ways. They can be great, or be absolute dog shit. You can have someone big up a sit down pizza to the nth degree and be honestly surprised you're getting a decent pie on a plate, or you can get the kind of pizza that wouldn't look out of place being town to shreds at a toddler's birthday party (looking at you anyone who ever recommended Goodfella's Belfast).
As Belfast is quite light on the old pizza restaurant experience, any chance you have to forego a cardboard box and tiny plastic garlic dip for a fancy white plate and ceramic dip must be seized upon.
Armed with an evening in the diary free, and the High Street card fresh in the letterbox, it was decided a jaunt up the Lisburn Road to somewhere familiar and yet completely forgotten about was to be made!
Let's put on our glad rags, blag a table when the restaurant is already fully booked (THEY DIDN'T ANSWER THE PHONE ALL DAY LEADING UP) and live it large as we try out Pizza Express Lisburn Road.
Previous Impressions
Bit of a mixed bag when it comes to Pizza Express. A family member had us go their twice because they had some sweet deal on Tesco vouchers to get like more than half off.That was at the one in the middle of town beside Spoons.
We've also been once to one in England (possibly Reading?), but if we're struggling to remember where, then it's a sign of how memorable it was.
Speaking of memorable though, one thing does come to mind when thinking of Pizza Express: those teeny tiny Peppadew peppers they do. On one of the previous Belfast Pizza Express trips to the one in town, they had a Sweetcorn base style white pizza as a limited time deal. Asking to have the thing covered in Peppadew peppers, it was the kind of disrespectful (but incredibly delicious) pizza experience one would end up in pizza jail for.
And yes, the bar are pizza jail are made from oven pizza crusts as those things will break your teeth.
What's on the menu?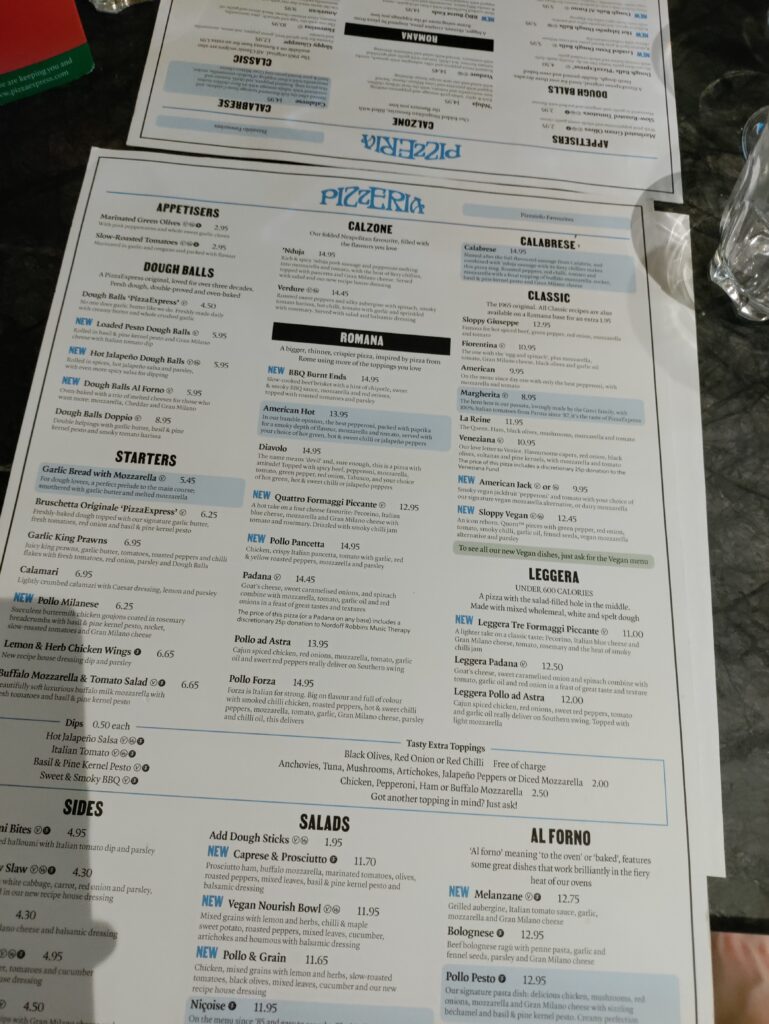 It's a big ole pizza menu; a crowd pleaser if you will.
Covering all bases, including several style of pizza base, it's easy to see why people come to Pizza Express. A quick look around the place and you could see a few dates, some mates catching up and plenty of families.
Fair to say it's something of a safe bet in the dining out department.
What we ordered at Pizza Express Lisburn Road
Because we were starving and feeling greedy, we ordered:
A Podana with a Romana base
A Vegan Sloppy Giuseppe (but with regular mozz)
Halloumi Bites
Two Fancy (fancy = £££) Peroni Gran Reservas
First Slice Impressions
We had recently tried to order some of these new pizzas to get delivered, but there's one major issue with wanting to get the meat-free option of their infamous Sloppy Giuseppe; you're shit out of luck unless you're going full vegan.
We should caveat that the main reason for this visit to Pizza Express was because we kept getting ads about their new vegan range.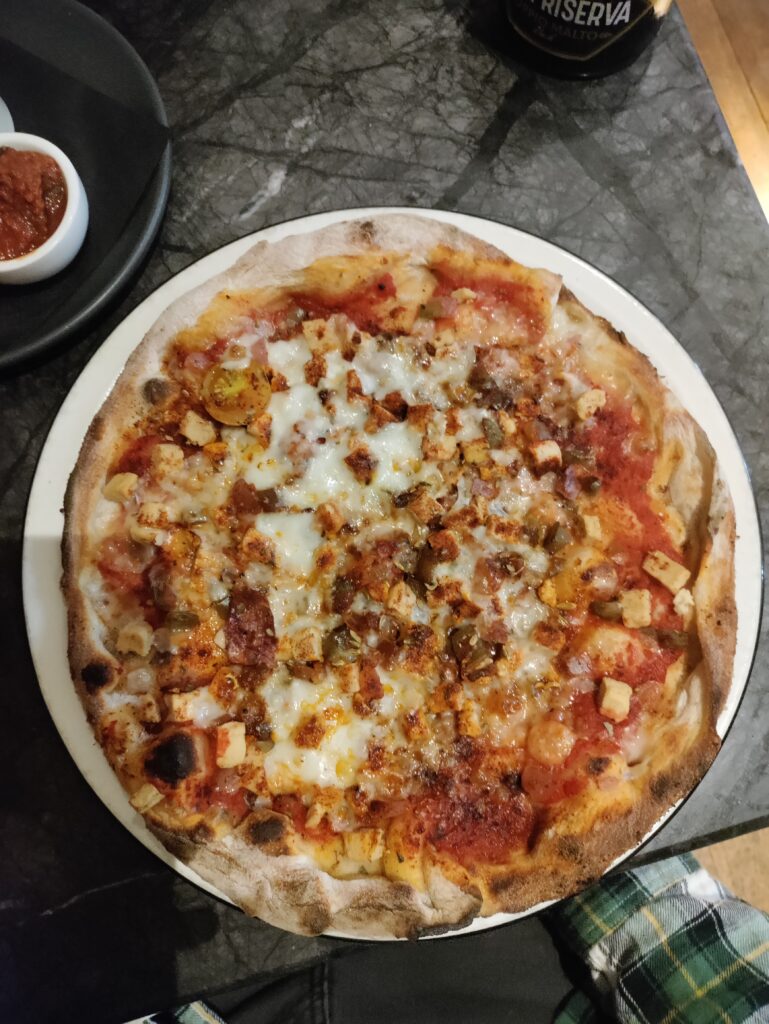 Yes, if you wanted to get a traditional Sloppy Giuseppe and sub out the meat for the Quorn stuff, it's (seemingly) impossible to do online. And if you think we're paying an additional £6-£8 trying to replicate the damn thing on Deliveroo to get the toppings right, you can do one. The bloody app won't even let you add a note to ask politely.
More like Deliver-poo, am i right? Luckily, trying to explain you want the Sloppy Giuseppe with fake meat, or the Sloppy Vegan with actual cheese, is much easier in person.
So what's this first slice up to?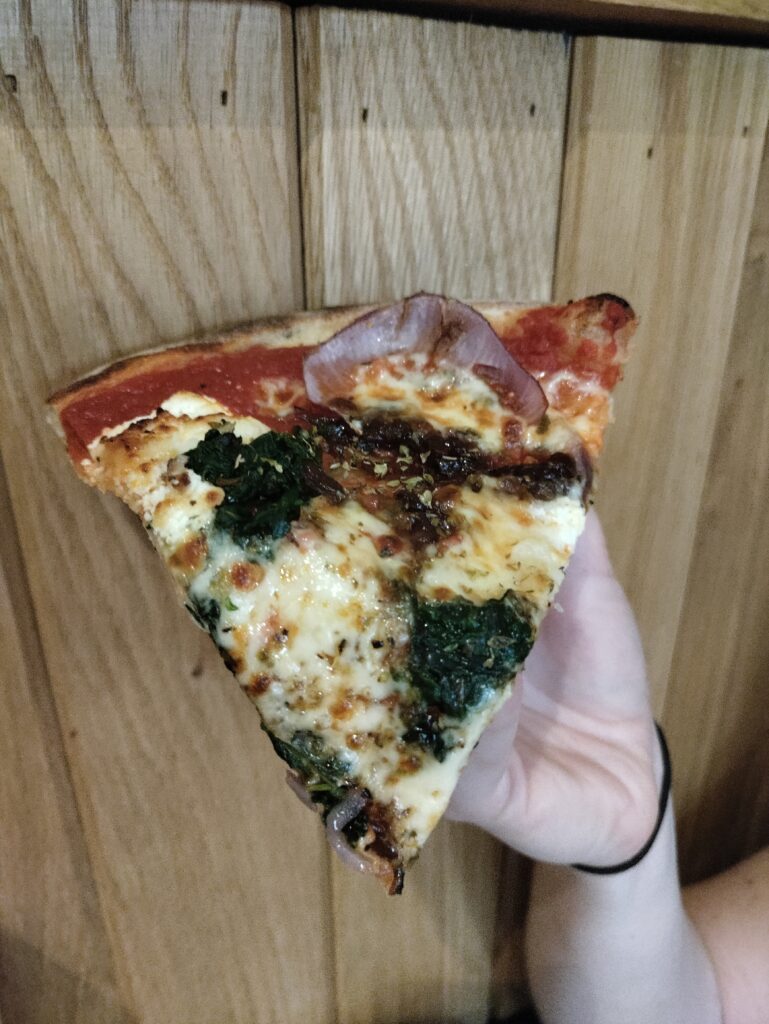 The Podana was first on the chopping block, and even though the Romana style is literally defined as
A bigger, thinner, crispier 14" pizza, full of flavour with more of the toppings you love.
The slice had a hard time keeping its thin and crispy butt standing to attention. It was a right floppy boy, and by all means, it was a fair enough slice. The goat's cheese and mozzarella were well balanced. Some Belfast pizza spots will think that when you're ordering a pizza with goat's cheese that you want a full cheese pizza which is smothered in goat's cheese. Thankfully, that wasn't the case here.
Attention quickly turned the Vegan Sloppy Giuseppe, which wasn't vegan, but we explained that already. Let's life to see what's going on under the hood: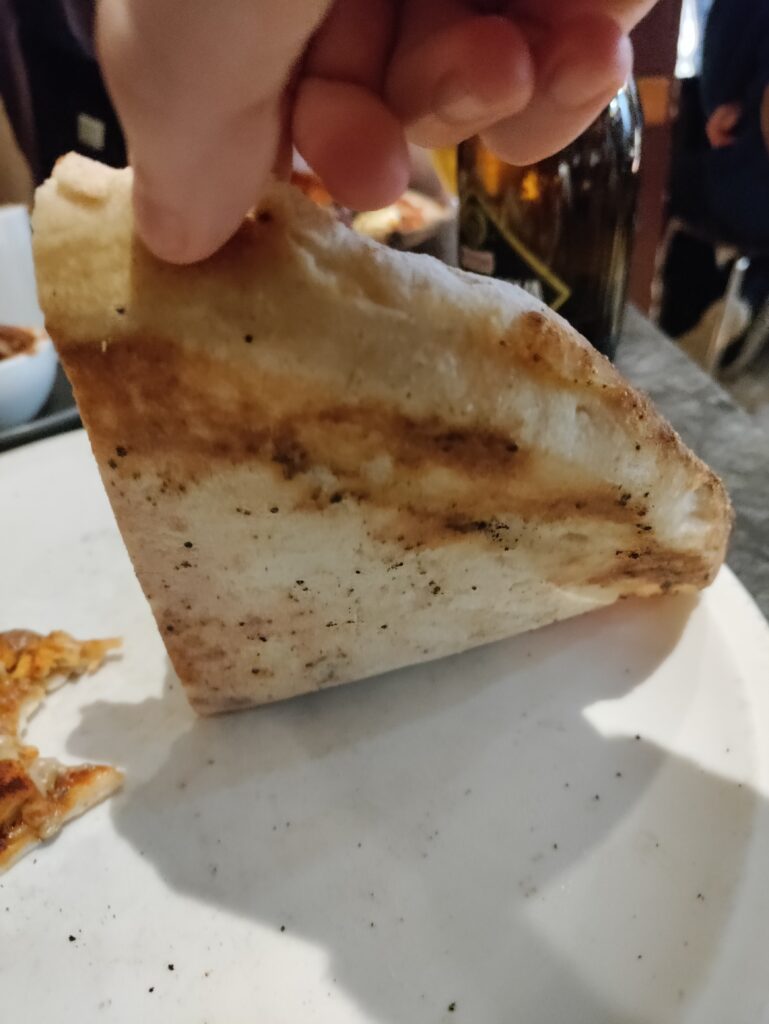 Quite light looking by all regards. We were expecting to see a little char or leoparding here and there, but it was surprisingly pale. Not that it meant the thing was going to taste raw or undercooked. Because the bottom wasn't caked in flour, and the top has some powder (paprika?) dusted on top, it helps bring a little smoky touch with every bit.
By all means, it was a decent pie. In fact, they both were. If you were worried that the vegan toppings were going to be poor, we can confirm that IS NOT the case. They're all right like.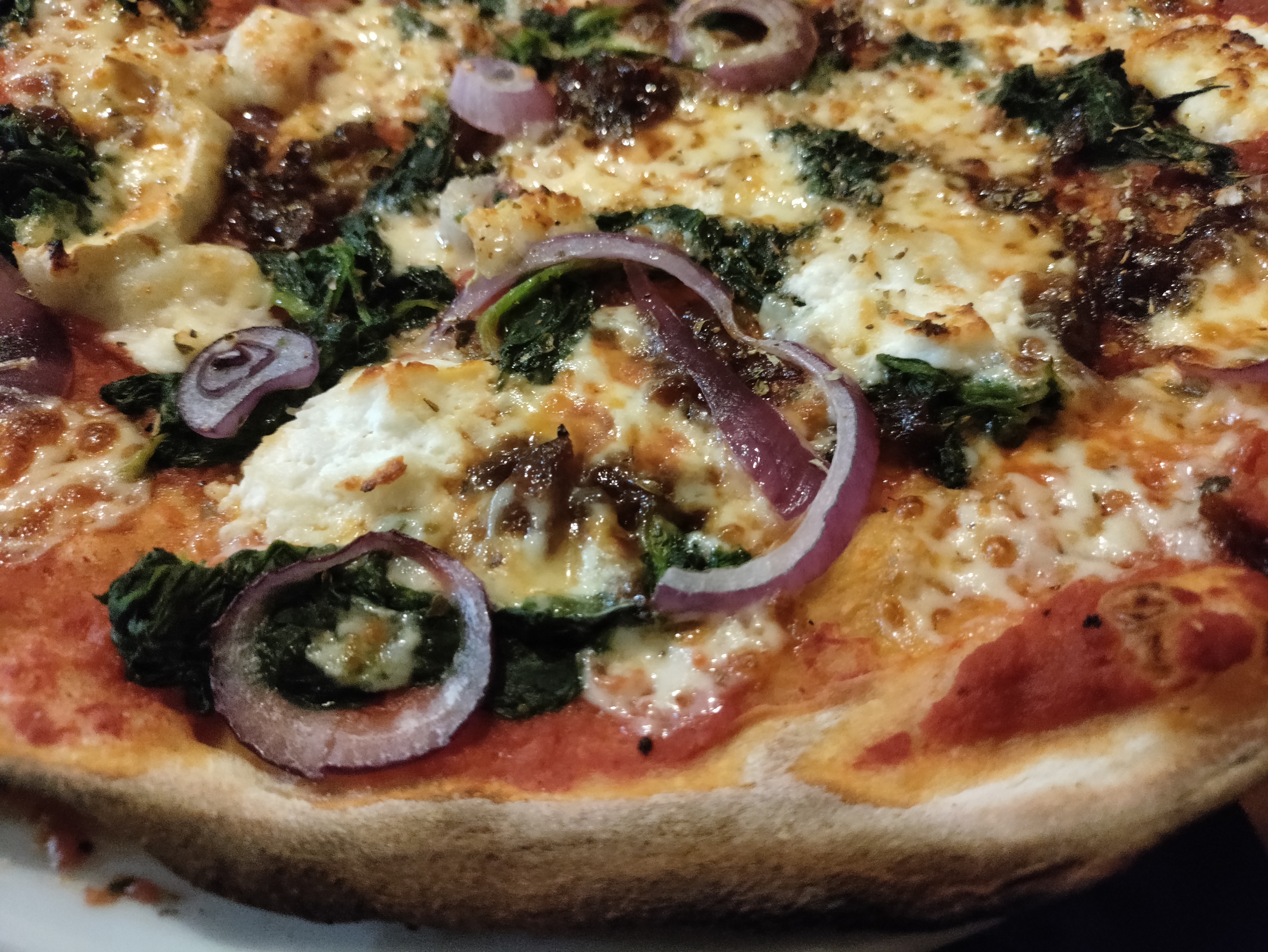 Are sides on the sideline?
As for sides, we didn't even bother taking a photo of the Halloumi bites. We were expecting Halloumi fries, but instead we got little fried cubes which seemed to instantly lose their crispiness. So, avoid them if you can.
Is Pizza Express Lisburn Road the best pizza in Belfast?
Here's the thing; we usually don't value chains highly. With every pizza chain, there is an extremely fine line between quality (which local chains preserve ((think Nico's)) to a good degree) and sheer quantity for profit (Dominos).
Pizza Express sits somewhere in the middle. While the side we had was akin to "fancy" Xmas party food from the freezer section of the supermarket, the actual pies themselves weren't half bad, and much better than the fridge/freezer Pizza Express options from the supermarket. I mean, we ate the whole thing, so that must be good for something?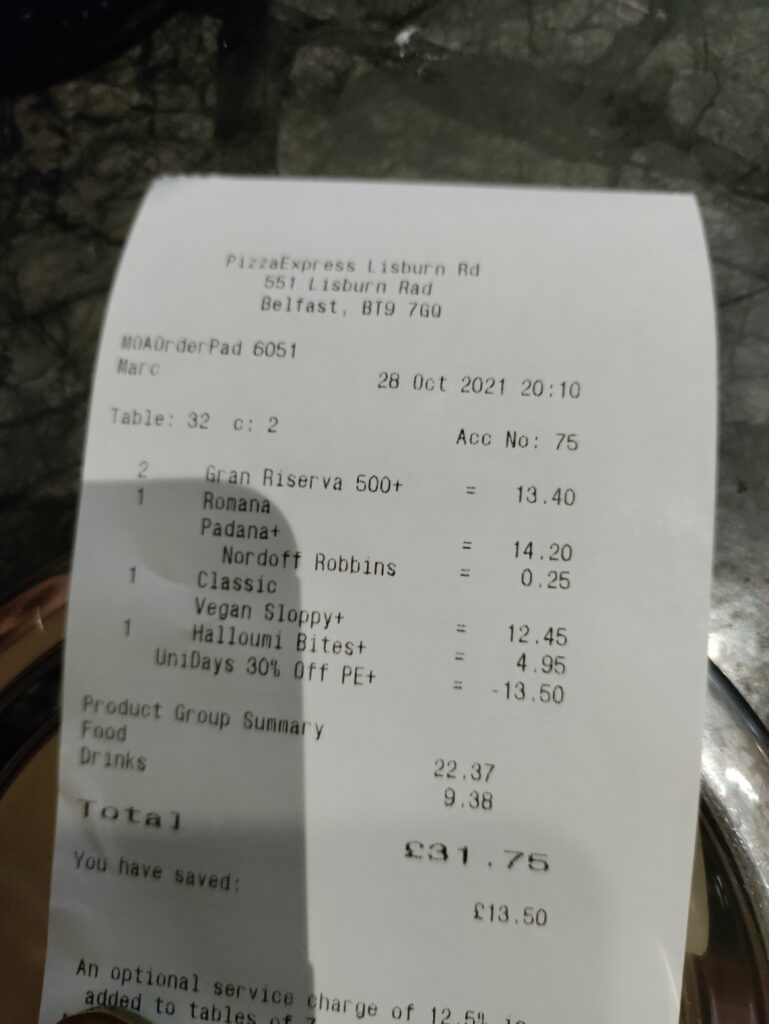 There's also the price point. It should've came to around £42, but because one of us is still clinging onto dear life to their UniDays membership, a whopping 30% brought the bill right down to a respectable £31.75.
£42 was still good though. Right next door is Green's pizza, and you know you'd be getting a smaller pizza for around the same price. Now we've not been to Greens in a minute, but if they still bloody serve raw veg on their pies, they can fugget about it.
We walked away with the impression that there was a reason why this Pizza Express was so busy; it was actually a decent spot to head out for pizza, and that's something to applaud.
Most importantly what did Sam think?
Sadly, because we couldn't actually bring Sam into the restaurant, he had to make do us regaling the meal in great detail upon our return, while he sat thinking about what treats he was going to get.
Pizza Express Lisburn Road gets a quite respectable 3.5 barks out of 5.