An institution to many; we visited Goodfella's Belfast to see if West is best.
There's a bit of an aura around Goodfella's. Anyone we talk too from the west of town swears by it in an almost cult-like manner. Even driving by it, unless you knew that it was a local pizza joint, you'd be forgiven for thinking it a local pub or local business where you can't quite figure out what's going on.
With all the complaints that we hadn't been there yet, and a lack of anything in the fridge for dinner (plus not being bothered to cook), we ventured over the motorway to see if Kennedy Way was hiding the best pizza in town.
The Food
Previous Impressions
Bar word of mouth, we were going in blind. From our reviews of Crust Pizza Co, Isabella Pizzeria and Roccos, we are already quite well versed in how West Belfast make pizza and their broad pizza spectrum.
What's on the menu?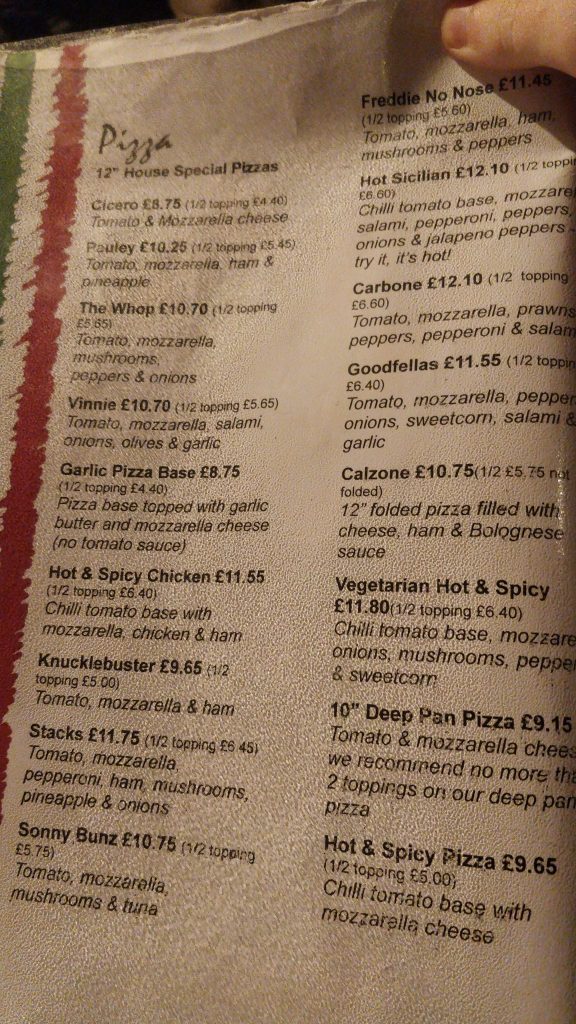 You'll have to forgive us a little for upcoming photos as the lighting in Goodfella's leaned heavily on atmospheric, and we didn't want to be those people who have flash on for photos (you're a maniac if you do).
Goodfella's Belfast has a very broad menu, not just for pizza, but pretty much a wide berth of food. Flipping through and seeing what they had, it quickly clicked that this was a family style menu which just so happened to have pizza as the foundation.
What did we get?
Because we were starving and didn't have a grasp on what size pizzas were going to be, we ordered:
Cicero with pineapple and peppers
Vegetarian hot and spicy
Garlic Potatoes
Two PINTS of Fanta Lemon
It came to £32.75.
As we sat waiting, most of the tables around us didn't have food out….and then suddnely they did. We noticed just how big some of the pizzas were and that many people were ordering half pizzas. It was then we knew we were going to be in for some massive pies.
First Bite Impressions
"Did someone accidentally decide to hide this pizza under all the toppings?"
We love pineapple on pizza, but neither of us expected the man from Del Monte to be as generous as this. As we fight to the death on pineapple's status that it belongs, there is one very important note about it; it's a moist ingredient.
The more wet ingredients you put on a pie, the harder it is for the entire thing to have an even cook, and the harder it is to lift for the first bite.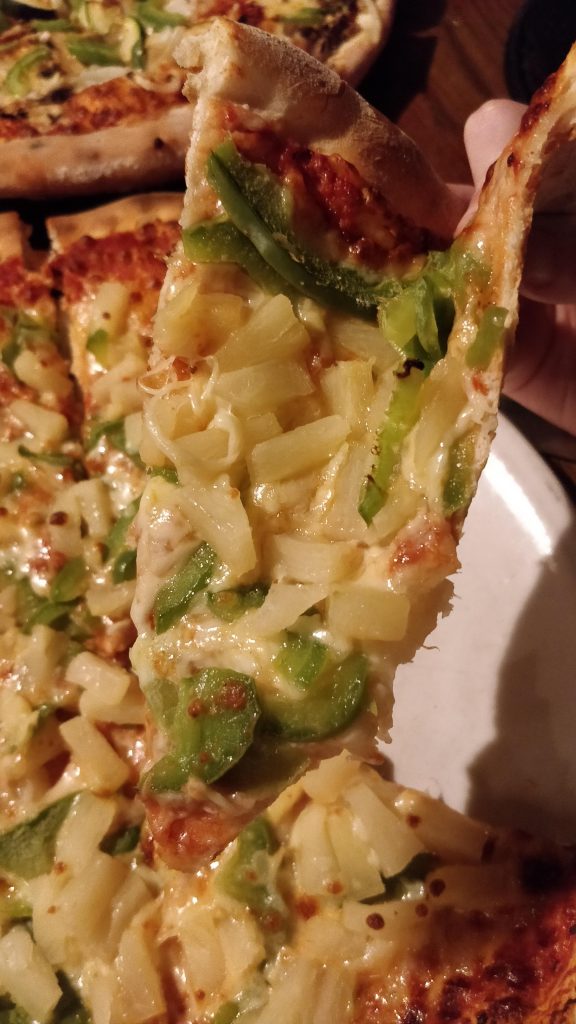 Every time a slice was lifted, it needed a full New York tuck in; something a pizza this size shouldn't. It should be architecturally sound.
On that first bite, it tasted like a pizza you get on holidays. A pizza you eat because it's a safe bet on the menu without taking any risks. With the amount of toppings and lack of bubbling (as the cheese was smothered) there weren't many strong flavours.
The slice gets better are you get towards the crust; as in, you're glad to get to the end and haven't massively enjoyed the trip.
Having a look underneath, the pizza has a nice char going on and some lovely browning, but with so much happening on top, it gets lost in the flavour somewhat.
A quick finger inspection of the sauce yielded no great results either. It was just a plain-ish sauce with nothing much else going on.
What is it with West Belfast and garlic butter?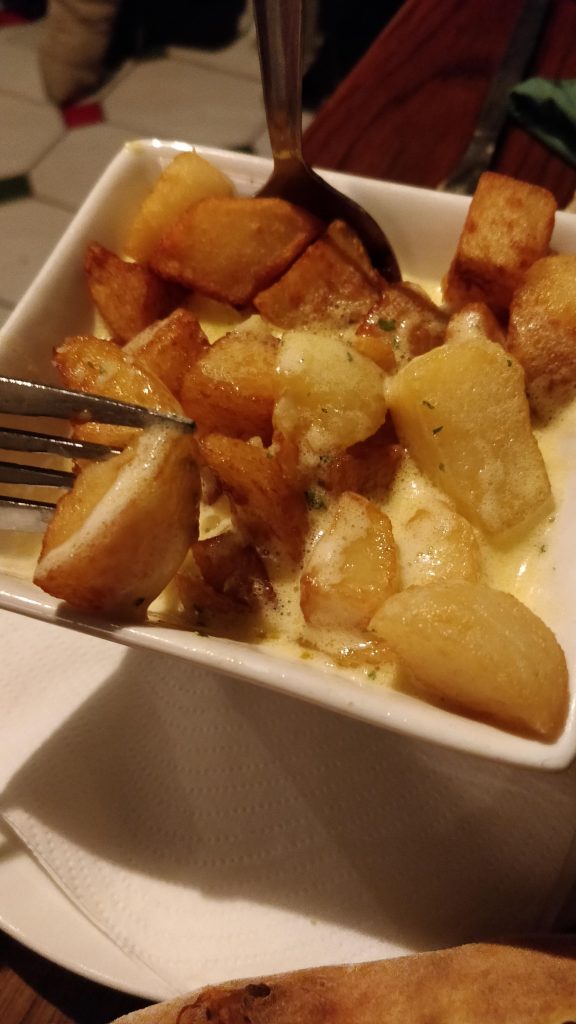 In our review of Rocco's, while we didn't like their pizza that much, we were big fans of their garlic fries. Namely, we said " These things are dripping in garlic oil".
The same thing was happening here with the garlics we ordered as a side. They were drowned in a foamy (why foamy?) buttery sauce which was simultaneously tasty and worrying. It was the kind of thing you know as you're eating it's going to have bloating up in no time at all.
Box it up please
We tried to make a valiant effort of each having getting as much into us as possible, but as the pie was cooling down, the immense number of toppings on top was forcing our hand. The remainder had to be boxed up to take home.
The Experience
Was Goodfella's quick?
We spent just around an hour, all in, and that included waiting for a table. The food came out quite quickly after ordering and we didn't have to wait for much.
Goodfella's Pizza Hygiene Rating
They're another Luniz and have five on it
Where is Goodfella's Belfast located?
They are located at Units 16-19, Martins Yard, 11 Kennedy Way, Belfast, BT11 9AP
How can I order food from Goodfellas?
Phone them on 028 9043 1143
When is Goodfella's Belfast open?
Goodfella's is open (according to Google), every day from 5pm to 8 pm
Is Goodfella's the best pizza in Belfast?
As we sat letting things digest, we couldn't figure out what vibe the restaurant was going for. It's obviously mixing Irish and Italian, and has a very homely feel, but with the lights down low while families are on their phone and tablets, and 80s hits play in the place, it feels like it's trying to keep everyone happy at once.
Eating the rest of the pizza the next day, it was still lacking any decent flavour or punch with so many toppings on the go.
It's the kind of restaurant where people would mistake quantity for quality, or would call a bigger portion "a good feed" as opposed to being a decent meal. If you wanted a no fuss place you know the family can all go and get something without anyone arguing about the menu, it'll do.
We get their place and how locals vouch for it, but even in the area the likes of Isabella Pizzeria can give you something more exciting for a better price.
It'll remain an institution across town, but that doesn't necessarily mean the pizza is good.
And of course… what did Sam think?
Crust was good. Sauce is weak.
Had to work around all the pineapple.
Two barks out of five.