We rode like the wind up the Antrim Road (driving responsibly) to see if one of the Belfast big boys, Pizza Works, has the best pizza in Belfast.
For many homes around the country Friday night is pizza, and there's no exception to such at Casa de Slice of Belfast.
A big name on the map here in Belfast is Pizza Works. Their Insta game is strong, they're independent and give us t-shirt envy, so all signs are good that we could be on to a winner.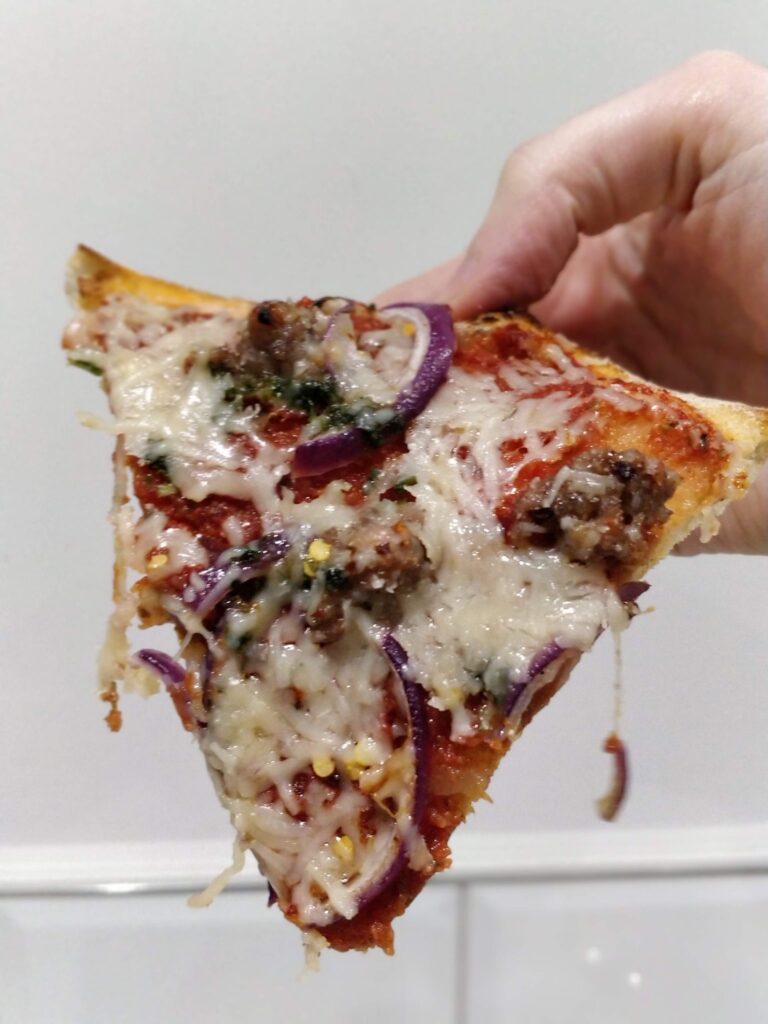 The Food
Previous Impressions
This was our first time ever at Pizza Works. We'd been long admirers of their of stuff from semi-stalking on Instagram.
We also knew that they were a big enough deal as pretty much anytime we've chatted about the blog with people they'll ask, "Have you not done Pizza Works yet?" .
You'd be surprised how much it comes up.
What's on the menu?
A little bit of everything for anyone on the menu and a lot to take in.
This was a bit of a tricky menu for us simply because we liked the look for the majority of it.
Their website has a more updated menu that you should check out instead of the image above. It seems they keep it very much up to date which we like and have a rotating selection of staff picks.
Now, being that this is a pizza review blog, there was one thing on the menu that definitely raised eyebrows; The Brooklyn. On their website the description reads:

(The champion. The winner. The hero. The most famous pizza in Belfast! An inverted style pizza – sliced mozzarella first, then smothered in sauce, finished with garlic oil, fresh parmesan & oregano. You'll not forget the first time you tried The Brooklyn!


From Pizza Works Menu
The most famous pizza in Belfast.
Have you ever seen a claim so bold and brazen? While we had a tough time narrowing down what pizzas to get, one thing was for certain; The Brooklyn HAD to be ordered.
We ordered over the phone for collection. The drive was 15 minutes on Google Maps with Pizza Works telling us it would take 30 minutes as they were hella busy (their words, not ours) on a Friday evening; PEAK pizza time in North Belfast.
Let's buckle up and hit the road
What did we get?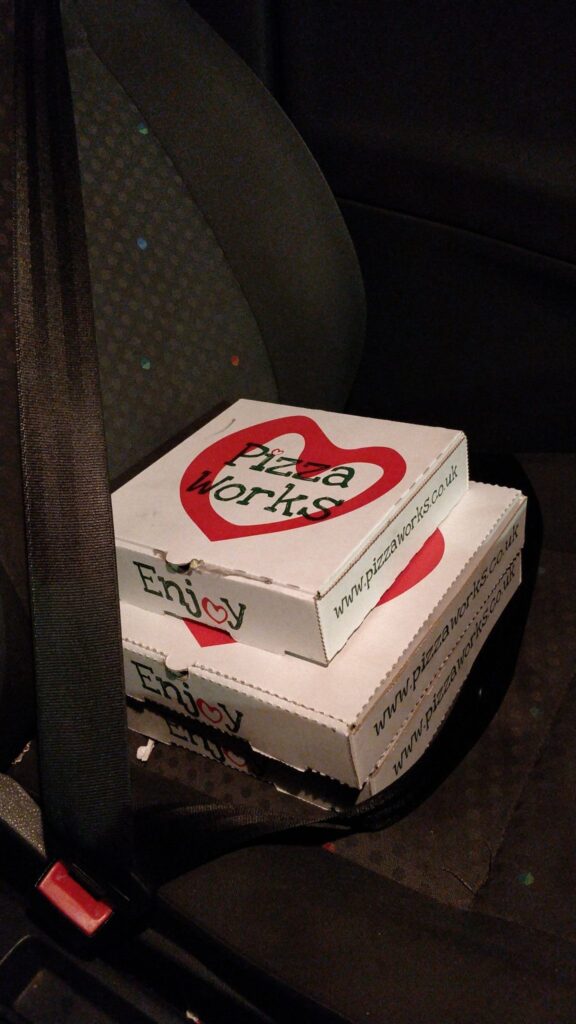 Now here is where things get a little upended. While in the car getting ready to order, I (G) asked D what she wanted. We knew the Brooklyn was a definite, and because it's rarely an option on a pizza menu and we love them that much, their Roquito pizza had to be the other pizza we ordered. As it says on their website menu;
A wee bit spicy, a wee bit sweet, a whole lot of tastiness. Chorizo, Onion & Roquito Peppers. (Try it with a Chilli base)

Sounds perfect to us.
We opted for:
A small Brooklyn pizza
A small Roquito pizza
Garlic Bread with Cheese & Sweet Chilli
I ordered over the phone, and when I do (much to the laughter of D) I put on my phone voice instead of going full on Derry to avoid the "sorry…wha?".
This is where crossed wires happened. During the call the person on the other end apologised twice to talk to people coming in. The order was reiterated and confirmed and away I went.
I say Roquito, You say Roberta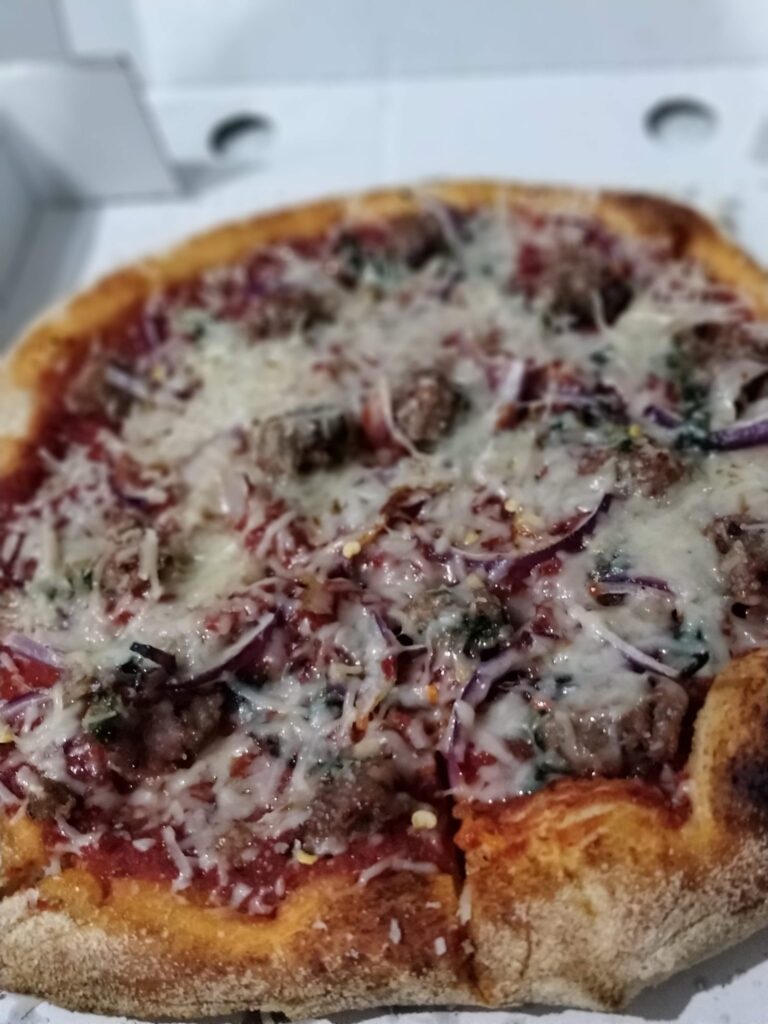 Coming in to the place it was incredibly busy which is always a good sign. I landed a little early so sat down by their fridge, admired the atmosphere and got jealous that I can't be a teenager who covers everything in stickers anymore. Just look at this fridge.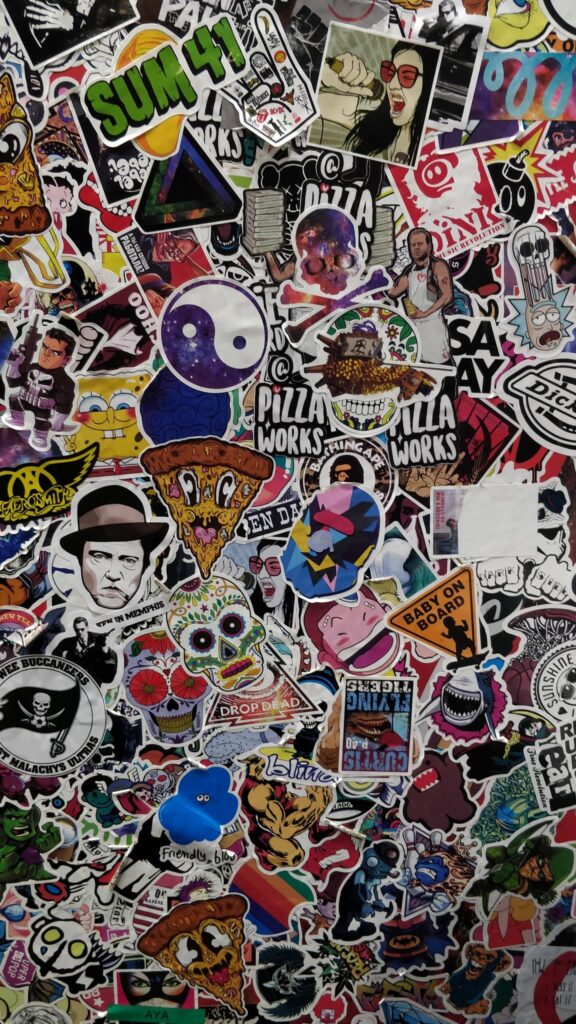 Watching everything get made and seeing that everyone in there seemed to enjoy working is always a good sign. The phone was off the hook and I could see why the person who took my order had to pause a few times as customers would ramble right up and start talking.
Our pizzas were all made quite close to each other so nothing was sitting out too long before I could grab it and hit the road back.
Getting in after having it waft that delicious pizza smell in the car had already high appetites raised from 100% need pizza to 100% will kill for pizza.
We opened the boxes to dig in and that's when the first bite didn't go right.
Fake First bite impressions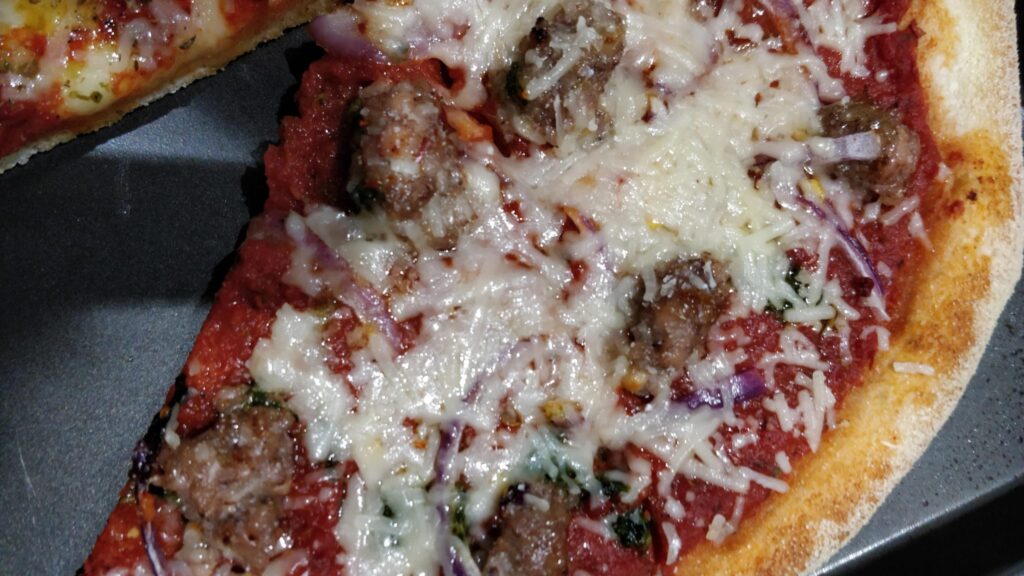 I immediately went for the Roquito, bit in and my taste buds didn't go "OH THERE'S THE PEPPER!"
I had to stop and do a double take on the slice, examining it up close. That wasn't chorizo, and there wasn't any roquito in site. It dawned on us I'd been given the wrong pizza and I didn't have a receipt to check.
I'd have to slide in to PizzaWorks DMs. Sending the photo above, I asked if it was the Roquito pizza I'd ordered or if I was given something else by mistake.
Now usually a pizza place will ignore you or send a generic customer service reply you go "meh" at. That wasn't the case with Pizza Works though.
When we figured what happened, this was their reply: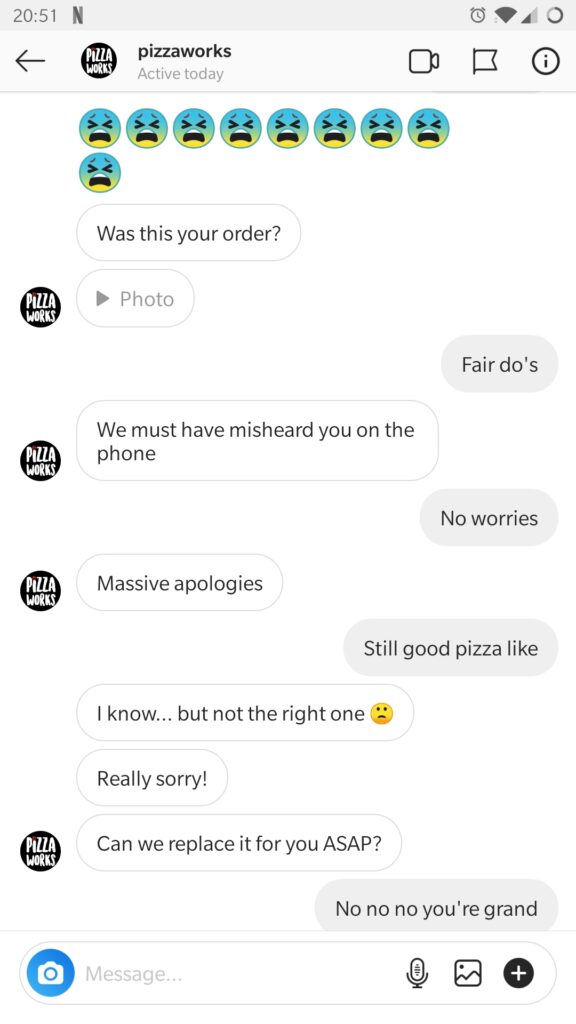 Not only did they apoligise after clearing things up by sending a photo of the receipt from a miscommunication, they offered a free replacement there and then. Most pizza places wouldn't even do such a thing.
For example *fast forward*, on St. Paddys Day we ordered from Pizza Co on Botanic, had the payment immediately processed and the order then cancelled, only finding out 30 minutes after waiting just by checking my emails. They said they would refund it (they didn't), then said they'd refund it when contacted the next day ( they didn't) and only started a refund three days later after we asked again to get a refund.
That was a nightmare in customer service. This communication with Pizza Works wasn't. Once we resigned ourselves to the Roberta, it was on the real first bite.
The Actual First Bite Impression
Let's not deny that these pizzas look like the stuff of dreams.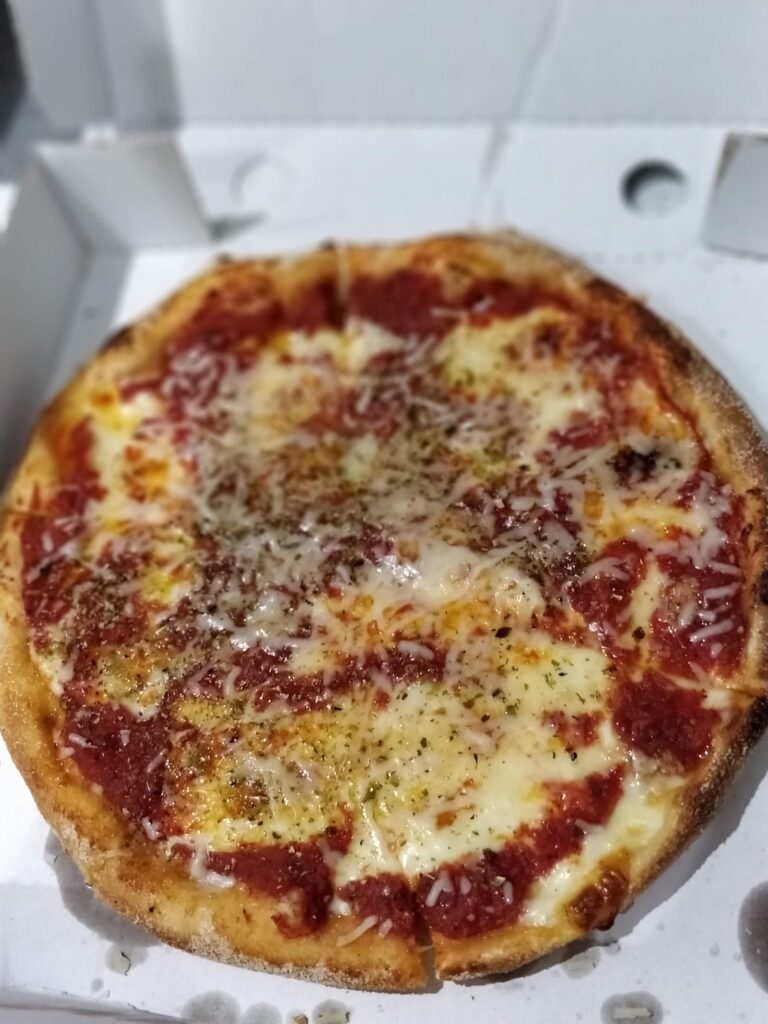 You've got a nice brown crust, good pockets of sauce and browning on he cheese, and a cheeky sprinkling of grated Parmesan on top too. If Alan Partridge was eyeing this up he'd call it "textbook pizza"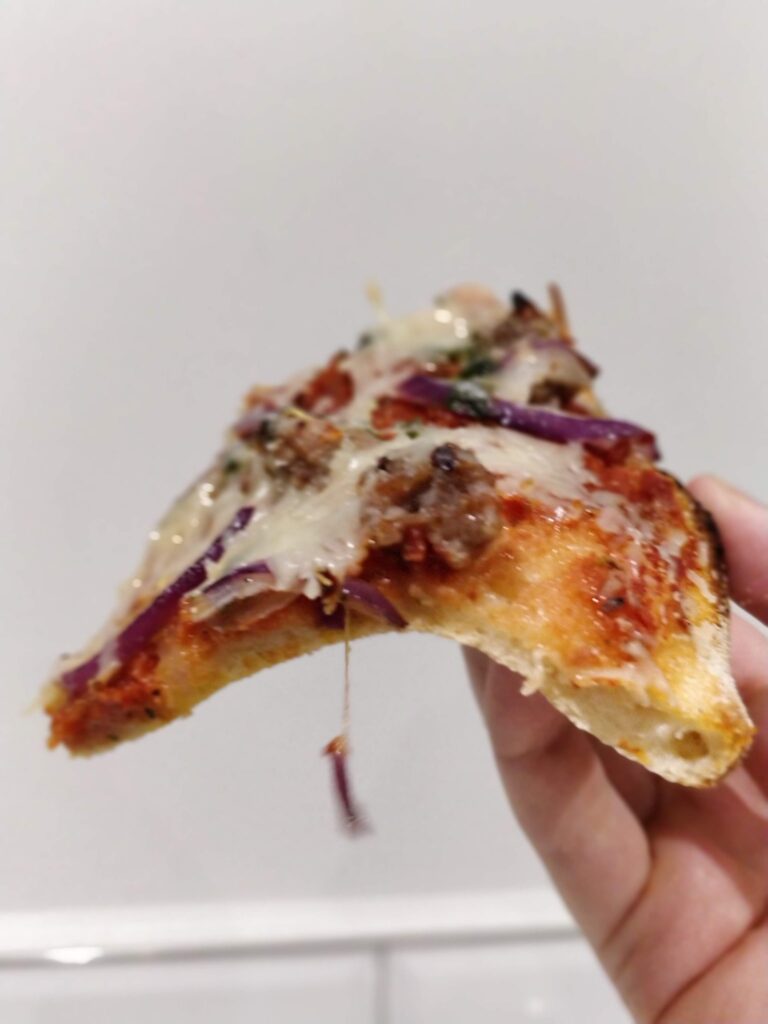 My biggest pet peeve with any slice is *shudder* raw red onion on top. This first slice luckily didn't. That first bite with the sausage, cooked red onion, basil hints and garlic oil coming through for a little surprise was fantastic.
You can see the flop was minimal and the slice held itself well for having what would be considered a heavy topping on top.
Falling in love with Garlic Bread
Unpopular opinion: all pizzerias should ditch garlic bread in favour of garlic bread with cheese and sweet chilli sauce.
Why should the world do such a thing? Well just take a look at this: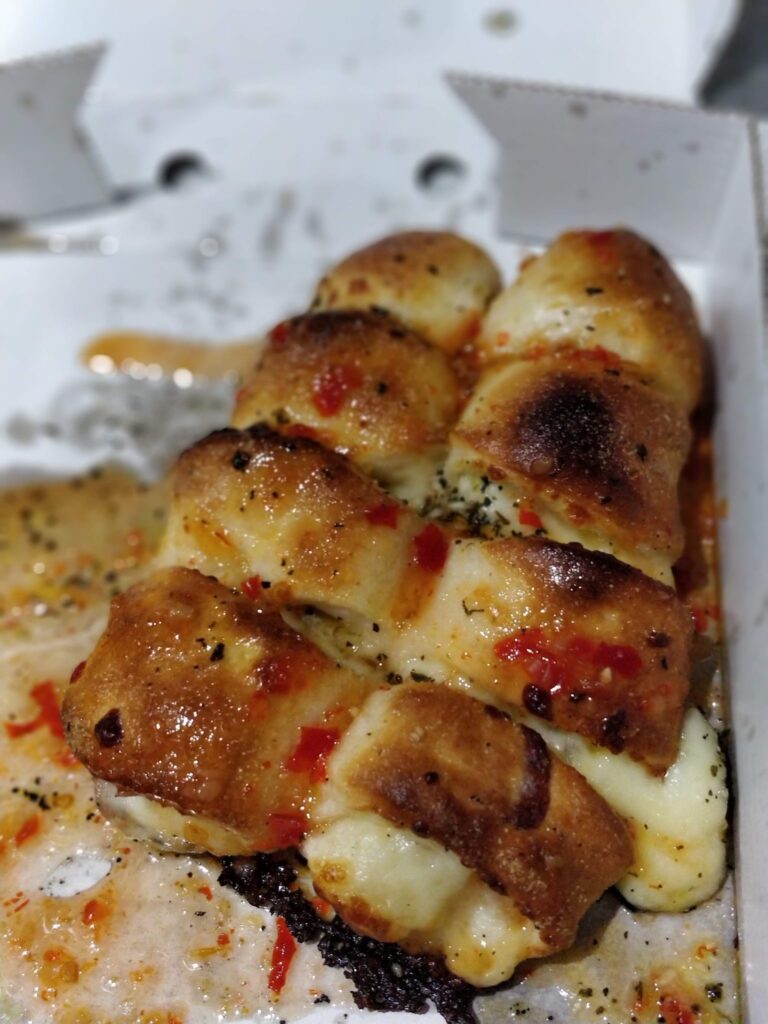 This is garlic bread perfection in a box. It is messy, goopy, has incredible char and remains structurally intact while you cram it in your mouthole.
We both loved this and couldn't imagine how someone sitting in to eat at Pizza Works doesn't get embarrassed by the love journey this garlic bread takes you through.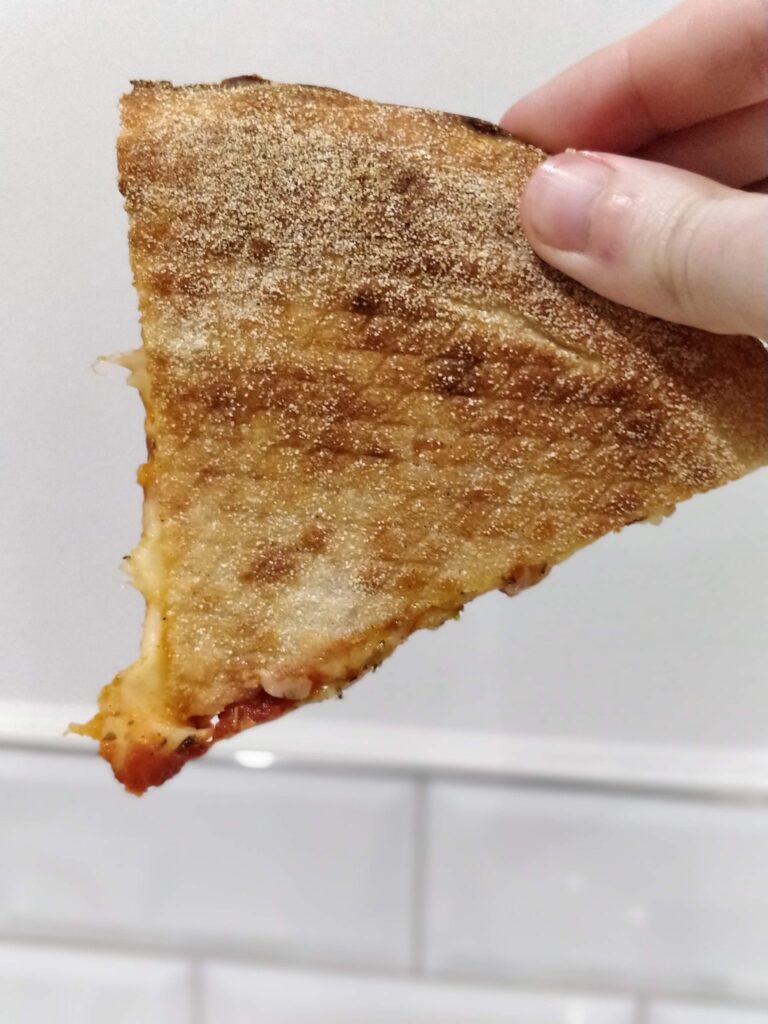 A bit too hyped?
The Brooklyn was up next. The self declared best pizza in Belfast.
A pizza like this in our opinion is great for testing as getting as close to a plain pizza, even with a little twist, is the best way to see if a pizza really is the best or hiding under gimmicky toppings (case in point; every flyer you get through the door from Dominos, Pizza Hut and Papa Johns)
It was a good slice, but it wasn't the bee's knees. Quite surprisingly, the Parmesan didn't elevate it as much as hoped, especially when we know a mixture of cheeses can take slices to another level.
It was still very good though.
The Experience
Was Pizza Works quick?
Yes. We ordered on the phone right before driving up. We were told 30 minutes and it was 30 minutes.
They take card no problem at all.
While I was sitting waiting and admiring the stickers I did noticed that they stock Maine and Football Special (aka God's Nectar) in the fridge. In a world where every bloody pizzeria is the usual big 4 from Coke or you can just GTFO, this was a little touch that would make me always consider them, especially on those hangover days where you need a special taste to get you out of a funk.
The staff were very friendly and the kitchen seemed clued in and in sync while they worked.
Pizza Works Hygiene Rating
The Food Hygiene Ratings site (at the time of writing) has given it four out of five, and there were no glaring hygiene issues while I was watched them work away.
Where is Pizza Works Belfast?
Coming from every direction bar north, Pizza Works in on the Antrim Road about halfway up. If you are driving northwards, note that you have to enter from the left only as outside is one way.
I got parked outside OK, but can see that it would get busy from time to time.
How can I order food from Pizza Works?
You can put on your best phone voice and hope they don't muck it up (only joking Pizza Works folks). They do recommend phoning ahead if you're planning on dining in.
You can find more info on their contact page here.
When is Pizza Works open?
Pizza Works is open:
Sunday – Wednesday 17.00-23.00
Thursday – Saturday 17.00-00.00
Last orders are 15 minutes before they close.
Is Pizza Works the best pizza in Belfast?
Even though we didn't get the right order, their pizzas were very good.
You can really tell they don't skimp on ingredient quality and from watching them at work, they do take care and won't even think of giving out a pizza unless its 100% ready.
Whilst eating our Pizza Works we said:
Sweet sausage is a rarity, and its AMAZING
Sneaky garlic oil is good garlic oil
Crust has a nice bounce on the bite
Reliable bottom so you don't have to cup too hard
Charring on the garlic bread was next level
The correspondence with the folks really did show that they're fully in to their pizzas and won'y muck about with customers.
It was a high level Friday night pizza and great quality.
As it stands, Pizza Works is definitely in the back pocket now anytime asks "so where's good for pizza in Norther Belfast?" and we will definitely be back very soon.
And of course…what did Sam think?
Mistake pizza had sausage. Good job.
Crust was great.
Four point eight barks out of Five.