Recently we jetted off to lovely Canada for a week in Toronto. Most people would say it's the land of poutine, ginger ale and maple candy, so that's all that was to be eaten that week, right?
WRONG! If we're going to any major North American city on a holiday, one thing is for damn sure; we're going to eat a lot of pizza.
And that is exactly what we did!
Sure we had so much poutine that it went beyond your recommended 8 glasses a day of gravy. And of course there's was a stop to Tim Horton's at least once (or twice) a day. But Toronto has a great pizza scene just bubbling under the surface like a lovely plain slice on a cold autumn night, which is exactly you get when in Toronto as the topography of the city doesn't allow for much snow with how winds come from the north… but that's a story for another day.
In this blog we'll be discussing some of the places we went for pizza throughout the week, where we think has the best pizza in Toronto (spoiler alert: it is Big Trouble) and some other food highlights that anyone planning a visit to the 6 should check out.
So here in no particular order is THE SLICE OF BELFAST GUIDE TO TORONTO PIZZA.
Where we ate pizza in Toronto
Big Trouble Pizza
Get Well Bar
St Lawrence Market
Chito's Pizza
Pizza Pizza @ Scotiabank Arena
Big Trouble Pizza
We're not even going to make your wait about and scroll the whole way down to tell you where the best pizza in the city is. Big Trouble Pizza is the best pizza in Toronto.
We first went (yes we went twice) on our second night there which happened to be a chilly Sunday evening. It's located roughly in the middle of the Chinatown area that straddles Spadina Avenue. Walking in after a few beers and seeing a small menu laid out like this put the fear in us. It raised existential pizza questions like "What one do we get first? / How mushroom-y is the mushroom pizza?/ Can we eat the whole lot? / And do they really have a slice with jam, mozz and butter on it?"
Luckily for us, Mikey who runs Big Trouble was behind the counter and could see we didn't know what to do with ourselves. After getting chatting and him quickly realising we were serious about pizza, we were treated to basically the entire menu. Even though we were sitting outside all wrapped up to eat each slice conservatively, Mikey would come out and talk us through his process, why he decided to open a pizza place in Chinatown, and what he thinks makes a good pizza.
And OH BOY is it good pizza. Literally every single slice on the menu was a showstopper. There wasn't one poor bite. The crust was incredible. The toppings hit the right flavour profiles. HE MADE BUTTER AND JAM AND LEMON ZEST WORK FOR CRYINNG OUT LOUD.
After spending way too long there, Mikey gave us a voucher for a free pie whenever we like – a first for the blog, and pretty much a guarantee we'd be back before the week was over (more on that below)
Get Well
You'll have to excuse the darkness of the photos but it isn't often you find yourself in a barcade that also happens to have a pizzeria stuck in the back with beside the toilets.
Get Well has a very similar feeling to many small bars in Toronto in that you'll walk in, wait for your eyes to re-adjust and then feel the slight shock of a pint costing at least $8. What makes Get Well a notch above though was the barcade area with all games being completely free (*cough*Hear that Token in Dublin*cough), a much more chilled out atmosphere than other bars of its ilk…oh and there's a pizzeria in the back.
Sadly the lighting was so poor that we couldn't capture slices so well, and we weren't going to be those pizza who turn on flash to take food pictures, but we have to say they do some very good slices. They average around $5 for a slice and it is run by North of Brooklyn Pizzeria – a Toronto staple with a few locations dotted around town.
We were annoyed we didn't plan time to actually book for their sit-down restaurant on Dundas St W, but this was a great entry point and we can see why it was rated so highly.
You can view the Get Well Bar pizza menu here.
St Lawrence Market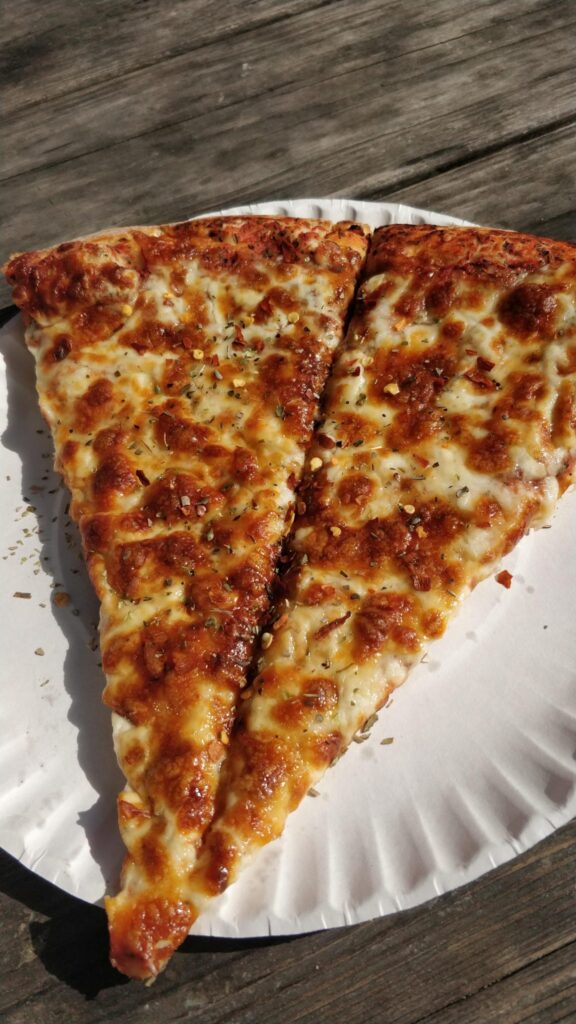 A bit like St George's Market if it realised its potential as a tourist destination, St Lawrence Market is the de facto tourist spot for food in the city.
We visited twice – once on a private food tour, and again later in the week as we were in the area. At the back right corner of the market is the aptly named St.Lawrence Pizza & Ice Cream stall. Everyone in line was ordering the frehsly made pasta dishes. Because I was in a snacky mood going around, I thought a plain slice with a truly golden cheese on top would be ideal.
Turns out it wasn't at all. This slice was the biggest let down of the week. It looked like the perfect plain slice (a comment usually reserved for when you watch a pizza slice being lifted on Teenage Mutant Ninja Turtles) but this just lacked any flavour. Even with a sprinkling of oregano and chilli flakes, it didn't do the job.
It was one of the only time we've done something sacreigous with pizza – not finishing the slice and throwing it in the bin.
A short note on the market – our first trip there was part of the "What is Canadian food tour?" which we booked on AirBnB, although its run by a company called Urban Adventures. We only paid around $50 each and were stuffed by the end of it after eating butter tarts, caramelised onion cheese curds, apple cake, poutine spring rolls and all sorts. We'd highly recommend giving it a go, especially if you get Jason as your tour guide.
Chito's Pizza
Click on this video and see of one of the more unique ways I've ever had a slice reheated:
Have you ever in your life seen anything like it?
This was us getting lucky just before Chito's Pizza was closing. It is one of the most unassuming places you would ever walk by – in fact we were staying around the corner and would go by at least twice a day without ever thinking to venture in.
While we were on our food tour though, guide Jason clocked on to where we were staying and informed us that there was a pizza place which doesn't advertise but specialises in a slice with kebab meat and sauce galore on top.
Interest was piqued to day the least, and heartburn was preemptively sending signals to say the worst. Just look at this slice in all its glory:
It was absolute dirt and an abomination of a pizza slice in the most glorious way possible. We only got one slice between us to see if it lived up to the hype and it really did.
It only cost about $3 and the Frankenstein nature of the slice was perfect after a night out, eliminating the Sophie's Choice of having to choose between a kebab or pizza (unless you're from Derry where the Chicken Box Pizza exists).
Chito's Pizza is located on 1308 Bloor St W, Toronto. It stays open until 11pm Sunday to Thursday, and 12am Friday & Saturday.
Pizza Pizza @ Scotiabank Arena
As Canadian as it gets.
One evening we headed to ScotiaBank Arena to watch the Toronto Maple Leafs. Around the arena's concourse are dozens of different food stalls that are more than just a dodgy burger and chips. You can everything from BBQ to Sushi to Kale Mac & Cheese (pictured) to Pizza Pizza (not worth being pictured)
Pizza Pizza is the main pizza chain in Canada and is more prevalent than Dominos, Pizza Hut or Papa John's. We had been avoiding it when out and about, but at the game it seemed like the right time to try a Canadian staple and see if it was any good.
You can pretty much guess what we thought. It was devoid of flavour, had that almost spongy bite you get from thick crust oven pizza an the toppings looked sad.
The hockey was good though.
Big Trouble Pizza, again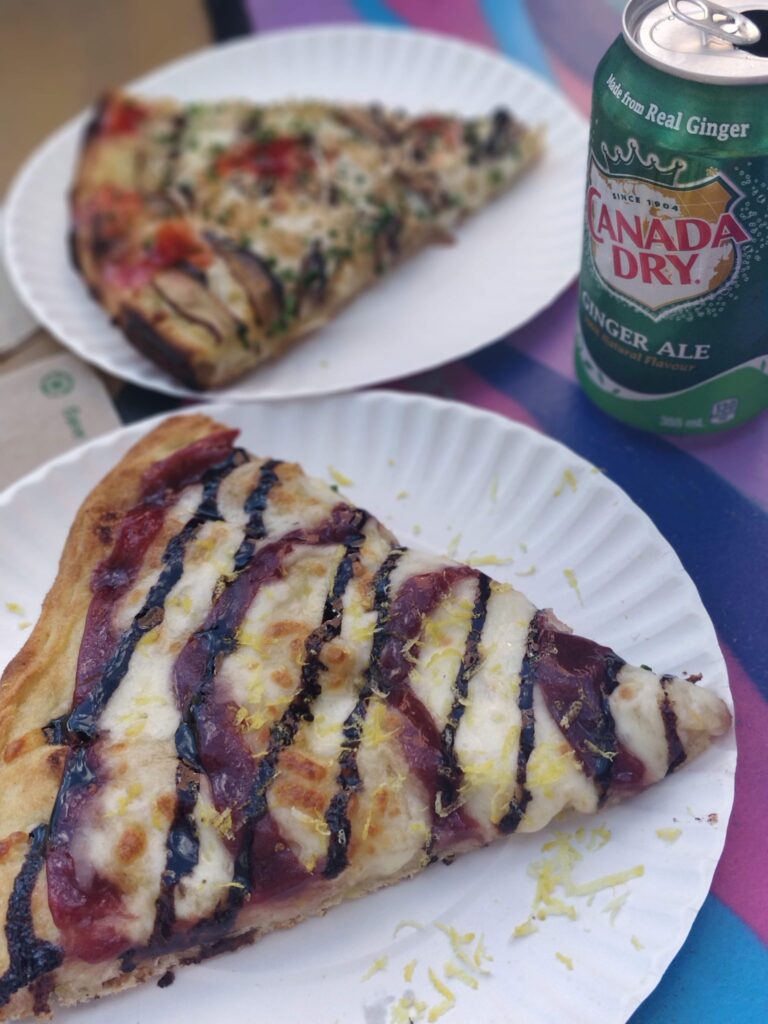 If you give us a voucher for a free pizza, don't think we won't come and collect. On the last day in Toronto we had a few hours to kill before the flight and thought rather than hogging the seat in a Tim Horton's all day, we'd drag our luggage done a busy Spadina on a Saturday afternoon and make the pilgrimage back to Big Trouble.
We were worried that handing over a shoddily written note that was meant to be a voucher wouldn't work, but luckily Mikey was once again back behind the counter and delighted we returned. Not one to be too greedy, we said we didn't want a full pie made and cooked and a slice would do.
Mikey was having none of it. It was two slices (then three because we hummed and hawed over the MF Prashoots and Kung-Funghi), a free can of Canada Dry because its the Canadian nectar of the gods, and then another Butter Jam-Jam for the chef's kiss to finish it off.
The Butter Jam Jam is so mind blowing that it's hard to justify why a regular slice with butter as the base sauce, jam preserve, balsamic glaze and (again) GOD DAMN LEMON ZEST is probably the best slice of pizza one of us (G) has ever had, but it is. These are big sturdy slices that are worth every penny and it's the kind of pizza that makes you open up Skyscanner when your drunk because why not fly the whole way back to experience it once more.
So is Toronto pizza any good?
Yeah, of course it is. Over the course of the week we hit the highs and lows of the pizza spectrum, got to eat in some unique spots, had tastebuds question what pizza means and got free pizza before heading back home.
We can't recommend it enough for pizza fans – as long as you avoid Pizza Pizza.
---
Epilogue – Other Toronto food highlights
Apple Cake at Mystic Muffin
It's a simple no frills cafe that local offices flock to for lunch, but get there about 11am and you can get a slice of their amazing apple cake.
The big ass pretzel at Mill St Brewery
Perfect for sharing when you're splitting a few flights, Mill St Brewery serves a freshly baked massive pretzel with a big dollop of mustard
Fran's Diner (the one on College St)
If heaven does exist, one can only happen it's a table in Fran's. It's a classic diner where everyone is super friendly, coffee is always topped up and the food is ginormous.
You go there for breakfast with high hopes you'll seize the day, and then leave wanting to go for a nap.
Steam Whistle Brewery
You'll think it's a bit of a tourist trap being right across the road from the CN Tower, but it's a great brewery. A pint is about $8, but if you order a ticket for the tour, you end up getting around 2 pints for free if you chance your arm.
They have a bar/restaurant in the back end which you awkwardly have to walk around to get to, but they do proper fancy poutine like this:
The Path Tour
Lastly, this isn't a food highlight, but a tour that sounds rubbish but is actually amazing.
If you didn't know, there's a whole system of streets underneath buildings in the city centre that make up a system called PATH. It's mainly for people working in all the financial buildings to get back and forward from subway station quickly or head down and grab their lunch.
It's an intricate network and if you're a history nerd or love big cities, you'll find it more interesting than it has any right to be. You're looking for the tour run by Dave, and you have to book it here through AirBnb.