Who is Marcus Ward and does he even know what a pizza is? We ventured down to Bankmore Square on a Friday evening for a pre-gig swall and to see if food at The Marcus Ward was up to scratch (spoiler alert: oh googly moogly)
A rule of thumb if you're opening a bar in Belfast; give it an oldie sounding name. The Marcus Ward has possibly the most unassuming in the city centre, which commonly skews towards the literal (Jailhouse, Whig, Bootleggers) or veers towards quirky (Jeggy Nettle, Pug Ugly, The Practitioner).
We knew The Marcus Ward from a previous (more on that next) but with it's unassuming name and central location, it should make for an easy meal out, especially as we were going solely to check out the pizza before a show round the corner in Limelight.
The Food
Previous Impressions
Well The Marcus Ward isn't the The Marcus Ward if you spent most of Uni life there covered in sweat…in a good way, or spent it minesweeping for drinks as D did to get us so many full bottles of almost warm Stella.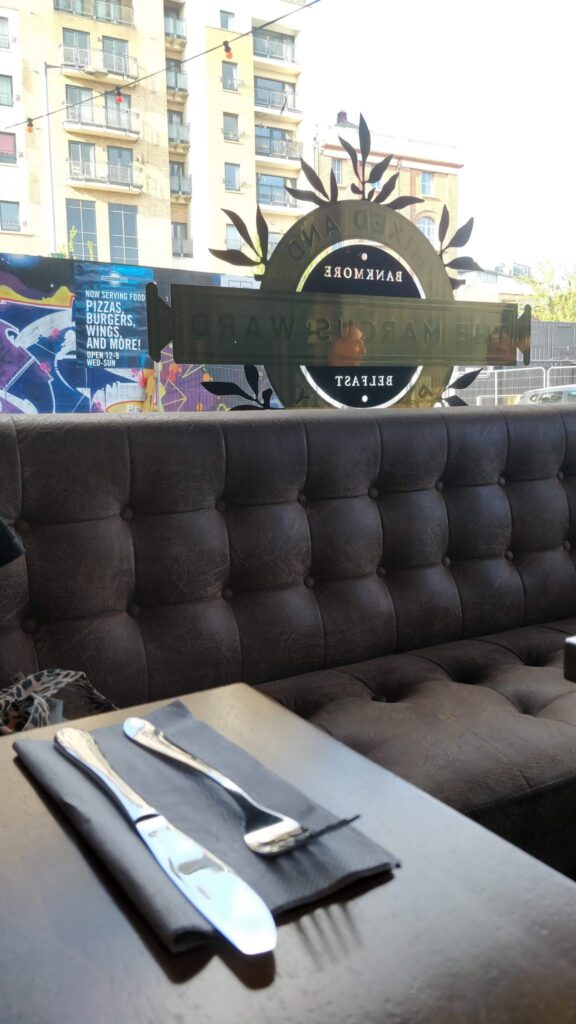 Usually when a club becomes a bar in its next resurrection, you raise an eyebrow and wonder if the food will be up to scratch. Once we walked in and got over the initial "Oh that's over there now/That used to be that/Isn't that where the toilets where?" we sat down by the window to watch the world go by and have a peruse of the menu.
What's on the menu?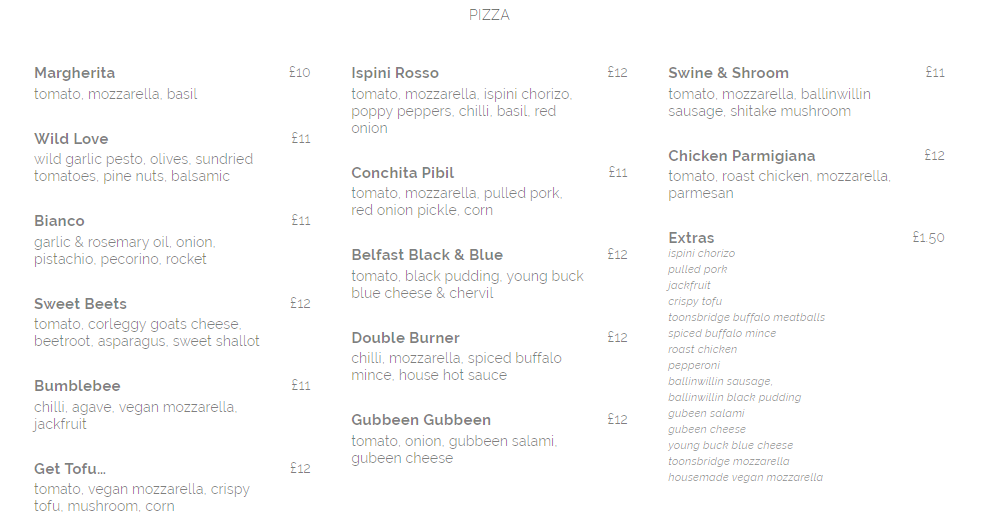 A little long for our liking when it comes to a pizza menu, but there's no denying they have all based covered (or in our case not covered).
It was a little difficult narrowing down the selection. It was going to be the Ispini Rosso for the longest time, but we essentially settled on the Bianco(bianca).
You can view the entire Marcus Ward menu here.
The Bianca Must Win
You show us a pizza with a bianca base and we're going to order a pizza with a bianca base. If you don't know, bianca (or bianco depending on who you ask) means blank (not white sauce) is the base and so it will not have any sauce on it.
Why is this important? Well, some pizzerias will rely on their sauce to hide weaknesses in the base, especially if they have a short proving time.
Enquiring with the server how long a rest time the dough in The Marcus Ward has before use, their dough usually has up to 72 hours to proof.
That's 72 glorious hour of getting ready for your taste buds, and when you remove sauce from the equation, you're hedging your bets you going to get nothing but deliciously crispy base with a little kiss of oil.
What did we get?
It a perfectly sized meal for two, we got.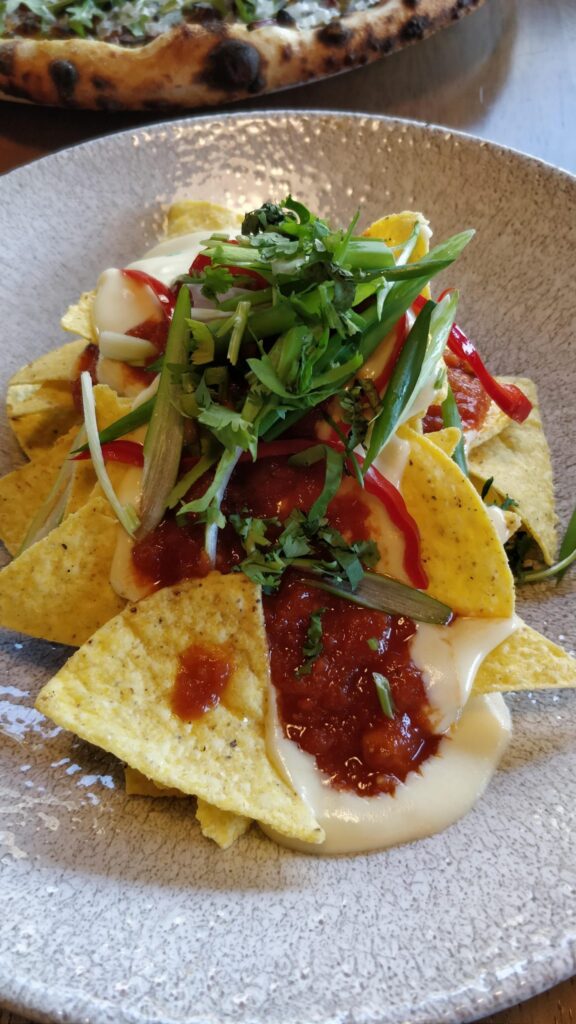 Padron Peppers
Yucatán Nachos

with cheesy sauce, chilli & citrus

Bianco Pizza

garlic & rosemary oil, onion, pistachio, pecorino, rocket
We lost the receipt and were having pints as well, but we think all in it was around £40; not bad for a meal for two and about 4 pints in town.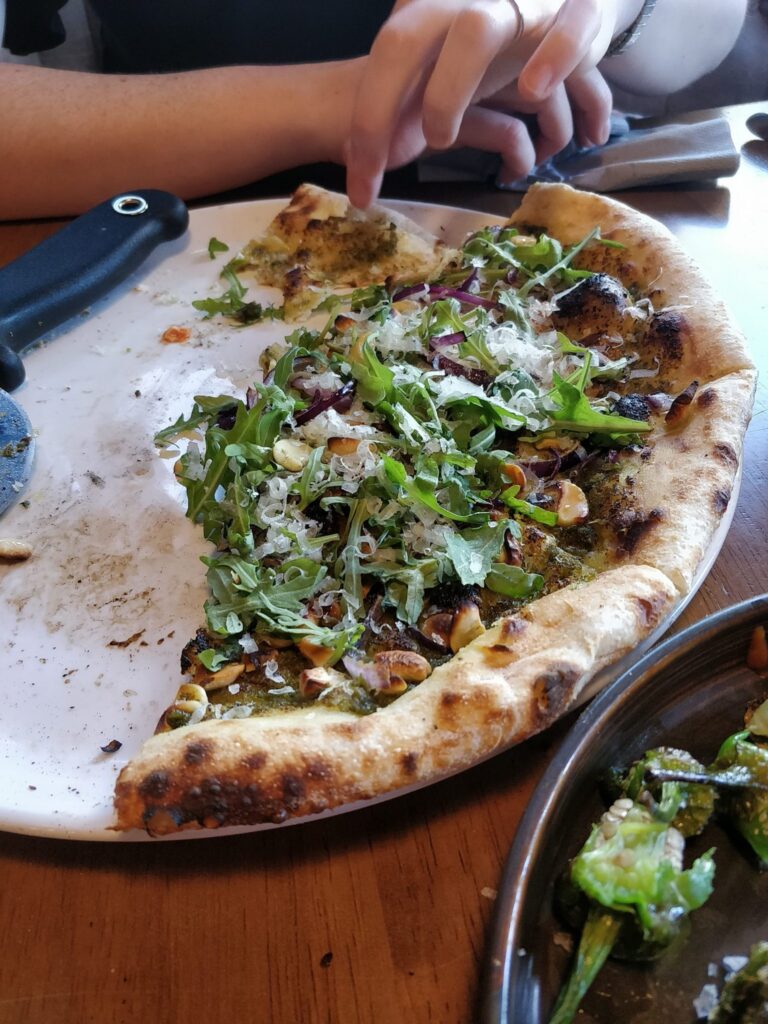 The Padron peppers were fantastic and roasted well. I'm a sucker for them when planning a barbecue, so seeing them done here and seasoned correctly was nice.
The nachos were just OK. We weren't expecting it to be a cold dish of chips, and with a cold cheese sauce, it did at time give a little nod toward cinema nachos, but the citrus elements did help lift the dish.
After digging in to the starters, it was pizza time
First bite impressions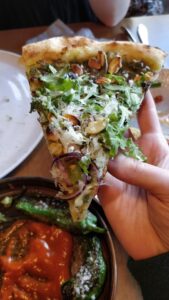 Oh sweet lord. Look at how gorgeous this slice is.
We've got a perfectly roasted base, perfectly roasted nuts, a roasty hue from the pecerino and a little bite of zingy freshness from the red onion and rocket.
This is a perfectly balanced first bite. All the flavours were mingling and letting us know this was a pizza absolutely worth the no sauce gamble.
There is truth in that it initially had a slight flop going on, but this pizza is fresh from the oven and would stiffen out over a few minutes.
For both of us the first slice was so good we pretty much stopped all conversation to embrace the pizza goodness.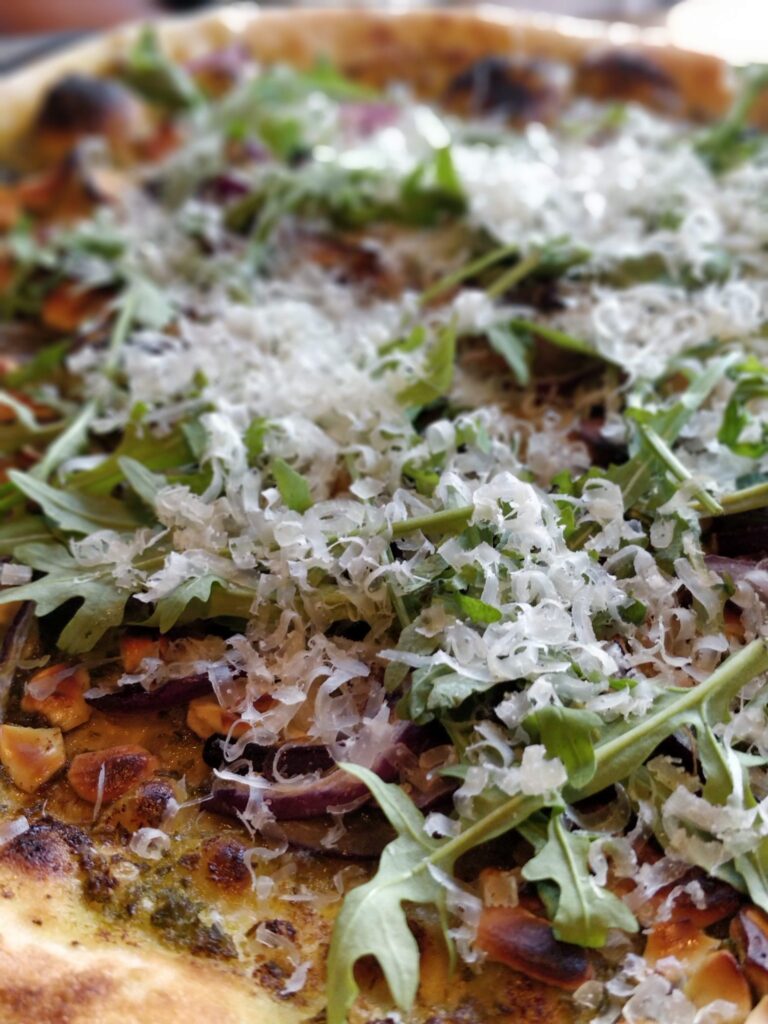 This pizza was perfect and lived up to expectations like it is no one's business. It was the kind of pizza that makes you stop, look around the place and wonder if everyone knows just how fucking good this is.
The Experience
Was it quick?
Yes. All the food was served quickly so it wasn't the case of suddenly having had finished a pint before any food comes
The service was also great. While ordering we were asking bits about the menu with the server. Because we ordered a bianca pizza and were picking nachos which were veggie by default, he asked if we were both vegan. We aren't, but he was smart for having a quick check just to make sure we knew the nacho cheese sauce had dairy.
Hygiene Rating
Scores On The Doors gives The Marcus Ward the complete Luniz (they got 5 on it).
While dining there the restaurant seemed very clean, very unlike the Stiff Kitten days.
Where is The Marcus Ward?
The Marcus ward is located at 1 Bankmore Square.
At the time of writing the square is in the middle of getting a whole lot of sewer work done. There's no alchies hanging about but the whole outside leading up to it is like one big building site. It possibly will remain that way for the foreseeable.
If you're not familiar with the area at all, it's to the left corner of Movie House on the corner of Dublin Road.
How can I order food from The Marcus Ward?
Well you gotta go there. From what we tell they don't do delivery on any of the main apps, but honestly it is worth venturing in to town for.
They open 3pm-1am Tuesday to Saturday
And they open 3pm-12am on Sundays
You can email to book a table at hello@marcus-ward.com or phone them on (028) 90328001
Is The Marcus Ward the best pizza in Belfast?
As it stands, if you're looking for head out and get pizza for dinner, it is in our opinion the best pizza in Belfast.
If this office building means the entire current building has to go, it'll be a shame. Not just because Movie House has to go, but because this is one of the best pizzas you're going to get in Belfast.
It was truly surprising just how good their food was. The menu is made by people who care about what they're making (bar the nachos) with a little detail to what they're doing.
As we sat watching them prep the meal in the corner kitchen, it is easy to see the right level of attention being paid to every little thing. Walk in to a Pizza Express or what have you on a Friday and you'll see stressed staff pumping up half baked pizza. That isn't the case here.
We can't wait to go back and see if their regular options are just as good. We really hope their sauce doesn't take away from an unbelievable dough and
Whilst eating we noted down in our Whatsapp notes that:
There is no flop
Fancy Garlic Bread
Dough is 100
Padrons Forever
Good date spot
Staff are great
This is a step above normal eating out pizza. Even though it's still a bar, it's a great fancy pizza option, especially if your first inclination is t go to the Pizza Express around the corner.
So far in our reviews, this is the best sit down pizza in Belfast. It just works on every level. You have to give it a go. And if you've never had a bianca style pizza before, this is the one to try.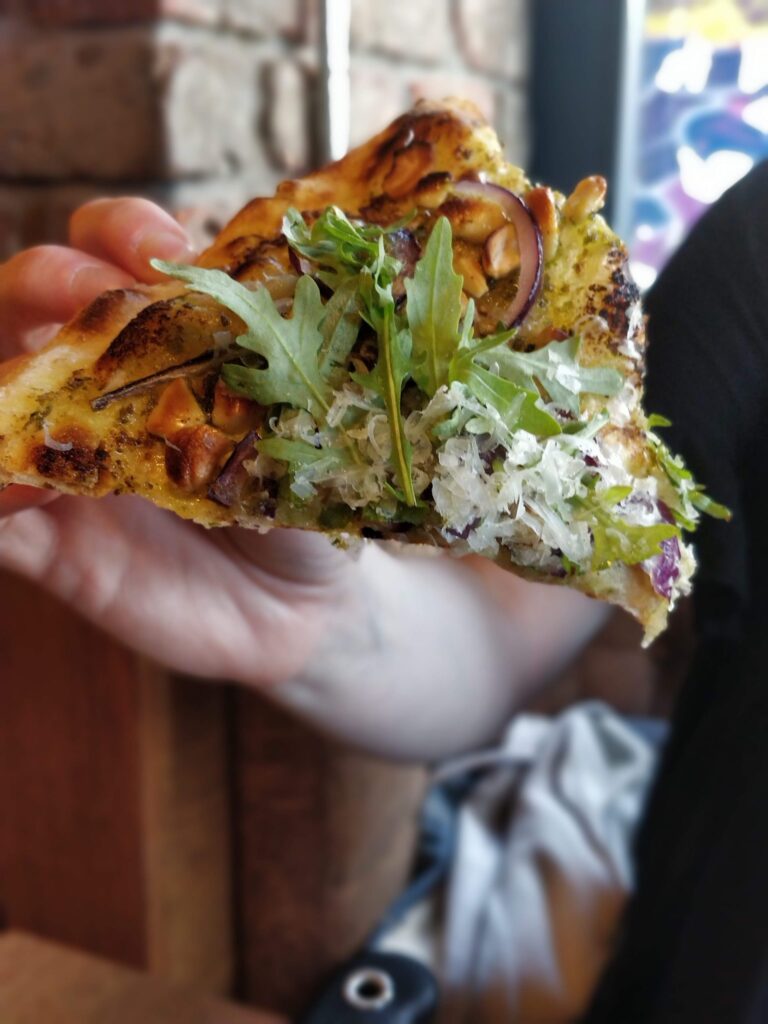 In conclusion, UPPA Marcus Ward.