Getting all trendy by going Boutique.
Even before the MASSY fire that bought down Primark, Castle Street was (in our opinion) one of the most underrated spots in the city- obviously as long as your cut-off is Poundstretchers.
West does amazing sandwiches. La Taqueria is nestled out of sight just teasing you with tacos and (RIP) Boyles Bakery was always a good shout.
Sitting smack bang in the middle of it all is Pizza Boutique. We'd been putting off doing a review because the logistical nightmare of trying to get in to town on a Friday evening to pick up always put us off.
But with their Instagram always seeming to show pizza perfection, and even a cheeky DM from them to try out their other location on Saintfield Road, we decided to finally visit the spot that was always out of sight, out of mind.
So would their boutique offerings live up to the hype? Or would it be a case of buyer's regret.
Let's find out.
The Food
Previous Impressions
All impressions were just from their tagged pics on Instagram. I mean, just look at one of these and tell me you don't want a slice:
What's on the menu?
A small but might pizza menu
Every pizza on the menu attempts to be trying something which is nice, but there are some offerings that do raise an eyebrow (looking at you prawns)
What did we get?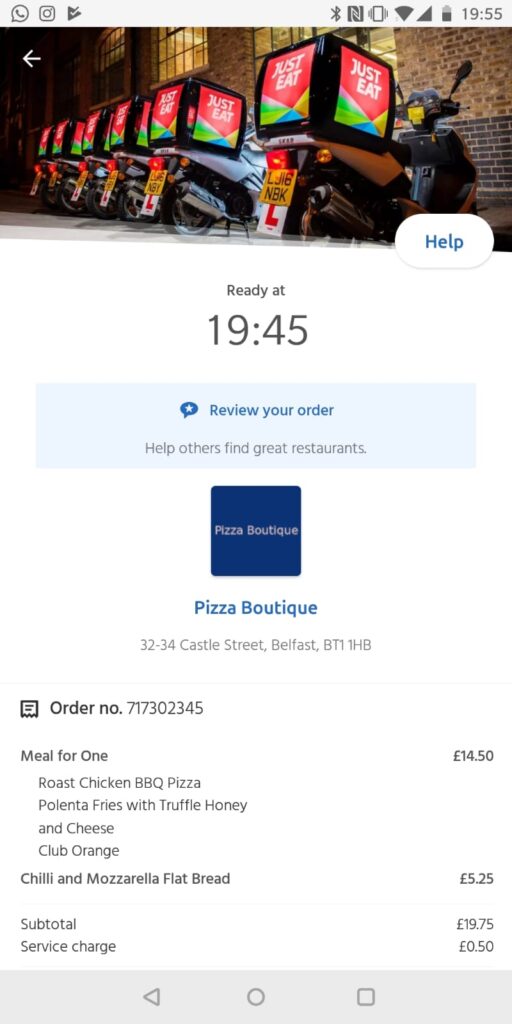 Not included on their website menus, but through Just Eat we did get the meal for one deal, as it seems more like something two people could split as long as you had a sneaky wee flat bread on the go as well – which is exactly what we did.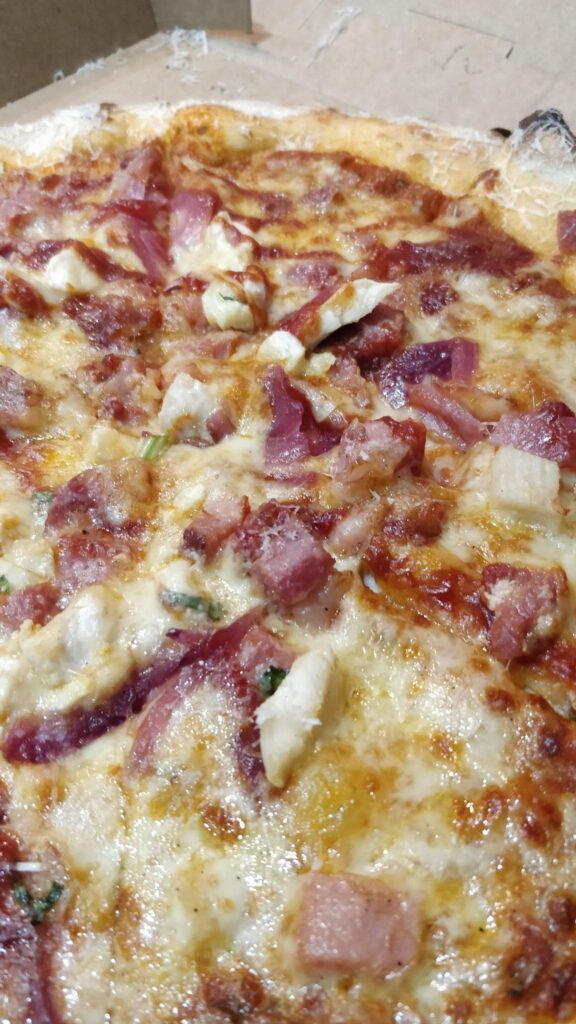 We ordered the:
Chicken Bacon BBQ which had maple bacon
Polenta Fries with Goats Cheese & Honey Truffle
Chilli & Mozzarella Flatbread
And a can of Club Orange
(when we got there we were given Tango)
It came to £19.75 all together. If we had have dropped the flatbread, the meal for one would've been £14.50, a bit on the steep end for single meals in our opinion.
Picking the Food Up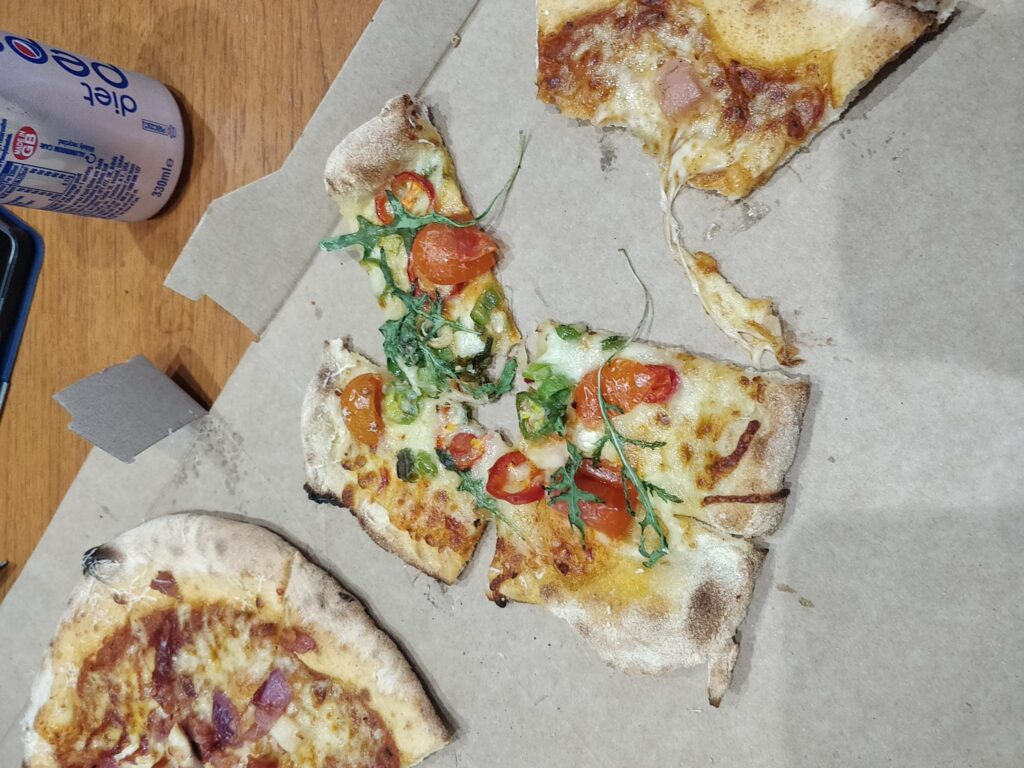 We bombed in to town (at a safe speed) to collect.
Going in, the place was absolutely pumping and packed. I couldn't figure out why all the customers were so loud as a I walked through. Once I noticed every table had different alcohol and the place was BYO, it made perfect sense.
If you were thinking of going here on a romantic date scratch it. It is most definitely a mate's place.
The staff all looked a bit confused when I went to pick up the order, but were all very nice and apologetic out the gate for getting me mixed up with another order.
Let's get this feast home and see what's going on.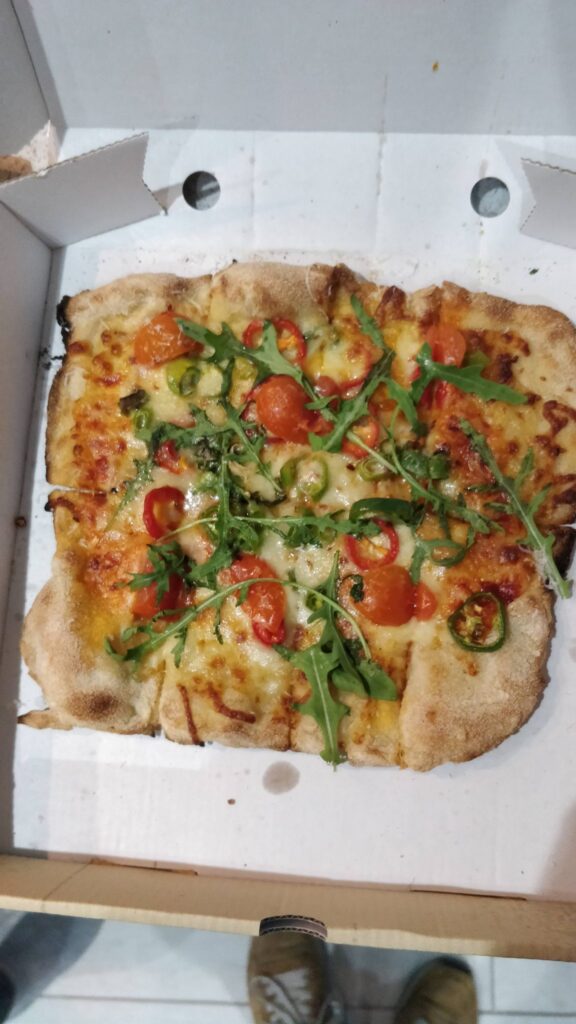 First bite impressions
Even though we'd got there earlier than advertised, the pizza was already sitting in the box, so we knew it'd have to get a wee go in the oven to reach optimal temp again.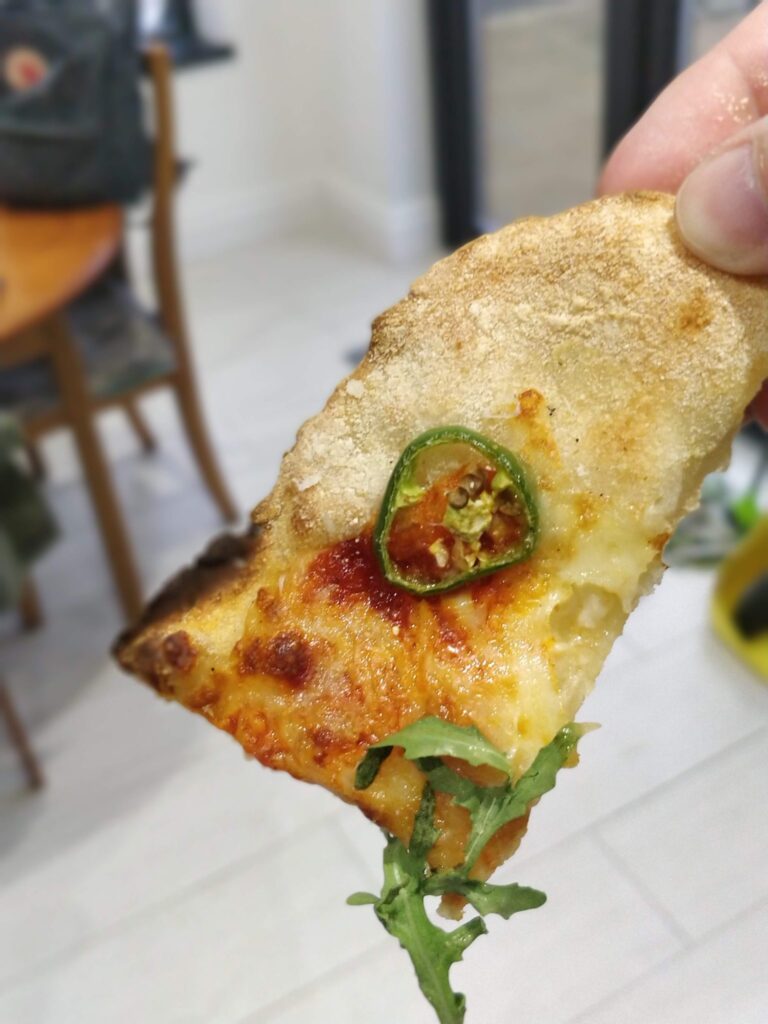 The flatbread was first. We're used to the likes of Dragon's Tongue from Green's and chilli breads from other spots, but we were not expecting this tame looking thing to absolute knock our taste buds for six. On the first bite I thought i'd accidentally bit in to a handful of jalapeno seeds, but no, the bread was spicy as f**k. Even D, who is a bit of a heat seeker, took her first bite and commented on how surprising it was.
With the pizza back to normal it was time for the real first bite. The cheese was fine. The texture of the bite was good. The chicken was grand.
Now the sauce didn't have much going on sadly. But because we had that bacon lopped on top, it did help punctuate a little smoky flavour on the slice which was much needed.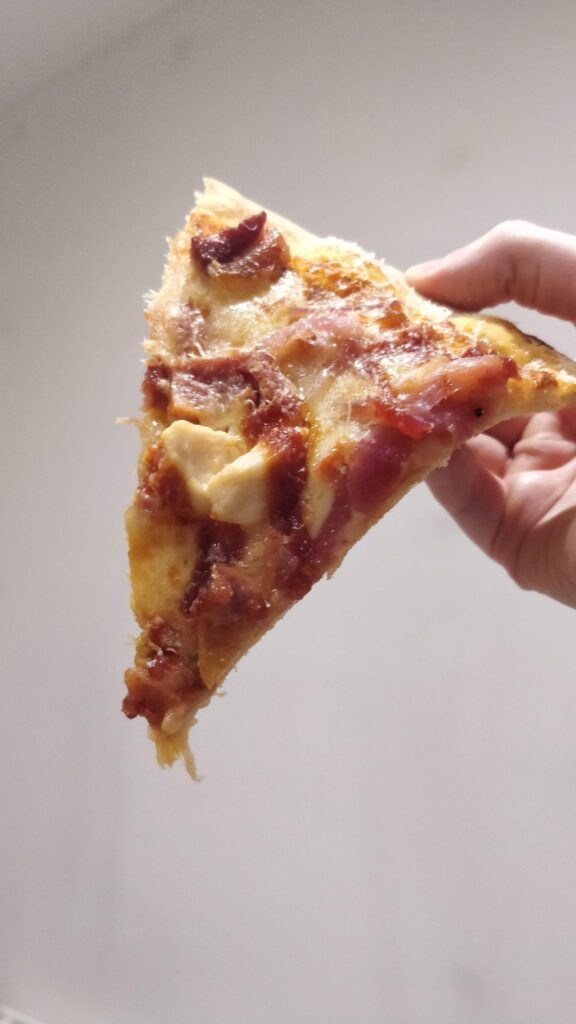 Although not advertised, the pizza also had red onion on the go. Thankfully it wasn't raw onion so didn't turn the pizza in to a nightmare quickly..
Getting the meal for one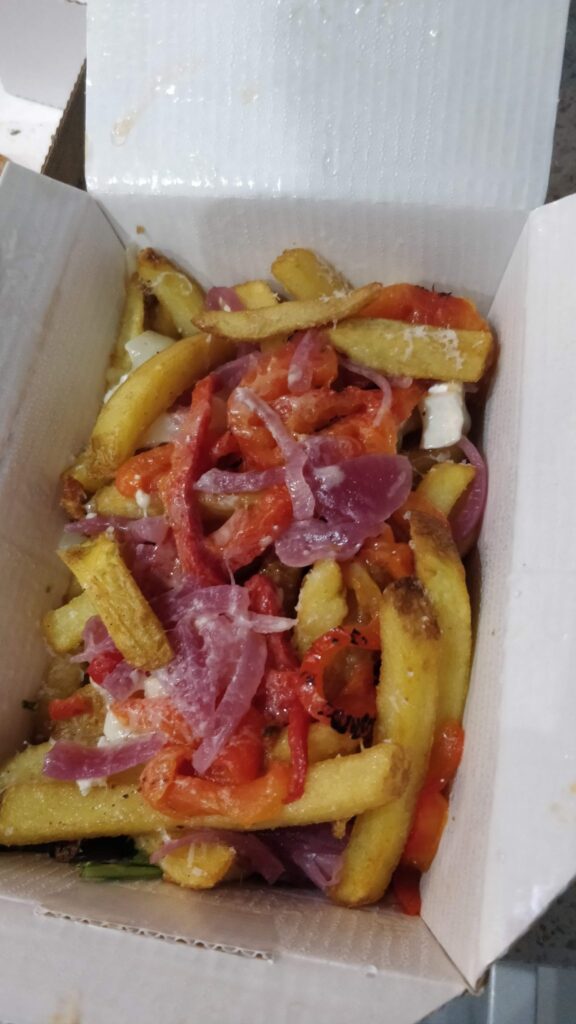 These are the polenta fries that came as part of the meal. Again, it had veg in there we weren't expecting. It did help a lot, but if you were someone who couldn't stand slices of tomato in your food, it would be a hard pass.
Also, one more note if you look at these fries. They definitely aren't Polenta, right? We were expecting those fish finger-y shaped fake fries, but these have to be regular fries, right?
If this was definitely being ordered as a meal for one, it would get you full up in no time at all.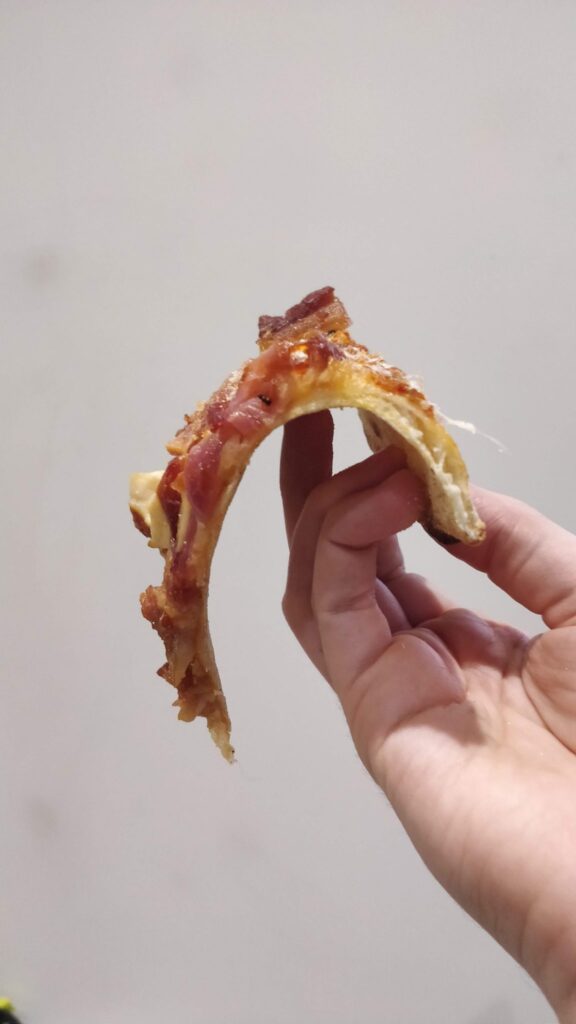 The Experience
Was it quick?
Yes it was. You can see from the image above that we were collecting (screenshot taken when back at the gaff). We arrived before 7.40 and the food was already sitting there in the bag.
Hygiene Rating
The Grubee site lists them as having a knockout 5 out of 5 on the hygiene ratings.
While in there it did look very clean.
Where is Pizza Boutique?
It is located on Caste Street right across the new entrance to Primark.
We snuck down to do a quick u-turn while picking up, but obviously there isn't any parking outside these days.
How can I order food from Pizza Boutique?
Either via Just-Eat, on by finding the relevant location on their website. You can also phone the Castle Street location on 028 90 312930.
They're open:
WEDNESDAY 4PM – 9PM
THURSDAY 12PM – 9PM
FRIDAY & SATURDAY 12PM – 9:30PM
CLOSED SUNDAY, MONDAY & TUESDAY
Is Pizza Boutique the best pizza in Belfast?
It's grand but it isn't the best.
Our notes we were writing whilst eating included:
Slightly nicer, fancier, wouldn't share it with kids
BBQ sauce isn't intense but bacon makes it smoky
Good crust
Flatbread would destroy people who can't take spice
We didn't finish the flatbread, but easily polished off the pizza.
If you're looking for something on your big pizza night, we would recommend gong it a go to try new flavours as a new topping can open your eyes to a whole new wold of possibilities.
It was a solid pizza, and maybe eating it with it 100% fresh from the oven would make it excellent, so maybe we'll have to sit in next time.
And (most importantly) what did Sam think?
Crust had good chew. Sniffed flatbread and ran away.
Three and a half barks out of five.