Once again we head west as another pizza spot pops up on the mark. But is it any good? Let's find out.
West Belfast must be full of pizza lovers. You could start with a pizza at one end of the Falls Road, throw a slice like a discus (please don't as its such a waste of pizza) and pretty cure you'll hit a pizzeria quite easily.
Roccos is relatively new to the area, having previously been Pizza Box, and a cafe we can't recall the name of before that.
We're big believers in going somewhere new for a review as it's a good way of seeing what the lay of the land is like when a pizzeria, or any restaurant for that matter, is starting out.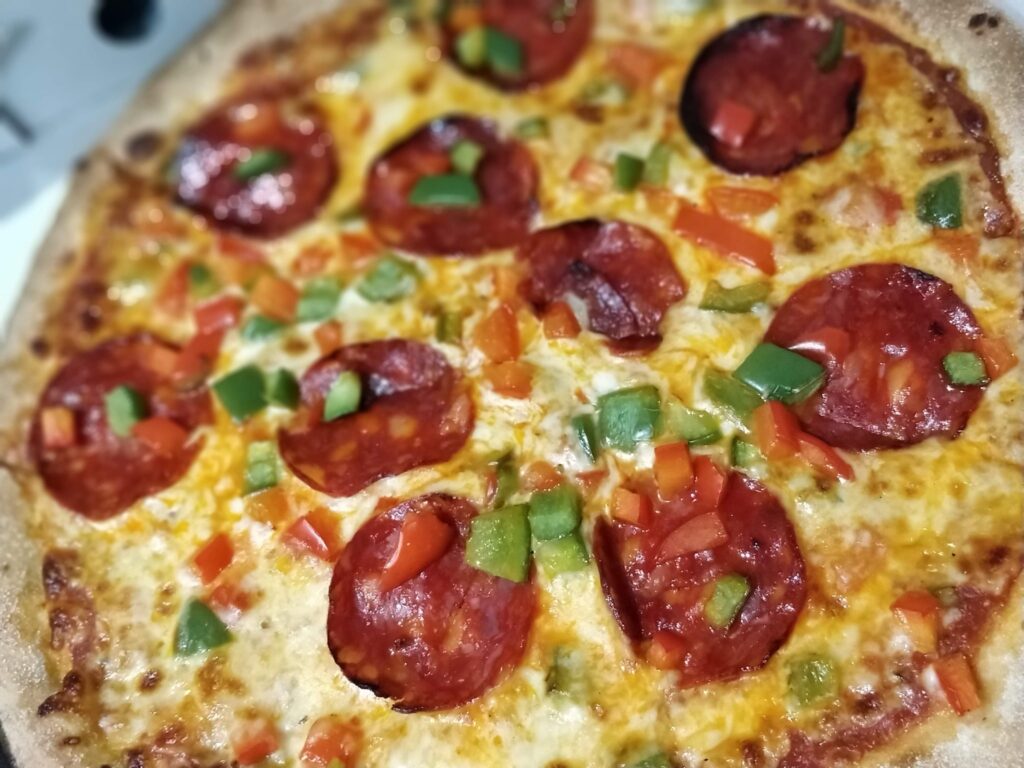 The Food
Previous Impressions
With it being new when we tried it out, this was our first time getting pizzas from Roccos so hopes were high.
On the evening in particular were were absolutely starving and as soon as the order button was hit on the app that rhymes with Blust Bleat, the countdown was on.
What's on the menu?
We have a solid pizza menu here. 14 options is an all right number to have. We think when you see a menu with anywhere near and above 20, that's somewhere that doesn't really care what they throw on their dough.
Last we checked they hadn't changed the menu, but check out their Facebook page to see individual items and if there are any limited time offers.
We ordered the food for delivery. We'd just been down the local (shout out Jeggy Nettle) and ordered walking back to the house for some much needed soakage.
So let's see what we're about to dig in to.
What did we get?
We couldn't decide on any set pizzas from the menu.
D doesn't like pepperoni in any forms, but we had a hankering for some form of meat. Noticing that chorizo was an option, it had to go on.
We opted for Meal Deal 2 which included:
12″ pizza with two toppings
(chorizo and peppers)
A side
(we chose garlic criss cross fries – a phrase that's delightful to say)
Taco Dip
Kinder Bueno Dough Balls
Two cans
(ordered Sprite and Fanta Lemon ((lemon is never on menus so YES)) – although we got Sprite and Fanta Orange)
The drinks mix-up wasn't like the recent kerfuffle from our Pizza Works review as we ordered on an app, but hey-ho what can we do now.
The meal deal cost £10.50 minus delivery; quite a bargain if we do say so ourselves.
First bite impressions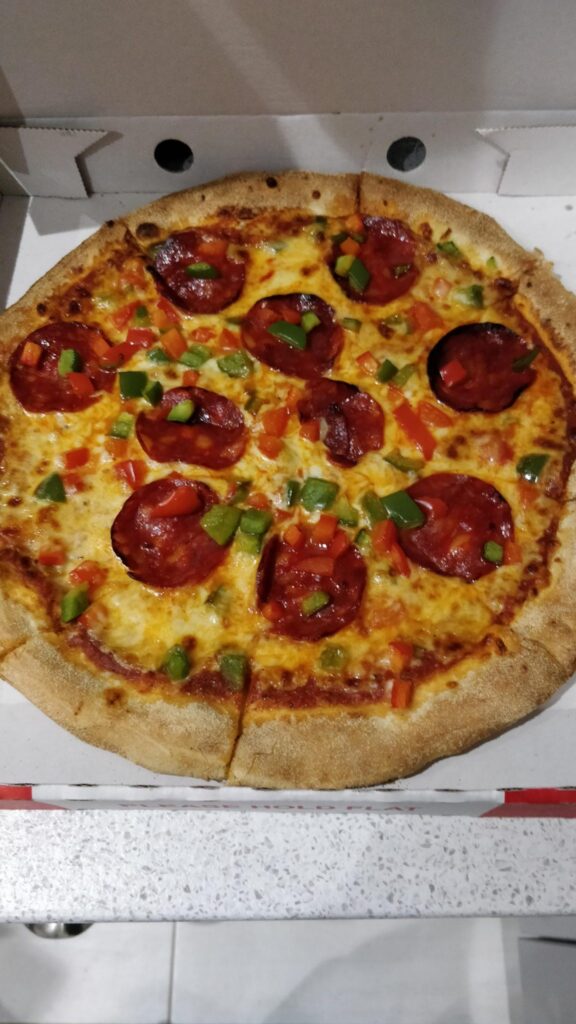 At first glance its an all right looking pizza. It arrived a touch on the cold side (you can see from the way the cheese is sitting on those bottom slices) but we had the oven in in prep to get the pizza back in action as a moment's notice.
That meant it was a trip to criss cross garlic fries time while we waiting a few minutes for the pizza to get to prime conditions.
Bathing in Garlic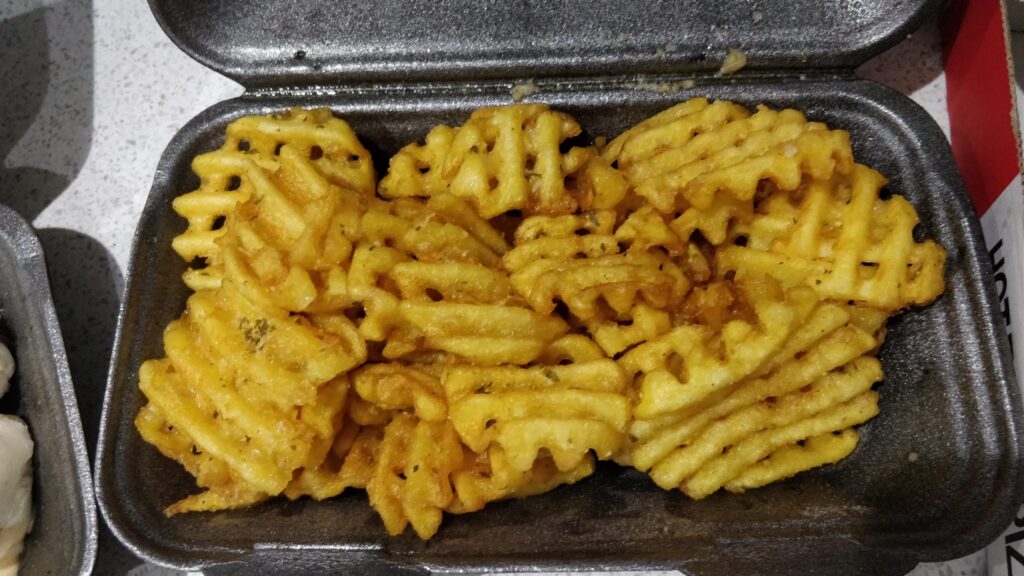 Take a look at this. These are the most unassuming looking criss cross/ lattice fries you would see. They just look as plain as normal.
NUH UH. Let's enhance!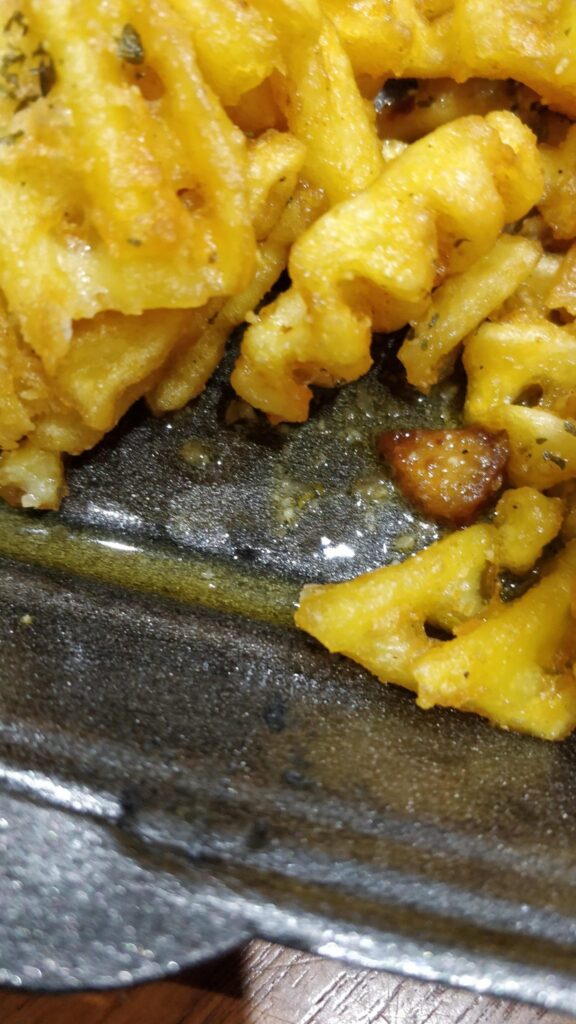 These things were dripping in garlic oil. And did make them taste bad? OH NO! They tasted in-bloody-credible. Their shape held the sauce perfectly without having to turn in to a mushy or soggy batch of fries when opening.
We all know what its like when a bag of chips or fries don't travel well. This was the exact opposite. They tasted fantastic.
The taco dip that came with them was insanely spicy for some reason. I originally thought I caught something in my throat or there was a surprise on my fry it hit me that bad, but upon D checking it was indeed a heatseeker's sauce.
Pizza's Ready!
Now that the pizza was ready again, it was time for the first bite.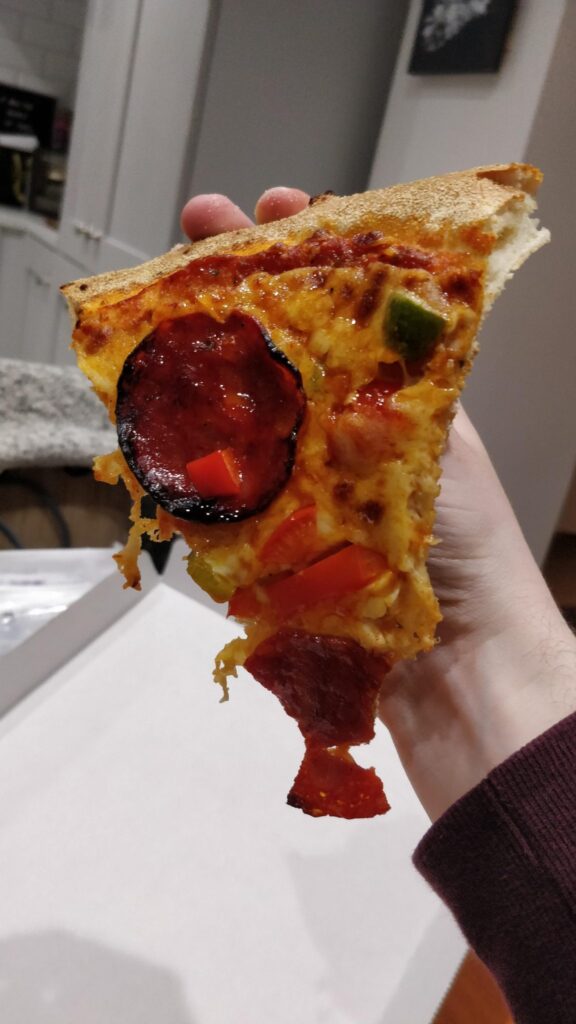 So what first stood out was that it was sliced chorizo and not chunks. On the bite it tasted more like pepperoni than chorizo and the edging of the slices (of the meat) was a bit burnt, which didn't make much sense when you look at the peppers on the slice not matching the tone.
The sauce was decent and the cheese was plain. The peppers raised some question. The size and shape or them isn't very common on most pizzas and the texture made us wonder if this way in any way frozen or really chilled veg that was put on top while still very cold; hence it not tasting fully cooked.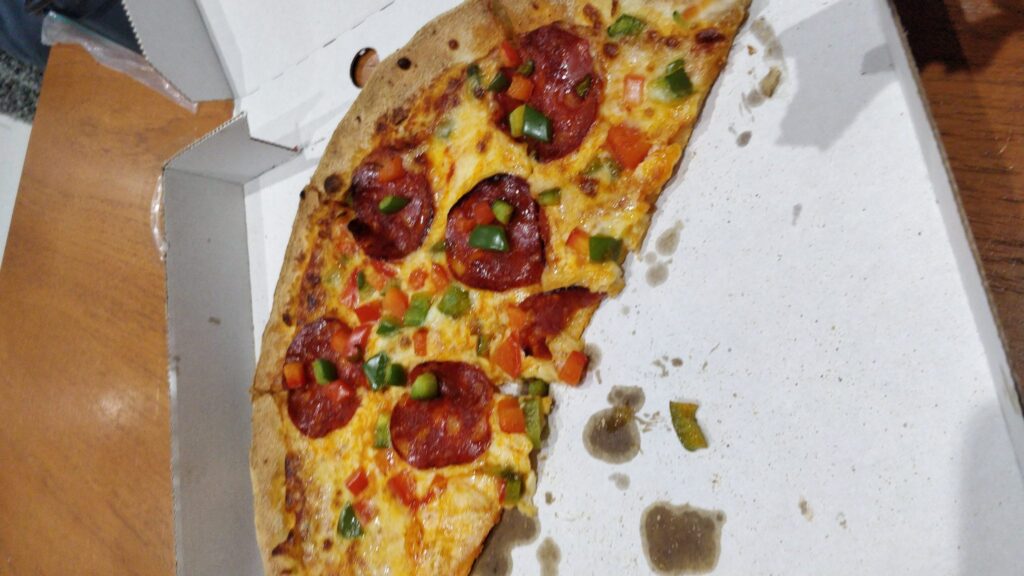 Not finishing in one go
As we dug in, the pizza was OK. Usually we'll be 3/4 of the way through before we've got all our notes written down, but as got about halfway we found ourselves more interested in the amazing garlic fries over the pizza.
Usually it's a negotiation over who gets the last slice, but we just ended up boxing it for munching on the next day if we were bothered.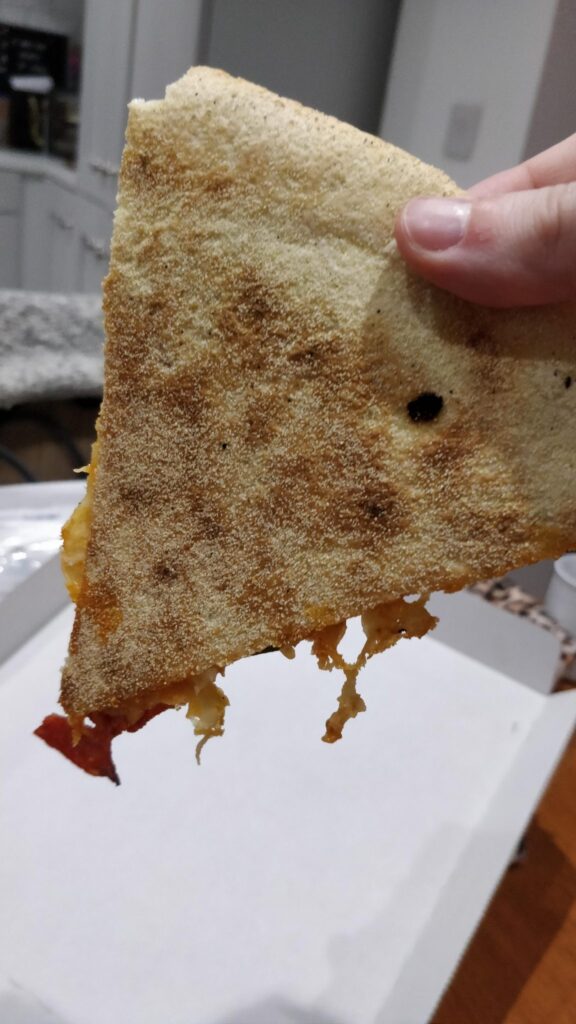 The crust was fine as well and good for dipping. But again, if you compare the lack of char on the bottom of this slice with the look of the pepperoni pictured above, you're left wondering how exactly the pizza was cooked.
Then we remembered the dough balls
Would you take a look at this right here. This should be in the Ulster Museum.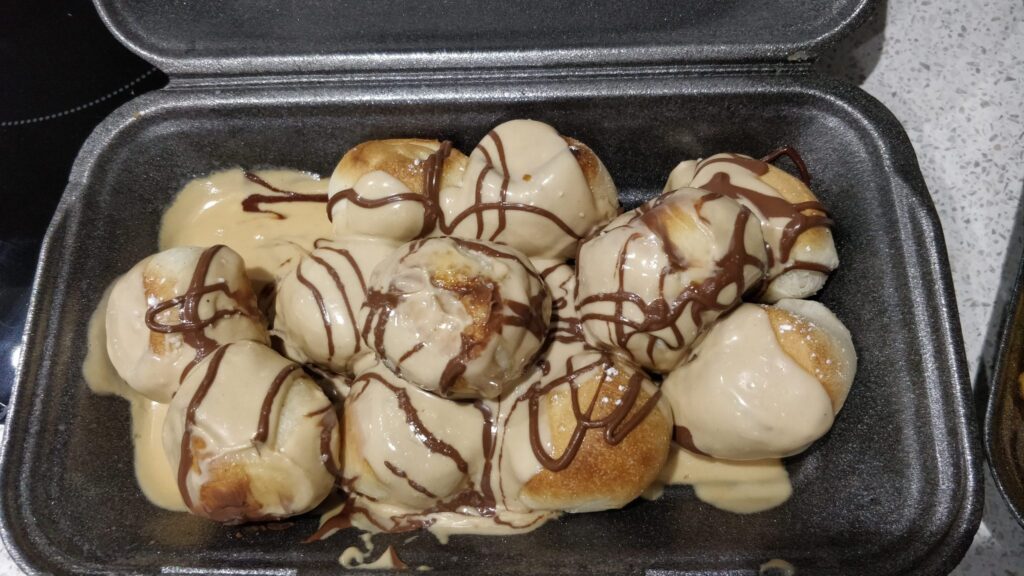 We don't really touch desert when we're doing pizzas for review. But because were that hungry and the name piqued interest, we had to see what the Kinder Bueno dough balls were all about. We were expected balls stuff with some sort of chocolate hazelnut filling, but this was on another level.
It was messy, gloopy, hard to handle desert….and it was absolutely beautiful. Usually it's the pizza that we stuff ourselves with and feel bad after, but these are the devil in the nicest way possible. There was decadence in every one, and we knew we wouldn't be able to finish them, but somewhere we did.
And then we had to go lie down in food comas.
The Experience
Was Roccos Pizza quick?
It was about 35 minutes from hitting aye on the order to getting the knock on the front door.
Roccos Pizza Hygiene Rating
At the time of writing, and because it was only open a few weeks, there is no FSA rating or Scores on the Doors. If we find out in the interim, we'll come back and update this post.
Where is Rocco's Pizzeria Belfast?
They are located at 44 Falls Road in West Belfast.
How can I order food from Roccos Pizza?
You can phone them on 02890 311166.
We ordered via he Just Eat App.
When is Roccos Pizza open?
Roccos Pizza is open:
Monday– Thursday: 17.00-00.00
Friday & Saturday: 17.00 – 02.00
Sunday: 17.00-00.00
Is Roccos Pizza the best pizza in Belfast?
It'll do like.
The pizza was OK and did the job but there was nothing special about it. We'll give it another go in the future to see how things have come along, but for now it's just grand.
On the flip side, if you're someone who LOVES getting good sides with their pizza, we're going to rate them straight away. They seem to advertise their deserts and milkshakes a lot on their socials. If the range is anything like those dough balls we had, there's an argument that have the best sweet treats in West Belfast, but sadly not the best pizza.
And of course…what did Sam think?
Crust was soft.
Meat topping was nice.
Had garlic breath for a few days.
Two and a half barks out of Five.