Once again we went up west to see if it really is the best!
(and oh my were we surprised!)
To say we do a bit of research when figuring out where to order pizza from would be understatement. Every time we know we'll be getting ready to review a pizza there is a palpable buzz in the air as we pinch and zoom our way around Google Maps.
We trawl through Facebook pages, battle the mountain that is terrible after terrible pizzeria website and eventually settle on somewhere we hedge our bets will have the pizza just out of the oven by the time we get there and back home to tear in to it.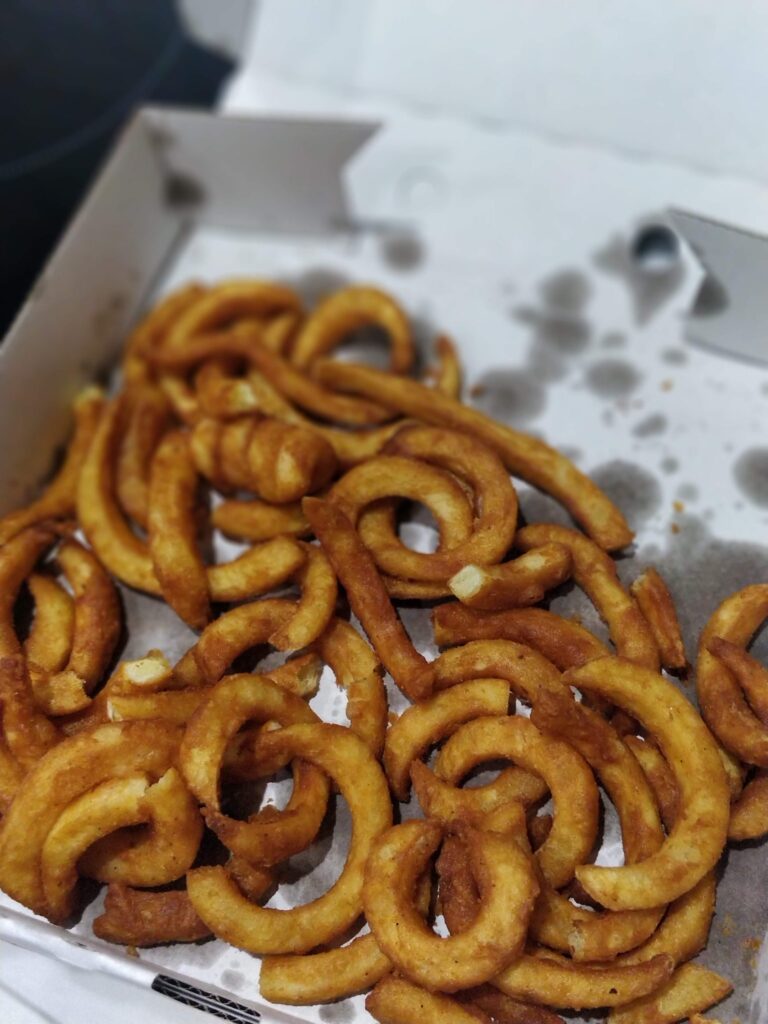 This time round though, we didn't really bother doing our research as we were both busy. Instead we just had a quick scooch on thon Google Maps, realised we'd never ordered from Crust and got an order in.
Then it was straight over west, along the falls and up the Glen road to pick up what seemed like a cheap ass deal for two. Due to the volume of food and the price our expectations weren't so high, but driving back and having the obligatory sneaky curly fry from the box, tastebuds and alarm bells started ringing.
Were we about to have the best freaking food so far on our pizza journey? Without giving away too much, read on…….
The Food
Previous Impressions
We never had Crust before. It was on the radar a few times when we've opted for getting food from Pizza Guyz and Isabella Pizzeria, but never on the forefront.
What's on the menu?
No messing about with this menu and that's what we like.
Everything is clear cut, to the point and they don't make you have to do mental gymnastics to figure out whether deals are worth going for.
Not pictured here, but something we thought was a nice touch, is there Kids Meal which gets you a 7″ pizza with one topping, chips and a drink for £3.95; the kind of deal that makes you wonder why people even bother to get a Happy Meal down the road when there's local spots like this doing miracles.
We ordered to collect from Just-Eat, with a wee 50p admin fee knocked on for the privilege.
What did we get?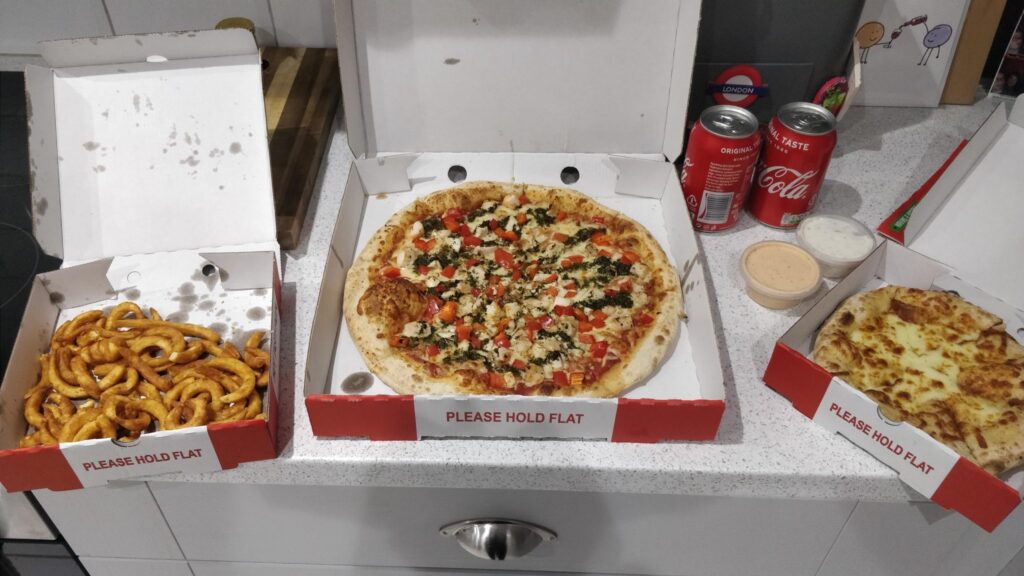 We got their meal for 2 which is listed as:
Any 12″ Pizza OR 3 toppings + fries OR twister fries OR wedges + Garlic Bread OR Nutella dough balls + 2 dips + 2 cans or water

We opted for:
the 12″ Pesto Pizza which had Chicken, sweet red peppers & drizzled in pesto oil.
stupidly delicious twister fries
garlic bread (which was actually in glorious pizza form – a favourite of ours)
two cans of full fat coke (because it was Friday and we wanted to live a little)
a taco dip and garlic dip
The total for the food was about £13.95. The price being that low raised a few eyebrows that this was either going to be extremely sub-par, or it was just a case of West Belfast prices.
We've come to realise so far in doing these reviews that pizzas in the west are usually cheaper, with North Belfast (Glengormley and Whiteabbey direction) being the dearest.
I (G) had not eaten all day and was absolutely starving picking this up and smelling it. That meant my first bite was going to be a very critical one indeed.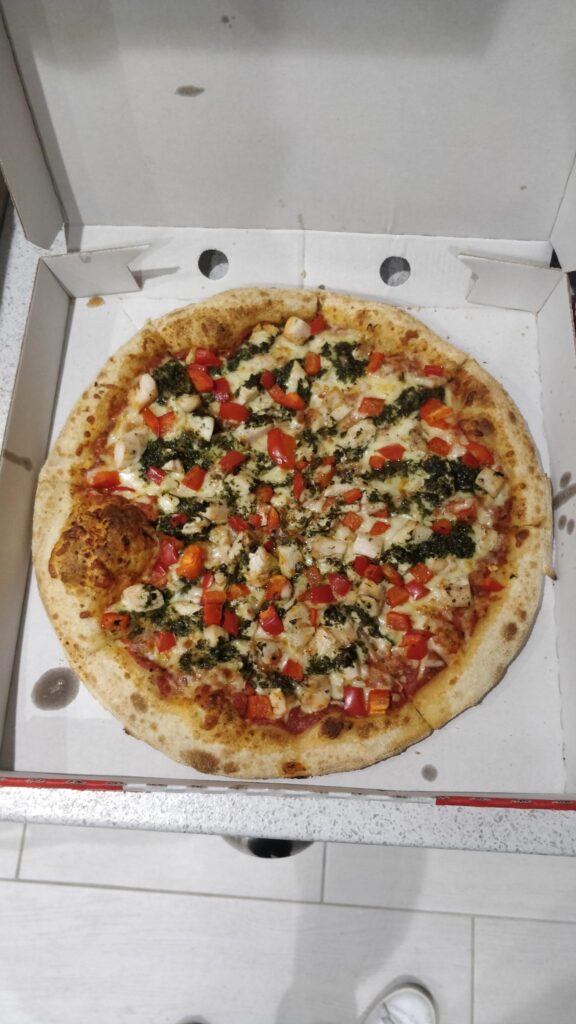 First bite impressions
Chunks. Love chunks on a slice. Ever bite in to a pizza with onions or pepper and be met with that lanky slither of veg that you have to navigate around to get a good bite?
This pizza didn't have a good bite. It had a GREAT bite. The first slice was done in about 4 bites. Everything on top complimented each other, the coverage was OK and the tomato sauce has a lovely wee tang to it that the pesto mixed well with.
The pizza was also a magnificent example of architecture when you see the flop this thing had. Just look at this….
This is the kind of flop that the Teenage Mutant Hero Turtles would be proud of (and yes we're saying Hero to follow CBBC rules)
After the initial slice we both had to stop to take a moment. We both realised this was arguably the best pizza we've had so far. Everything about it shouldn't have said as such, but it was living beyond it's potential.
And then we got to the garlic bread.
The Garlic Pizza Bread Paradox – Revisited
If you read our last review of Pizzarella in Glengormley, you'll know that we hated having to pay almost a fiver for what was essentially a slightly nicer Tesco value Garlic Bread that was advertised as Garlic bread pizza.
Crust must've known we're the kind of folk who won't stand for it and offered up this glorious garlic pizza bread.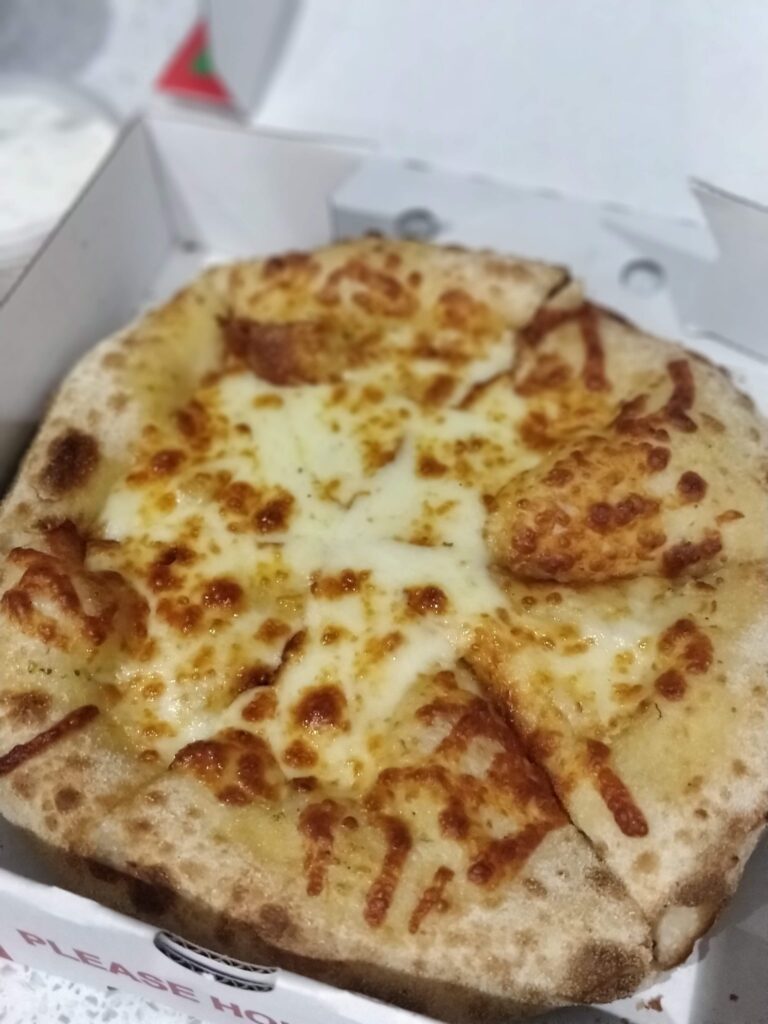 Just look at the cheese coverage in the middle of that baby. You can see lovely brown bubble on the top and crust, and the thing isn't swimming in oil like many garlic bread pizzas can be.

Saying that, biting it you weren't met with a strong taste of garlic but just a chunk's worth of mozzarella in each bite. It managed to get everything about garlic pizza bread right apart from the level of garlic intensity.
Honestly it was the only downside we could find to this meal, and for it being in the £14 region, it was impressive, especially with a garlic dip to use to help bring the flavour back up.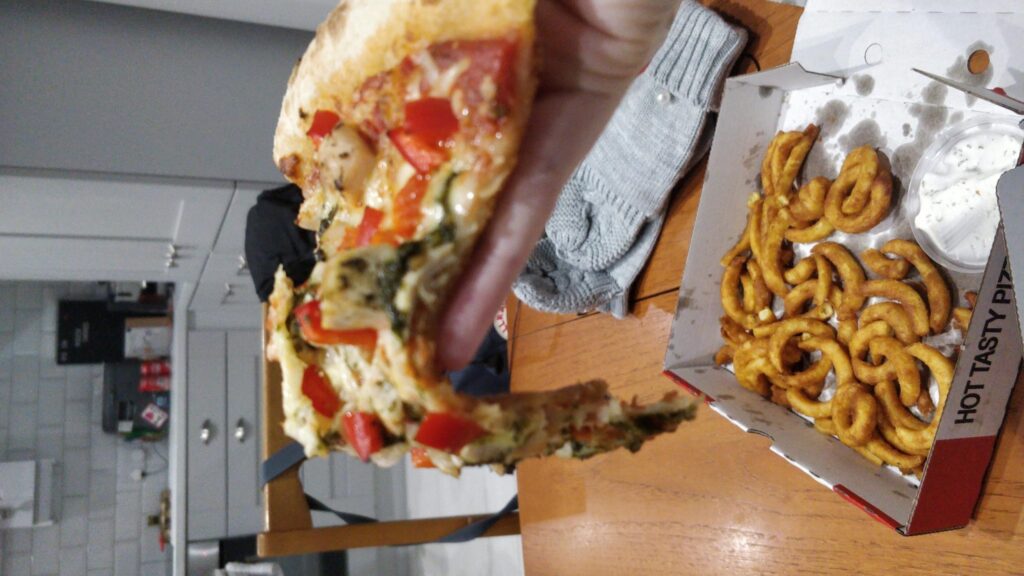 The Experience
Was it quick?
Yes. We ordered on the Just Eat app and got straight in the car. The journey only took about 10 minutes.
When I went in the food was ready and sitting, but I couldn't pick it up. They don't take card (bit weird considering they take Just-Eat orders and I know card devices can be as little as £29 these days) but there's a cash machine a few doors up so no biggy.
We got it straight home and it was ideal eating temperature, i.e. no burnt roof the mouth
Hygiene Rating
The FSA site (at the time of writing) has given it a perfect five, and it looked clean to me. While I was only in and out two times, the staff were all looking clean (nothing worse than seeing a grotty pizza maker in banged up pair of Sambas), and the food prep areas all looked clean.
Where is Crust Pizza Co?
Coming from every direction bar south, Crust Pizza Co is just off the Falls Road a little bit up Glen Road. If you're ordering from there for the first time and driving southwards on the Falls road you just take the second exit on the roundabout you see McEnaney's on.
Parking outside was OK as it's located in a small block of shops, but driving in to the front is enough to make you lose it with drivers in the area blocking the entrance or parking up in the middle of the road to hop in the offy.
How can I order food from Crust Pizza Co?
Either via Just-Eat, on the Crust Pizza Co website which is surprisingly good for a pizzeria, or by phoning them on 028 9034 2420.
When is Crust Pizza Co. open?
Crust Pizza Co is open:
Sunday to Thursdays – 4.30 pm – 12 pm
Fridays & Saturdays – 4.30 pm – 3 am
Is Crust Pizza Co. the best pizza in Belfast?
For now…..Yes!
Honestly we were surprised as hell at how good this food was, especially for the price. A meal deal for 2 with obligatory leftover Saturday morning breakfast slices shouldn't be this good if it only costs £14, but it does!
Whilst eating we said:
Chunks are great!
For being a pesto pizza, it isn't drenched in pesto oil
The peppers aren't raw and tainting the bite
The bottom was super floppy but NOT soft when chewing
The crust was top notch
The garlic pizza bread wasn't as good as it could've been, but the dip kept thing above board
The twister fries were cooked and seasoned to perfection; so much so that it was difficult not to eat them all before we could bring them home for obligatory photos
The fact that the deal came with dips too (looking at your again Pizzarella) was a bonus and their taco sauce really did have a spicy kick to it. I imagine their taco chip must be unreal.
This whole meal is perfect for nights when the family doesn't need to cook, and we imagine that when it comes to late night sports events (McGregor fights, everyone staying up for Wrestlemania) it's instantly up there in our minds of where to get a reliable late night feed from now on.
For now, Crust Pizza Co is highly rated as one of the best in Belfast.
And (most importantly) what did Sam think?
Crust was fantastic.
Was difficult to be sitting and watching the slice flop with no chance a cheek bit of chicken would find its way on the floor.
Twister fries cause many lip licks.
Four barks (and a paw scratch for another bit of crust) out of Five.