Do we like Pizzarella-ella-ella-eh-eh-eh?
Last week seen us having to pick up people from Belfast International. Spending anything more than 10 seconds anywhere near that airport, especially in the pick-up spot, is as close as you can get to a personal hell.
Luckily, we had one thing on our mind waiting to pick up folk:
PIZZA – specifically that of Pizzarella's
So what was it like and does Pizzarella have the best pizza in Belfast?
Let's find out.
The Food
Previous Impressions
Pizzarella had a lot to live up to. Dee had always sworn by it. Growing up she was a big fan of their Hawaiian and I vaguely recall having a good drunken munch on their garish "fry" pizza about two years ago when in the area.
Drunk pizza is by its very nature a five star pizza though, so with clear minds and very empty stomachs we picked up our passengers, passed about the phone to scope the menu and phoned in an order to collect what we hoped would be the best pizza in North Belfast.
What's on the menu?
Much like our last review of Love Pizza, Pizzarella did not have a good website. In fact they didn't have two good websites: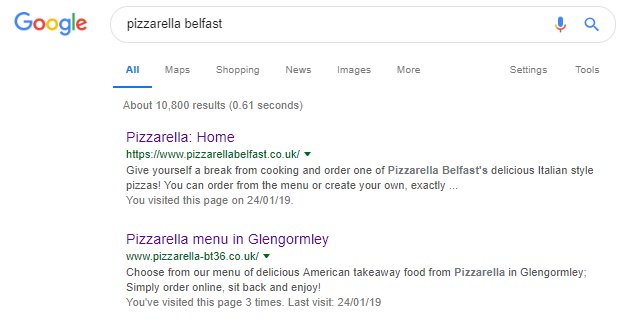 Going on either site, it was clear they weren't looked after and one was leaning heavily towards getting you to order on Just-Eat. We attempted this at first before realising it was only delivery only, so a call for collection had to be made.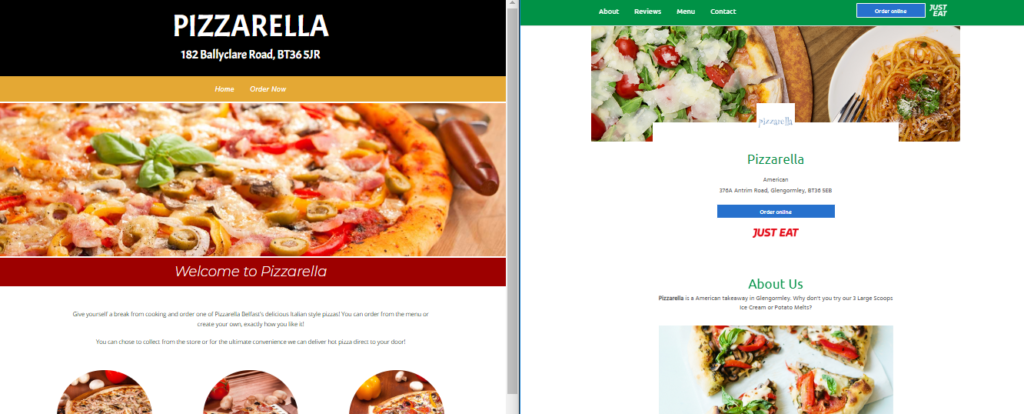 The big red flag before ordering was that their deals were topping specific and not pizza specific. i.e. You can't order a set pizza as part of the deal, you can only pick 1 or 2 toppings.
Bit odd, but it seems to be a thing in pizza places in the area do.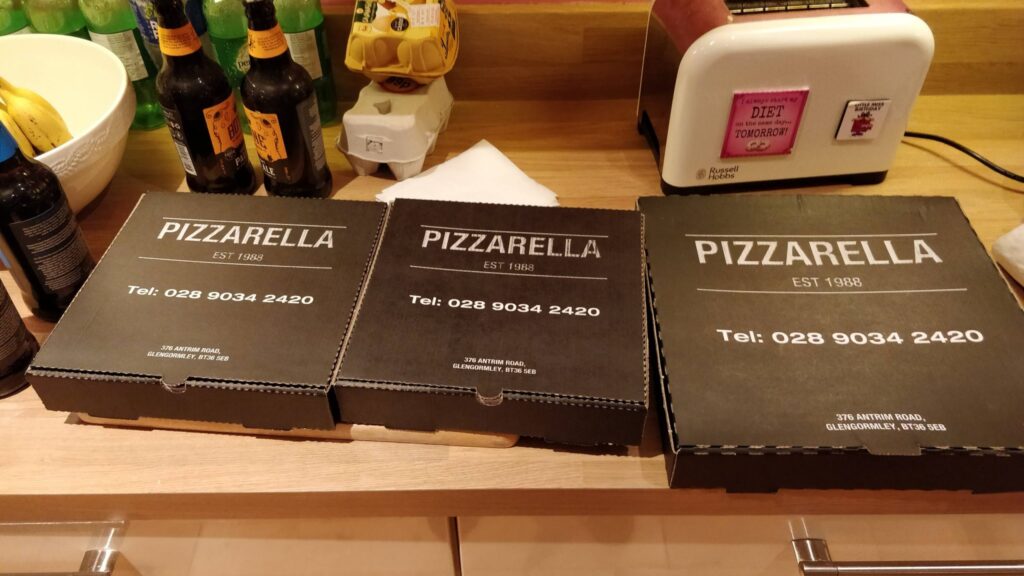 What did we get?
We got a lot of food for the 4 of us. It included: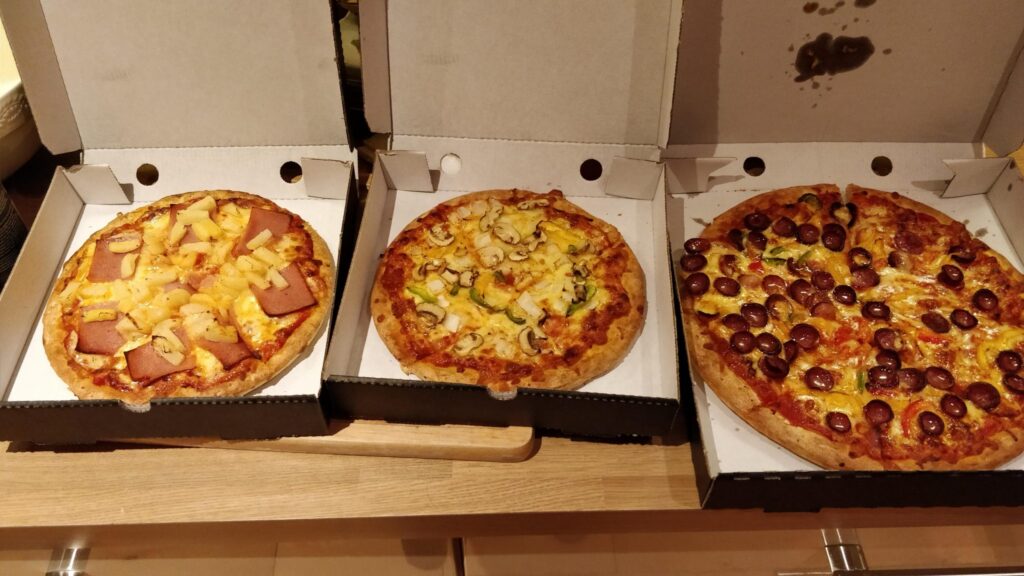 12″ Pepperoni Pizza

It had the cupped pepperoni (the best kind) and peppers

9″ Vegetarian

Peppers, onions and mushrooms

9″ Hawaiian

Chunks of pineapple and, as you can see, big ham slices

1 Chip
1 Garlic Pizza Bread
The total for the food was about £28 ( I can't remember the exact price, but that's what it adds up on their site and it seems right).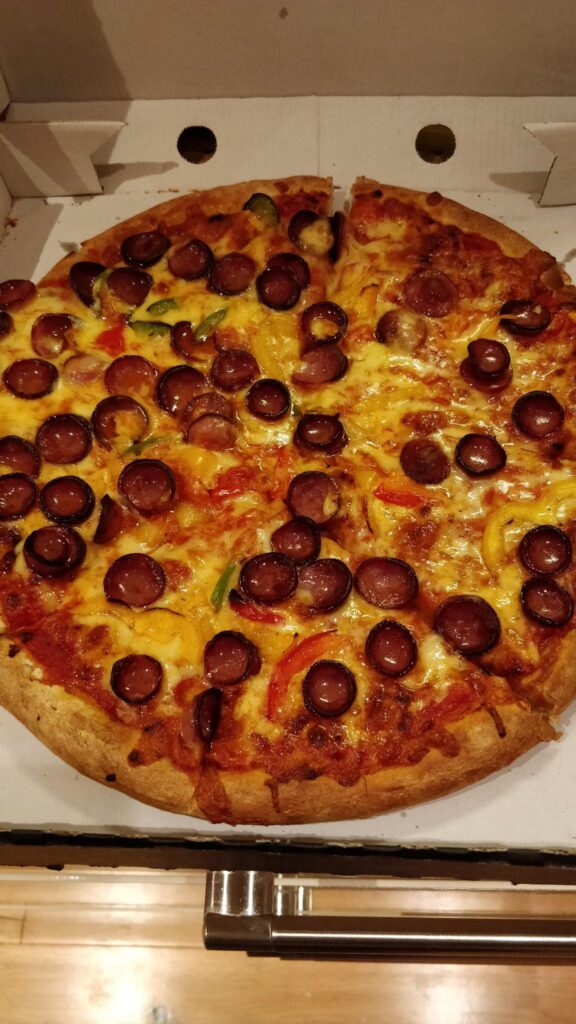 With two of us just back from a long flight, and two of us having skipped lunch for this pizza, it had a lot to live up to.
First bite impressions
That first bite in was a case of "I'm eating this because I'm starving". We all inhaled the first slice. I asked around what everyone's first impressions were but the pizza hadn't even registered for us.
The crust was good enough, but (having the pepperoni) I couldn't get anything from the sauce. A bit of pulling the pepperoni off to nibble on/give under the table to Sam and judging the crust it all seemed to be OK.
That was until we got to the "garlic pizza bread"
The Garlic Pizza Bread Paradox
Reading the menu driving there, we were under the impression that the garlic pizza bread would be a flat base with garlic and cheese (£1 extra) on top. I was really excited for it and was a bit curious why I only got handed three boxes in the place, but was told the garlic pizza was in the bag with the chips.
Opening the tinfoil to see this (£4.60 like) confused everyone. We didn't know if I'd mistakenly asked for the wrong thing on the menu, so had to check again. It is the only garlic option. We were a bit miffed, and then opened the chips.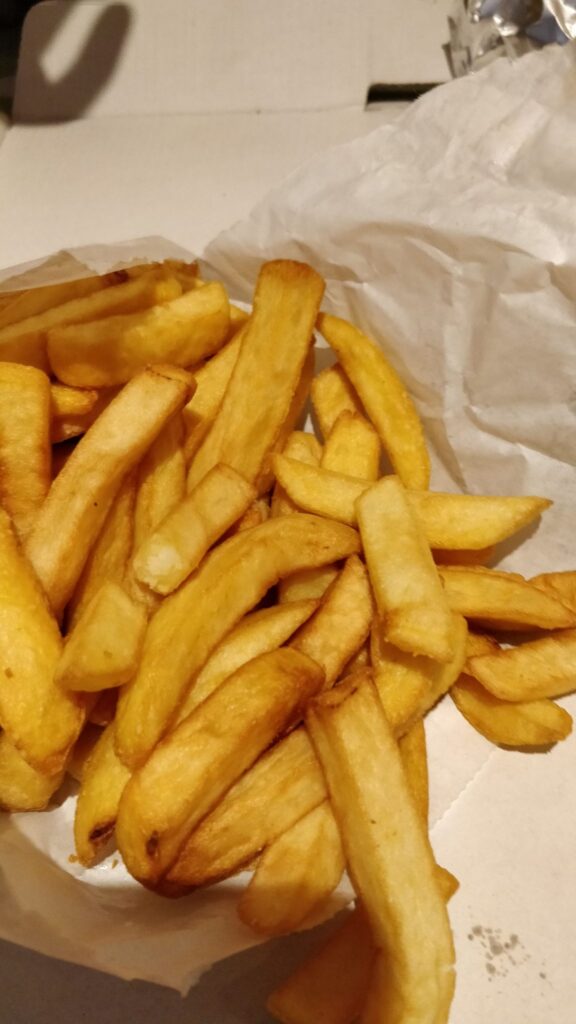 After a few weeks of having amazing twister fries we'd munch on while bringing every precious pizza home, getting a solid bag of chips was meant to make for a great change. Again though, they were just OK and I kept dipping my hand over just because I was starving from skipping lunch.
The realisation that we paid almost 30 buckaroos and didn't even get a cheeky wee dip included with anything was annoying. Picking up pizzas from the likes of Litte O's and Pizza Guyz we've been asked if we want a dip tossed in the bag gratis and it helps a heap when I get to dunking chips or my crust in.
Here though it was like "oh ok".
As we continued eating it was less about enjoying it and more just eating it because it was dinner time.
The Experience
Was it quick?
Yes and no. On the phone I always ask how long it will take. Was told 15 minutes when we were just leaving the airport and driving straight there, and with waltzing in to the Winemark next door first, we clocked up a bit longer.
When I went in the food was still being made. Fair f**ks to the staff though as they were all working in sync flawlessly and every interaction was nice. (You can tell a lot from a pizza place when those rolling the dough will look up and smile at you for a change and not have abject horror on their face)
Hygiene Rating
The FSA site (at the time of writing) has given it a perfect five, and it looked clean to me. While I was waiting staff were routinely lifting slices and knives to get them washed so you know you're not getting anything cross contaminated.
Where is Pizzarella Glengormley?
Pizzarella is way way far up the Antrim road in Glengormley. The easiest way to find it is to look for the KFC sign when you're driving there.
Parking around it is a bit of a 'mare as you have people bombing in and out of KFC, going to the off license, or picking up orders from the Indian or Chinese.
It's a busy road too btw. While I was waiting everyone in the car almost saw a girl getting knocked down so use the Green Cross Code people!
How can I order food from Pizzarella?
Either via Just-Eat, on their website (even if they somehow have two) or phoning them on 028 9034 2420.
They're open every day from 5pm and close anytime between 11-12 depending on the day of the week.
Is Pizzarella the best pizza in Belfast?
No.
A big part of the reviews is knowing what we think in the moment, so we always write down notes as we go along to recall what we really thought.
Whilst eating we said:
The onions on the veggie pizza were still raw, so it tainted it
The cheese has nice brown bubbling on top from having been cooked in a conveyor belt oven
The sauce had nothing much going on
The Garlic bread pizza was a rip-off
The chips were like chips you get in the Chinese, only not cooked as nicely (probably due to the oil used)
The slice had a very sturdy structure and no flop even wit toppings piled on
The lack of dips was a shame in hindsight, although that would've bumped the price up.
We usually do these reviews as a pair, and have the rest of the pizza the next day, but with four of us all eating the meal, no one had memorably nice things to say about (the Veg pizza even put Dee off the idea of having pizza next week)
We wouldn't say it's great if you're gearing yourself up for pizza on a Friday evening, but if someone walked in with one we wouldn't turn down a slice.
And (most importantly) what did Sam think?
Crust was OK. Gave paw many times for pepperoni. Took longer than expected.
Two barks out of Five.