Will we fall in love with Love Pizza?
I love it when a business has a name that pretty much equates to our mission statement here, so Love Pizza fits the bill perfectly.
We kicked off the new year but making the only resolution we know how to do: eat more pizza.
And by golly we were off to a good start by ordering from the Ormeau Road location of Love pizza.
So did we love everything we had or loathe it?
Here's what we thought:
The Food
Previous Impressions
We were Love Pizza virgins so there's always a little bit of trepidation when you're sitting the car waiting for the order to be ready.
Collecting the food, the place looked grand and the staff were just neutral, possibly a sign of a busy shift for everyone there.
What's on the menu?
Their website is terrible on a computer for trying to get a nice looking menu to share here, so we'd recommend visiting their mobile site to be able to read through.
Scanning through their Facebook page we couldn't see a photo of a menu either, but this is what the pizza we got is advertised to look like.
What did we get?
We got the meal deal for 2 which included:
12″ Inch Pizza

We chose the Meatball melt with BBQ Base (we subbed for tomato base), Meatballs, Tandoori Chicken, Chorizo & Roquito Peppers

2 regular sides

In our case Twisty Fries and Garlic Bread

2 Cans

Fanta Lemon (because why not) and Coke

2 Dips
The total for the deal was £15.99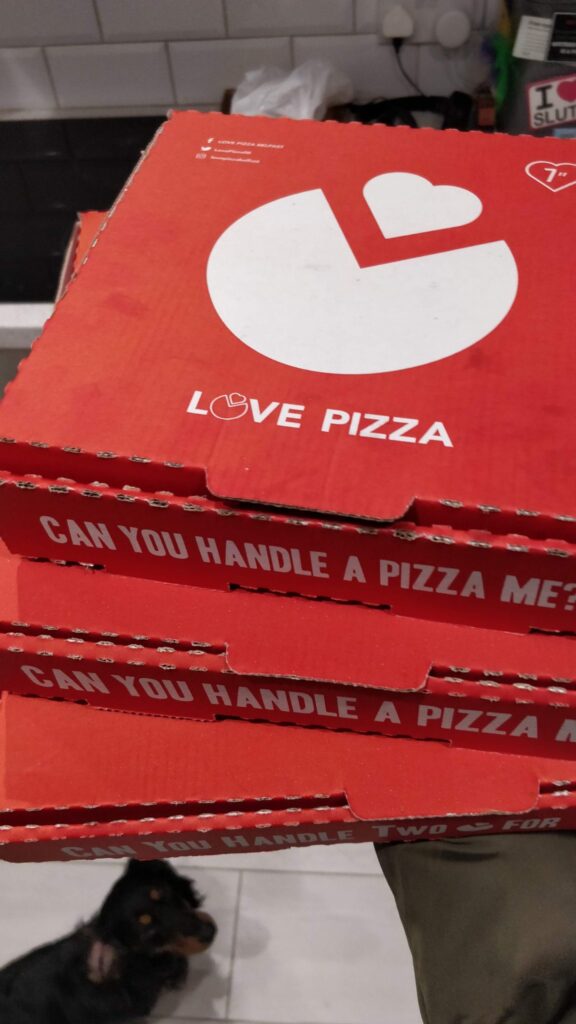 When we went in to collect, the food was almost finished which is always a good sign, and wouldn't be a repeat of our last visit to Pizza Guyz that involved everything going in the kitchen oven when we got back.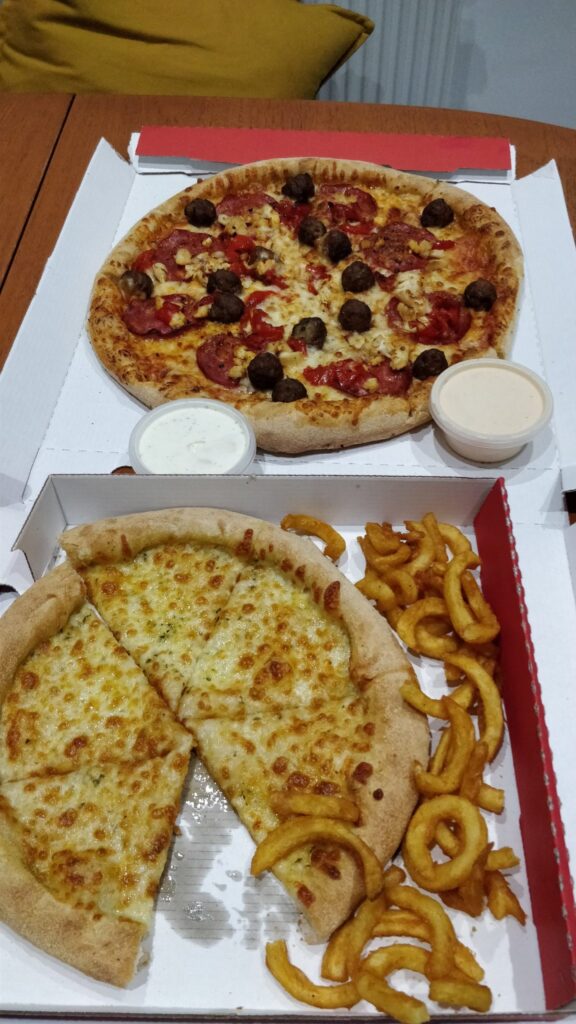 We were starving so the majority of the curly fries were eaten on the drive back. Obviously the advantage of driving with these is that you can eat one hands free while driving like a bit of potato-y pasta. That why the picture above is lacking in fries and a touch of garlic bread.
First bite impressions
Both of us weren't so sure when going for that first bite.
The initial problem was that the slices were weighed down heavily by the meatballs, creating a major case of New York Flop.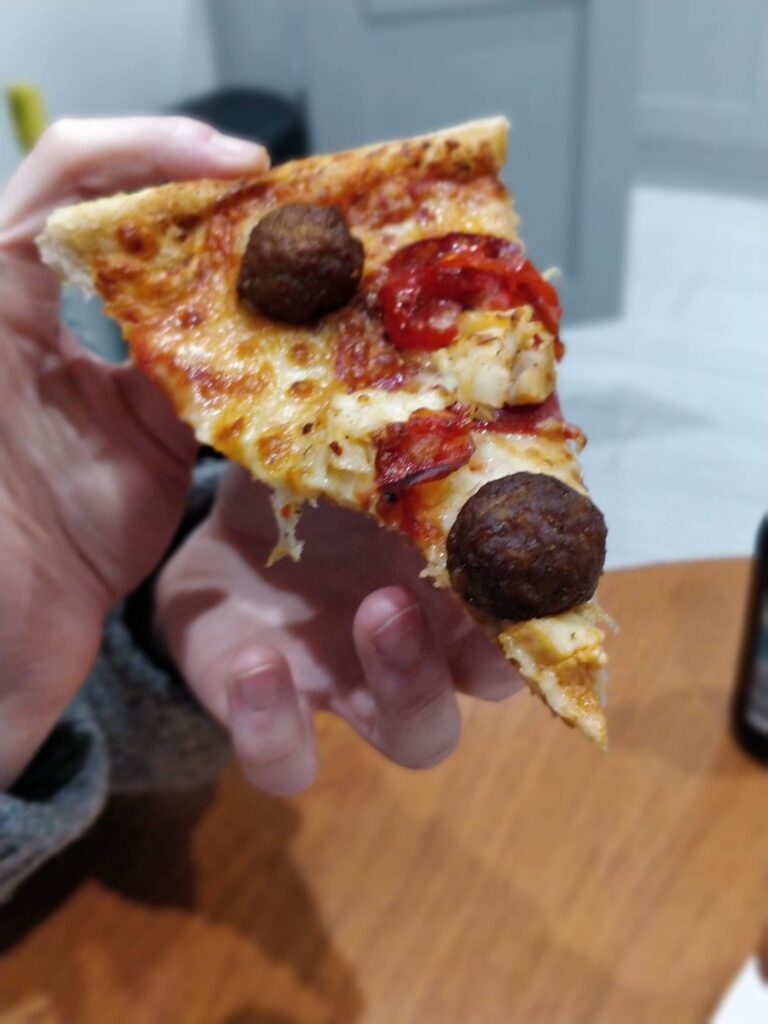 That means you either have to constantly take a two handed approach, or do the old dangle method and hold the slice above your head for maximum bite.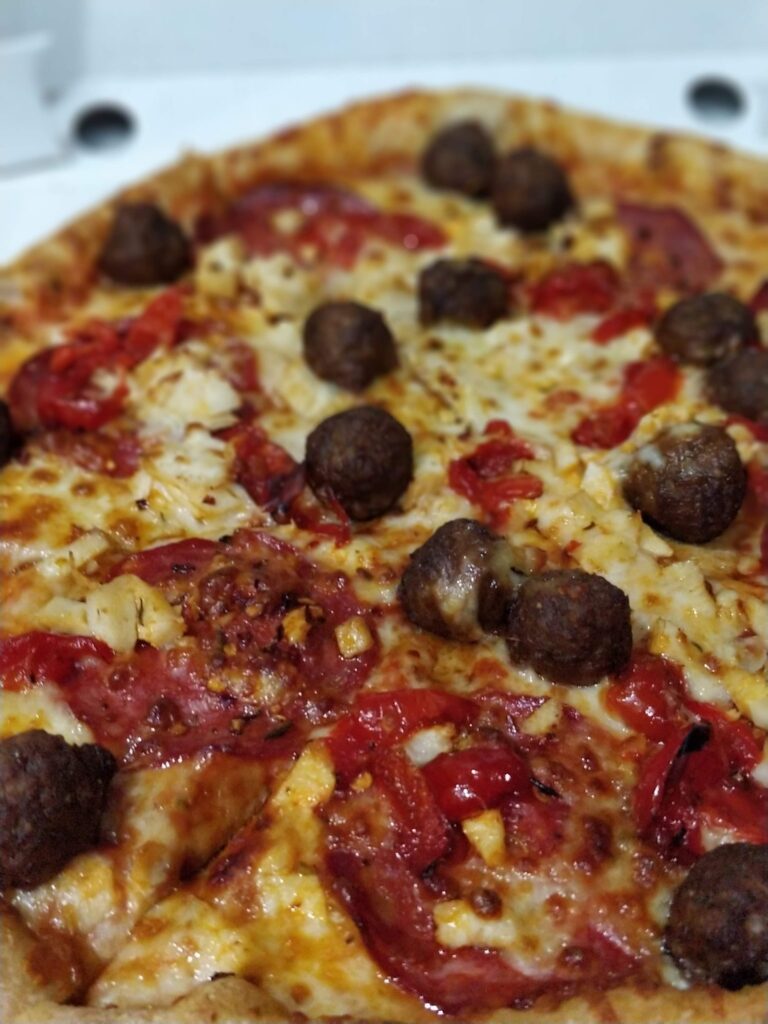 As we got more involved with the pizza, we had to start picking off the toppings to get a better taste of the cheese, sauce and dough. The placement was grand but it seemed to overwhelm everything else.
The pepperoni seemed baked in a little which was a nice touch as it stopped it from becoming an oily slice.
The Experience
Was it quick?
Yes. We ordered it via their mobile site, got a notification it would be 20 minutes, arrived a little earlier just in case in was ready, and didn't have to wait too long; very good for a Friday evening.
Hygiene Rating
The FSA site (at the time of writing) says the Ormeau Road location is awaiting inspection, but everything looked tickety-boo on our end.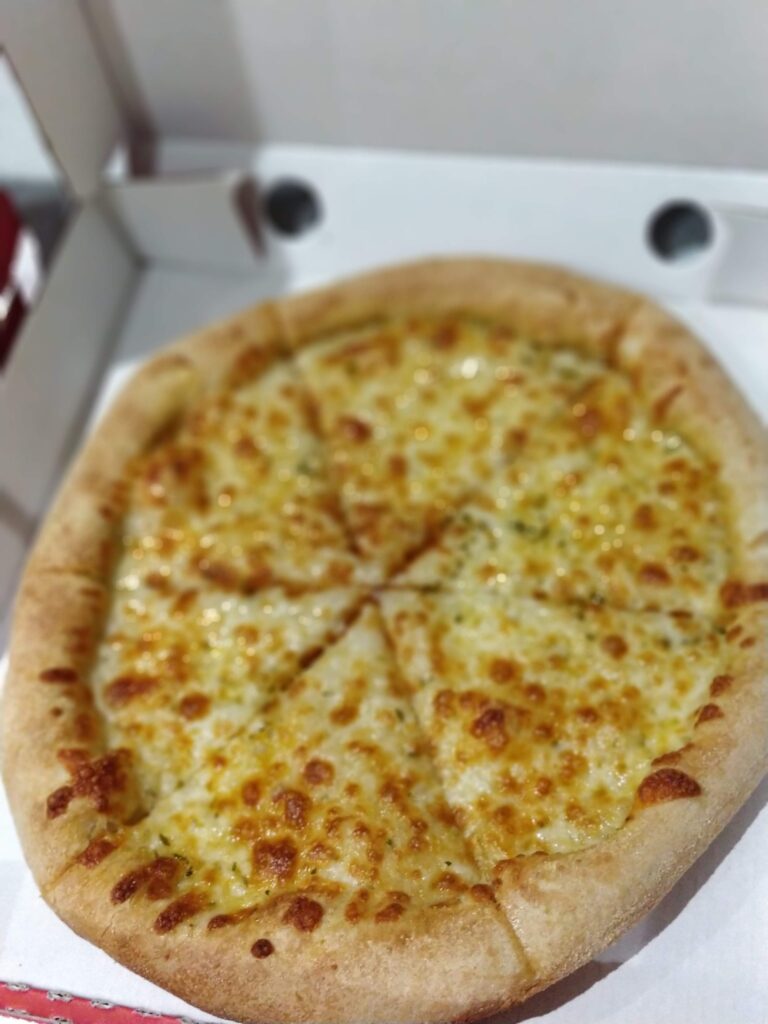 Where is it?
It's on Ormeau Road before the river. If you're driving to collect just know there' are come spaces a few doors up by the bus stop. Avoid parking in the side streets to the left if you're unfamiliar with them, as many are one way or dead ends.
How can i order?
Either via Just-Eat, on their website (best viewed on mobile) or phoning them on 02890 771 550.
They're open every day from 12pm-4pm.
Is Love Pizza the best pizza in Belfast?
We were massively split down the middle on this one.
Dr.Dee thought it was a very good and the deal was exactly what you would expect from the price point.
I thought the pizza could've been cooked longer to help with the flop, the tomato sauce could've had something more flavourful and the crust did the job.
We both thought the dips were weirdly thin and had more a dressing consistency, which is weird when you're ordering garlic and taco sauces.
All in all we would give it a go again and think it's a dependable pizza.
Not the best, but does the job on a Friday when you're starving.
And what did Sam think?
Very tasty crust. Patience in sitting still for meatballs paid off.
Four barks out of Five.