A second jaunt to a West Belfast pizzeria that flies under the radar.

We're going to hedge a bet not many people notice Isabella pizzeria when they're driving down the falls or what it looks like. We thought for our first review it'd be good to pick somewhere that it pizza terms is off the beaten path, even if it is on a main road.
This was our second time ordering from the pizzeria (so they must be doing something right).
Here's what we thought:
The Food
Previous Impressions
The first time we ordered, we misread the menu and managed to get a pizza that was:
too big to fit in their largest box (don't know how they managed that)
a sweet chilli base
This time we kept it simple and didn't muck about with many extras. If you are ordering and want chips, get their curly fries.
What's on the menu?
As you can see there's a lot going on here. We always avoid anything non-pizza related (as that's not the point of the blog!)
They do have some very good deals at the start of the week, especially for those nights when you're just not bothered to cook.
What did we get?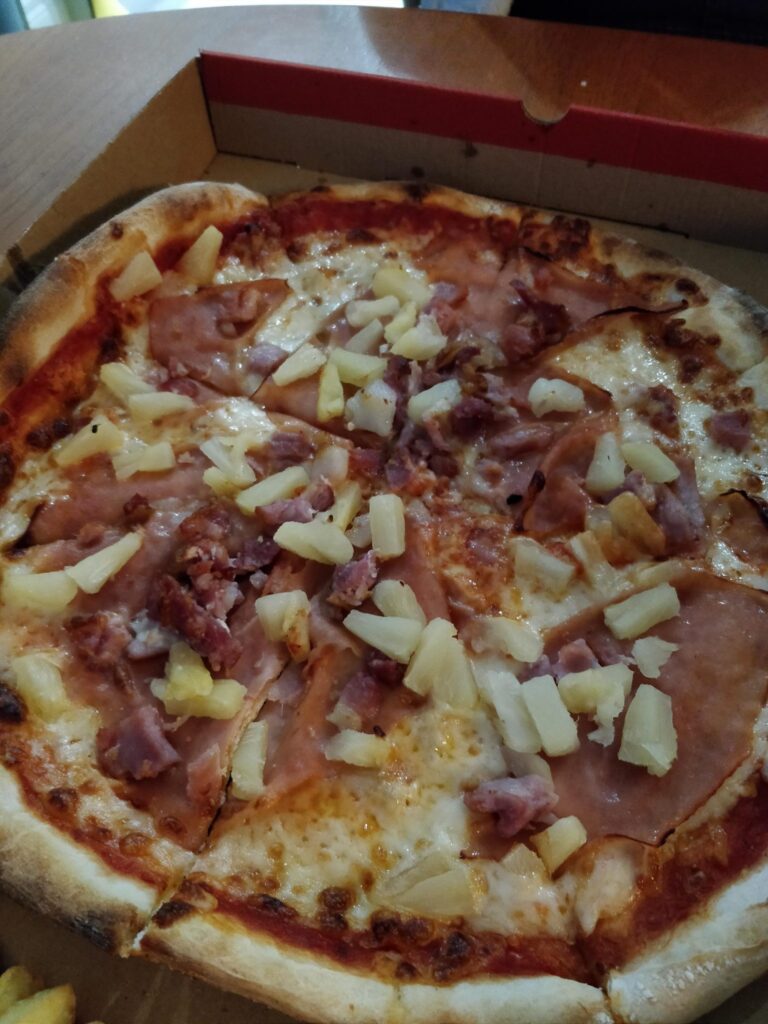 We got their Hawaiian – a tomato base with ham, bacon and (because we're savages) pineapple.
First bite impressions
A reliable first bite. This time around it wasn't as floppy a slice and there's no sign of burning the roof of the mouth having just been in the oven less than 10 minutes ago.
We couldn't tell if the pineapple had been added later as it didn't seem as cooked in as the other ingredients.
The bacon was surprising as it was cut in chunks and was definitely real bacon; not the stuff that looks like American style rashers.
The Experience
Was it quick?
Yes. Both times we've ordered over the phone and after driving over (1o minutes) it's pretty much just about ready to pick up.
Impressions of the pizzeria going in
It has a very bog standard interior and isn't at all like most modern takeaways that need to have everything tiled, some pipes sticking out the wall to look industrial and a bit of wood panelling.
You might find it a bit dated, but you can see right in the kitchen as the pizza is made and there's nothing wrong from our POV.
Both time being in there everyone was upbeat and didn't have a grump on or seemed stressed out by the phone ringing constantly.
Hygiene Rating
The FSA have given it a rating of 4 out of 5 (FSA link).
Where is it?
If you're familiar with driving down the Falls Road and taking Broadway to get down to the Balls, it's just a block before you turn the order at the end of the bus lane.
How can i order?
Either via Just-Eat, or phoning them on 028 9043 9911
Is it the best pizza in Belfast?
Well we don't know yet. While we can't argue that it's a good pizza for its price, there is more work to be done!