BT9 and looking oh so fine. We snuck in under the radar to try out ones of Belfast's newest pizza joints. Or, as OTRO Pizza Belfast likes to it call it, a pizza bar!
We don't like to say we're food snubs on this blog, but there is one quirk of the Belfast food scene we find ourselves asking anytime we're waiting the traffic lights at Botanic Gardens:
"Why is there always a queue at Maggie Mays?"
We're not saying that Maggie Mays is bad, but is the queue warranted? And why do they include a pancake with their fry?
It's a weird corner in a weird part of town for food. It's almost like no one is allowed to even think of putting a good food haunt between Botanic and Stranmillis. That's why the arrival of a oh so trendy looking pizza place on Stranmillis Road has caught our attention as a nifty little spot in South Belfast.
Orto Pizza has moved near our neck of the woods and just as the paint was drying on the walls, we ventured out to see if their pizza stacks up with the rest of the best.
Previous Impressions
Well, we'd never been to Cafe Conor (RIP I guess?). The old spot was like a building that was always hiding in plain sight. Hence why as soon as we noticed the ORTO sign outside on dog walks, tails a plenty were waggling.
What's on the menu?
Clear. Concise. No fucking about. This is a pizza menu is serving looks, and some nice wee dips by the sounds of it too.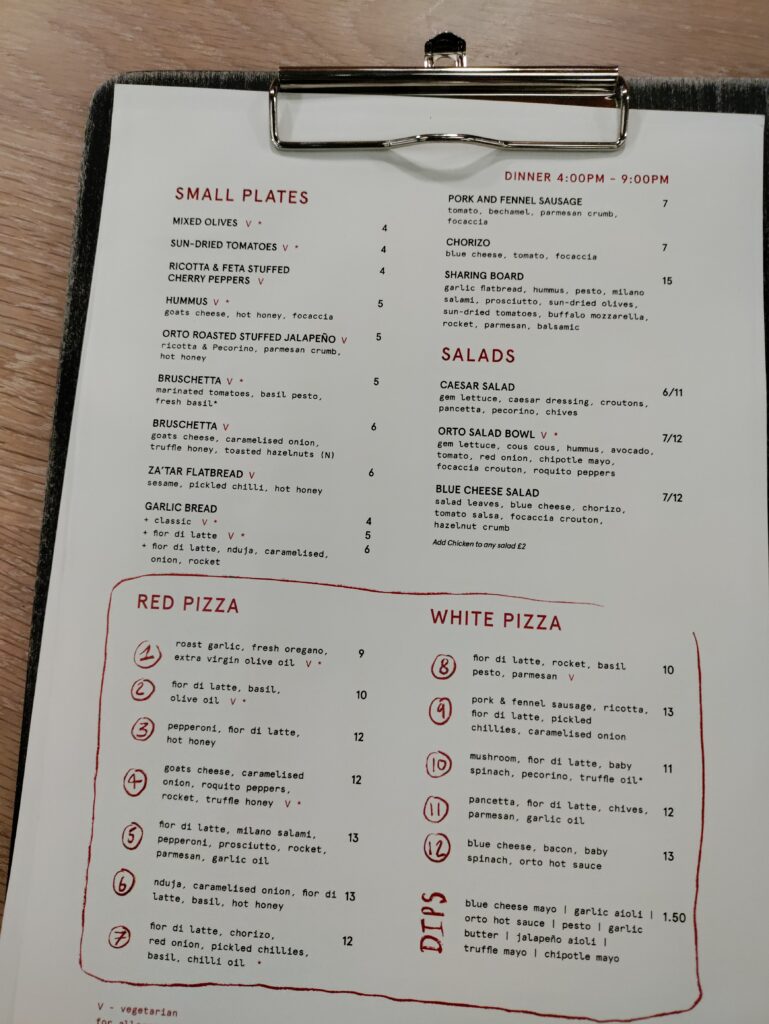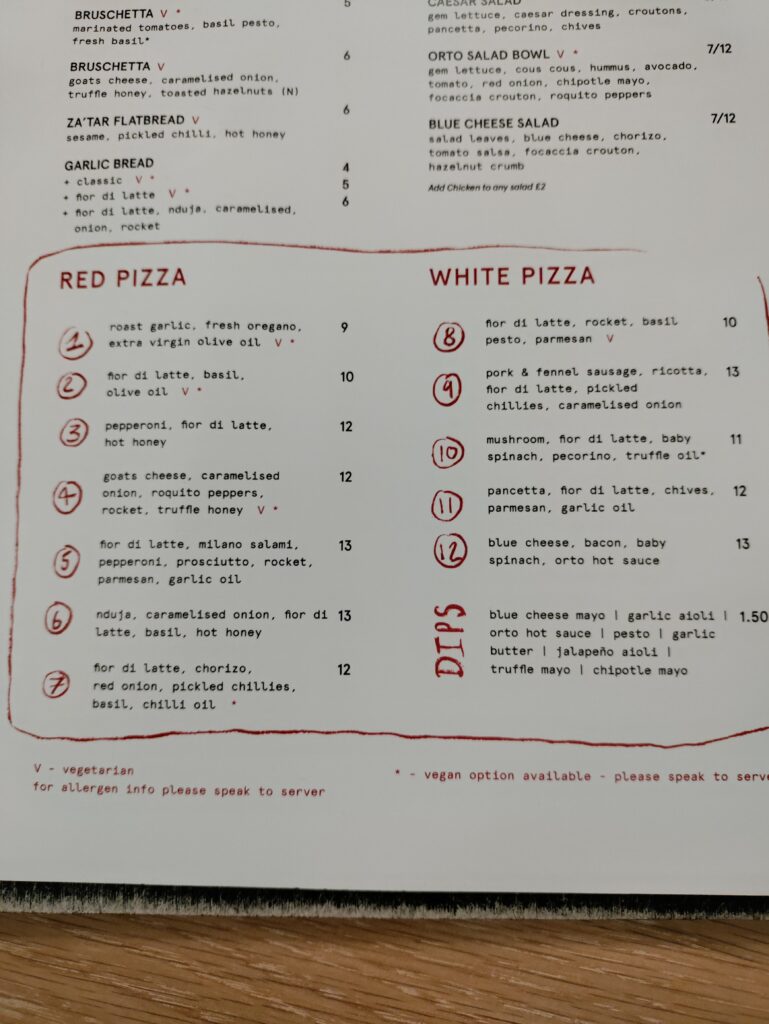 Oh, hold the boat here! Is that a dedicated range of white pies? In a pizzeria? In Belfast? White pie in Belfast?! What a time to be alive.
What we ordered at ORTO Pizza Belfast
We got the number 4 and the number 8, which encompass:
4- Red pizza with goat's cheese, caramelised onion, roquito peppers, rocket & truffle honey.
8 – White pie with fior di latte (its like a softer and slightly sweeter mozz), rocket, basil pesto & parmesan
We also got 3 beers, a surprisingly smooth and a luxurious truffle mayo dip and a dessert we'll get to later.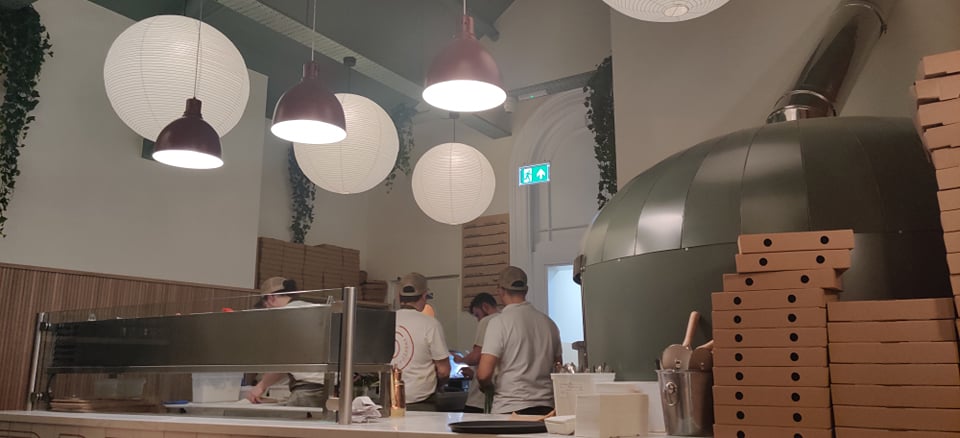 What was the damage?
Weirdly enough, the whole thing came to exactly £40 on the button. Like, almost too odd, but we won't question these things.
First Sip Impressions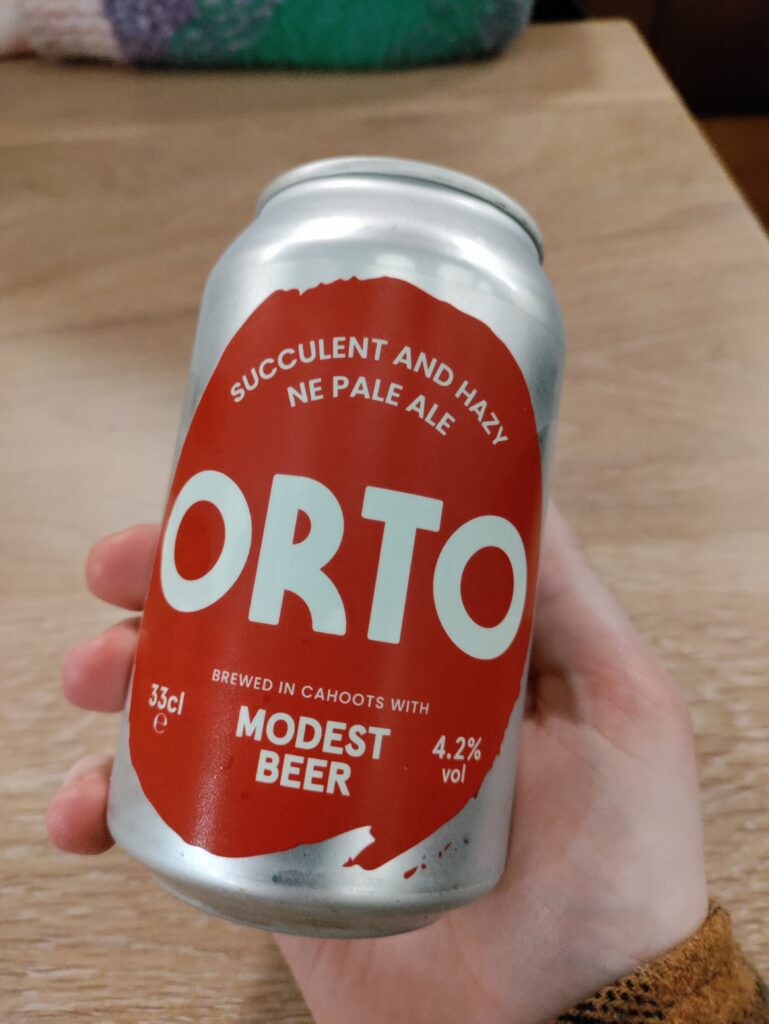 Before we wax lyrical on the pies, let's stop for a second to appreciate one tiny touch on the menu that we wanted to make sure didn't go unnoticed: ORTO does its own pretty damn good pale ale.
Made in conjunction with the lovely people at Modest Beer, it is an absolute delight to have the option of not being told in a pizzeria that's its Moretti, Peroni or GTFO.
It was a lovely beer to have in conjuction with what were sure to be fantastic pizzas.
First Slice Impressions
Look at this hefty piece of work.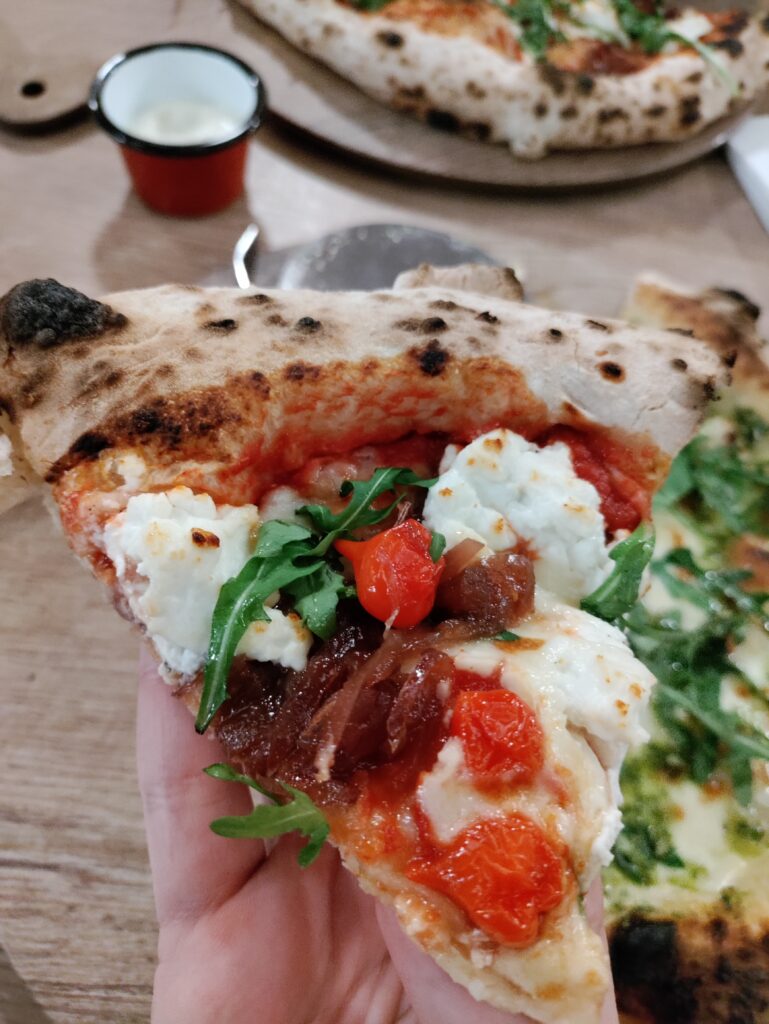 There's a lot going on with this slice, and you'd be mistaken for thinking that it's almost too much. And yet, the first bite of the No.4 absolutely works.
Lot of local places doing goats cheese on pizza will whack on the usual amount of mozzarella AND THEN fuck a generous amount of goats cheese on top. It can often be too much. Here it isn't though. Thankfully, the roquitos are also on the button and it all culminates in a very very tasty first slice.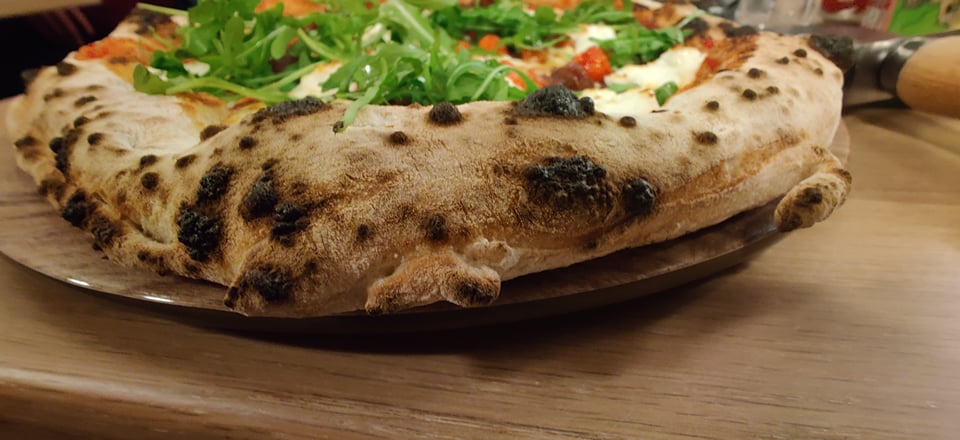 Then we're on the to white wonder.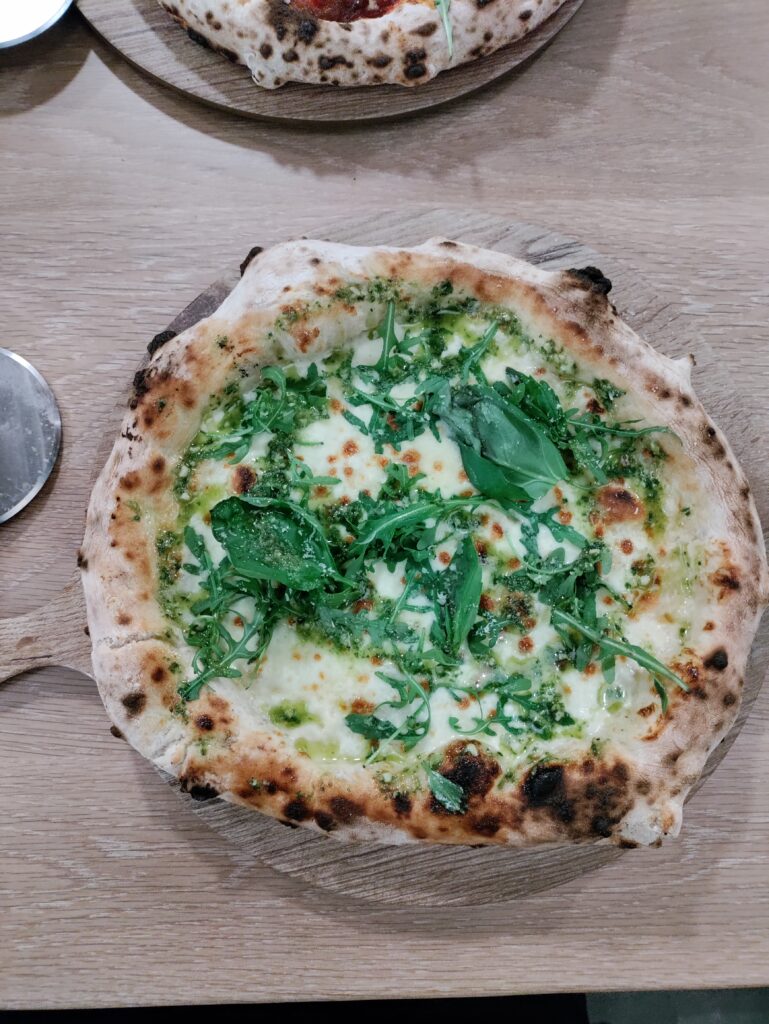 The second pie (the white one) had all the markers of looking and performing as a decent white pie should. For the most part it was, but it felt like it was ever so slightly missing something to complete its flavour profile.
We were trying to figure out what it could be, and then a quick dip quickly sorted that out. In fact, a fucking tremendous dip did the job.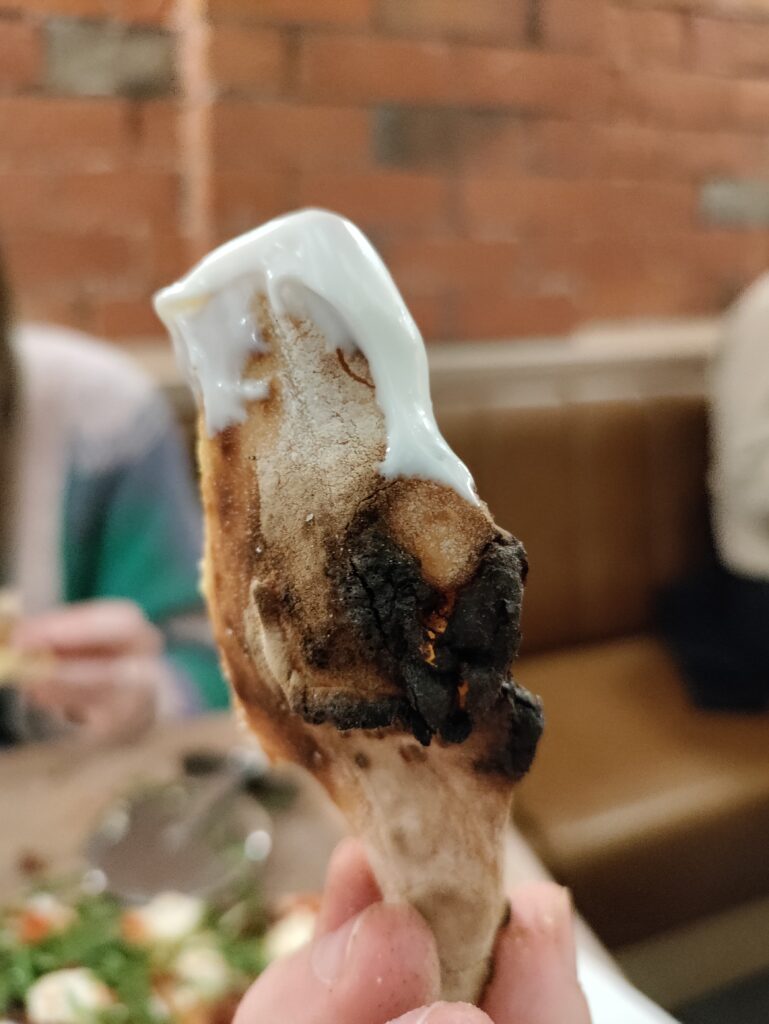 ORTO's own truffle mayo helped solve this. A few dips and dribbles of it helped to bring alive that little touch of that nutty/garlicky/musky taste that suddenly made the pizza click. Maybe if the pesto was a bit more intense, it'd be a home run out the gate just like the other pie.
There is absolutely no denying though that the dough was top tier. I mean, just look at this pinch: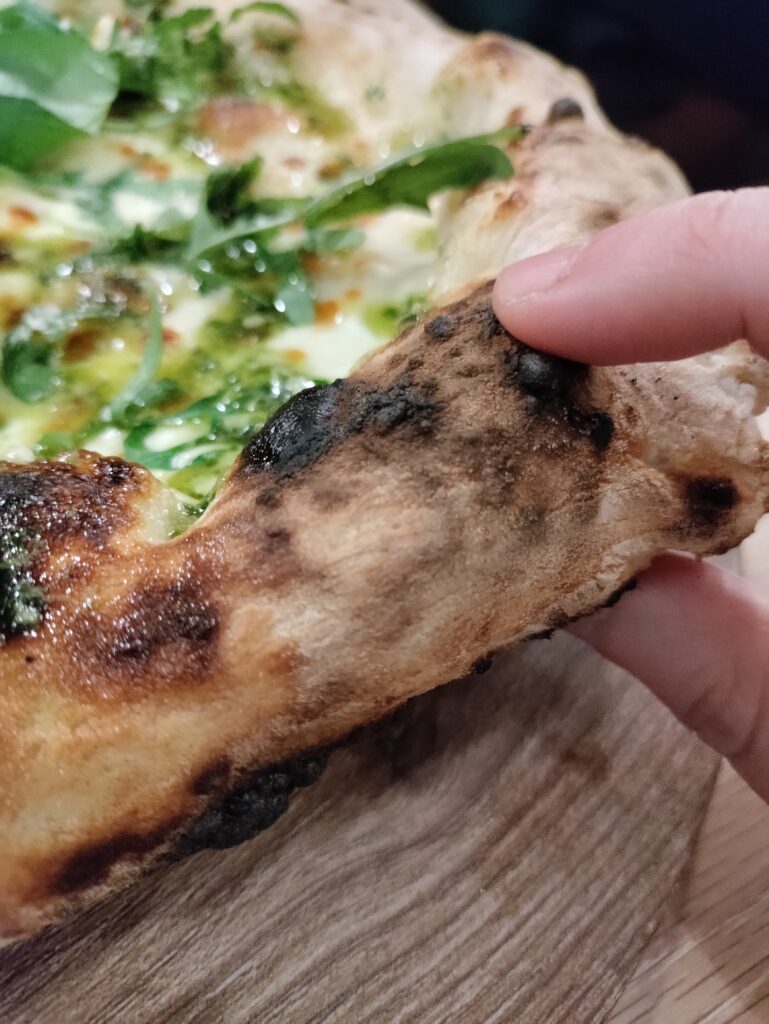 And, in a rare change, a little desert to top it off
Now, we never ever bother our holes with getting desert at pizza places. But there was something about everything being so right on the money so far with this experience that we opted for desert. in this instance, that amounted to this affogato: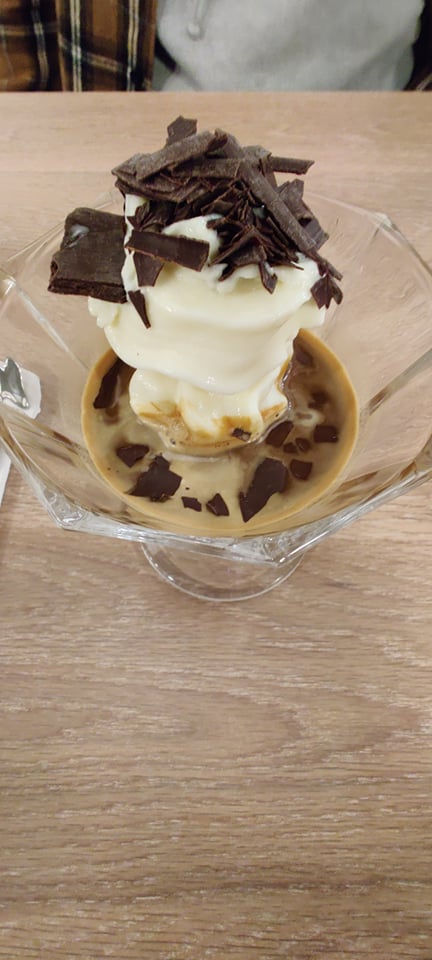 Yes, it was a bit of a quarantine trend to crack at it while stuck indoors, but as BIG affogato fans, we couldn't pass up the chance to give it a go.
It was the ideal light desert to tuck into when the dough coma to kick in. There's no super sweet sauces of anything to make it icky sticky sick. It's just a nicely done affogato that works as a fantastic accompaniment.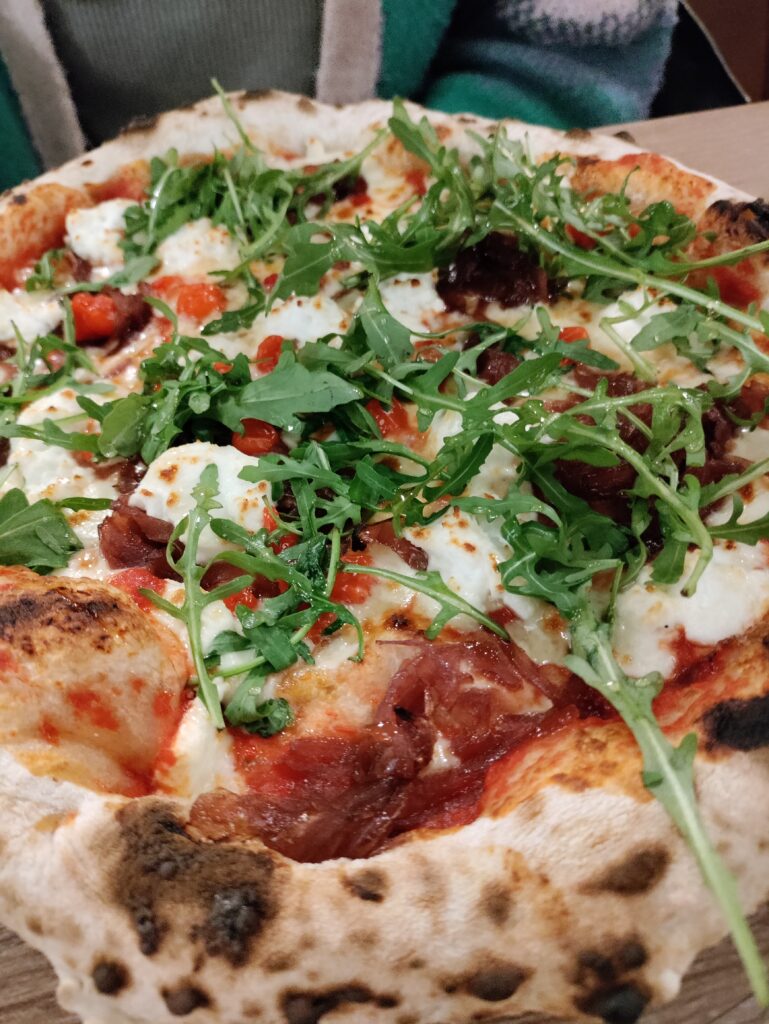 So is ORTO the best pizza in Belfast?
It is early days yet, and as we sat we did watching a kitchen and staff ironing first week kinks out to get their flow right, but from start to finish, ORTO is hitting the Top 5 already.
It's the kind of sit-down pizza place that matches the nice informal feel you want from a pizza bar, with the use of premium ingredients and a solid set menu to get your teeth into.
They've got a freaking dedicated selection of white pizzas on the menu. Show us anyone else brave enough to do that!
There's also the little touches that help bring a sense of identity to ORTO. The beer was one thing, but for example, just take a look at the simple things like this box: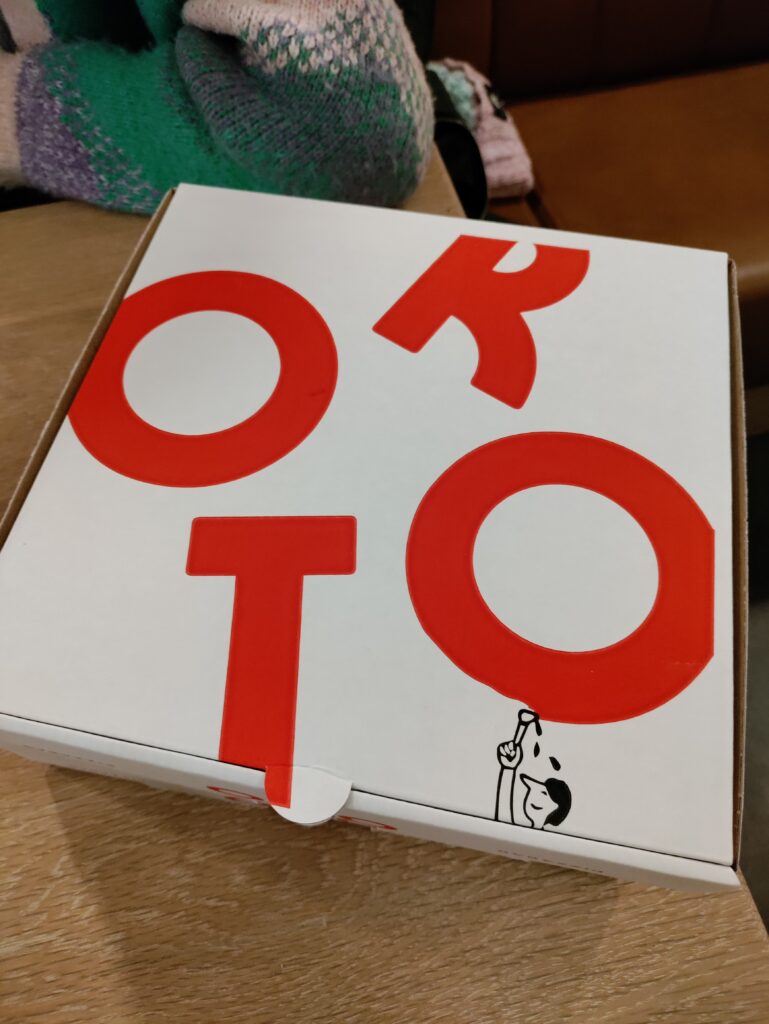 Yes, it's just a pizza box (for leftovers in our instance), but it puts an identity on what you're getting a million times more than knowing that you're flipping a coin with the taste gods being given a pizza box like this.
We can't recommend it enough, and will be shouting about it to anyone within earshot who says "pizza" in BT9.
So, what did Sam think?
While Sam couldn't be at ORTO, he did get some crust the next morning when we had leftover pizza for breakfast.
ORTO Belfast get 4 barks out of 5!
UPDATE 5/12/2022: Since our original review, we've been to ORTO at least once a month. Not only do we recommend going for dinner, but if you get the chance, head for lunch and get their focaccia sandwiches and stupidly large salads! You won't be disappointed.
---
ORTO FAQ
And all those important questions about ORTO you might need answered
Where is ORTO Pizza Belfast?
ORTO is located on 11 Stranmillis Road. This review was at their OG location. They've recently opened a second location on Talbot Street.
When is ORTO Belfast open?
Orto is open Monday – Saturday 8:30am – 9pm & Sunday 12pm-8pm.
How can I order pizza from ORTO?
You'll have to ring them by phone for collection here.
Where can I see ORTO Belfast's menu?
You can find their main dinner menu here.
Can I reserve a table at ORTO Belfast?
At the time of writing, they're walk-in only. And sure, if you have to wait on your visit, go grab a pint in Jeggy Nettle up the road.